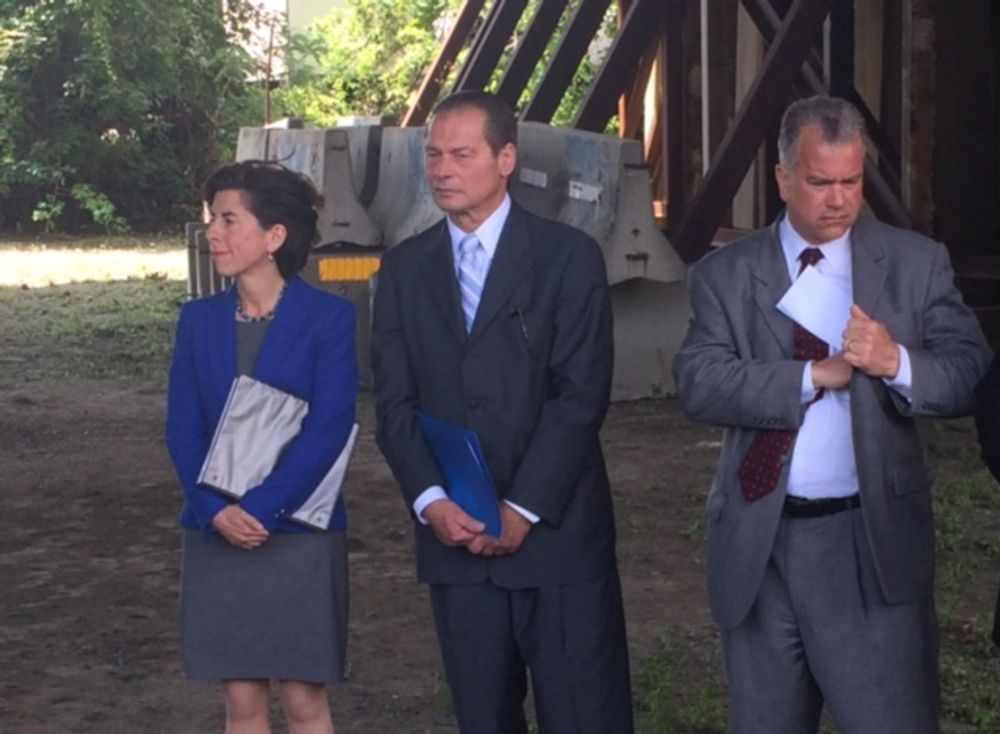 CNBC ranks Rhode Island last in its latest scorecard of the best states for business, offering a pointed contrast to Gov. Gina Raimondo's description of progress during her tenure.
"Rhode Island has been here before — this is its fifth time in last place," CNBC notes in its 13th ranking of the business climate in different states. "It has also never been far from here. The state has never finished higher than No. 45, the ranking it achieved in 2017 and 2018."
This time around, Rhode Island attracted solid scores for education (25th) and quality of life (28th), but did far worse in rankings for economy (48th), infrastructure (50th) and cost of doing business (44th).
Virginia led CNBC's ranking of the best states for business, followed by Texas, North Carolina, Utah and Washington.
Massachusetts had the best showing in New England, coming in 14th, followed by New Hampshire at 25, Vermont at 40 and Maine at 44.
CNBC notes Gov. Raimondo's touting of an economic comeback in the nation's smallest state, but "so far, however, no comeback is showing up in the numbers."
But CNBC also points to how a lot of infrastructure work is happening as a result of the state's RhodeWorks program, and how a number of businesses have relocated to Rhode Island on Raimondo's watch.
Commerce Corporation spokesman Matt Sheaff pushed back against CNBC's ranking.
"Just two months ago, Wallet Hub ranked Rhode Island in the top 10 states for jobs. It's clear the CNBC ranking failed to account for significant investments we have made in recent years in infrastructure, workforce development and business growth – investments that have helped produce the largest drop in unemployment in the nation, the first positive labor force growth in over a decade, wage growth that is outpacing the nation, and a record-high number of jobs," Sheaff said in a statement.
He added: "While this ranking paints an inaccurate picture of Rhode Island's economy, the fact remains that we still have more work to do. It's critical that we keep our foot on the gas and redouble our efforts around education and workforce development, infrastructure, and economic growth -- to ensure every Rhode Islander is included in our recovery."
Meanwhile, House Speaker Nicholas Mattiello used the CNBC ranking to continue a string of critical remarks directed at Raimondo.
"Having our rating drop even lower is disappointing but not surprising," Mattiello said in a statement. "In recent months, I have repeatedly called attention to the fact that our economy is losing ground compared to other states, despite years of major investment to reverse that. Government needs to do a better job of letting new and established companies conduct their business here in a timely manner. That means fundamental changes in the way state departments and agencies interact with businesses that need real regulatory relief from DLT, DEM and other agencies, not more fines and bigger hassles.
Mattiello continued, "The administration must look at the economy more comprehensively and not just pay for individual companies to locate here. The Commerce Corporation has to focus more on helping home-grown businesses improve their economic conditions. The General Assembly has tried to address some of these concerns in the most recent budget, but much more work needs to be done. I hope this report serves as a stark reminder of the work ahead and government officials begin to act with more urgency."
Raimondo has argued that one of the factors cited by CNBC, GDP growth, is not a good way of gauging economic activity in a state like Rhode Island.
CNBC cited legislative reaction to previous business rankings: "Rhode Island's poor performance in state competitiveness rankings, including CNBC's Top States study, has long been a sore point with state officials. After the state finished in last place in 2012, the legislature passed a package of bills under a program dubbed Moving the Needle, aimed squarely at improving the state's rankings. But the needle barely budged."
In a statement, state Senate spokesman Greg Pare said, "The Senate has focused on improving our business climate and taken many steps to address factors considered in surveys like the CNBC rankings, such as reducing business taxes and eliminating thousands of pages of burdensome regulations. However, considerable work remains, particularly with regard to the challenge of fixing our worst-in-the-nation roads and bridges. The state has an aggressive plan to repair Rhode Island's transportation infrastructure, and that work is taking place across the state."
Pare said Senate President Dominick Ruggerio "understands the hurdles many businesses face when trying to locate or expand in our state. He has worked to change policies and help companies invest here. This year we enacted laws to streamline building inspections to eliminate needless and costly delays, and to address discouraging roadblocks such as those imposed upon a developer seeking to invest more than a quarter billion dollars in Providence. The Senate remains focused on improving our business climate and fostering more robust economic growth."