'My deepest sorrow is that we have lost our constitution.'
Sidney Tynan
Sidney Tynan was born in 1921, less than a year after the 19th Amendment was adopted, giving American women the right to vote. Her aunt was involved in the suffrage movement. She heard stories about the sacrifices — from harassment to hunger strikes — that women endured for the cause.
"I've always remembered how difficult it was for women to get the vote, and I've always regarded it as a privilege really, not just what was due us." Tynan said. "Once these women had suffered so, it was absolutely important for me to keep up what they had started."
Tynan has watched dozens of elections unfold in her lifetime, but one politician still stands out: John F. Kennedy. She was 39 years old when he was elected president.
"He was such a charismatic person, and there was no question! But there never was any question that I wouldn't vote Democrat," she said.
This year, however, Tynan thinks the stakes of voting blue are particularly high.
Tynan doesn't have a television in her Little Compton home, but she keeps up with the news by reading the Washington Post online every morning and evening. There's a lot of talk around political polarization in America, and Tynan says she has never seen the country this divided. The pandemic has made that especially clear.
"I think there are a great many people who feel that wearing a mask is absolutely essential. And then we have other states where they think it's a laugh. So in that respect, it's divided," she said.
Aside from COVID-19, Tynan is enraged by how she feels the country is moving backwards on issues like the environment and voter access. She voted by mail this election, but she used to go in person. When she had to show a form of photo ID, she always told the poll workers she was doing so "under protest."
"My deepest sorrow is that we have lost our constitution. That's what our country was founded on. It was to be run by the people," Tynan said. "That's been taken away from us."
'I keep praying, 'Dear God, lead me to the right choice.''
Letitia Bogue
Days after the next president is inaugurated, Letitia Bogue will turn one hundred. She has lived most of her life in Westerly, after emigrating from Italy at nine years old. But she said growing up under a dictatorship still impacts why she makes the effort to vote.
"I really came from Italy when Mussolini was in power. I remember being in school and then soldiers would come in," she said. "We'd sit like soldiers, scared. Scared sick. I remember that. I can almost hear them coming in the classroom. Bang bang bang. It was awful."
Bogue said she became an American citizen around World War II, and she has been voting ever since. As of October, however, she was still undecided about the presidential election. She said she has never seen the United States this divided, or Americans this unhappy.
"I just hope that we get the right president to get the nation straightened out. And I hope that we get rid of the disease that we got," she said. "Everybody dying — just like a bunch of flies, being buried. You know, it's a terrible thing right now."
Bogue hasn't been impressed with Trump's leadership. But she's Catholic and pro-life, so she feels like she has to vote for him.
"I keep praying, 'Dear God, lead me to the right choice,'" she said.
When Bogue votes, she wants to know it's for the right candidate. This year, she said she was even considering sitting the election out.
"Sometimes I feel like I don't want to vote," she said. "Should I vote? Should I not vote? That's going on in my mind quite a bit."
'I really wanted her to have been able to vote, because it was so important.'
Family of Natalie Pfanstiehl
During this difficult year, Rhode Island also lost some senior voters who had hoped to cast their ballots in one more election.
Natalie Pfanstiehl would have turned a hundred this December. But she passed away at her Newport home in October — two days before her mail ballot arrived.
"For her to lose that opportunity was heartbreaking," said Nina Pfanstiehl, her daughter. "That was one of the first things I thought. Not only did I want her to make a hundred, but I really wanted her to have been able to vote because it was so important."
Natalie Pfanstiehl was a staunch Republican her whole life, but she couldn't stand Trump. She used to work as a special education teacher, and her daughters Nina and Christine said she hated Trump's habit of name-calling.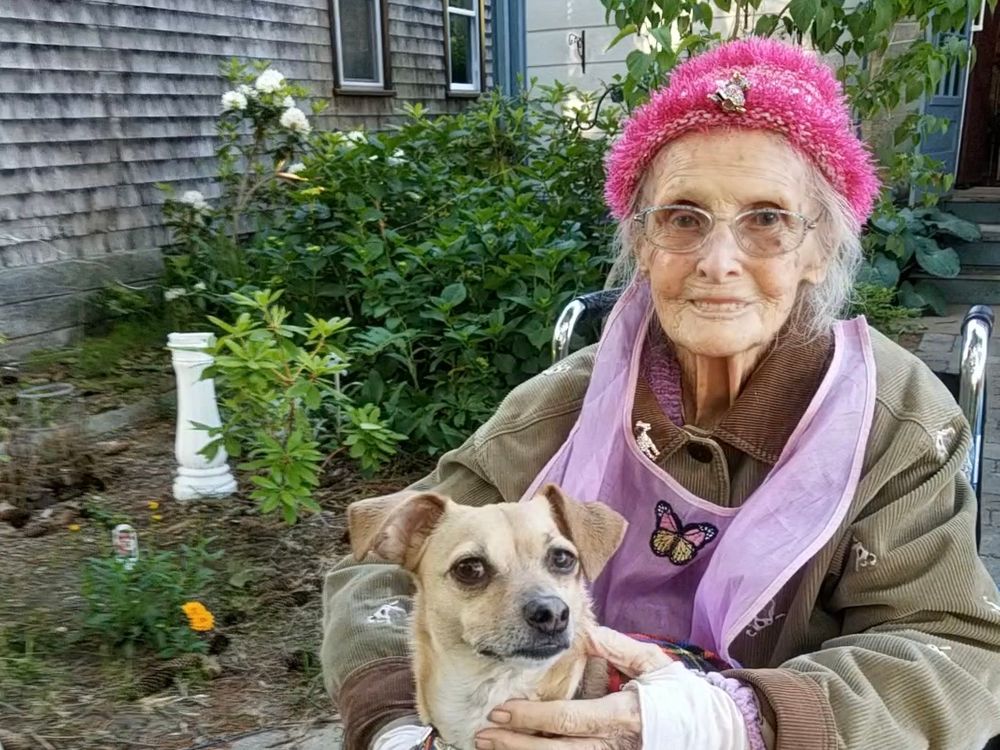 Recently, Pfanstiehl's signature had become less consistent. She worried her mail ballot might be rejected, so she began practicing by writing her name over and over, even as her health and energy declined.
Natalie Pfanstiehl was an accomplished watercolorist, and she became too tired to sign many of her paintings toward the end of her life.
"But when I said, 'Come on, Mom, let's practice your signature so we don't have to worry about your vote not being counted,' she sat there and she did it," Nina said.
Even though Natalie Pfanstiehl never got to fill out the real ballot, Nina said she'd be thinking of her mother's values when she cast hers. And in some ways, she is almost relieved that her mother won't be around to hear the results.
"She was very, very worried about how this election was going to turn out, and so are we," she said. "If there's any consolation, it's that at least she won't see what happens if insanity prevails in this country."
Instead, her daughters remember their mother for her sunny positivity — her belief that things could get better. Whenever someone asked Natalie Pfanstiehl how she was doing, even in her final years, she gave the same reply: "I'm on top of the world."
Antonia Ayres-Brown can be reached at antonia@thepublicsradio.org