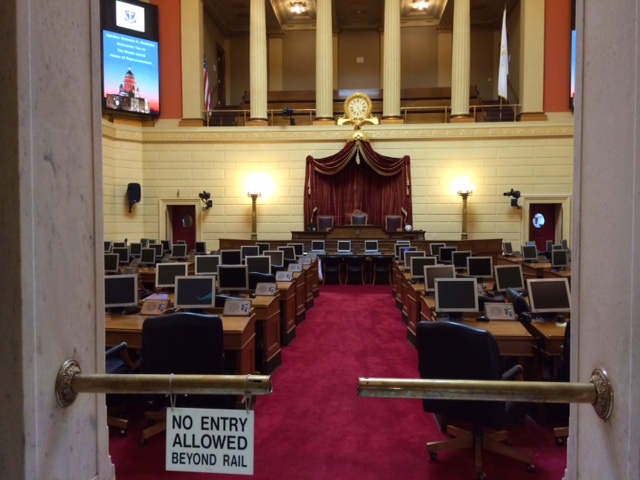 The legislation introduced Tuesday by state Rep. Rebecca Kislak (D-Providence) and state Sen. James Sheehan (D-North Kingstown) has two main components: it would extend Rhode Island's existing voluntary public financing system for the state's five general offices to include primaries. And it would create a voluntary voucher system that could enable legislative candidates with slimmer campaign accounts to be more competitive with flusher funded rivals.
How much will it cost to do this?
John Marion, executive director of the good government group Common Cause of Rhode Island -- which helped to develop the legislation – said the precise taxpayer cost hasn't yet been established, although he expects it would be at least a few million dollars. But he said the status quo carries its own price, as demonstrated by a series of campaign finance scandals on Smith Hill.
"Many Rhode Islanders understand that the current campaign finance system is a flawed one," Marion told The Public's Radio in an interview. "It serves wealthy interests, it serves the lobbyists who are able to go the fundraisers and give maximum contributions. And [citizens understand] that we need a different approach to how we fund campaigns."
Marion acknowledged the Kislak-Sheehan bill is unlikely to win legislative approval this year. He said the main reason for its introduction is to spark a conversation about campaigns and elections, and to gradually build broader support for a different way of doing things.
"Rhode Island's legislative elections are notable for being some of the least competitive in the United States," Marion said. "There are many, many uncontested races for the General Assembly. And we think one of the barriers to entry for candidates is the ability to raise enough money to be a viable candidate."
Sheehan said holding elective office in state government should not be the preserve mostly of those who are wealthy or who can raise a lot of money.
"Our government is enriched," he said, "when a broader set of candidates from different walks of life, experiences, and perspectives participate in the decision-making process of our society."
Added Kislak: "I see this proposal as a way of democratizing campaign finance, giving all voters, not just those with deep pockets, greater power to influence campaign spending. When more people are involved in our democracy, and in more ways, our government is more responsive and better for all of us. This is another way to help increase citizen engagement in our state government."
The campaign finance bill marks the resumption of an effort started by Common Cause back in 2005.
That was when the good government group backed the introduction of a "Clean Elections" bill aimed at using matching funds to create a more level playing field for campaigns in Rhode Island. (Common Cause's then-director, H. Philip West Jr., said it was fortunate that some of the Brown University students pushing for the proposal were freshman, since it would take multiple years to make progress at the legislature.)
But a U.S. Supreme Court decision in 2011, in a case involving Arizona, made the proposal in Rhode Island no longer feasible.
This time around, Common Cause worked with the Washington, D.C.-based Campaign Legal Center to develop legislation based on a "democracy voucher" model in Seattle
Here's Marion's explanation of how the voucher system would work for legislative candidates: candidates would qualify for the program by attracting a specified number of contributions. Candidates would then agree to limit how much of their own money they would contribute to their campaigns, and limit the size of contributions they would accept from others, below the current $1,000 a year maximum per individual donor.
"The idea is to crowd out the big money donations that typically come from lobbyists and powerful interests with small donations coming from average people who now could have a voucher to participate," Marion said.
The amount needed to run a House or Senate race varies widely in Rhode Island. Some involve just a few thousand dollars, while high-profile races feature tens of thousands of dollars in spending, or more in some cases.
New York City and Albuquerque, New Mexico, have city-based approaches to public financing. Three states – Maine, Arizona and Connecticut – have a public financing option for legislative elections.
Rhode Island's current public financing system for the state's five general offices has been used by some candidates, including Republican gubernatorial hopeful Allan Fung, last year. The bills introduced by Kislak and Sheehan would expand that approach to include primary elections for the five general offices.
Marion described campaign finance as the next frontier for good government in Rhode Island, after disclosure issues have dominated Common Cause's attention in recent years.
"I have been asked by numerous legislators from both parties over the years if we could help produce a public financing bill for the General Assembly, and finally we were able to," he said. "We see this as a first step … And then we need to build a case for why this is needed."