Reports of exactly what happened on Friday night at the Bristol County jail and why are still unclear, but one thing's for certain: The detainees on the other end of this call with their attorney were frightened as the violence was unfolding.
Immigration attorney Ira Alakalay was on the phone with four ICE detainees at the C. Carlos Carreiro Immigration Detention Center as mayhem broke out.
"Did they gas you?" Alakalay asked in Spanish.
"Yes, they sprayed gas," one detainee replied. "They treated us poorly. They're beating people here."
"And why are they doing that?"
"Because they were affected by the coronavirus."
Alakalay was disconnected, and another client called back shortly after.
"I just hung up by mistake on someone who's also calling me from there. Can you tell me what's happening?" he asked.
"OK, have you heard that the sheriff approached me and attacked me?" a second detainee asked Alakalay. "He assaulted me. That motherfucker. And then people reacted."
I talked to Alkalay the next day. Here's how he describes what he heard:
"He was absolutely terrified. He was crying, he was coughing and gasping for breath and saying that people were dying, that people were gassed, that they were being beaten. He sounded absolutely in fear for his life."
Bristol County Sheriff Thomas Hodgson tells a different story. Hodgson said the ten detainees who reported symptoms refused to go to the jail's medical center for testing. When he ordered a detainee to hang up a phone call with his attorney so he could report to the medical center, the 26-person unit erupted into violence.
"I went to grab the phone," Hodgson said, "and of course, as con men always do and he is a con man well known in his history, said, stop hitting me, don't touch me. Obviously for the advantage of the other person on the phone, as though he were being somehow assaulted or injured."
The sheriff said he was quickly swarmed by detainees who reportedly threw a chair at him, broke windows and damaged property before deputies subdued them using pepper spray. Hodgson questions the truthfulness of the group's symptoms and suggested the detainees were looking for a way to get out of jail.
"It's obvious. Ten in one day? The people aren't stupid and my staff aren't either. But out of precaution, we did the right thing, they said it, we have to check 'em," said Hodgson.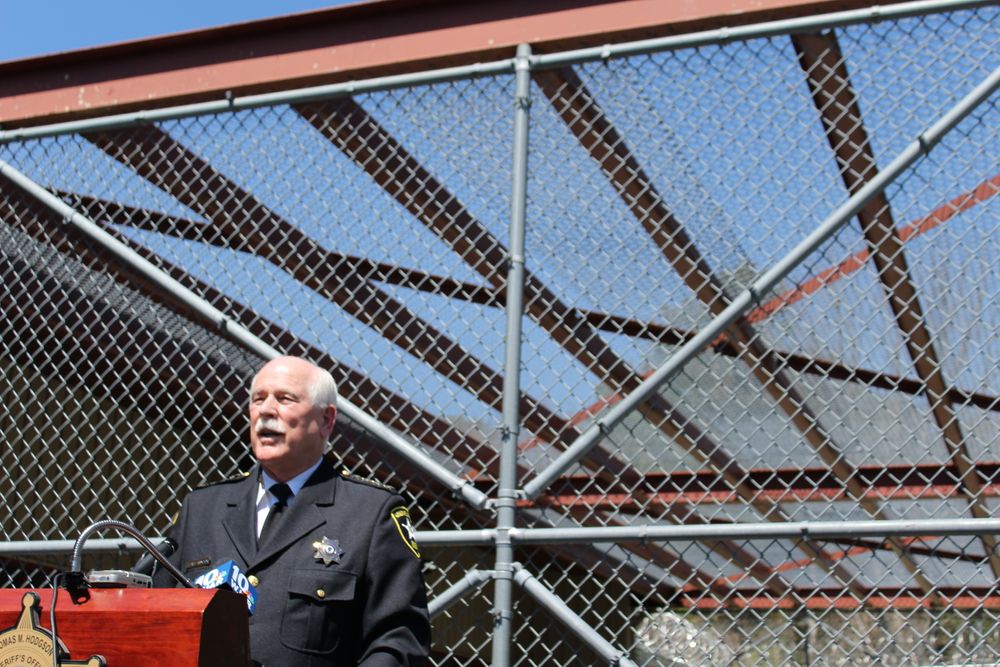 But inmates and detainees had been complaining well before the disturbance about conditions in the county's jails. One of them, Eric Alves, talked to us a week ago. He's been in and out of state and federal jails for drug convictions and driving without a license since he was 18 years old.
"I've been in six different facilities," Alves said. "But Bristol County is the worst of the worst that I've ever been in."
He's talking about Bristol County's Ash Street Jail in New Bedford, where he served his most recent sentence until he was released in early April. Alves has some vivid descriptions of the conditions inside the jail in the early weeks of the coronavirus pandemic.
"There's no hand sanitizer for the inmates. It's only for the cops and if you do go use some, you get written up for that. They'll put you in your cell for 24–hour lockdown just for a little bit of hand sanitizer."
Soap is more readily available, but it runs out quickly. He says inmates rush to the dispensers when they're filled and siphon the soap into their water bottles for personal use.
"For the guys that don't make it, they don't have no soap, because they fill up the soap once a week," Alves said. "Say the soap was gone and I was to go the [corrections officer] and be like, Hey man, there's no soap in the bathroom. 'Oh, you got to wait 'til next week. You know we only fill it up once a week. That's you guys's problem. You shouldn't be taking the soap from the bathroom.'"
So far, 11 guards and health care workers at the Bristol County jails have tested positive for COVID-19. Inmates, who sleep in bunk beds crowded just three feet apart, worry it's only a matter of time before they get sick too.
Alves talks about one correctional officer who he says quietly disappeared into quarantine after going to work several days in a row with symptoms commonly associated with the coronavirus.
"One day he had a fever and he went to the nurse's office and he told them, 'Hey I'm not feeling so good.' They checked his fever and he had a 105 degree temperature. The same cop that same day was passing out food to the guys in the hole. He was touching their food and giving it to these guys. And these guys would take the tray, no gloves on, no nothing, and they'd be digging in eating because they're not expecting an officer to come into work sick and give them their food."
Alves continued, "They could care less what happens to us. That's how it is over there."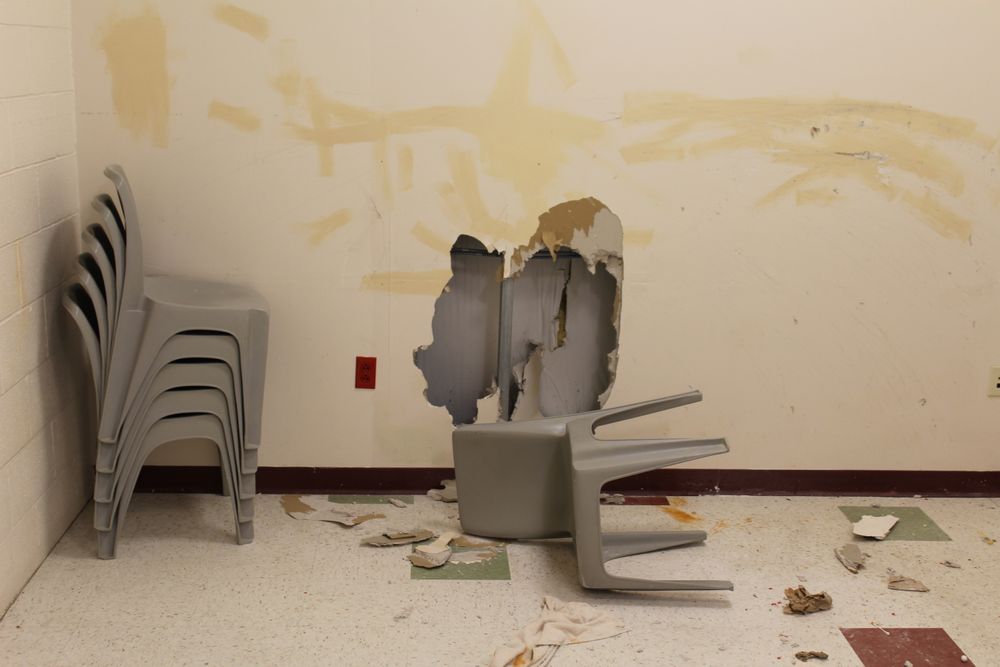 Immigration detainees housed in a separate building at Bristol County's jail complex in North Dartmouth describe similar conditions.
I talked to one detainee, Marco Battistotti, about a week ago. He complained that it's common to see corrections officers, also known as COs, walking around the facility without protective equipment, despite eight correctional officers and two health care workers testing positive for COVID-19 last month.
"I personally experienced one CO not wearing a mask nor gloves while in proximity of the cart where the medicine is dispensed orally," Battistotti said. "I specifically asked him if he had any specific reason why not to wear a mask. And he responded to me simply by saying, 'Because I don't have to.' That's what he said, 'Because I don't have to.'"
All 26 detainees involved in the disturbance have since been transferred to individual cells, and at least one inmate at the jail complex has since tested positive for COVID-19. In addition to the attorney general's investigation, the state Senate has also begun a probe.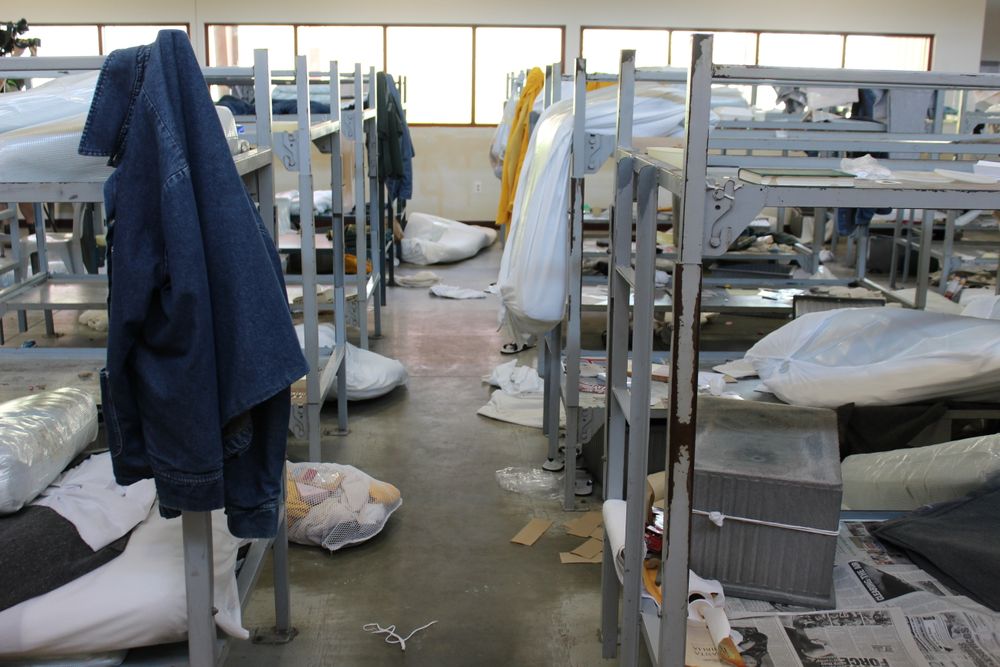 The incident comes amid growing concern about conditions in jails and prisons, many of which have become hotbeds for the coronavirus because of the same close conditions that are a problem in nursing homes. Within Massachusetts, the virus has already killed at least five inmates at a state prison in Bridgewater, and infected nearly 40 percent of the women held at a state prison in Framingham.
But only a small percentage of inmates and correctional officers have been tested for the virus in Massachusetts correctional facilities. Bristol County is no exception.
Advocates are calling for more aggressive testing of residents and correctional officers, and they want inmates not considered a danger to the public let out of jails and prisons. So far, in response to a Massachusetts lawsuit, hundreds of pre-trial defendants and ex-convicts held on parole and probation violations have been released.
Oren Nimni is an attorney with Lawyers for Civil Rights who filed a similar court case seeking the release of ICE detainees in Bristol County.
Nimni said his team focused on Hodgson's jails for a reason.
"There have been years-long criticisms of the way that Sheriff Hodgson is running his facility," Nimni explained. "That there's bad mental health care. Unsanitary facilities. A suicide rate that is wildly higher than comparable facilities. And a bunch of things that point to mismanagement and potential abuse of people in the facility. I think that that has then been heightened by the presence of COVID-19, the lack of testing conducted by the sheriff's office, the lack of communication and transparency."
So far in Bristol County, 37 inmates and almost 50 ICE detainees have been released in response to legal efforts related to the pandemic. But the sheriff is skeptical. Here he is at a news conference he organized the morning after Friday's riot.
At a news conference he organized the morning after Friday's riot Hodgson said, "We didn't say in H1N1 and SARS, 'Oh no there's a contagious virus out there. Let's start letting people back out in the community.' The problem is that you have these judges and activist groups and activist attorneys who've been trying to do this for a long time before COVID-19 to get people out, lower their bails, and all this other nonsense."
The sheriff also denies any claims that he's failed to provide a safe living environment for his prisoners. He's quick to point out that the Bristol County jails pass inspections each year. He says his facilities are inspected more often than meat plants.
"You can see that when you start driving down our driveway and see how meticulous it is and our standards don't change on the inside either," Hodgson said.
Following the news conference, Hodgson also invited reporters and television crews inside the jail to view the recent damage. Floors were covered in broken glass, flipped-over mattresses, puddles of coffee and pieces of sheetrock ripped from the walls.
On one window, detainees had scrawled a message in Spanish. Hodgson asked a staff member to translate for him when I asked about the graffiti on Saturday morning.
"Yeah, Auxilio means help," the staff member told him.
"It says, 'Help. The sheriff's a racist,'" Hodgson read.
Eric Alves, the former inmate who was released in April, says the inmates and detainees are afraid. He says the pandemic has changed what it feels like to do time in county jail, where no one serves a sentence longer than two and a half years.
"Now you just go from your little petty sentence to getting sentenced to death, basically."
Each week, more inmates in criminal custody apply for release. Those with pre-existing health conditions are given special attention. A federal judge is also considering the release of additional ICE detainees from Bristol County's custody.