During a recent event at Tolman High School in Pawtucket, educators and Democratic politicians celebrated a new law requiring Rhode Island students to get education in financial literacy.

Rhode Island General Treasurer Seth Magaziner said the research is clear -- students become more fiscally savvy adults when they learn the basics of finance.
"When students have access to education on how to budget, how to save, how to invest, on average, those kids go on to have higher credit scores, lower debt, lower likelihood of ever taking out a payday loan. and all kinds of other better financial outcomes," he said. "So this works."
Even with this campaign on financial literacy, Rhode Island is the only New England state that allows consumers to risk falling into what the Center for Responsible Lending calls "the payday loan debt trap." In other words, while the interest rate is limited to 21 percent for most commercial lenders, payday lenders can charge the equivalent of an annual percentage rate of 260 percent.
Maine allows the equivalent of 217 percent APR, according to the center, while strong protections limit payday lending in other New England and Northeast states.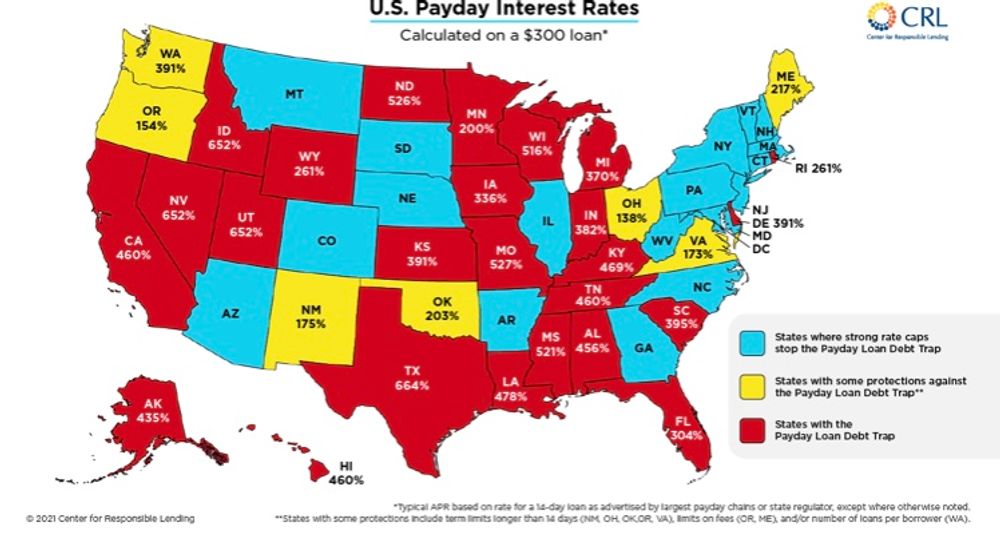 In Rhode Island, payday lenders charge $10 in interest for every $100 borrowed, up to $450 in a single loan, for a two-week period.
Andy Posner, founder and CEO of the Capital Good Fund, a Providence-based nonprofit loan agency, said this is why payday lending can seem reasonable.
Someone taking out a $300 loan, for example, is supposed to pay back $330 within two weeks. But Posner said most payday customers cannot meet that deadline. Instead, according to the Consumer Financial Protection Bureau, they repeatedly roll over the loan, racking up more debt.
"And that's how a $300 loan ends up costing you $700 in interest and fees," Posner said. "In other words, the basic problem here is that a payday lender only makes money when you are trapped in debt. If you successfully use the product as designed, they will lose money."
Advocates in Rhode Island have been fighting since 2011 to cap these interest rates.
And when the student financial literacy bill was introduced in the House back in April, the sponsor in that chamber, Rep. Joseph McNamara (D-Warwick), the chairman of the RI Democratic Party, pointed to payday lenders as part of the reason why the legislation was needed. "In my district alone," he said, "if you enter from Cranston, going down Warwick Avenue, before you get a mile and a half in, you'll see two franchises for payday loans, national payday loan businesses, that charge horrendous rates and take advantage of our citizens."
But unlike in some other states, legislative leaders in the Ocean State show little interest in clamping down on the payday loan industry.
State Senate President Dominick Ruggerio was among the elected officials at the financial literacy event earlier this month at Tolman High School in Pawtucket, a city where payday lending giant Advance America has three storefront locations. Ruggerio said a bill to cap payday loan interest at 36 percent was not a priority in the final weeks of the legislative session.
"Haven't even looked at it," Ruggerio said. "I didn't know a bill was in."
"It's been in the legislature for 10 years," a reporter said.
"I don't know at this point in time," Ruggerio responded. "It doesn't sound like something we're going to be doing in this legislative session."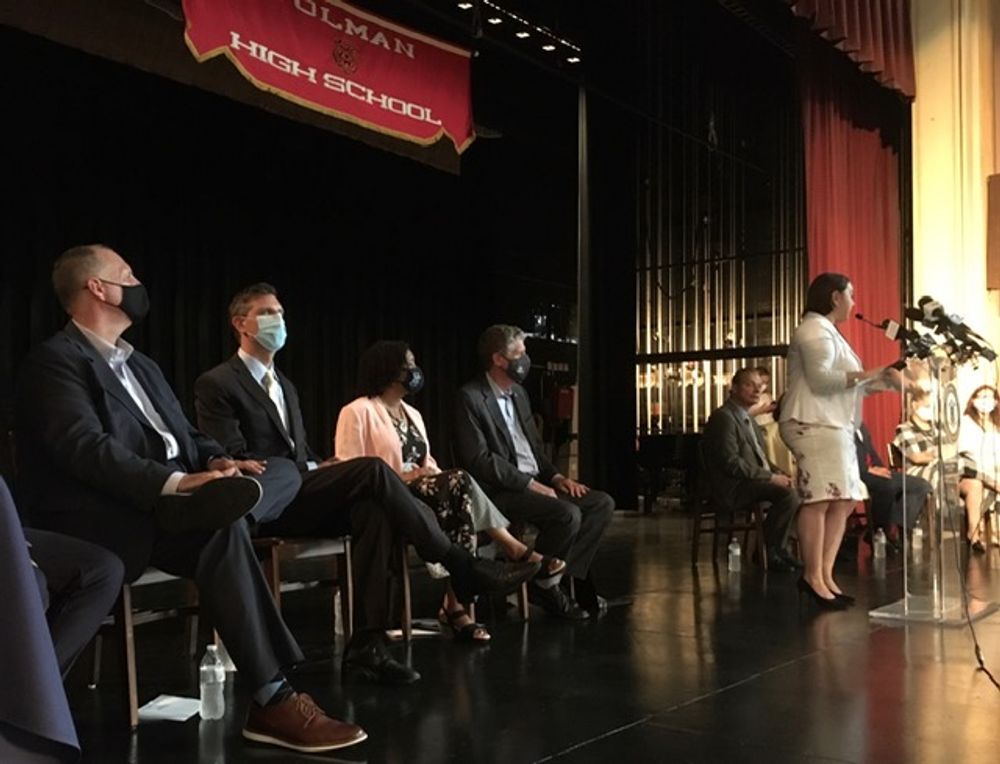 House Speaker Joe Shekarchi is more guarded. During a recent interview, he was non-committal on whether he will let the payday loan bill get a vote on the House floor, even though he says he's sympathetic to the view that payday is a predatory practice.
"I hear that argument," Shekarchi said. "I tend to agree with that argument. It's not something that I do or recommend. But there are other people in Rhode Island who have a different point of view, that it's a private business and people should have this service available to them."
Gov. Dan McKee does not appear to have publicly raised concerns about payday lending in Rhode Island.
Asked for comment, McKee spokeswoman Alana O'Hare said the governor and his team will review the legislation to cap payday lending "as it makes its way through the General Assembly. The governor does support efforts to protect consumers from harmful cycles of debt, and safeguard Rhode Islanders and their personal finance."
The seeming status quo on payday lending comes as lawmakers have approved legislation to promote financial literacy among students, and also a bill to require financial institutions to report suspected financial exploitation of seniors to the state Office of Healthy Aging, and to temporarily hold such transactions.
Rhode Island lawmakers legalized payday lending 20 years ago.
Julie Townsend, senior policy counsel for the parent company of Advance America, the nation's biggest payday lender -- which has 18 locations in the state – said consumers understand their finances.
She said consumers typically use payday loans to cover a gap when they're short on money.
"Our customers understand their finances," Townsend said, "and they're using this product because it's the cheapest credit available to them. It's cheaper than the other options they're facing, like overdraft fees, bounced check fees and late payment penalty."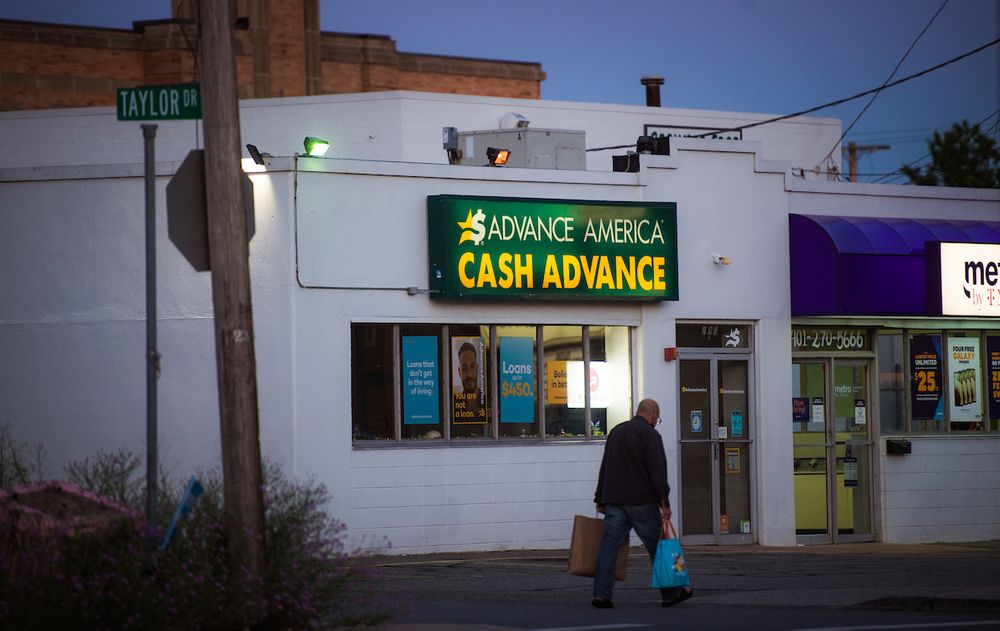 Some payday customers describe the situation differently.
Vannessa Ramirez, now 29, took out a payday loan when she moved into a new apartment in Providence two years ago and couldn't afford to turn on the utilities. She said payday loans are marketed as a quick and easy way to resolve financial difficulties.
"What ends up happening is that most people don't understand how the interest and fees will impact you," Ramirez said. "In a moment of desperation, you think, ok, I need to get this done. In my situation, I couldn't be in a home without electric and gas, so I did this to resolve that, but then I wouldn't have enough money to pay my rent or buy food, so it just made things a lot more difficult."
Ramirez used payday even though she was working for the Capital Good Fund, although she says she was unaware of the risks.
The nonprofit began in a social entrepreneurship class at Brown University in 2008, and it describes its mission as helping people to climb out of poverty. Ramirez says she eventually paid off her payday loan by refinancing it with a dramatically lower interest rate through the Capital Good Fund.
The Capital Good Fund's Andy Posner said it's hard to get the word out about lower-cost loan programs like CGF and credit unions since the payday lending industry has much more money to spend on advertising. "There's a bit of a lack of a level playing field," he said.
Still, the industry faces some challenges.
The advent of online lending has cut into the business of payday lenders who use brick and mortar stores. In Rhode Island, there were a little less than $50 million in loans last year, down from a peak of almost $100 million in 2014. That's not including interest and fees.
Online lending is legal in Rhode Island, as long as the lender is licensed. The state does not distinguish between online and brick-and-mortar payday lenders. It also groups the licenses given to these lenders with check-cashing outlets.
Both payday supporters and critics say that federal stimulus payments over the last year cut demand for payday loans. Despite that, the industry is still considered highly profitable when lenders can charge rates like those in Rhode Island.
If advocates here want to see how a state can change course, they can look to Illinois and Hawaii, which this year created laws to impose a 36 percent interest cap on payday lenders. Close to 20 states use a similar limit.
Brent Adams of the Chicago-based Woodstock Institute said it took Illinois 20 years to get to this point, and that the heightened focus on racial justice after the death of George Floyd offered a boost.
Adams said the lengthy fight reflects a gap between how voters and elected officials view the payday industry.
"When consumers of all political parties are asked if they support rate caps, such as a rate cap of 36 percent, by large bipartisan majorities they say, 'yes.' " he said. "But that is not mirrored in state capitals and in the nation's capital, because the industry is very powerful. They have a lot of connections, they have a lot of lobbyists, they have a lot of resources."
In Rhode Island, Advance America pays a former House speaker, William Murphy, $30,000 a year to represent its interests. He's among the most prominent lobbyists in the state, although Advance America's Julie Townsend contends Murphy is no more influential than a typical lobbyist.
On the other side, state Treasurer Seth Magaziner and a small number of liberal lawmakers and activists remain vocal in calling for changes to payday lending. They show up each year and testify at legislative hearings. Posner paid for a full-page ad in The Providence Journal last week – with this headline in large print: "RI Legislature: Okay with 260% APR?" – in a last-ditch effort to motivate lawmakers during what is expected to be the last week of the General Assembly session.
But legislative leaders do not appear likely to bring the bill to cap payday interest rates to the floor of their respective chambers. And advocates have not organized the kind of broad grassroots campaign that pushed reluctant lawmakers to legalize same-sex marriage in 2013 and a state-based right to abortion in 2019.
This is an expanded version of a story airing on The Public's Radio.
Ian Donnis can be reached at idonnis@ripr.org. Follow him on Twitter @IanDon. Sign up here for his weekly RI politics and media newsletter.