Click the orange play button above to hear the audio.
The wooden dock creaked and moaned as the fourth graders at Pell Elementary school prepared to set sail. It was one of those classic Newport days: warm and breezy, with blue skies overhead. You could almost taste the salt in the air.
Some of the kids fidgeted with their bright orange life vests as our instructor, Curtis, pointed us toward a fleet of 22-foot sailboats.
"Once the boat is set up, only the driver is going to be behind the black bar. We got that?" he asked the group.
"Yes, instructor man," one of the kids replied.
My fellow crew members — Adrianna, Emma, Kailin, and La'Rell — were there with their class, in the middle of a school day, to learn how to sail. In fact, the whole fourth grade will visit Fort Adams State Park once a week for 16 weeks this year as part of the school district's partnership with the local organization Sail Newport.
It was only the second week, and there was a sense of giddy excitement on board. As the wind filled our sail, the intrepid mariners shouted to their teacher, Mrs. Palmucci, who was still on shore.
"Jump in, Mrs. Palmucci!" someone yelled. "I'll give you 50 bucks!"
A chorus of voices raised the ante: I'll give you a hundred! I'll give you $500,000! I'll give you a million!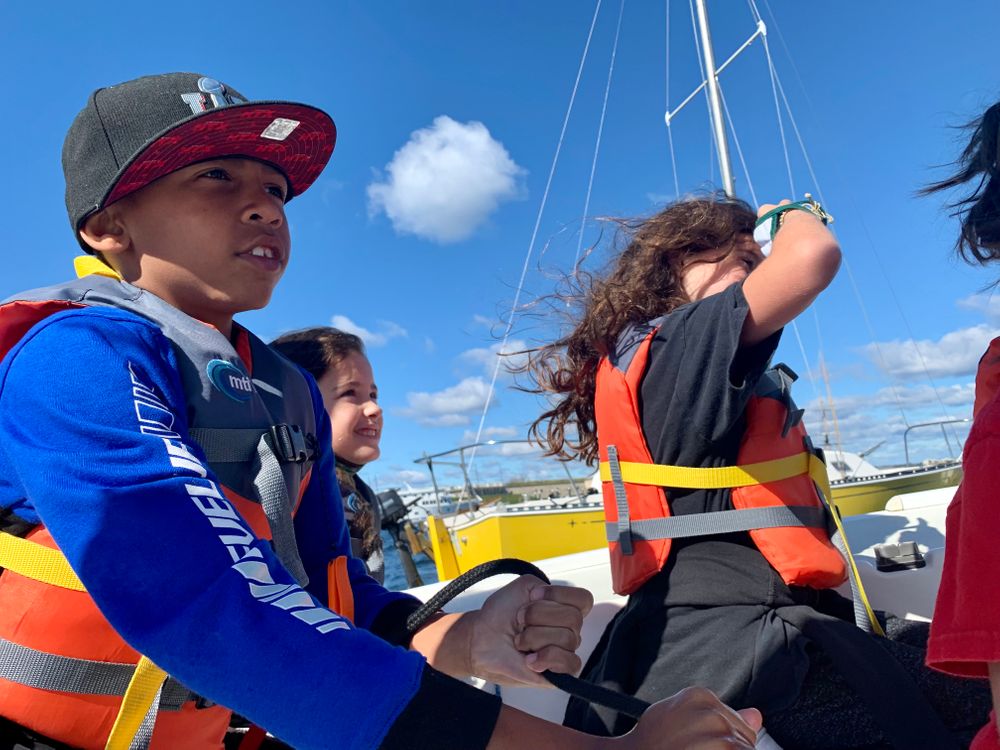 At sea, we learned tipping is called "heeling." And turning is "tacking" or "jibing," depending on the direction of the wind. Another boat of fourth graders zoomed past us — so Curtis, the instructor, let the kids take out the "jib," a second sail, to go faster.
After La'Rell and I helped secure the line, I asked him what his favorite thing was about being on a boat.
"My favorite thing," he replied, "is about when it starts to lean over and I get to touch the water."
Sailing program gives some students a first taste of the harbor
Wanting to put their hands in the water is a common reaction, says Kim Hapgood, the program director at Sail Newport. Even though you're never far from the ocean in Newport, she says many students have never actually felt the water of Narragansett Bay before fourth grade.
"I think it's also the sort of like, 'Wow, you know, I can't see through the water' because of just the different salinity and cloudiness," she said. "But to be able to put my hand in that and sort of see what that experience is all about."
In a way, putting their hand in the water involves embracing the unknown, Hapgood said. And that's what the whole sailing program is also about — building skills and confidence, even if the experience feels unfamiliar at first.
"A lot of our students come from a poverty level," said Traci Westman, the principal at Pell Elementary School. "And so a lot of our students don't get exposure to things like swimming, even though we live on an island. They don't get to come out to Sail Newport, because they don't know about sailing."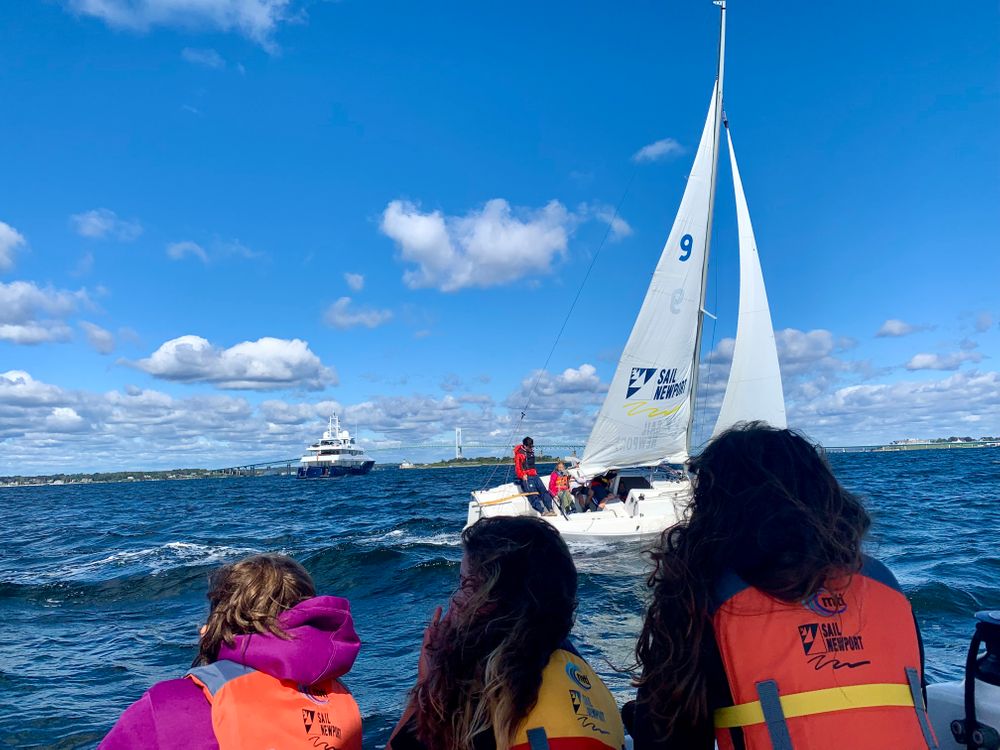 By the end of the 16-week program, most of the fourth graders will be expected to know how to guide the decision-making on the boats, even if they still need physical help from the instructors. There are also scholarships available for students to continue sailing in the summer.
"So it's creating a comfort level, but it's also creating a bigger dream of — 'Wow, I could be a sailor. Wow, this is where we live,'" Westman said.
Teacher Keyla Palmucci has been with the program since it started in 2017. She was initially apprehensive about losing crucial instruction time, but she told me the program has worked out well. When her fourth graders aren't on the water, there is a classroom at Sail Newport where she is able to blend in her science curriculum.
The beginning of a return to normal as pandemic restrictions ease
The program took a hiatus last year because of the COVID-19 pandemic. This time around, Palmucci said sailing was one of the first things her students asked about.
"It's something that they know happens in fourth grade," she said. "And they're just making sure like, 'Hey, is it happening this year? We know this year looks different, but is it still an experience that we'll have?'"
When Palmucci sent out a survey at the beginning of the school year, many of the parents' questions were also about sailing.
"I think the pause really helped us to appreciate what we have," she said. "It helped all of us — families, teachers and students included — to help us remember like, yes, COVID is still real. But we can still do this in a safe way. We can still have a great time out on the sailboats."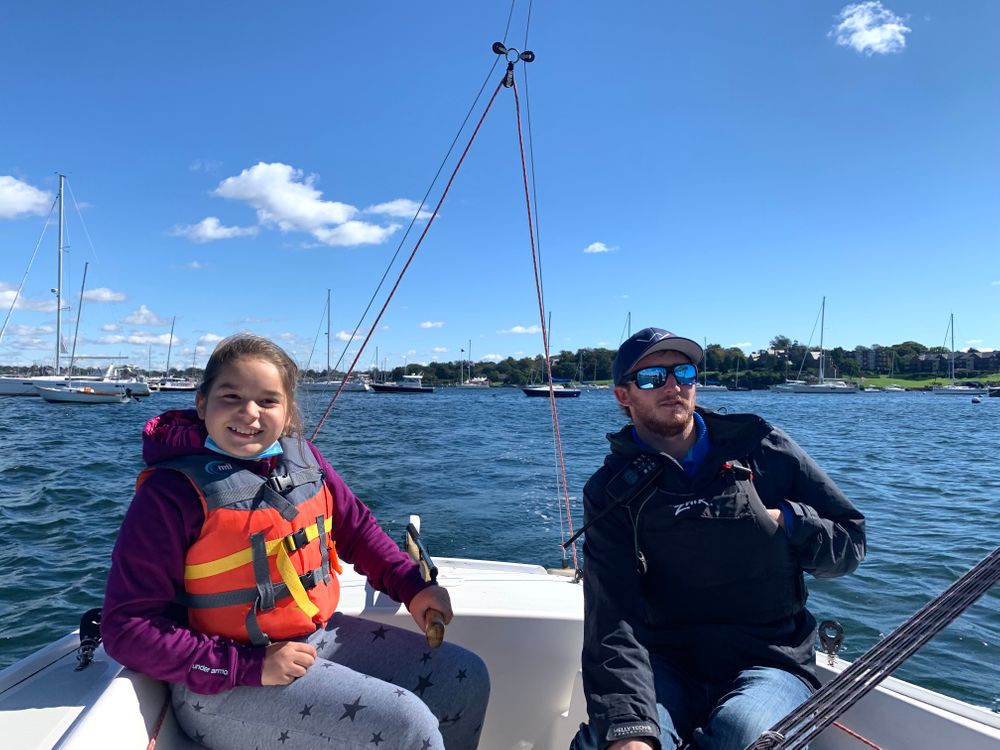 Out at sea, the kids talked as if COVID were a person who foiled their plans for the past two years — like the swim lessons Newport students usually receive in second grade.
"You're mean, COVID," Emma said. "We didn't get to go swimming and everyone else did!"
"Yeah, you should pay everybody's taxes," someone added.
"You ain't got taxes," another quipped. "You're a nine-year-old girl."
The students all agreed it was exciting to venture outside their typical classroom and see the things they're learning up close. On this particular week, the main lesson was about weather, and how sailors can use tools around them to predict the weather.
"I learned a barometer and a thermometer are different things," Adrianna said. "I thought they were just like, a different way of saying it."
As the breeze picked up, the students looked for the wind vane at the top of the mast and watched it quiver. Toward the front of the boat, La'Rell spotted a compass. As he cupped his hands around it to get a better look, I asked if he could tell where we were headed.
"It's cracked, so you can't really see it. But it looks like we're going North," he said, squinting. "Yeah, North. We're going North."
He pointed an arm forward, past the bow of the boat. And off we went.
Antonia Ayres-Brown is the Newport Bureau Reporter for The Public's Radio and a Report for America corps member. She can be reached at antonia@thepublicsradio.org