→ See more of our coronavirus coverage, including community resources and personal stories.
During her daily briefing on Monday, Rhode Island Governor Gina Raimondo said, "I begin every day, every meeting, asking the question, 'what do I need to do to get people back to work?' "
Raimondo routinely sounds this message during her briefings. She empathizes with Rhode Islanders' economic suffering, and says she's keeping her eye on the future: "What do I need to do to really start turning the switch back on?"
Many of the gains after the Great Recession, when Rhode Island had one of the highest unemployment rates in the nation, have been wiped out. Almost 150,000 people have applied for unemployment since early March, making it far harder for Raimondo to realize her goal of creating a more prosperous state by the time she leaves office.
Those job losses are causing a lot of stress and putting pressure on the second-term Democrat to reopen Rhode Island's economy. For right now, the death toll is still climbing here and Raimondo said it's still too soon for people to go back to work.
"But it's important to me that you know it is top of mind for me," she said, "and it is my goal that Rhode Island will be one of the very first states in the country to begin emerging and getting people back to work."
Raimondo took a step in that direction by forming a regional collaboration with five other Northeast states this week on reactivating the economy. In Washington, President Trump has bristled at calls to keep the country on lock down, asserting that he has ultimate authority to get things moving again.
None of this can come soon enough for Mark Smiley of Warren.
He's a former state Republican chairman and is running for state Senate held by Democrat Walter Felag this year. As a traveling salesman who relies on commissions, Smiley is also among the almost 150,000 Rhode Islanders whose income has been cut off by various orders imposed by Raimondo.
So Smiley did what a lot of people do in this day and age: he shared a Facebook meme that he calls a protest against an overreaching government.
"It seems like we have given up quite quickly the freedoms that the Constitution has guaranteed us, in fear of the coronavirus," he said.
Thing is, the photo in the meme shared by Smiley shows the Auschwitz concentration camp in Poland. The text that ran with the meme said -- quote: "If people were told to get in cattle cars to be taken to virus protection camps, most of you would rush to get in line." The original post has attracted almost 2,000 shares on Facebook since going up earlier this month.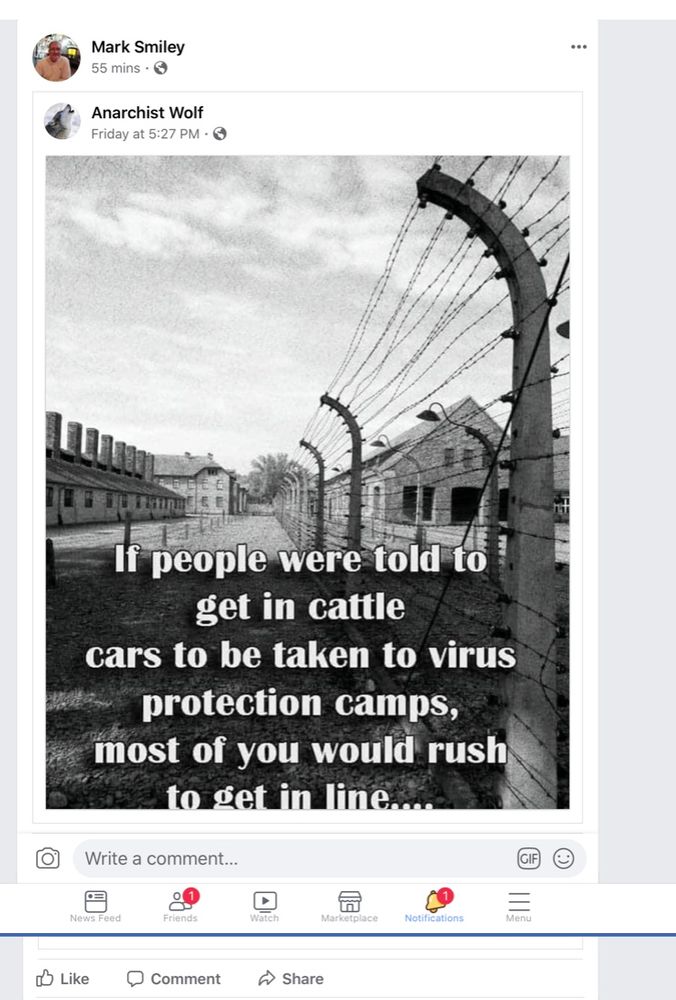 Smiley said he thought the image was of a prison unrelated to the Holocaust. And he took the meme down after it came under criticism from outraged critics including former GOP gubernatorial candidate Ken Block.
"We have to be much more careful with our rhetoric," Block said. "And to equate dealing with this virus with the Holocaust is probably the most extreme statement I've seen regarding how we're dealing with the pandemic virus."
Smiley remains unapologetic about his view that closing the American economy is causing more harm than good.
He questions the effect of heightened tension and lost income. And Smiley believes orders to stay at home should have been done on a far more limited basis.
"It is a situation where I think a proper reaction should have been to quarantine the elderly and the infirm and let the rest of us go," he said. "And would more people get the coronavirus that way? Yup, I think so, but we would also survive it a whole lot easier."
Facebook is full of memes criticizing the government response to the pandemic.
Many are lighthearted, and there are also memes that support social distancing. But a couple of other local Republicans have liked or retweeted social media posts comparing the situation to the Holocaust and the Gestapo. And other observers dislike Raimondo's call for people to wear face masks and a move toward electronic tracking of virus symptoms.
Brown University political science professor Wendy Schiller said there are plenty of legitimate questions about governments' right to affect people's ability to make a living. But Schiller said extremist images involving the Holocaust don't help to move the debate forward.
"To invoke that kind of imagery just reflects the polarization and the extremism that we're seeing in American politics," she said. "And we see it from the very far right wing, from the people like if Mark Smiley wants to be in this category. And we see it from the very left wing, like AOC, for example. We're seeing this on both sides."
The top presidential health advisor Dr. Anthony Fauci has raised the possibility of a tipping point where the economic side effects of responding to the pandemic become worse than the virus. But Fauci said the virus itself, and its effect on public health, have to determine the timetable for gradually reopening the economy at some point in the future.