Mike Stanton remembers Wednesday, April 28, 1999, as a beautiful sunny spring day in Providence.
Bill Clinton was in the White House. The Matrix was in movie theaters. Buddy Cianci was the mayor of Providence. And Stanton was working as an investigative reporter for The Providence Journal.
"I came in," he remembered. "And then we started getting calls that the FBI was over at City Hall."
The FBI was at City Hall because of a corruption probe dubbed Operation Plunder Dome. Stanton grabbed a notepad and sprinted.
"So I rushed over there," Stanton said, "and the tax office was closed, and FBI agents were carrying boxes out of City Hall."
The idea of FBI agents carrying boxes out of City Hall was a long way from the image presented by Cianci during his first run for mayor, back in 1974.
With dramatic music in the background, an announcer in a campaign commercial said, "Take a good look at the face on your TV screen. It belongs to Cianci, Buddy Cianci …"
Cianci burst onto Rhode Island's political scene, after making his name as an up-and-coming prosecutor in the attorney general's office.
"Cianci is so incorruptible he headed up the anti-corruption strike force in this state," the campaign ad continued. "And Cianci's moves with so much personal conviction, he's willing to run as a Republican in this of all cities. In this of all years."
With a mix of charm and bullying behavior, Cianci emerged as a big player in local politics, even though he lost a run for governor in 1980. But Cianci's upward trajectory was in ruins by 1984. That's when he pleaded no contest to assaulting a man he suspected of having an affair with his wife. The sentencing was carried on live TV.
Prosecutor: "The defendant attempted to hit him with a log and was only stopped through the intervention of a third person. And more importantly …
Cianci: "…It's not true.
Prosecutor: "the defendant attempted two times to burn the victim with a cigarette and finally accomplished this …"
Cianci got a suspended sentence and resigned as mayor. Around this time The Wall Street Journal disparaged Providence as a smudge on the way to Cape Cod. The newspaper said Rhode Island was infested with crime and corruption and served as the base for the New England Mob.
But Providence's national reputation was on the rise even before Cianci staged an improbable comeback in 1990.
Once again, a Cianci campaign ad helped set the tone: "On November 6th you have a chance to have the best mayor this city has ever had – the mayor that will never stop caring about Providence."
Cianci won a three-way race by 317 votes.
His return to City Hall coincided with a series of changes that transformed the face of Providence. One of the most dramatic was a river relocation project long in the works changed the look and feel of the city's downtown. Cianci was among the many responsible for that, but he seized the limelight and claimed much of the credit.
There were other positive developments on Cianci's watch. The art installation WaterFire, with burning braziers set in the Providence River, attracted suburban visitors.
The Providence Place Mall was developed. Cianci would boast to anyone who'd listen about Providence's restaurants, theater, nightlife, zoo, ice rink, nearby beaches, institutions of higher learning, and so on. The mayor was so popular that he ran for re-election uncontested in 1998.
"He was at the height of his glory," recalled Mike Stanton. "And he was winning national acclaim – Providence was the Renaissance City."
By then, no one was calling Providence a smudge on the way to the Cape.
But there was an underside to the nationally hyped Providence Renaissance. And then came a knock on the door at Cianci's East Side home. It was his longtime nemesis, FBI Special Agent Dennis Aiken. Other agents ranged through City Hall. It was the morning of April 28, 1999.
"I knew it was right," said H. Philip West Jr., then the director of the good government group Common Cause of Rhode Island. "It was no surprise to me that it was coming down again."
West was not surprised that Cianci was back in hot water, in part since 22 people from his first tenure back in the 70s and 80s were convicted of crimes.
"In Providence, it seemed to be so clear that almost everything was for sale," West said.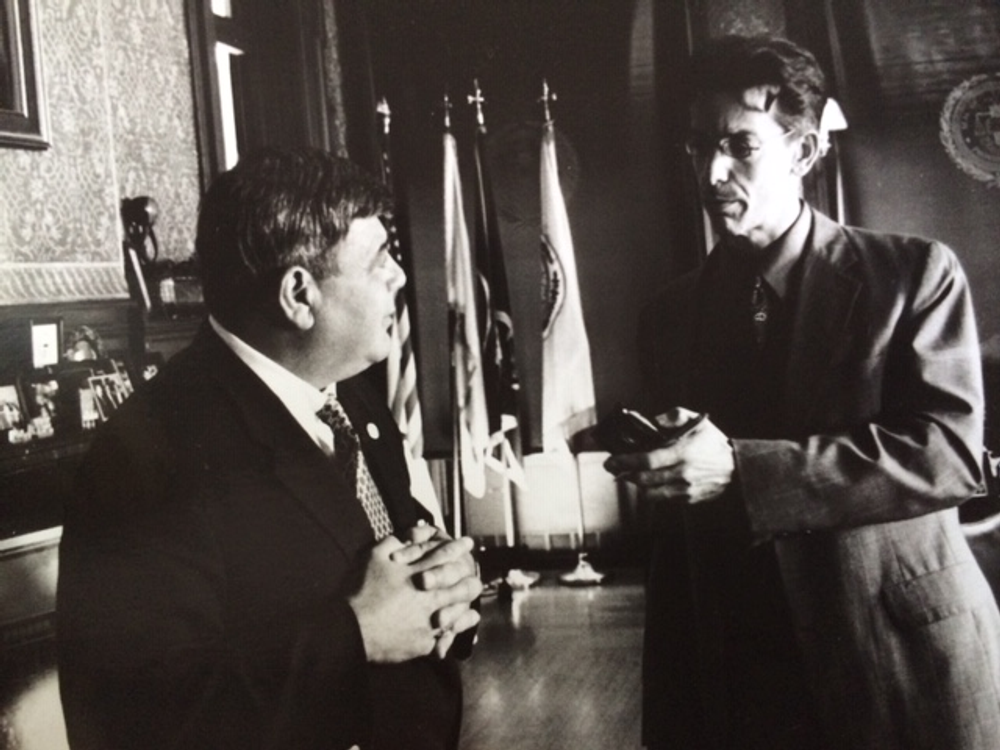 In 2001, Cianci was indicted on 27 counts alleging racketeering, bribery and extortion. He maintained his innocence during a City Hall news conference packed with reporters.
"I'm not guilty of this stuff," Cianci said, "and I'm going to fight as long as I can as far as I can, and I will go all the way to the Supreme Court, the Hague, wherever they want to go, because this is not true."
But Cianci was convicted of a single count of racketeering conspiracy, and he was sentenced to serve about five years in federal prison.
The U.S. District Court judge, Ernest Torres, likened Cianci to Dr. Jekyll and Mr. Hyde because of his mix of political gifts and his penchant for self-inflicted wounds.
Cianci left the mayor's office in 2002, and he was never able to get back in. His legacy remains a subject of debate.
An agreement presided over by Cianci back in the '90s blew up the size of the city's unfunded long-term pension obligations. That's a ticking time bomb still in search of a solution.
Another unresolved issue is the longstanding under-performance of Providence's public schools.
Despite these nagging problems, Cianci tried staging another comeback in 2014. And people like Mario Santomassimo of North Providence still admired him.
"He's smart, very smart, good politician," Santomassimo told me while visiting Federal Hill in 2014. "He knows how to work the system, get the system going."
Cianci was 73 at the time, but he remained glib and quick with a retort when asked about his checkered past.
"The person who's going to win this election is the person who can capture the imagination of the people of Providence," the former mayor told reporters on the day he announced his campaign.
Cianci got 45 percent of the vote in 2014, so he still had a hold on a lot of people's imagination in Providence. But Jorge Elorza won election as the third mayor after the Cianci era. Cianci died from an illness two years later.
So how much has City Hall changed since Cianci left office almost 20 years ago?
"I think with any political system you're always going to have patronage, you're always going to have people looking for jobs," said former ProJo reporter Mike Stanton, now a journalism professor at the University of Connecticut.
"But we certainly haven't seen the open scandals that we saw during Operation Plunder Dome, the FBI coming in with subpoenas and grabbing records and arresting city officials," Stanton said.
Love him or hate him, the former mayor remains part of Rhode Island's brand.
He figured prominently in the hit podcast Crimetown. Journalist Matt Bai invoked Cianci during a recent discussion about President Donald Trump on NBC's Meet the Press, And Trinity Repertory Company plans to stage a play this fall based on Stanton's Cianci biography, The Prince of Providence.
So it's worth remembering that one of the jagged turns in the dramatic life of Buddy Cianci happened 20 years ago this Sunday.
Many thanks to Cherry Arnold, for the use of archival tape in this story from her documentary, "Buddy: The Rise and Fall of America's Most Notorious Mayor."