For Womazetta Jones, being a Black pioneer in state government doesn't offer any assurance that her three adult children will safely come home when they go out at night.
"Me and my children, we're inherently dangerous because we were born with Black and Brown skin," Jones, secretary of the state Executive Office of Health and Human Services, said during an anti-violence vigil Monday evening at Billy Taylor Park in the Mount Hope section of Providence. "We come from a community where there's so much hopelessness -- not by choice, but because of systemic, historic racism."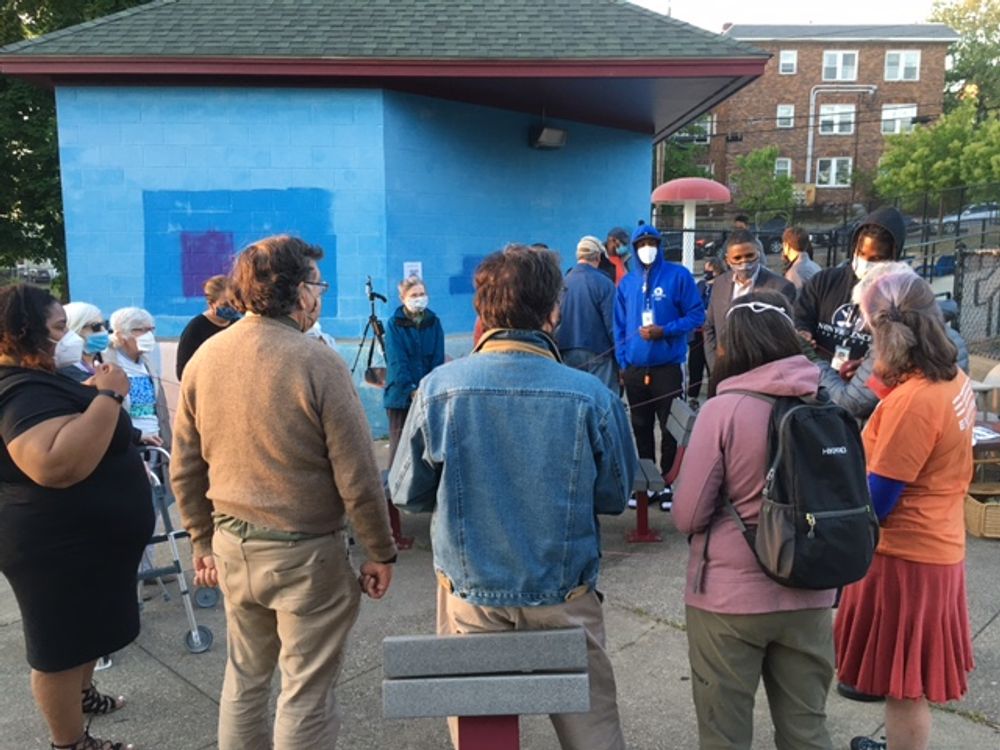 Jones recounted how she was the first person of color to hold a series of state roles in Illinois, Minnesota and now Rhode Island.
"But you know what?" she asked. "None of that really matters. It doesn't matter that we have 40 percent of the state budget, $3 billion, because first and foremost, I'm a Black mother, raising three Black children, ages 19, 21 and 24. And every single moment that they are not within my vision gaze, I'm worried. My stomach is in knots. Because all of those accolades does not mean anything."
The sudden violence that can cause the death of people of color was a common theme at the vigil.
A group of about 100 people gathered, after being called together by religious and other community leaders, following recent shootings that claimed the life of a 19-year-old woman in Pawtucket and which left nine people injured after a shootout in the Washington Park section of Providence.
In the latter case, police described the participants as two feuding groups of young men with a propensity for brandishing guns.
But Ward 3 Councilwoman Nirva LaFortune said the victim of the Pawtucket shooting, Tatyana Francois, was someone whose mother had done everything possible to keep her daughter safe.
"And yet all that girl did was be a teenager, sit in a car and she got shot by a rifle in the head, for no apparent reason at all," LaFortune said. "This has to stop to stop. It has to stop."
The city councilor said as the mother of two Black children, "I fear every day. I fear the violence that's within our communities. I fear my kid being stopped because of the color of his skin. I fear the systemic racism that exists within our communities. I live in a constant fear for my children's life. It is unfair. It is unfair."
LaFortune called for more community members to step forward as mentors to young people, as one way to make a difference. She also called for more job opportunities and after-school programs.
The vigil concluded with a presentation by members of a conflict resolution program known as Alternative to Violence Project. AVP says it has staged thousands of workshops across the U.S. with the goal of decreasing violence.
At Billy Taylor Park, those at the vigil gathered into groups of about a dozen people each. The members of the different groups then tossed a ball of yarn with one another while hanging onto a strand, symbolizing the ties between different people, while making a personal declaration to get more involved in opposing violence in their community.
The Rev. Howard M. Jenkins Jr. of Bethel African Methodist Episcopal Church in Providence, one of the organizers of the vigil, said the gathering had a two-fold purpose: praying for what is going on in Providence and the nation, and providing tools to the community to help it respond to the threat of gun violence.
Ian Donnis can be reached at idonnis@ripr.org. Follow him on Twitter @IanDon. Sign up here for his weekly RI politics and media newsletter.