Megan Geoghegan, spokeswoman for the Rhode Island Department of Education (RIDE), denied that Wagner is leaving.
But The Public's Radio has learned that an announcement involving a recommendation for a new state education commissioner is expected in the coming weeks.
Wagner was unanimously appointed by the state Council on Elementary and Second Education in 2015. He succeeded Deborah Gist, who faced sharp criticism from unionized teachers and strong praise from some education advocates. Gist, now the superintendent in Tulsa, Oklahoma, came to Rhode Island in 2009, during the administration of Republican Gov. Don Carcieri.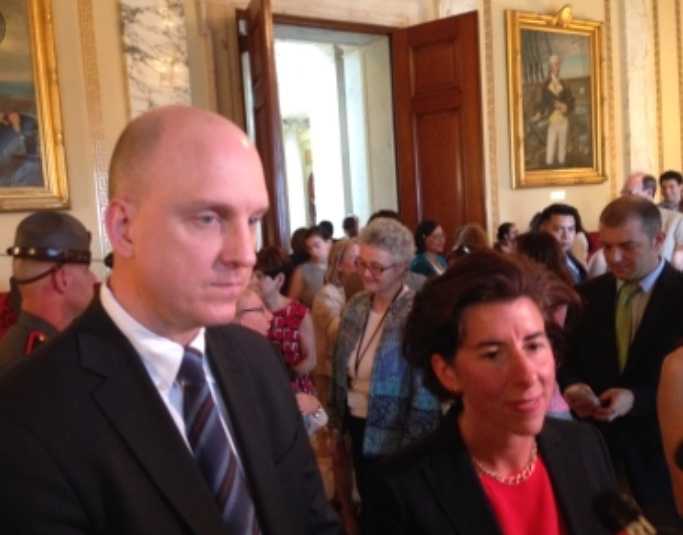 At the time, a RIDE statement called Wagner Gov. Gina Raimondo's choice "to lead the way as Rhode Islanders continue working together to transform our schools."
But decades of talk about the need to improve Rhode Island's public schools have yielded relatively little progress. That point was driven home when Rhode Island Comprehensive Assessment System (RICAS) results released in December showed Massachusetts students in various demographics significantly out-performing their counterparts in Rhode Island.
Massachusetts implemented a significant education reform package more than 25 years ago that, among other things, created a foundational level of educational funding for different municipalities.
Rhode Island, by contrast, has failed to stick with a long-term plan for improving public schools, as Wagner and other state officials acknowledge.
While talk of a possible exit by Wagner has circulated recently in education circles, the hiring a new education commissioner will allow that person to start around the same time state officials are elevating their attention on public education.
In the aftermath of the disappointing recent test results, Rhode Island Senate President Dominick Ruggerio criticized the state Department of Education, and House Speaker Nicholas Mattiello vowed a heightened focus on public education.
"The recent Rhode Island test scores were totally unacceptable," Mattiello said in his speech during the first House session of 2019. "We have already begun to review the best practices that are working so well in Massachusetts – and this House will look to adopt some of those measures so our students will succeed at a much better rate than they are now."
During a year-end interview with The Public's Radio, Raimondo said she would elevate her attention on the issue of the state's under-performing schools, although she said -- due to the various demands she faces as governor -- it would not be with the single-minded focus she used on pension reform in her former role as state general treasurer.
It remains unclear for now who will be recommended as Wagner's successor.
When Wagner was appointed, RIDE called him "a proven and experienced educational leader who believes in the importance of continuously engaging teachers, parents, and students in an ongoing conversation about public education. This constant open and honest dialogue, Ken believes, is the best way to make sure our schools reflect the diverse communities they serve and that our schools provide excellent educational opportunities to all students, regardless of race, ethnicity, economic status, or special learning needs."
Wagner had been elected to his local school committee at age 18. Before coming to Rhode Island, he went on to work in New York as a school psychologist, middle school principal and senior deputy state education commissioner for education policy.