America's offshore wind infrastructure is modest: the only turbines in the ocean today power a small community's worth of homes from a wind farm off Block Island. But within two years, the number of American homes powered by the renewable energy source could grow to nearly half a million.
Vineyard Wind CEO Lars Pedersen says an environmental review released by the federal government this week brings the company closer to its goal of supplying 800 megawatts of electricity to New England's grid by 2023.
"More than three years of federal review and public comment is nearing its conclusion and 2021 is poised to be a momentous year for our project and the broader offshore wind industry," Pedersen said.
The much-anticipated study from the Bureau of Ocean Energy Management found the only major environmental impact from the turbines would be felt in the region's commercial fisheries.
Many fishermen fear Vineyard Wind is leaving too narrow a distance between turbines for vessels to safely navigate during bad weather. Annie Hawkins, director of the seafood industry-backed Responsible Offshore Development Alliance, said the federal government has also failed to set guidelines for compensating fishing crews that will lose access to squid and lobsters they once caught in Vineyard Wind's 118-square-mile lease area.
"We do it for oil and gas, right? There's a federal program for that. It's not like there's no precedent for this," Hawkins said. "It's something that was simply overlooked or ignored."
Under the Trump administration, those concerns threatened to derail federal approval of the project. Vineyard Wind withdrew its application late last year before promptly resubmitting it once President Joe Biden took office.
Hawkins said the 2,400-page environmental review — known as an FEIS — will be hard to parse during the 30 days before the federal government reviews comments and issues a final decision.
To a certain extent, she feels the decision has already been made.
"The fact that they've put this back into review, fast-tracked this FEIS — I mean clearly that indicates a project approval is coming," Hawkins said. "The question is just what exactly the details will look like."
Vineyard Wind has released plans to start construction this year, a milestone for an energy industry that's spent more than a decade sparring with coastal communities and the seafood industry over where to locate its first piece of large-scale infrastructure in America.
A former competitor, Cape Wind, abandoned plans for a 130-turbine wind farm along Massachusetts' coast following opposition from powerful families with shoreline properties, including the Kennedys and the Kochs.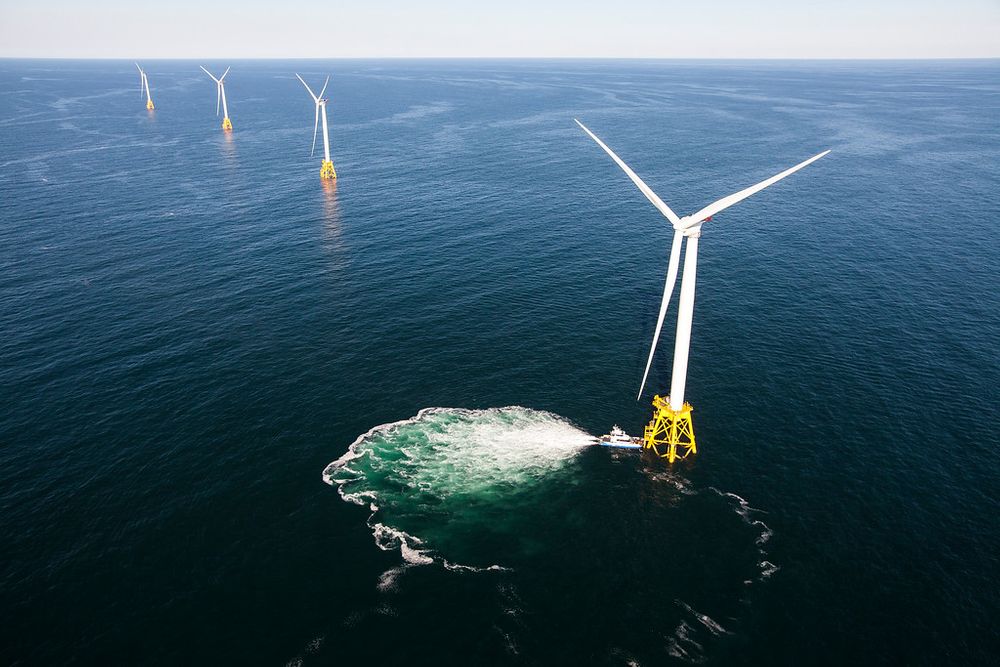 Vineyard Wind, a joint venture of Copenhagen Infrastructure Partners and the Basque utility Iberdrola, now numbers among more than a dozen offshore wind companies with leases to federal waters several miles further south.
The anticipated construction boom could bring thousands of jobs to port cities still wrestling with the aftermath of deindustrialization and overfishing, according to the company's estimates.
In New Bedford, state taxpayers recently funded the construction of a 29-acre dock for the assembly and shipment of wind turbines. Vineyard Wind signed a multimillion dollar lease there last summer.
New Bedford Mayor Jon Mitchell shared a statement this week praising BOEM for reversing the Trump administration's efforts to reconsider the environmental review.
"I am grateful to the Biden administration for its determination to accelerate the country's march toward a more sustainable future, and to create clean energy job opportunities for American families," he said.
Officials are hoping offshore wind will restore New Bedford's prominent stature within the nation's energy industry, an almost forgotten distinction lost during the collapse of the whaling industry in the 19th century, when whale oil still lit many American homes.
To this day, the city's Latin motto translates to, "I diffuse light."
Ben Berke is the South Coast Bureau Reporter for The Public's Radio. He can be reached at bberke@thepublicsradio.org.