Dr. Nicole Alexander-Scott, the outgoing director of the Rhode Island Department of Health, has emerged as a potential candidate for the Second Congressional District seat being vacated by U.S. Rep. Jim Langevin. At the same time, Democratic gubernatorial candidates Seth Magaziner and Helena Foulkes rebuffed encouragement from Democrats in Washington, D.C., to switch to a CD2 run.
Reached by phone Sunday afternoon, Alexander-Scott told The Public's Radio that she is open to considering a run in CD2, but has not made a decision about whether to pursue it.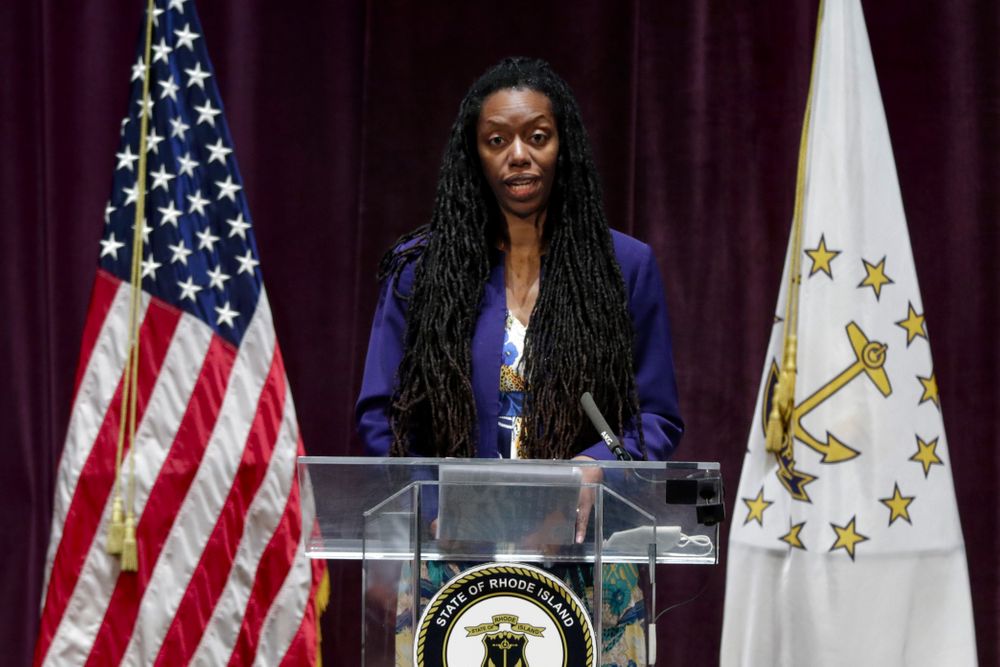 A New York City native, Alexander-Scott announced earlier this month that she plans to leave after almost seven years as director at the Health Department. She has been one of the most visible state officials throughout the pandemic, attracting mostly plaudits for her leadership while, as an African-American woman, representing a contrast to the state's white, top-elected officials.
General Treasurer Magaziner put the brakes, at least for now, on a planned switch from running for governor to running in CD2, multiple sources told The Public's Radio. That came after Magaziner called supporters Sunday morning to say he was switching to a CD2 campaign.
In a statement, Magaziner said he was flattered by the encouragement he got from many people to run in CD2 -- and agrees "that Democrats need a strong candidate to hold that seat. While I feel I owe it to those who have reached out to consider that possibility, I also believe strongly in our campaign to bring strong economic leadership to the governor's office and remain in the race for governor at this time."
Magaziner's campaign did not respond to a request for comment on his change in course.
In related news, Sen. Jessica de la Cruz (R-North Smithfield) said Sunday that she is running for the CD2 seat, setting up an expected clash with fellow Republican Allan Fung. On Friday, de la Cruz disputed an online report by The Public's Radio indicating that she was running. Rather, she said Friday, she was undecided.
U.S. Rep. Jim Langevin's surprise announcement last week that he would not seek re-election after 11 terms sparked concern among Democrats about losing the CD2 seat. Former Cranston Mayor Fung is expected to announce a run in the near future, and he is considered a formidable candidate due to his base in vote-rich Cranston.
"This is the kind of district that gets flipped in a bad year,"[ for Democrats], one source said.
In a statement at 9:50 p.m. Sunday, another Democratic gubernatorial candidate, Helena Foulkes, said she will not change course to run for the CD2 seat being vacated by Langevin.
"Over the past few days, I've been overwhelmed by the number of phone calls I've received from Democrats across Rhode Island asking me to consider a run for Congress," Foulkes said. "I share their commitment to electing a strong Democratic candidate to serve our second congressional district and will do everything in my power to make that happen, but I will not be running for Congress myself. I'm running for governor because I believe my executive and leadership experience will allow me to get things done for Rhode Islanders. That is the role where I can make the most impact to improve people's lives and unlock our state's amazing potential. I am fired up to work with Democrats across our state to keep CD2 Democratic, and to win this race for governor and deliver for the people of Rhode Island."
Pressure from DC focused on Magaziner and Foulkes since, at the moment, both are seen as facing an uphill climb in the race to unseat Gov. Dan McKee as part of a six-way Democratic primary this September.
At least two other Democrats are moving ahead with campaigns in CD2, former state Representative and former state Democratic Party chairman Ed Pacheco, who is expected to announce his run this week, and Omar Bah, founder and executive director of the Refugee Dream Center in Providence.
"When Congressman Langevin recently announced his retirement, I saw a great opportunity to once again manifest the amazing opportunities I have had in this country since my arrival here as a refugee," Bah said in a statement. "I will run as a democrat but my hope is to help in uniting the country, represent the diversity and experiences of people in this country, and to build and promote a moderate tone in Washington. There are numerous issues to tackle such as safe and affordable housing, healthcare, education, homelessness, crime, voting rights, and climate change. I am not a career politician and therefore hope to help minimize the political polarisation and promote the interest of the American people, especially Rhode Islanders."
State Rep. Carol McEntee (D-South Kingstown) and Sen. Josh Miller (D-Cranston) are considering running. Rep. Teresa Tanzi (D-South Kingstown) said she "will slam my door shut" on considering a run if Alexander-Scott pursues a campaign.
Fung ran twice for governor, in 2014 and 2018, and lost both times to Democrat Gina Raimondo, now the U.S. secretary of Commerce.
Former state Rep. Robert Lancia of Cranston, a Republican, ran against Langevin in 2020 and is running again.
This story has been updated.
Ian Donnis can be reached at idonnis@ripr.org. Follow him on Twitter @IanDon. Sign up here for his weekly RI politics and media newsletter.