The Rev. Howard M. Jenkins, Jr. was preparing for the launch of Rhode Island's first mass COVID-19 vaccination clinic for people of color in mid-April when his cell phone started blowing up.
Inside his cramped office at the Bethel African Methodist Episcopal Church, in Providence, the pastor was fielding frantic calls about that weekend's clinic at the Dunkin' Donuts Center in downtown Providence.
More than 1,400 of people of color, some of them undocumented immigrants, had received notices saying their vaccination appointments had been cancelled. No explanation; no number to call.
For all his doubts about Rhode Island's vaccination program, Jenkins had not imagined anything like this. The phone glued to one ear, he rummaged through the piles on his desk in search of a pen as callers peppered him with questions. If people just showed up anyway, would they be turned away? What should community leaders tell people who received the cancellation notices? That it was a mistake? And would they believe that? Did he even believe that?
Jenkins, 59, a former manager at General Dynamics Electric Boat, knows how to handle people. This is not our problem, he said calmly into the phone. We did everything right. Tell people to show up to their appointments. One way or another, he said, everyone who shows up will be vaccinated.
"We've always said the system is broken,'' Jenkins said later. "But this could have been intentional for everything to be cancelled. I mean that's like pushing the button.''
Rhode Island is among the top 10 states nationally for COVID-19 vaccinations, according to a New York Times analysis of data from the Centers for Disease Control and Prevention. But the state's vaccination rates for Black and Latino residents ranks roughly in the middle of the pack compared with other Northeast states, said Samathana Artiga, director of racial equity and health policy at the nonprofit Kaiser Family Foundation.
Jenkins was appointed by former Governor Gina M. Raimondo to the Equity Council, created to shape the state's Covid response to serve the people most impacted by the pandemic. And he and other council members have pressed state leaders to do more to address vaccine inequities.
Though he stands just 5 feet 6 inches, Jenkins speaks in a commanding baritone. He has confronted frustrations with the state's vaccine registration system as well as resistance to being vaccinated within his community and even his own family. But he doesn't get angry; at least not in public.
"I can't be angry. You know, what happens when I'm angry?'' he said. "I get the George Floyd treatment. People treat me like a Black man. Oh, he's an angry Black man. So we got it, we got it, we got to take care of that.''
***
When state health officials first approached Jenkins and fellow clergy in the fall of 2020 about preparing to vaccinate residents, his reaction surprised even one of closest colleagues.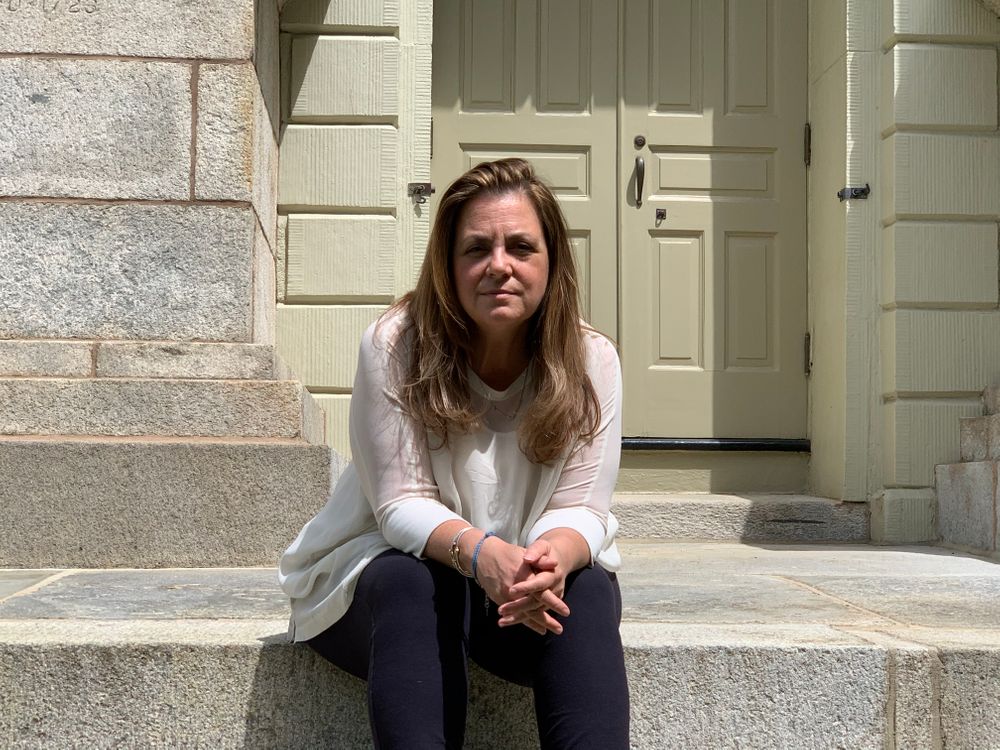 "I didn't realize that he himself was hesitant about the vaccine," said the Rev. Elizabeth Lerner Maclay, the senior minister at the First Unitarian Church of Providence. Maclay, who is white, had befriended Jenkins several years ago over monthly lunch meetings at Gregg's restaurant. They'd organized interfaith workshops together and stood side-by-side at rallies for gun safety legislation.
So when Jenkins agreed to meet with state health officials about vaccinating people of color, "I wrongly interpreted (that) as meaning he was already bought into it,'' Maclay said. "And so I was completely surprised to learn that he and some of the others who showed up to that meeting, willing to work on this, were at the same time carrying their own suspicions and concerns about it.''
Jenkins put it more bluntly. "I wouldn't take the vaccine,'' he said. "I said I don't trust it. There's too much of a history."
That history includes the infamous Tuskegee syphilis experiment in the 1930s, which withheld medical treatment for Black men with syphilis; and the 1990s lead paint study by researchers at Johns Hopkins University in which Black children were exposed to lead poisoning in their homes as part of a study about lead paint abatement strategies.
But Jenkins is also a man of science. He has bachelor's of science in Industrial Technology from Virginia State University, and a master's in business administration from Rensselaer Polytechnic Institute.
And he's a COVID-19 survivor. He and his wife, Teresa, a pastor licentiate and regional director at the state's child welfare agency, were among the first Rhode Islanders to contract the coronavirus in March of 2020. Prior to getting sick, neither had worried much about it.
"COVID can't catch me!" Teresa Jenkins recalled joking with their adult children. She is rarely sick, she explained, and has no underlying health conditions. So when she was invited to be the guest speaker for Women's Day at two churches -- one in Providence and another in Hartford, CT -- just days before gatherings of 25 people or more were banned, she never considered turning them down. "I looked at it as a gift,'' she said.
The pastor attended the Providence service with his wife. Two days later they both fell ill. Teresa spiked a fever of 103 degrees; the pastor, who has asthma, developed a worrisome cough. Testing was scarce back then, so even though the couple had all the telltale signs of COVID-19, including a loss of a sense of smell and taste, they would have to wait nearly two weeks to be tested.
By then, their church had closed its doors and moved services online. Jenkins continued to meet with his congregants remotely. Neither the pastor nor his wife disclosed their illness to the congregation. Jenkins didn't even tell his colleagues. During one Zoom meeting, Maclay, Jenkins' lunch companion, recalled seeing the usually focused, energetic pastor drop his head and become "visibly less and less present." Eventually he just signed off.
The couple remained quarantined at home, until mid-May. Those early months of the pandemic reminded Teresa Jenkins of the AIDS epidemic. "We heard all the horror stories about what was happening at the hospital and in the communities, and people avoiding them,'' she said. "It felt like a stigma."
When they heard that a congregant at one of the churches where Teresa preached had died, Pastor Jenkins asked, was it COVID? "Nobody said anything," he said. "It was like taboo."
***
The silence was short-lived. Bethel A.M.E Church's daily online worship service opened with prayerful singing followed by a rundown of the state health department's COVID-19 cases, hospitalization and deaths.
The church joined with state health officials and Lifespan in mid-August to open a COVID-19 mobile testing site designed to reach Black, Latino and other underserved populations. Jenkins had a bright red banner posted at the top of his church's website that reads: "Click Here: COVID-19 Test Registration Form."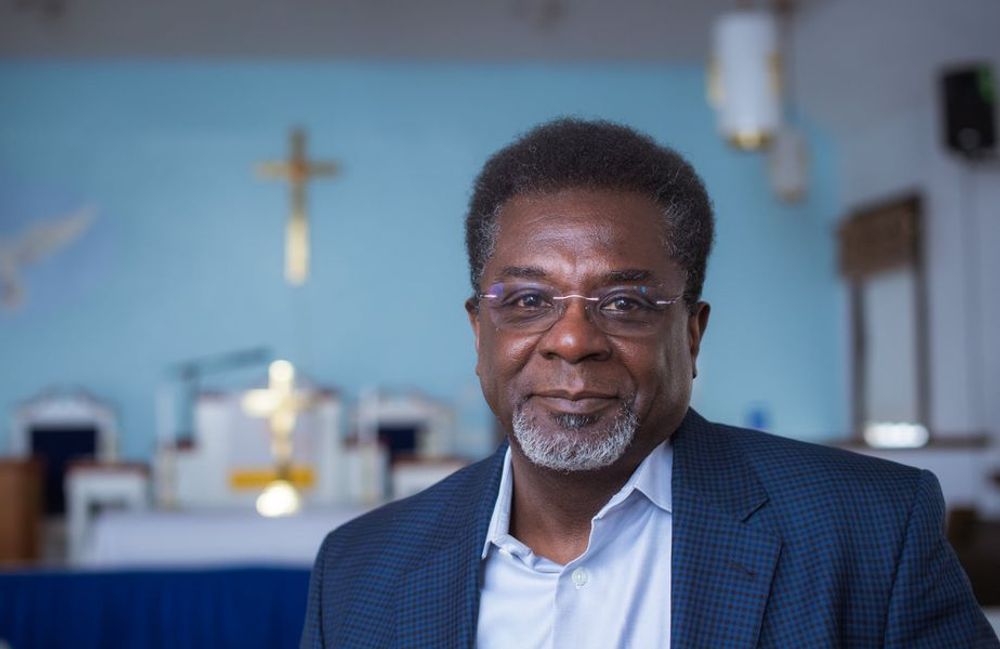 When the vaccine arrived in mid-December, Jenkins listened to medical experts say it was the best hope of ending the deadly pandemic. But he still didn't know if he wanted to be vaccinated. "How can you be a leader, and encourage people, and not do what needs to be done?" he said. "I am not going to lead people where I'm not going to go."
Jenkins needed to feel sure that it was safe. And he wasn't the only faith leader who had doubts, Maclay said. So in February, Jenkins joined Maclay and other faith leaders to address vaccine hesitancy among people of color. They called their group Faith In Science.
Jenkins and his wife reached out to their own trusted experts, who were also people of color, to lead a series of Zoom workshops for the congregation about the vaccine. One was led by a longtime friend and pathologist; another by a pediatrician in Boston, and a third by a doctor of nursing.
"What really helped turn the table for me,'' Teresa Jenkins said, "is three people from my community are experts to me'' who support being vaccinated. After that, she said, "I was kind of sold."
Said Jenkins: "You see people in your community dying...I went through Covid, I saw the effects that it had on me, I saw the effects it had on my wife.''
In the end, he said, "you trust the science."
***
When Jenkins arranged with state health officials to host a weekly vaccination clinic at Bethel A.M.E. Church in early March, he said, "I was very clear that I want to make sure that we were able to capture people of color.''
Jenkins also agreed to be vaccinated; he received his first dose of the Moderna vaccine at the church's second clinic.
Initially, the people who came to the church to be vaccinated were predominantly people of color and "I felt pretty good,'' Jenkins said. "After that, it went downhill fast."
During the eight weekly clinics, they vaccinated about 285 people, according to state health department data. About 67% of the doses were administered to white people, the data shows. Black people received about 27% of the doses; about 17% went to Latino people, the data shows.
As demand for the vaccine outstripped supply, registration slots at several clinics in Providence's hardest-hit neighborhoods were snapped up by white residents from more affluent communities. "I'm like, what's going on?" Jenkins said.
Frustrated with the low vaccination rates among people of color, Jenkins and other community leaders, including representatives of the Black Lives Matter Rhode Island Political Action Committee, gathered on the State House steps in late March. Jenkins spoke first, his baritone booming over a microphone. "We are here collectively as community leaders, with a collective voice...to address the significant low vaccination rate within our Black, Indigenous, people of color,'' he said. Rhode Island needs a "major comprehensive effort to vaccinate people of color.''
Dr. Luis Daniel Muñoz, another Equity Council member who would soon announce his candidacy for governor, said state data showed that Black and Latino people ages 50 to 64 are three times more likely than white people to die of COVID-19. And Black and Latino people ages 34 to 44, he said, who contract the virus are three times more likely than White people to be hospitalized.
"Are we allocating enough vaccines to address the disproportionate risk that BIPOC (Black, Indigenous, and people of color) communities are facing today?" Muñoz said. "The answer is, No."
Governor Daniel J. McKee, who had been sworn into office less than a month earlier, invited Jenkins to meet with him at his State House office. Jenkins said he talked with the governor about the disparities in the vaccination rates. Vaccinating people based on their ZIP code or whether they live in a high-density community is not enough, Jenkins said; the state needs a mass vaccination site specifically for people of color. Jenkins said that McKee told him: "Give me a couple of days and I'll get back with you."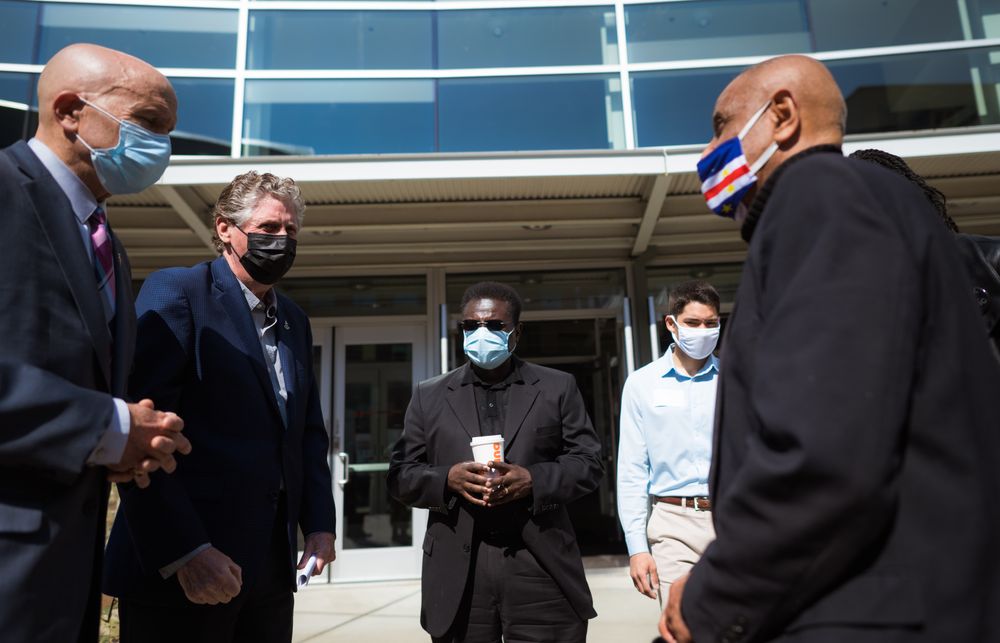 The state agreed to host a mass vaccination clinic at the Dunk and set aside 6,000 appointments for people of color. Any openings community leaders could not fill by 5 p.m. the Friday before the clinic would be offered to the general public.
Jenkins and other community leaders worked practically around the clock - making phone calls, emailing, messaging and door-knocking - to fill the reserved slots. Some of the people who organizers said they signed up to be vaccinated were undocumented immigrants who didn't speak English and were fearful that they might get picked up by the authorities. The organizers reassured them that state officials had agreed that nobody who came to be vaccinated at the Dunk that weekend would be asked their immigration status, or even required to show any ID.
But the 1,400 cancellation notices sent to people of color threatened to derail that trust.
Dr. Nicole Alexander-Scott, director of the state Department of Health who also is Black, tried to reassure community leaders, saying the cancellation notices were just a "glitch" in the online registration system. Everyone affected was being notified that they could still be vaccinated.
Even so, Jenkins could not help thinking that some people resented the state holding a vaccination clinic for people of color. "You got people that are saying, 'Why they vaccinating all these Black folks? We can fix this. We'll just throw a monkey-wrench in,'' he said. "And so my history starts kicking in, being a Black person."
***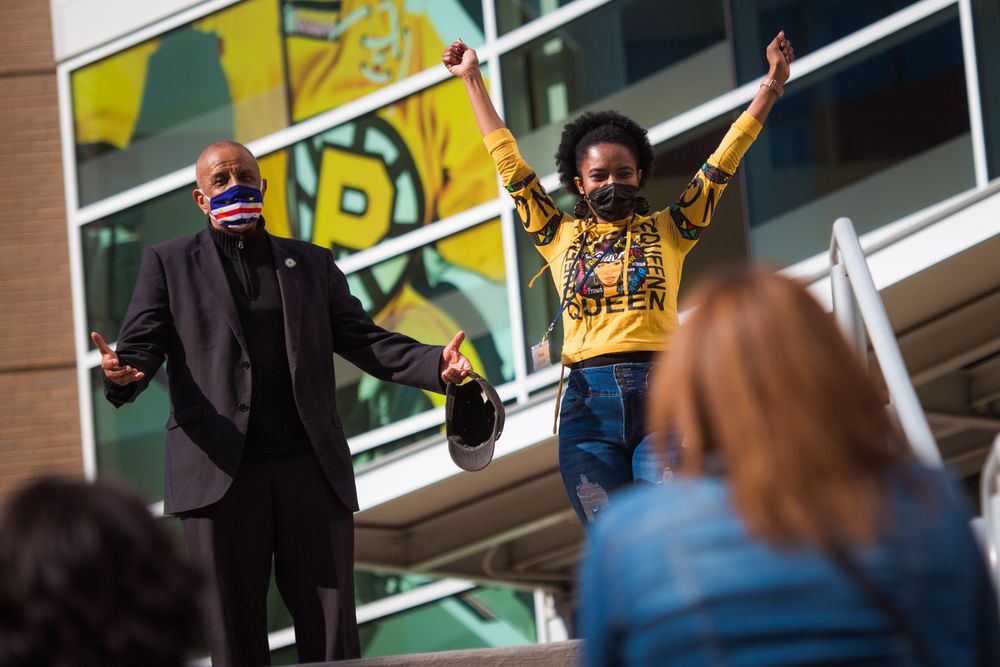 People spilled out of chartered buses and filed out of the Convention Center garage where the city had provided free parking during the vaccine drive. Families with children in tow; college students and seniors. As the visitors climbed the stairs to the Dunk, Jenkins and a host of other community leaders greeted them with cheers and applause.
"I was so overwhelmed with pride and joy,'' Teresa Jenkins said. "It reminded me of the United Nations. It was just absolutely wonderful."
When McKee and his entourage met with a group of news reporters, the governor stepped back to allow the pastor to speak first.
"Collectively, as a team community-wide,'' Jenkins said, "we have made a difference, and we will continue to do so."
More than 2,400 people of color were vaccinated at the Dunk' that Saturday in April, according to state health department data. Another 1,400 people of color would be vaccinated at a second clinic the following Saturday.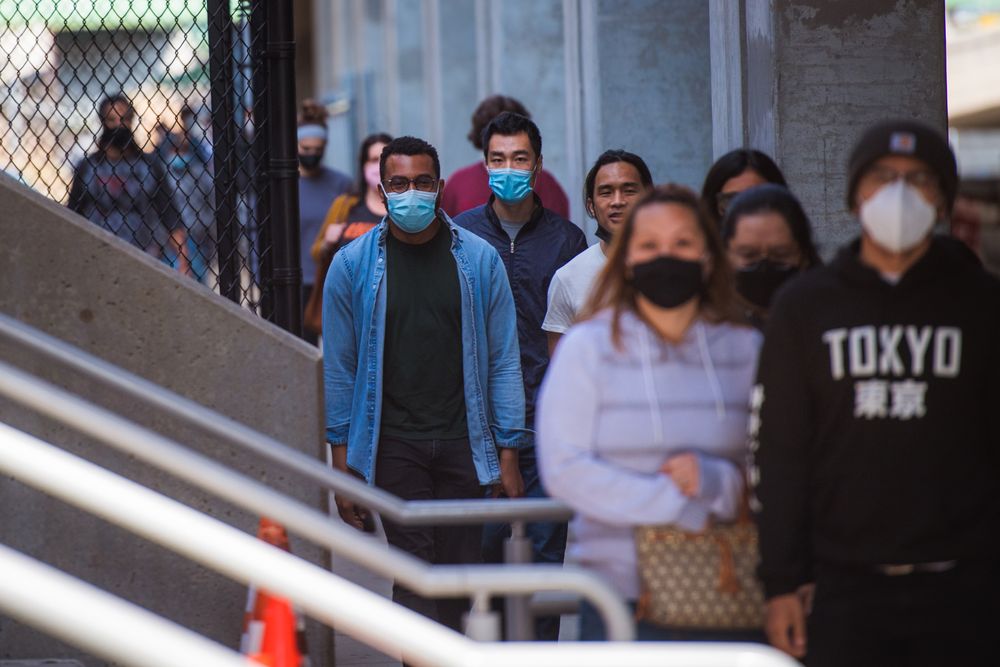 McKee said the goal was to "make sure that everybody gets vaccinated in the state of Rhode Island," and that includes keeping pace with the populations of Black and Latino residents. The governor also promised to find out why some 1,400 people who had registered for the event had received cancellation notices. The State Police, he said, will conduct a forensic audit of the registration database.
"We're going to find out why it happened,'' McKee said. "And then we're gonna let people know. But I just don't want to jump to any conclusions until we actually know what happened.''
As it turned out, the vendor for the state had added a new mass cancellation button to its software that first week in April that was directly under another button for sending reminders. According to a State Police report obtained by The Public's Radio, a staff sergeant in the Rhode Island National Guard acting as an IT supervisor said he was having trouble with a routine tracking function, the report said. He made a change in the system that inadvertently triggered the cancellation notices.
"I think it's unfortunate,'' Jenkins said after a reporter shared the information with him. "But I've worked enough in corporate America to recognize that when you're dealing with programming things happen."
***
One warm afternoon in late May, the bright red front door to the Bethel A.M.E. Church was wide open.
Downstairs, in the church's linoleum-tiled basement recreation hall, Jenkins reflected on the vaccination drive. Every so often his cell phone made the sound of a motorcycle engine revving, letting him know that he had received another text message. His daughter set that up for her dad, who loves motorcycles. Jenkins had been talking with his two adult children about the vaccine.
"My kids don't want to get vaccinated; they're totally against it,'' he said. "And I'm like, Why?" And he said they say, "Don't trust it. Don't trust the government."
He and Teresa said they hope their children will one day come around, but they know that may not happen. "They wear their masks, and they won't question it all because they understand'' the risks of Covid, Jenkins said, "and so I respect that."

The church's weekly vaccination clinic scheduled for that day had been cancelled. Jenkins had been shuttling between Rhode Island and his parents' home in Portsmouth, Va., caring for his ailing father. Jenkins said he needed to do more outreach to the community before the clinic resumes on Thursday.
Outside the church walls, life was returning to its pre-pandemic routines. People walked the streets unmasked. Patrons crowded into restaurants and bars; music festivals were being planned.
But Jenkins said he had no plans to resume in-person worship services yet. Most of his church's congregants, he said, are Black. And he worries that some may be unvaccinated.
In the last two months, the share of vaccines administered to Black and Latino Rhode Islanders has more than doubled. Even so, fewer than half of all Black people in Rhode Island had received at least one dose of the vaccine as of the second week in June, according to the Kaiser Family Foundation. That compares with nearly 60% of all white residents.
"You begin to recognize, you know," he said, "there's just so much work to do.''
Health reporter Lynn Arditi can be reached at larditi@thepublicsradio.org. Follow her on Twitter @LynnArditi