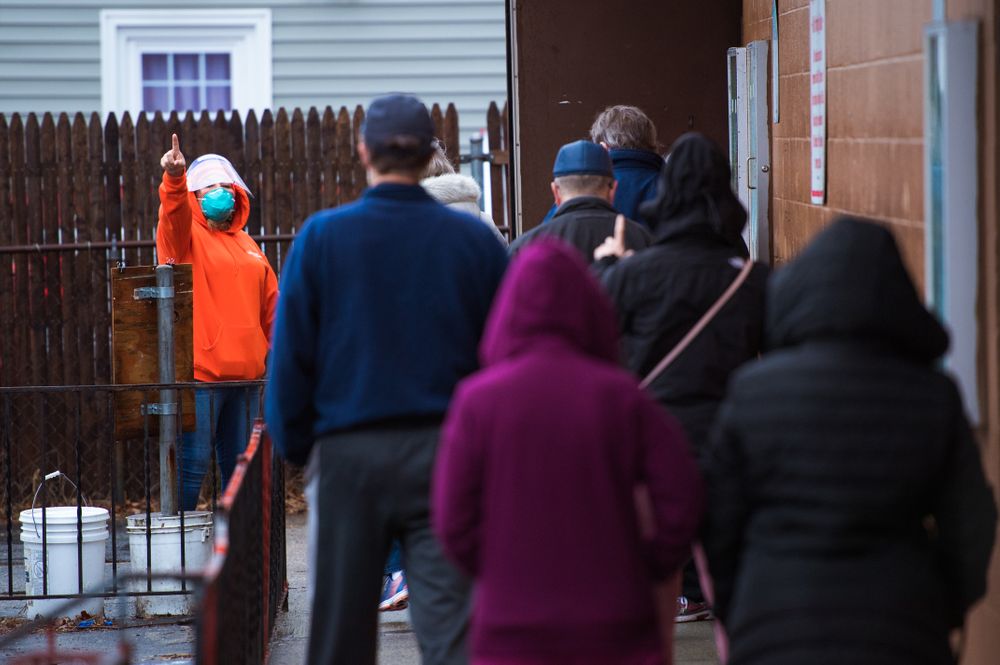 They lined up in the rain to get vaccinated: shop keepers, mechanics, meat cutters, house cleaners and retired factory workers.
Inside the Knights of Columbus Hall on a recent Saturday morning, a crew of volunteers arranged metal folding chairs and wiped them down with disinfectant. A man in a maroon beanie and surgical mask darted across the linoleum tile floor like a coach at game time.
"Okay, I think we're ready to go!" he said to the crew of volunteers. "Ready? Ready? Ready? Who's first?"
Eugenio Fernandez Jr., 32, runs a pharmacy near the low-income housing project in Providence where he grew up. And he has been supplying the vaccines that state health officials gave his pharmacy, Asthenis LLC, to the City of Central Falls, which has the state's highest infection rate.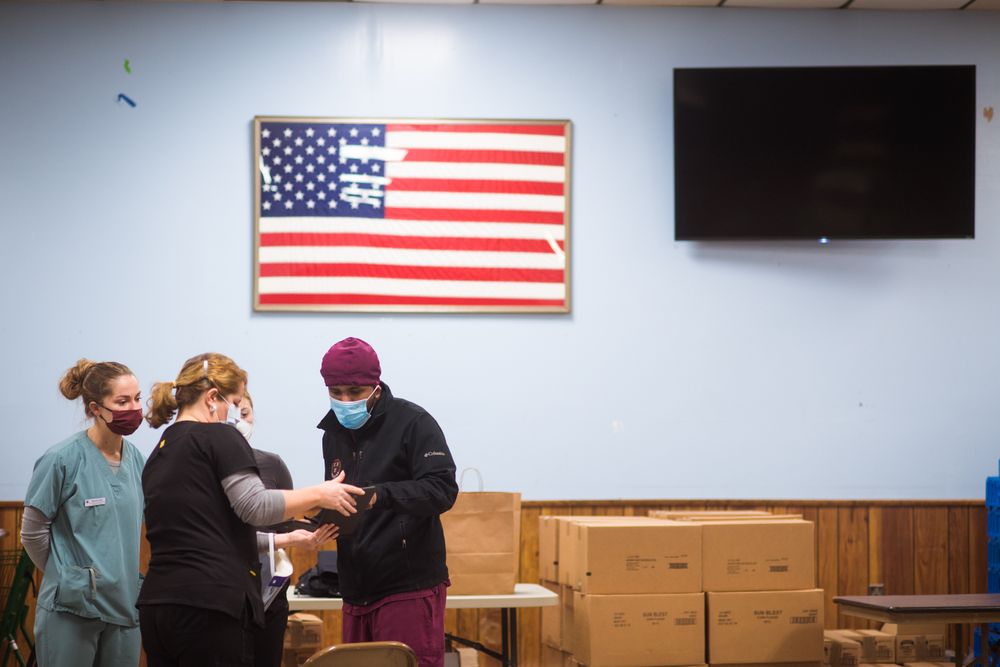 In this one-square-mile city of nearly 20,000 people, multi-generational families cram into double- and triple-deckers. More than half of Central Falls residents are people of color; the largest group -- 66% of the population -- is Latino.
Rhode Island's vaccine distribution plan includes prioritizing people living in certain high-density communities. Since the state's first community vaccination drive began in Central Falls on Dec. 30, about 15% of the city's residents have received their first doses of vaccine, state data shows. That's compared with 9% of residents statewide who received their first shots as of last Friday.
Central Falls residents have been vaccinated in low-income high-rises, a community health center, a local pediatrician's office and here, in a converted social hall, on this morning in mid-January.
Central Falls Mayor Maria Rivera is helping lead the effort. "We started Monday on social media posting a request for anybody over the age of 75,'' she said. "By Wednesday we brought age down to 65. Then yesterday we brought the age down to 50."
Concerned that the state wasn't prioritizing teachers for vaccinations, Rivera said, she also asked that some slots be reserved for teachers who are returning to the classroom.
Gloria Arango, who lives in Central Falls, said nobody told her there was any age restriction when she called city hall a few days before the clinic to register. She is 43 and cleans houses to support her two children. Arango said she was eager to get the vaccine to protect her clients, many of whom are at high-risk if they get the virus because of their age and other health problems. "So I have to be really careful,'' she said.
The goal that day was to vaccinate 450 residents. There is no statewide registry, so the city set up its own. To reach residents without internet access, the city operates two dedicated phone lines -- in Spanish and English -- that residents can call to sign up.
"Because we only have two phone numbers that we're using for residents to call in,'' Mayor Rivera said, "we have a lot of voicemails.''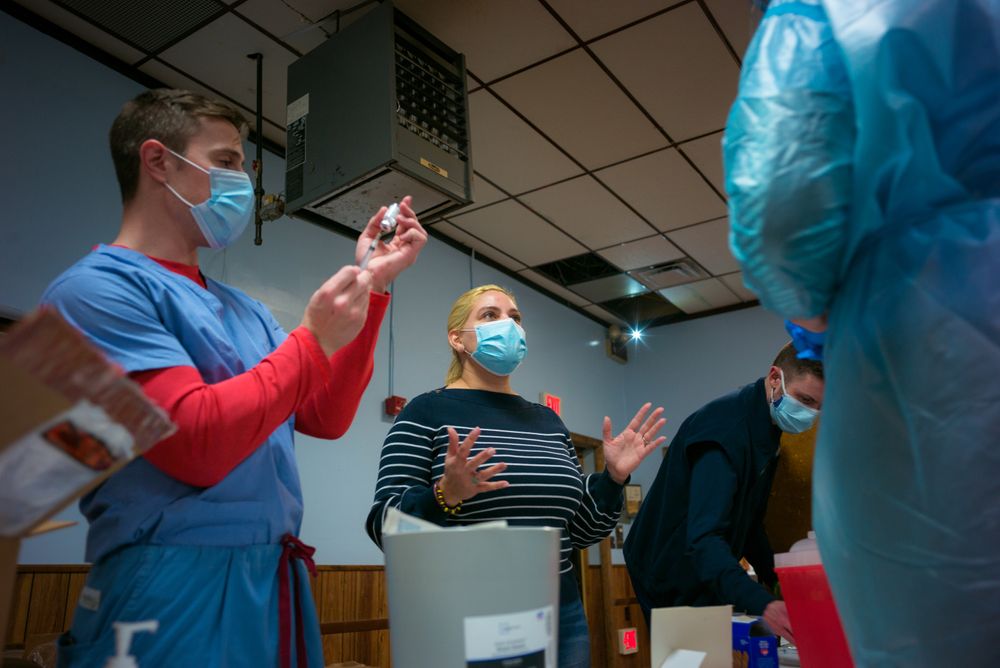 That means calling people back to find out if they qualify. "We need to give priority to the residents here,'' Rivera said. "If they're 20 years old, they're not a priority."
Their information then has to be typed into an online registration form. It's a system prone to errors. A silver-haired Portuguese couple registered over the phone for the clinic found out when they arrived that their information was not entered properly.
Their last name was misspelled. Their house number was wrong. And the husband's gender was wrong.
"Sorry about this,'' said the woman trying to find their information.
It took about 10 minutes before they corrected the mistakes and directed the couple to the vaccination booths to get their shots.
"The limiting step isn't the people injecting the vaccine, the limiting step is a lot of the logistics,'' said Dr. Michael Gibson, an interventional cardiologist and professor at Harvard Medical School. He drove down from Boston to help vaccinate Central Falls residents -- and to see how these grassroots drives work. He says the process needs to be simpler but "for people who have a car who are healthy, who can drive, mass vaccination can work. (For) people who can't go outside their community, this is a great approach."
By late afternoon, the rain had stopped. The clinic was scheduled to end in less than an hour. Of the 490 people who had registered, more than 50 didn't show up. Out front, a volunteer was calling names off a waiting list.
The volunteers were starting to clean up when two young women arrived. Bea Mandel said she was at home knitting when her friend, Becca Ford, called and said they could sign up to get vaccinated in Central Falls.
"She sent me the link,'' Mandel said, "and then we were both like, this isn't real...but we'll try signing up anyway. And then we just kind of screamed in the car on the way here.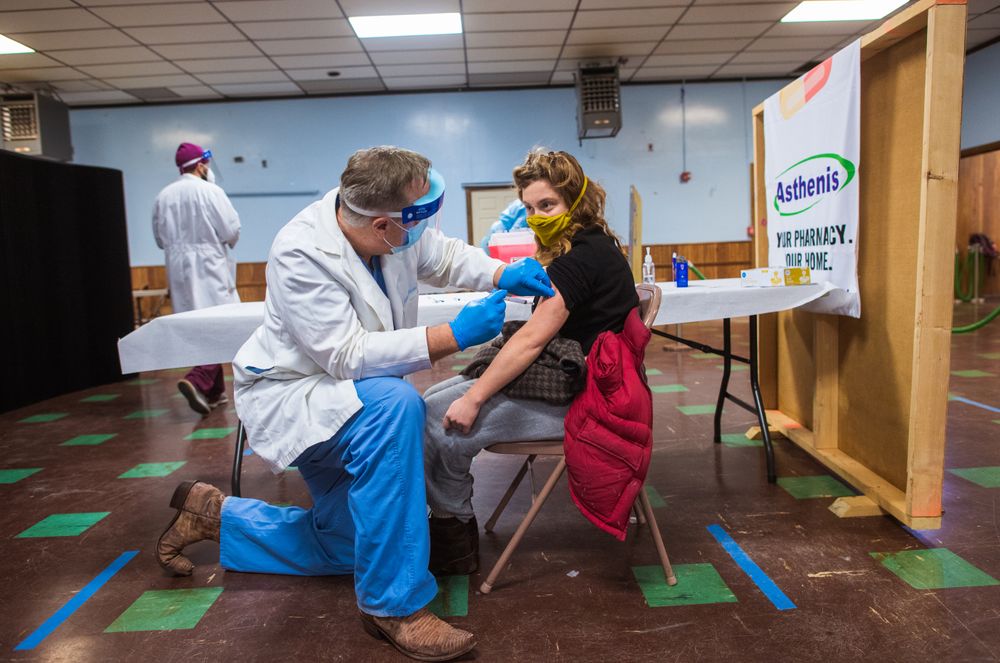 They're both in their 20s and both white. Bea lives in Providence; Becca in Cumberland. And they work at a furniture shop in Central Falls. A co-worker sent Becca the link to register. And less than an hour later, the friends are both vaccinated. Bea is still wearing the pajama pants she had been lounging in at home. "I'm just shocked that any of it's happening,'' Mandel said. "Just cuz I'm younger and stuff, I didn't think I was a priority so I didn't expect to get it until July."
She is not the priority. In the rush to fill open slots at the end of the day, she and her friend got lucky.
But they are the exceptions. As of the end of January, nearly half of the people vaccinated at the pharmacy clinic in Central Falls are Latino, state data shows. That's compared with about 7% statewide. And almost 40% of those vaccinated at the pharmacy clinic are 60 or older.
Photo gallery: A vaccination drive in a coronavirus hotspot, by Gretchen Ertl
-- Lynn Arditi, health reporter for The Public's Radio, can be reached at larditi@thepublicsradio.org