Chris Audette remembers the old Nathan Bishop.
"It was a building that was falling apart," says Audette, who taught at Bishop from 1999 to 2004. "I remember once like smuggling an air conditioner into the building just of kind of make it comfortable for the kids, because it was so stifling up on the third floor."
Before it closed for renovations in 2006, Bishop was among PPSD's oldest buildings. Built in 1929, it was a relic of a different era in education -- one when large, factory-style schools were the norm.
Even though the building was older than most in the district, it exhibited the issues common to Providence's schools. Test scores were low: In 2002, Bishop's basic math proficiency among 8th graders was just 6%. (Language arts were better: Writing proficiency hovered around 20 percent, and reading around 25%.) Enrollment was plummeting: Between 2001 and 2005, Bishop's student body dwindled from more than 700 students to just 430.
"The reputation was very poor," says Cliff Wood, who had two kids in the East Side's elementary schools at the time. "People felt that the people running the building had become complacent."
Then, in 2005, Donnie Evans became Providence's superintendent. He commissioned a district-wide review of school buildings. Bishop was singled out for being among the worst.
"We were less concerned at that time with the instructional program," Evans said. "Don't get me wrong, we were concerned about the instructional program, but less as it compares to the facilities. The facilities stood out."
Evans closed the building in 2006. The state helped fund a $35 million plan that would transform the school physically: central air, updated security, SmartBoards in the classrooms. The before and after was so dramatic, it brought Audette to tears.
"[It was] very emotional," Audette says. "I knew Bishop had the potential to be something great, and it was incredible to see that come to life."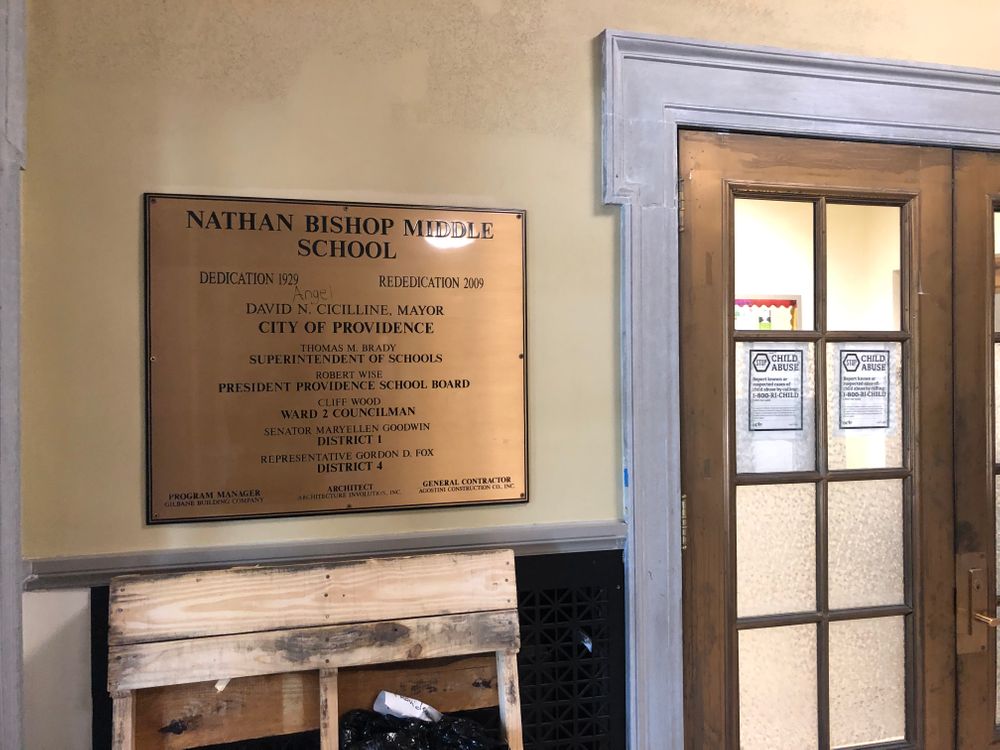 For a few years, Nathan Bishop did appear to be a changed school. East Side parents who had long avoided the school returned in droves. Test scores improved: At one point, language arts proficiency among Bishop students was 12 points higher than the district average -- for math, the advantage was 17 points. A new principal, Michael Lazzareschi, helped build a strong school culture, teachers say.
But it didn't last. Within a few years, test scores were on the decline, and many of those families that had returned to Bishop soured on it.
Among the issues: overcrowding. After Nathan Bishop closed, parents who organized for changes at the school pushed the district to make the new Bishop smaller than its previous incarnation. They recommended the student body be capped at 600.
"In the first decade of the 2000s, there was a strong push nationally for small schools, or 'smaller learning communities,' " says Jill Davidson, one of the parents on that committee. "This was what everybody believed fairly strongly was in the best interests of kids. … That made sense to us as planners."
It made less sense to the General Assembly, which decided Bishop's capacity would be 750 students. Since the reopening, the school has mostly hovered between 700 and 750 students. Teachers say that's created issues.
"Adjusting to the numbers has been a little bit of a challenge for this school," says social studies teacher Chris Pride.
Another stumbling block for Bishop was the departure of its first principal, Michael Lazzareschi. After he left in 2013, teachers report that discipline issues increased and the school culture deteriorated. Bishop began to resemble just another Providence public school -- which, of course, it was.
"There are really unacceptable facilities in many places [in Providence's schools]," says Susanna Loeb, director of Brown's Annenberg Institute, which researches education policy. "At Nathan Bishop, that isn't the case. The facilities are actually quite nice there. But that's not enough to overcome all these other issues with the quality of schooling in the district."
Today, Bishop's test scores are back around the district average. According to the most recent data, just 11% of students are proficient in math -- it's 14% for language arts. Chronic absenteeism is an issue: About one in three students miss more than 17 days of school per year. Loeb says Bishop's data "paints a broader picture of a school that's not providing the kind of educational opportunities the students need to succeed."
This year, Bishop has a new principal in Alisa Diakite. Diakite has worked in PPSD for more than 20 years, most recently as an assistant principal at Roger Williams Middle School. Diakite says Bishop isn't too different from the district's other schools.
"Most people come in and they look at the outside of the building and think, 'Oh, this has to be a perfect place,' " Diakite says. "There's no such thing as a perfect place. Some of the things that we're tackling on the inside is exactly what you would probably get if you went to any other middle school in the city."
Diakite says she's optimistic that the state takeover will improve Bishop's fortunes. Fran Gallo, Providence's acting superintendent, says that for that to happen, it will take a long-term commitment. Gallo knows a thing or two about how a turnaround can go awry due to a lack of follow-through: She worked on the PPSD team that tried to turnaround Hope High School, an effort that Gallo says fell short of expectations.
"We need staying power in our schools," Gallo says. "While I have every confidence in Angelica Infante-Green, I have to say: The state of Rhode Island needs to give her the wherewithal to stay."
Otherwise, Gallo says, the district will end up "right back where you started from."