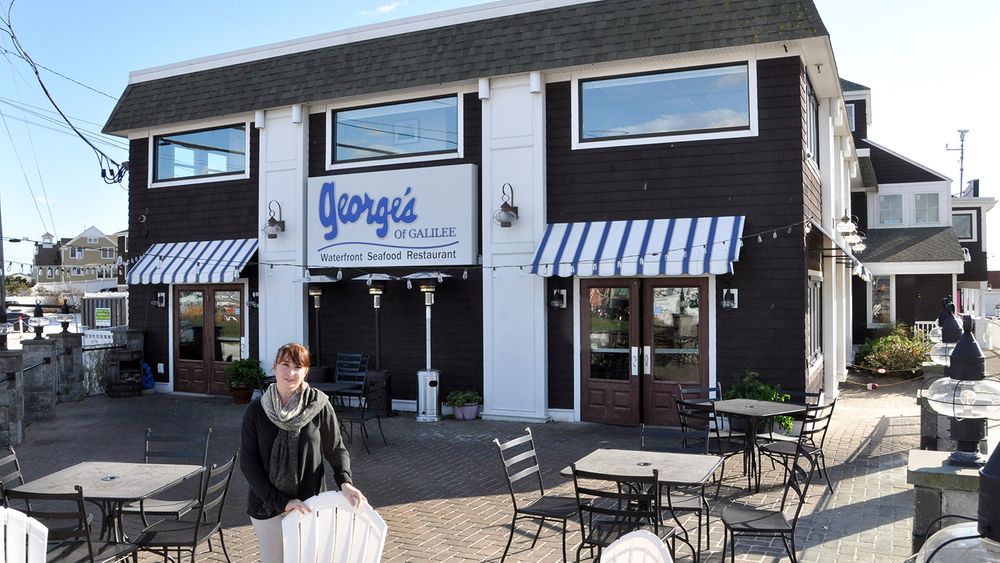 Transcript:
NUNES: Beyond the bustle of the upstairs dining and cooking areas, and the smell of French fries, the first floor kitchen at George's sits empty, gutted of equipment and waiting for an upgrade.
KUZMINA: [Touring kitchen space] So this is kind of where we are. So this was the fully operational kitchen till about two weeks ago.
NUNES: Yulia Kuzmina is general manager and executive chef at George's. She says the restaurant is buying new cooking equipment and installing a new floor that will be easier on the cooking staff's feet. They're expecting to ramp up take-out and curbside orders like they did at the beginning of the pandemic, and they're working to engage patrons at home through social media posts.
KUZMINA: Some crazy videos. We can educate people how to make drinks at home, how to cook certain dishes that they love from George's so much.
NUNES: You're giving away all the secrets?
KUZMINA: Some of the secrets. Some of the secrets we're keeping to ourselves.
NUNES: Yulia says she thinks a lockdown order from Gov. Gina Raimondo is likely. Rather than fight it, she says she wants to use the time productively.
KUZMINA: If the lockdown does happen, on our end, we're going to embrace the lockdown and we're going to use it to our advantage. We're going to use that time to train our staff, learning new kitchen techniques with the kitchen guys, bringing new equipment in, doing the training on that part, maybe learning new drink recipes, new menu trends. Everything we always wanted to do but don't necessarily have time to do in the summer, I think we'll have a great opportunity to do so, if the lockdown does happen.
NUNES: You shutdown earlier in March even before the governor put us in a lockdown?
KUZMINA: We did. It was the owner's decision that he made, and I think it was a great decision. We were just very concerned with our staff, the guests that were coming in through the door, and I think that was the right thing to do. And the governor followed with the same decision shortly after, and I think we were a little more prepared than everyone else when the decision was announced to the rest of the world.
NUNES: How have the last eight months gone for you here at George's?
KUZMINA: Spring and the beginning of summer—it was tricky. But we were fortunate enough. How many other places didn't survive and didn't make it? I'd say we are very fortunate to be where we are right now. The summer, I can't complain. Summer was good for us. Was it as good as it usually is? It wasn't, but it was a lot better than most other places, I would say. We had a great addition, a tiki bar on the beach. If you wanted to escape the virus craziness and get away in a little tropical paradise, that's what our tiki bar was. It was very successful. It was something that we had to do. We had to adapt to the new reality.
NUNES: Has it been a stressful period, working through the pandemic?
KUZMINA: It's a very, very stressful period, especially at the beginning when everybody was still adapting. The first wave, when everybody was allowed to come out of the house and go to restaurants—the shops started to reopen—the first wave of customers were very happy customers. The second wave was not so much. I think everybody was cooped up in the house way too long, and when they came out, they just expected things to be very different than what they were. We had lots of destructive guests, everything from fighting [over wearing] masks. I had a guest come in the building telling us they invented a cure, and he could just come in and do whatever he would like. We had to have a security guy on our beach area where we put the tiki bar, because guests would not follow the social distancing rules, they would not put their masks on, they would verbally abuse our staff. It was crazy times.
NUNES: Has it become more challenging as we're getting into the colder months?
KUZMINA: It is becoming more challenging. Obviously with the outdoor seating it's not as nice outside. We do have plenty of heaters and fireplaces, and we have free blankets. But once you're in the 50s and 60s, guests have no problem being outdoors. But once you get into 30s, I think it doesn't matter how many blankets you have wrapped around you and how many heaters you have next to you—it's just becoming a little bit too cold to be outdoors.
NUNES: What are you hoping to see happen going forward?
KUZMINA: Obviously, we're hoping for the virus to go away and for things to go back to somewhat normal to where they were before. I don't think that's going to happen in the near future. But, like I said, if the shutdown happens again, we'll use it to better ourselves and our staff, and get ready for hopefully a busy season to come our way when things do get better. If things don't get better, we'll adapt the same way that we have adapted in the past eight months. If it has to be to-go, then we'll try to be the best restaurant that does to-go orders.
NUNES: You'll find a way?
KUZMINA: We'll find a way.
Alex Nunes can be reached at anunes@thepublicsradio.org.