→ See more of our coronavirus coverage, including community resources and personal stories.
The governor on Friday announced 288 new coronavirus cases, bringing the state's total above 2,000. And she announced six additional deaths associated with COVID-19, five of whom were nursing home residents. So far, 49 deaths in the state are linked to the coronavirus.
Raimondo called on residents to continue staying at home and following social distancing guidelines, specifically asking people not to celebrate Easter with a big crowd.
"It is clear that what you're doing is working," Raimondo said. "It's keeping you safer. It's keeping Rhode Islanders safer. And quite frankly it's making it so I can really start thinking about reopening this economy sooner rather than later."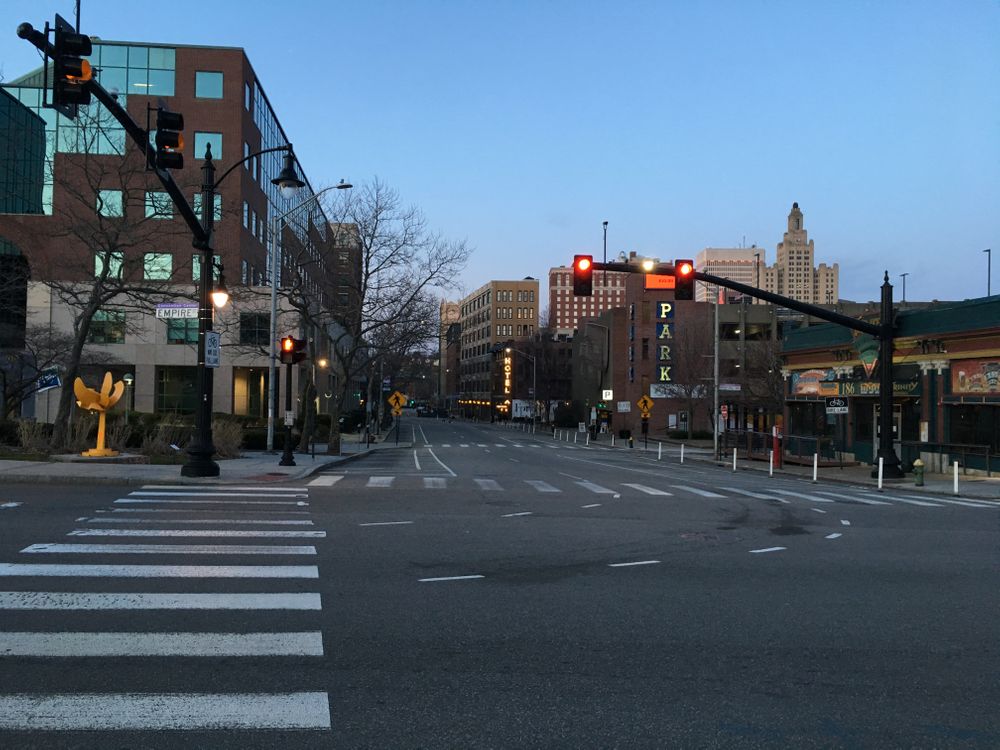 As the shutdown has dragged in on, the state has seen a record number of unemployment claims. Since March 9th, almost 132,000 people have filed for unemployment insurance in the state. That's more than 20% of the state's workforce.
The Department of Labor and Training is struggling to keep up with the deluge of claims. "We are totally overwhelmed," Raimondo said.
To speed up the filing process, Raimondo signed an executive order allowing recently retired DLT employees to return to work to help process claims, without jeopardizing their pension benefits. The order will also allow DLT to access all Department of Revenue tax records in bulk, instead of requesting income verification on a one-by one basis. And companies will not be penalized with an unemployment insurance tax hike if their employees file for benefits.
"Everything we're doing right now is to try to get the money to you faster, in a more streamlined fashion, and to try to simplify what is clearly a complicated process."
Raimondo says it's currently taking one to two weeks to process claims.
The governor did have a bit of good news for people receiving unemployment benefits. Starting next week, benefit recipients will see an extra $600 per week, as part of a federal stimulus package.
That stimulus has also expanded the number of people who are eligible for unemployment benefits. This week, people who are self-employed, contractors, and gig workers were able to begin applying for benefits under the federal Pandemic Unemployment Assistance program, and so far more than 16,000 Rhode Islanders have done so.
Beginning next week, Raimondo says a second type of PUA benefit will go live. This assistance is available to people who have not been laid off, but who have been told by a doctor that it's not safe for them to work because they're at high risk from the coronavirus. Also eligible are people who must stay home to care for a child or family member because the place where they usually receive care is closed. Raimondo said filing for this benefit will require close scrutiny, and warned that it could take a month or longer to receive benefits.
She urged people who are still employed to keep showing up to work.
"If your business is currently open, that's because it's an essential business," Raimondo said. "And if you're able to go to work, we need you to go to work. So please do not quit your job because you think it'll be easy to get unemployment, because it isn't."
Raimondo also said she's pushing Congress to create a similar $600 per week benefit for low wage essential workers, "to provide incentive to work and frankly to compensate for the fact that it's harder than ever now to be working in these essential businesses."
In order to protect RIPTA drivers, the state is capping the number of passengers at 15. And Raimondo and Health Director Dr. Nicole Alexander-Scott reiterated that essential workers should wear masks on the job, and that companies should protect employees by spacing them apart and providing breaks for hand-washing.
Raimondo also discussed the toll the financial hardship and stress is taking on families -- specifically, an increase in domestic violence.
According to the Rhode Island State Police, 911 calls to report domestic violence increased 35% between February and March. And Raimondo said more the concerning thing is that fewer people are reaching out for help.
"We're actually seeing decreases to domestic violence hotline, shelter intake, etc.," Raimondo said. "Which tells me people are afraid to reach out, or think you're in it alone, or you're worried that maybe the services that are typically there aren't there now. And I want you to hear from me: they are here now."
Shelters and support services like the Rhode Island Coalition Against Domestic Violence and the Victims of Crime Helpline (1-800-494-8100) are considered critical services, and remain open through the pandemic.