When you walk the Quonochontaug Barrier Beach, you're hard pressed to spot signs of human development—no seaside cottages, luxurious summer getaways, telephone poles, or paved roads. Piping plovers live here, but people don't.
The barrier beach starts in the Weekapaug section of Westerly and is wedged between Quonochontaug Pond and the Atlantic. Look south, and you see ocean waves, boats out on the water, and Block Island on the horizon. On a clear day, you can even see Long Island.
It feels a world away from the bustle and noise of the state beaches, and that's the way property owners in the Weekapaug section of Westerly like it and have fought to keep it. Today, they're in a high stakes fight to keep one contested right of way at the start of the barrier closed off to the public.
But ask the right people, and you'll hear the barrier beach didn't always feel so remote and exclusive.
'Social enjoyment' for the public

Eighty-eight-year-old Barbara Coon doesn't consider herself much of a beach bum anymore. She lives away from the coast, on a suburban road in Pawcatuck, Conn., with her husband, George.
"George is only nine months older than me," she said during a recent interview at her kitchen table. "Yup, [a] pair of old farts."
These days, Barbara and George are looking forward to getting out on the road in their 1937 Ford Coupe parked in the garage, fully restored by George himself.
"We just had a dustoff cruise for ice cream," she said. "'Dustoff' is called getting your cars out of the garage and getting a dustoff. That was our first run we've had in a year because of this pandemic."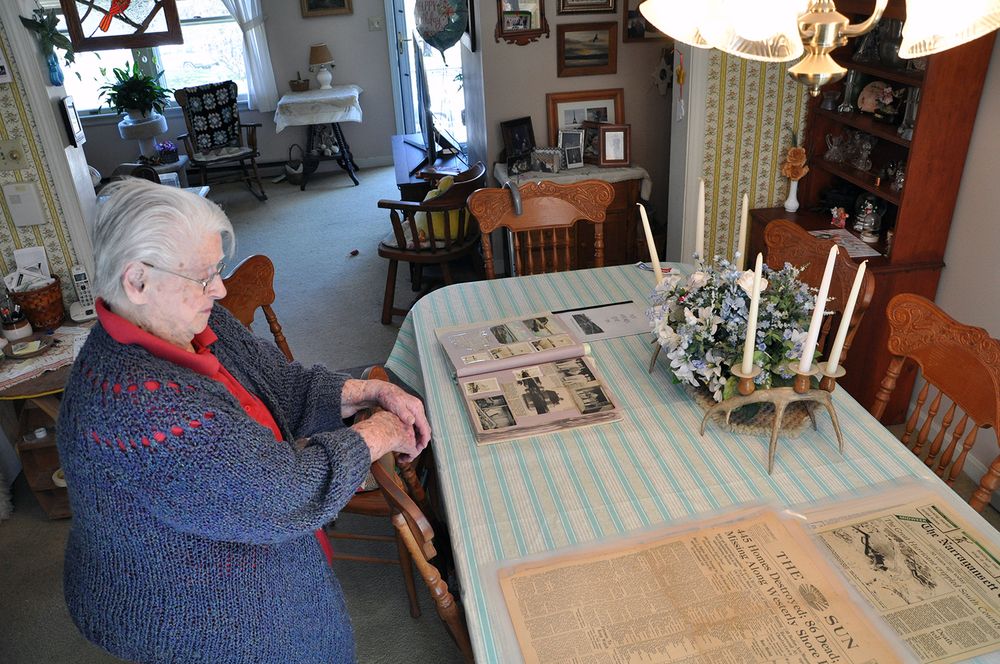 The day I visited, Barbara was feeling nostalgic. She took out an old photo album and went to the beach photos—pages of her family and friends gathered by the water. Her family had property on the Quonochontaug Barrier Beach, and she lived there as a young child in the 1930s.
She paged through faded photos of crowds of people in old fashioned bathing suits; some men are in actual suits, and a couple of women carry parasols.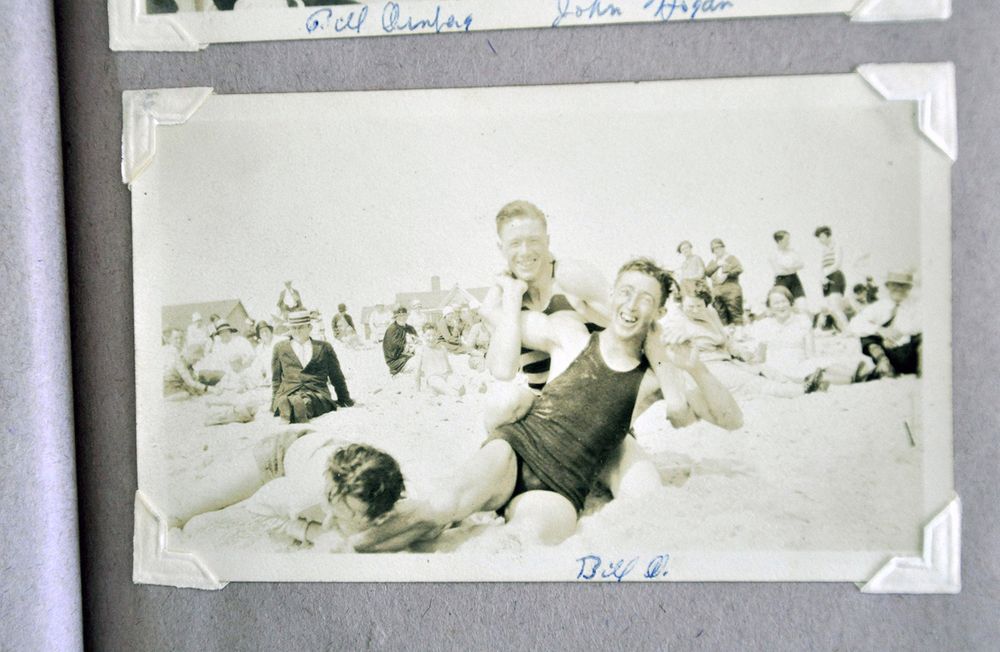 "There were always people visiting all the time. We always had a good time," Barbara said, pointing out photos. "They were social people. I mean, you can see here—the boats. These probably came from Charlestown, or people came over across the pond. And they park the boats and go clamming and stuff. But there was always somebody visiting us. Well, we weren't the only ones living there. The other people had company, too."
Old accounts from before the turn of the century talk of church outings in the summer months and groups gathering almost daily in the broader Weekapaug area. One newspaper clipping cited in the book Weekapaug: Its First One Hundred Years even describes some 300 people leaving the neighboring town of Hopkinton for a day of "social enjoyment" in what was then called Noyes Beach.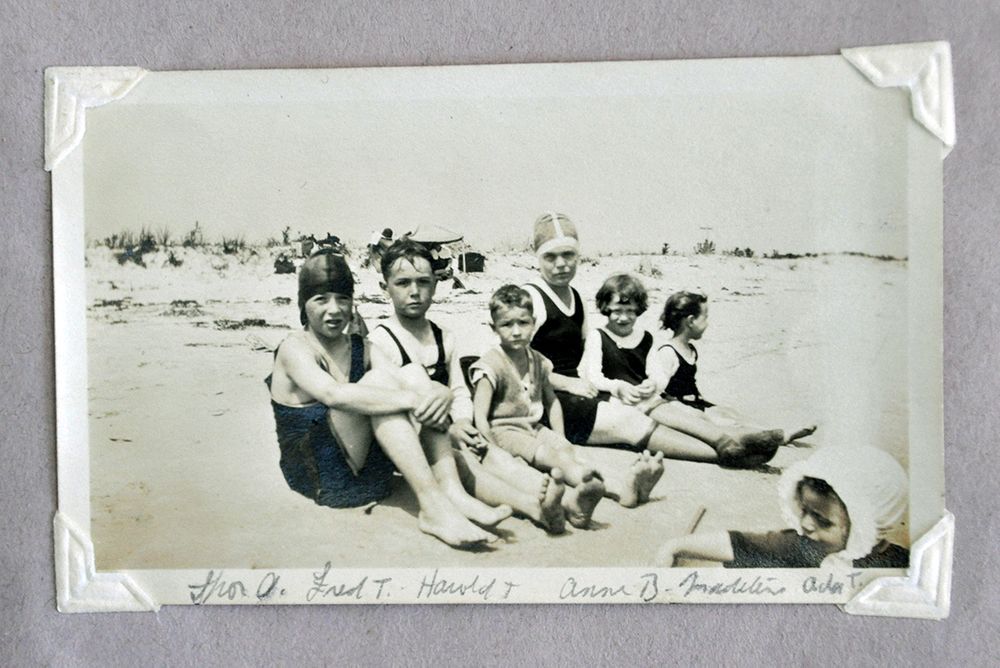 Early signs of exclusivity
But another side of Weekapaug was also emerging. Real estate investors were acquiring land, people with money were building shingled summer cottages in a Martha's Vineyard style that's still around today, and a more genteel society was growing.
Weekapaug could also be discriminatory, with one 1900 resort manual saying a Weekapaug establishment wanted references and "no Hebrews."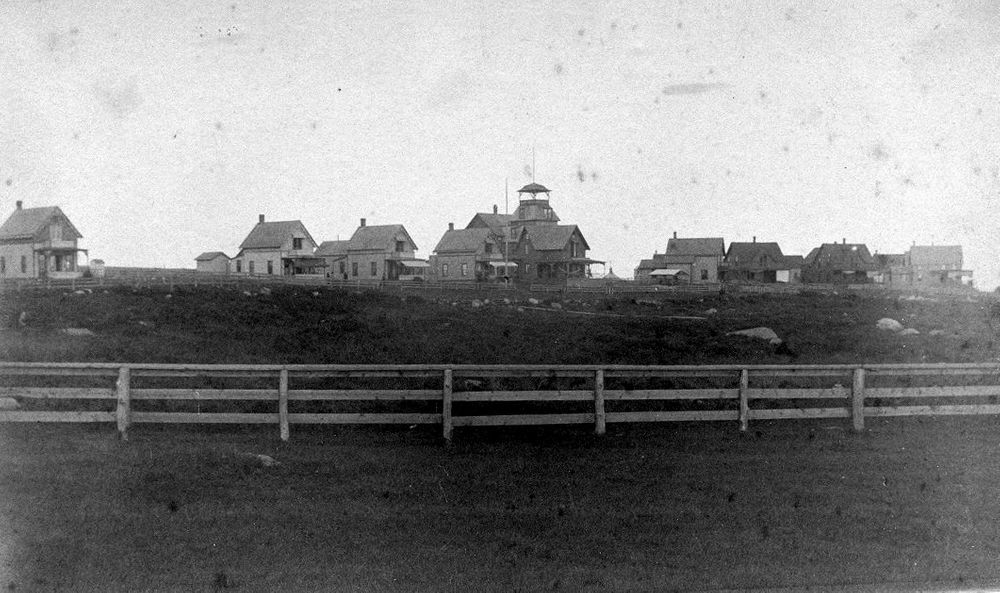 Among the people to get in early were Westerly locals, like Harvey Perry's relatives, who bought property on Weekapaug Point.
"My great grandfather, Charles Perry, built the house right on The Point, which is called 'Oceanwide,'" Harvey said. "And his sister, Phebe, who was married to Fred Buffum, built a house next door on one side. And his cousin Alice and her husband, Samuel Pennock, built a house on the other side. So the three houses on The Point were family places."
Harvey's family roots in Westerly go way back to the early 1800s. The Perrys were Quaker bankers who led the Washington Trust Company and at one point owned nearly a third of its shares. They were also abolitionists who housed Frederick Douglass three times in their home near downtown Westerly.
Harvey's a New England Yankee who likes his genealogy as much as his faded plaid shirts and cable knit sweaters. And while he's no provocateur, he's happy to share the inside scoop on life in Weekapaug when other people won't.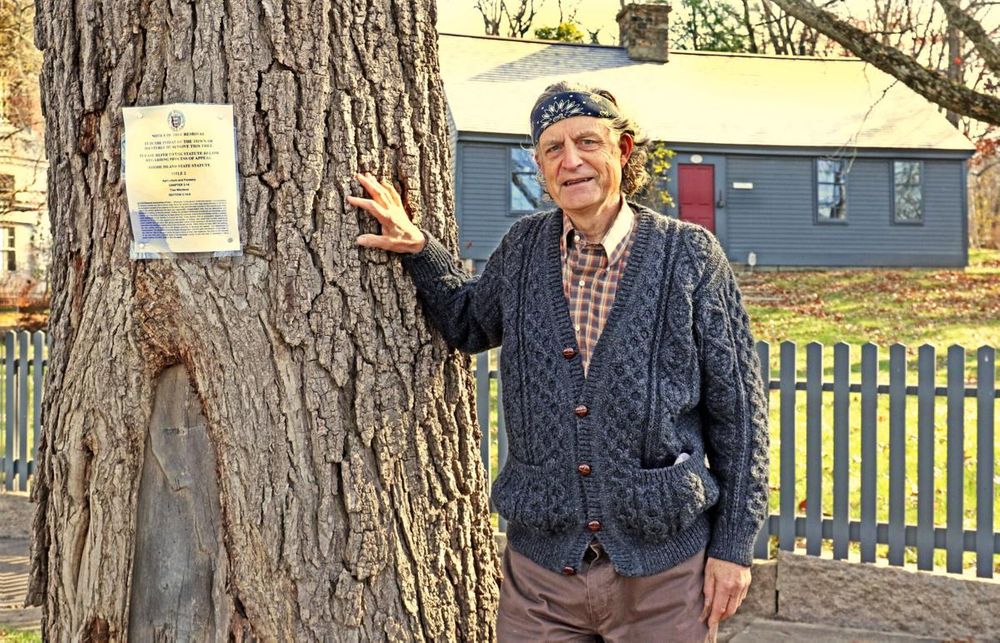 "There was this vibrant pond community that included all the people who were around the pond," Harvey said. "There was a very active Yacht Club, and twice a week there would be these sailing racing regattas."
At the center of activity in early Weekapaug was a property Harvey's relatives the Buffums developed: the Weekapaug Inn hotel, built right on the barrier beach at the turn of the century. It's still around today, known for its simple elegance—the kind of place where someone might pay more than $2,000 a night for a room.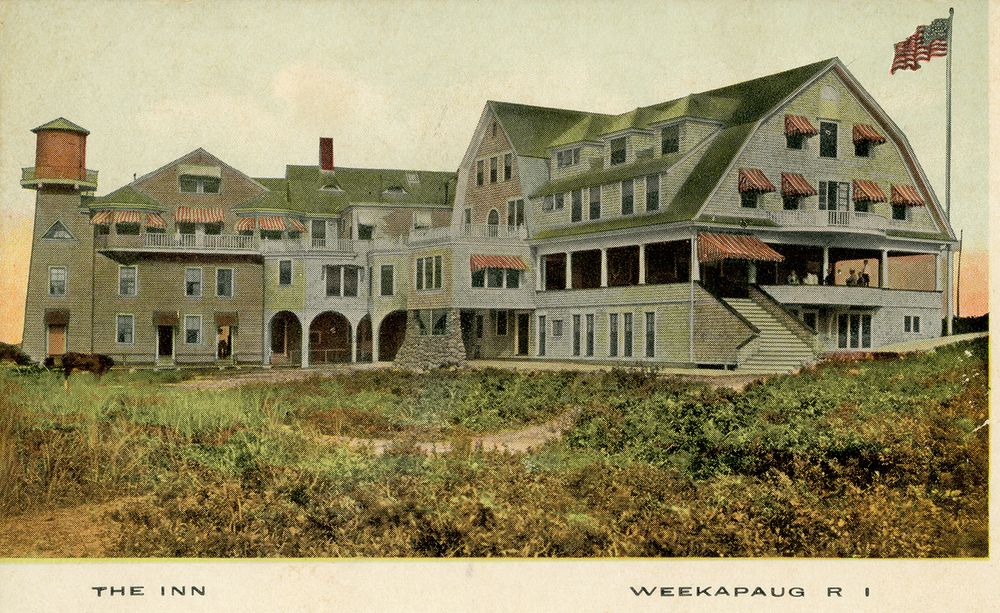 Back then, it was home to Saturday night dances, bingo, and bridge tournaments. And it was known for attracting, as one book described, a "well-bred clientele." Harvey said it was considered a hotel for people of means who "wanted to rough it a little bit."
"There's a story that my grandfather's cousin was over there," Harvey said. "And one of the guests came, and he says, 'Mr. Buffum, I'm very curious, I don't understand this place.' He said, 'You know, the beds are uncomfortable. The bathroom facilities are really old. There are no telephones. And yet I talk to people, and they say they come here every year. I don't understand it.' And Mr. Buffum responded, 'I don't understand it either.'"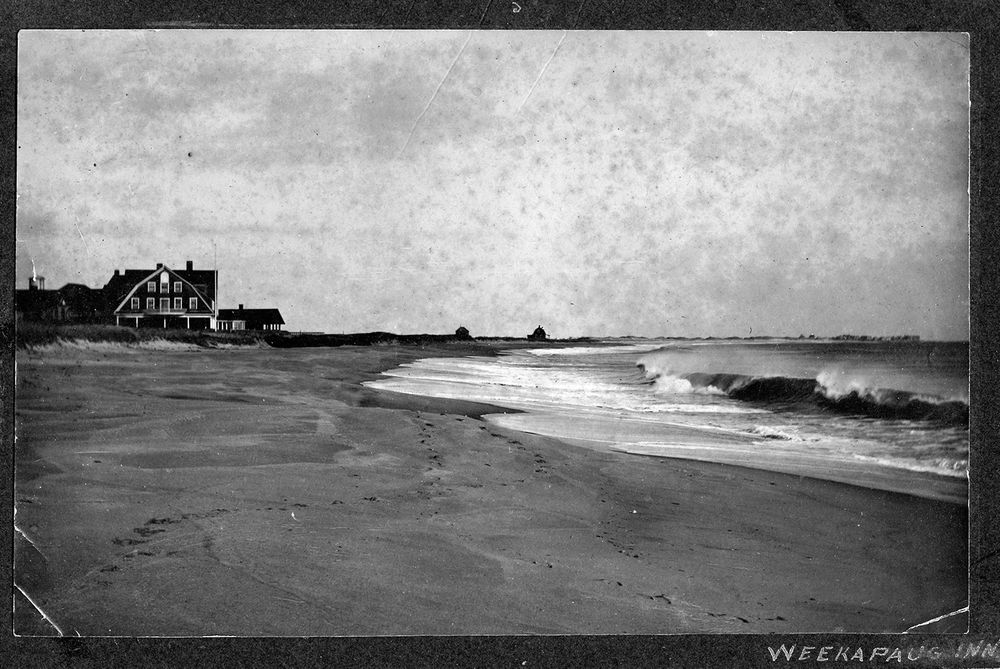 At the same time, people in Weekapaug also wanted some modern amenities. In the late 19th Century, they formed the Weekapaug Improvement Society to bring things like electricity and better water service to the area.
But a few decades later, a better option emerged: a fire district—a state sanctioned, hyperlocal, quasi-public entity that could raise taxes for fire fighting services. So in 1937, the property owners sought a charter from the state legislature, and "the Weekapaug Fire District came into being," Harvey said.
He continued: "But it was intended, I think, originally for communities to gather together to form their fire protection for their communities. But there was some language in there that created, I guess, what could be described as loopholes that allowed fire districts to do other things than fire protection."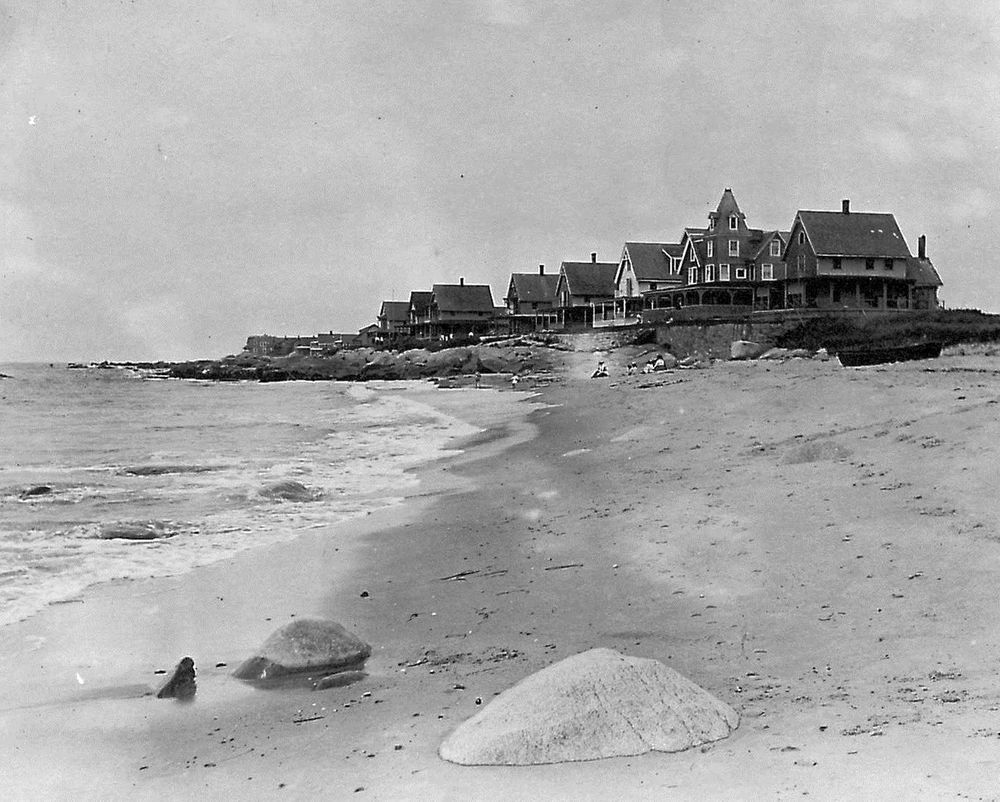 Property owners were beginning to see that fire districts could also be useful in controlling private coastal land. Big changes were ahead for control of the barrier beach, and it started with one historic event.
[VIEW A TIMELINE SHOWING HOW THE BARRIER BEACH WAS PRIVATIZED]
The Hurricane of 1938Barbara Coon was five years old on Sept. 21, 1938. And while she remembers only bits and pieces of that day, some memories are still clear. A storm arrived unexpectedly and began knocking over the outhouse at her family's home on the Quonochontaug Barrier Beach.
"Well, Dad, three times the outhouse went over," she said. "He'd go out and set it back up again. He laughed and laughed. The third time he gave up."
Things got a lot more serious from there. The storm was, in fact, a hurricane that'd been making its way up the east coast with sustained winds reaching more than 120 miles per hour. By the time Barbara's family realized the severity of what we now call the Hurricane of 1938, it was too late. Ocean water was surging and flooding their home.
"The house is floating around. It had water in it," Barbara said.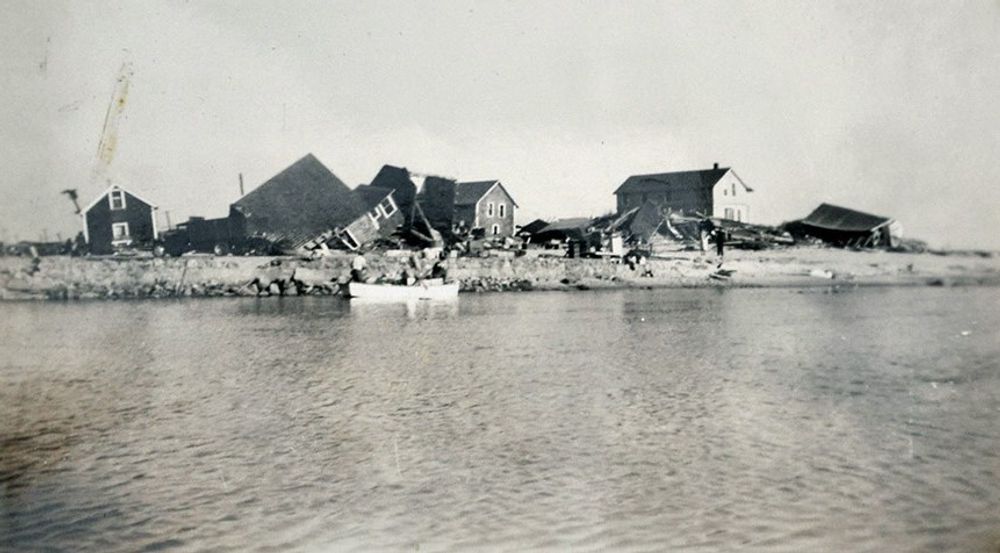 As Barbara recalled the story, she flipped through an old photo album for evidence of the storm's destruction. She pointed out photos of cottages strewn about the shore like beach toys.
"Alright, here," she said. "These are houses floating all the way around. We're up here and the water had to come up to float those houses. You know, we got waves going over us."
Barbara also had an old front page from The Westerly Sun newspaper nearby.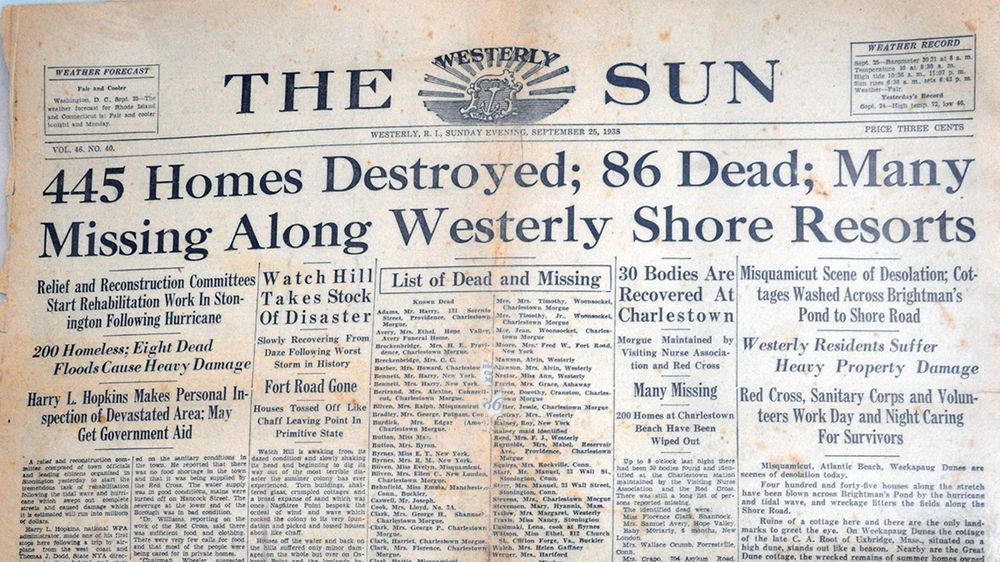 The faded paper is more than an artifact to Barbara. Nearly 83 years later, Barbara still remembers her father wrapping her and her brother Billy in blankets and walking north out into the dunes away from the surging water.
"To seek refuge, not to be washed away," Barbara said.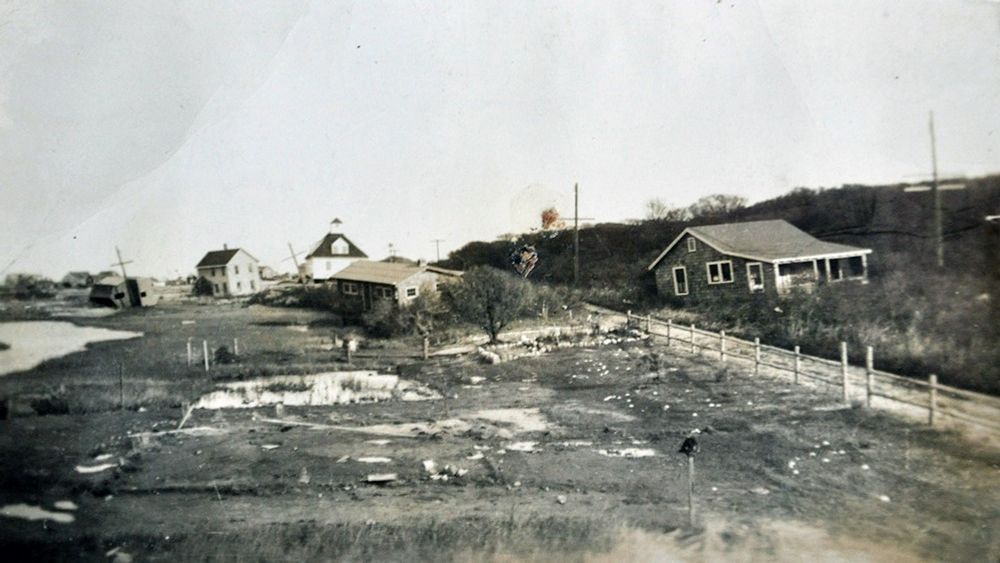 Westward, down the barrier beach, more people were stuck in the Weekapaug Inn. Harvey Perry's relatives were among them.
"They had to go upstairs," he said. "The walls were battered in, and they had to go upstairs and in the back to stay alive."
At one point, a torrent of ocean water ripped a breachway through the barrier beach west of the Weekapaug Inn, effectively turning the peninsula into an island and cutting off the people in the hotel from the rest of Westerly.
"I remember a story that there was a strapping young man who tied a rope around his waist during a lull of the storm, swam across the breachway, and then one by one people were brought back to the mainland by pulling on the rope," Harvey said.
By the time the storm passed, the inn, like other cottages on the barrier beach, was destroyed. Harvey recalled one story about a cottage named "Windswept." The storm moved the building across Quonochontaug Pond, where its owners left the home and renamed it "Swept Away."
Barbara Coon's house was still intact and on the barrier, but moved some 50 yards down the beach. She left the area on foot with her family and trekked some eight miles to her grandparents' house.
"We walked to Westerly," she said. "We were a mess. I was traumatized by it. Yes. It was years before I could even take a shower, let water go over my head. That's what it did to me."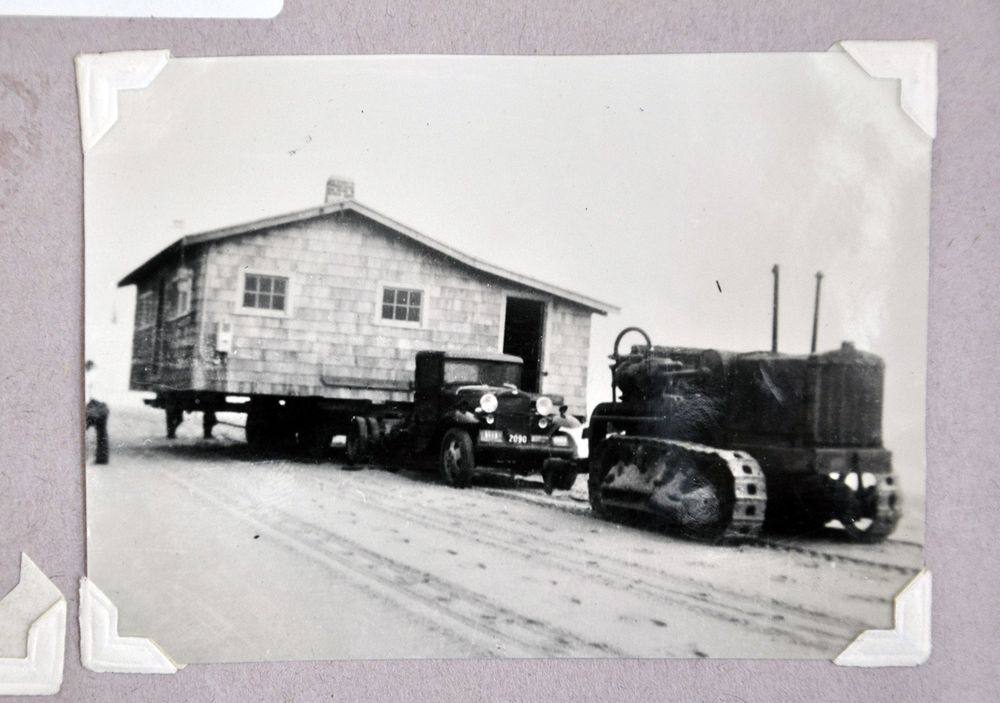 Rather than stay on the Quonochontaug Barrier Beach, Barbara's parents put their small, wooden shingled house on a flatbed truck and moved it to a new property away from the coast.
Harvey's relatives on the Buffum side of the family, who owned the Weekapaug Inn, wouldn't stay on the barrier beach either. They rebuilt their hotel inland on the western edge of Quonochontaug Pond.
"It opened for business the following spring," he said. "It was just amazing that you could do this back then. I mean, it was destroyed the end of September, and it opened in June. And I guess that just demonstrates the lack of regulatory restrictions at that time that you could do something like that."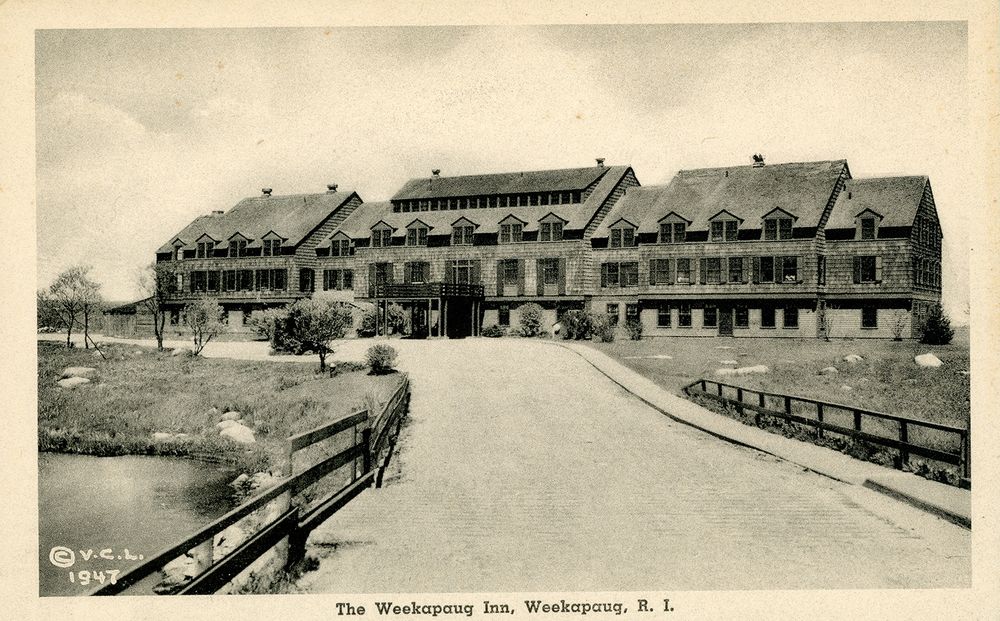 Around this time, well-connected people in Weekapaug also began making other plans. The barrier beach was leveled and, a few years earlier, Weekapaug had started its own fire district. Those two seemingly unrelated facts actually presented a chance to grab a foothold on control of the barrier beach.
Special fire districts in southern Rhode Island were about to turn into something far beyond entities that provide firefighting services—and Weekapaug would get in early.
"What ended up happening was that they realized this was a pretty clever way to also control large areas of land as shoreline property became valuable," said Dennis Nixon, professor emeritus at the University of Rhode Island. "We are unique in calling them fire districts. In most other states, they call them a community association, a village association."
Fire district seeks 'full control'
Here's how the Weekapaug Fire District did it: The property owners went back to the Rhode Island legislature and got an amendment to their 1937 founding charter. That allowed them to purchase prime beach lots left in the hurricane's wake.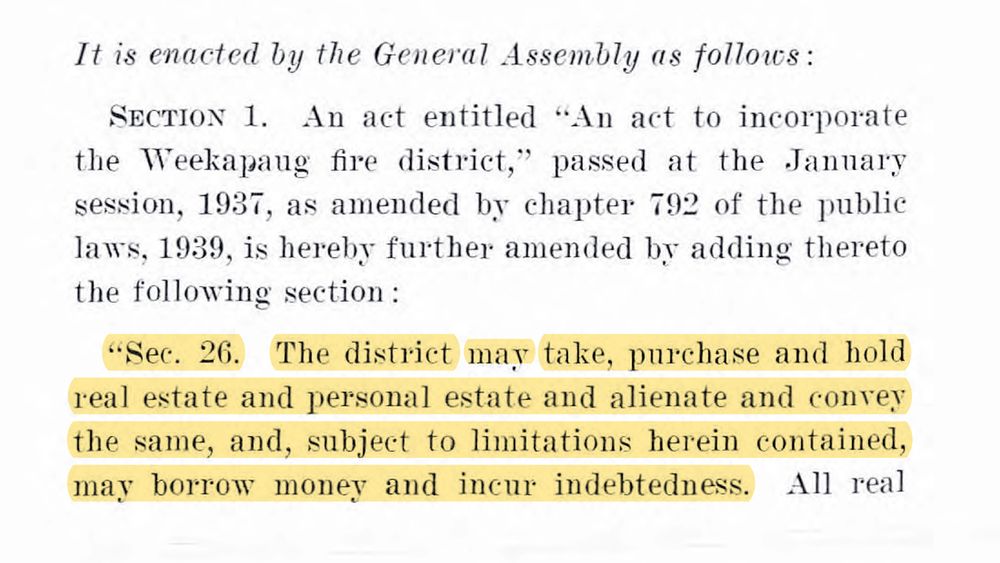 It was all finalized one night in July 1942. America had entered World War II, and a lights out order—or dim-out—was in effect that evening. According to The Westerly Sun, the meeting got off to a memorable start.
"Soldiers of the United States Army raided the Weekapaug Fire District meeting Friday night when they found the chapel all aglow with lights," the article reported. "[N]o one had thought about the dim-out. Soldiers came in, ordered the lights out and the meeting proceeded."
According to The Sun report, with the soldiers satisfied, the residents came to a unanimous decision: to buy up more than two dozen plats of land at the start of the Quonochontaug Barrier Beach. The purchases would include former Weekapaug Inn property and land held by a real estate firm called the Weekapaug Beach Company. The total was about $10,600 dollars, about $172,000 dollars in today's money, to be paid for with fire district tax dollars. The Sun made note of the significance.
"By the Weekapaug people buying their own beach they have full control of that area and it will never be built upon," The Sun reported.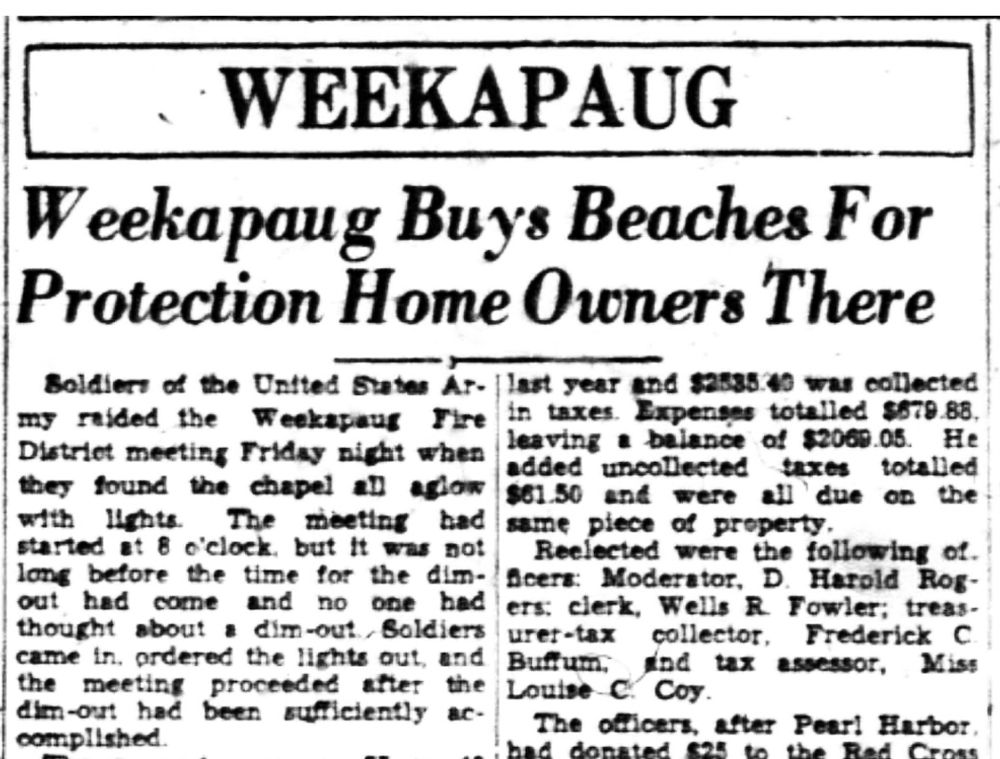 Eight years later, the district spent even more to acquire additional Weekapaug Beach Company land. By the end of 1950, the district controlled nearly half the peninsula.
Many decades later, the barrier beach still has no cottages or hotels on it. And the public shoreline, once largely accessible to summer beachgoers, is now mostly a private beach for the residents of Weekapaug and neighboring coastal fire districts they allow in.
Present day: 'They want us out of here'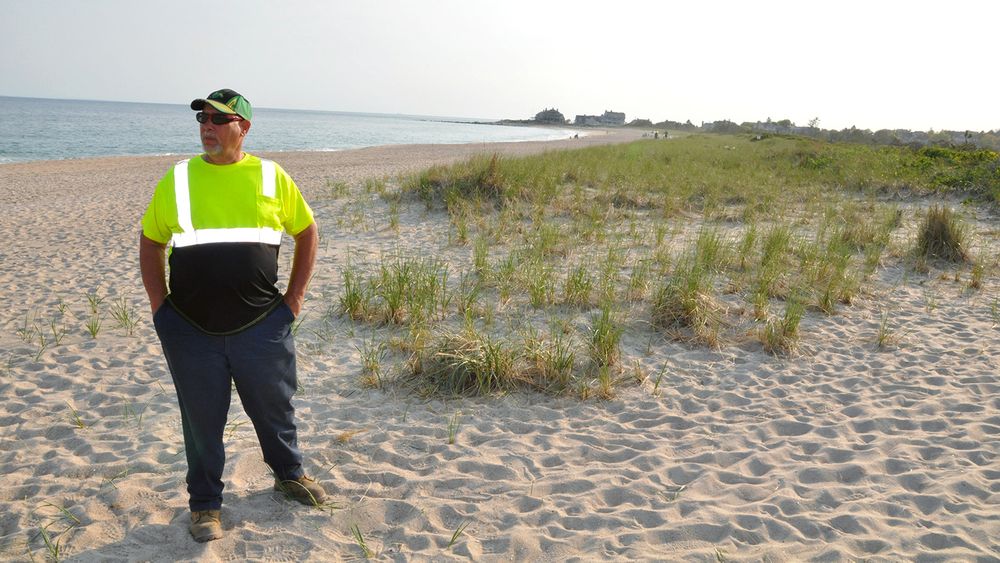 Dave Burke doesn't own a beach house. He lives in rural Hopkinton away from the coast. But, first thing in the morning, he does like to take his Tacoma pickup and fishing poles to the Quonochontaug Barrier Beach.
You can catch a lot at the beach: fluke, sea bass, stripers, and even sharks. But if you stay too long past sunrise in the summer, you can also catch heat from the private security guards on patrol.
"Nine o'clock comes—bang. They want us out of here," Dave said in a recent interview by the barrier beach shore. "So we just [say], 'Alright, fine.' We put our hands up and we leave. I mean, what other choice are we going to have?"
Dave doesn't have a lot of options because he parks his car on property owned by the Weekapaug Fire District. The quasi-municipal entity doesn't directly fight fires, but it owns more than 60 acres of coastal land. And while the shoreline is public, Dave has to cross over fire district property to fish.
Security guards tell him he can go look for a public parking spot at the start of the barrier beach and walk back about a third of a mile. But that's hard because Dave has knee issues. And even if the walk was easy, the small row of public spots is usually full.
As we rode along a bumpy sandtrail to leave the area, Dave summed up the whole situation in a word: unfair.
"I know they want to keep it nice for their guests and everything else, and their people from their little villages, or whatever they want to call them. But we got rights, too," he said.
Those rights are outlined in the Rhode Island Constitution, which guarantees the public use of the shoreline. Today that's defined as below the mean high tideline. But no law says you can cross over restricted private property to get to the public shore. That's why access to the barrier beach shoreline is so hard.
A complex web of owners
The Weekapaug Fire District isn't the only private property owner on the barrier—the undeveloped peninsula is almost entirely privately owned, much of it bought up decades ago by local property owners who wanted to keep the beach private and undeveloped.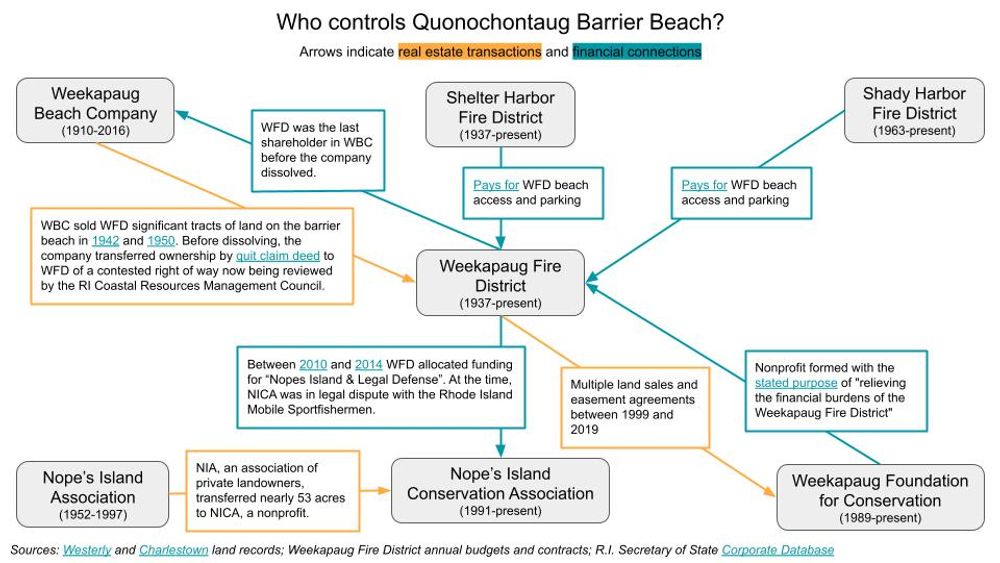 [VIEW AN INTERACTIVE VERSION OF THIS GRAPHIC AT OUR SPECIAL SHORELINE ACCESS PAGE]
The ownership structure has evolved into a closely knit web of fire districts and conservation groups that share goals, members, and even resources. One of them is the nonprofit Nope's Island Conservation Association.
"They say that they are very much for conservation and things of that nature. Whether they use that then as a means to another ends, I don't know," said Jim Milardo, a member of the Rhode Island Mobile Sportfishermen, a private club that owns land toward the end of the barrier beach.
He added, "Every time we talk to them, it just doesn't seem to work out very well."
Milardo's group has been at odds with the other property owners. His organization wound up in court with the Nope's Island Conservation Association because of a dispute over land the fishermen were driving on to get to their property.
Milardo said it wasn't just Nope's Island they were battling. According to public records, at the time, the Weekapaug Fire District was spending budgeted money under a line item titled "Nopes Island & Legal Defense."
"Basically, they kind of forced our hand into the lawsuit," he said. "So that cost us about $100,000 dollars. That wasn't very nice. That wasn't very neighborly."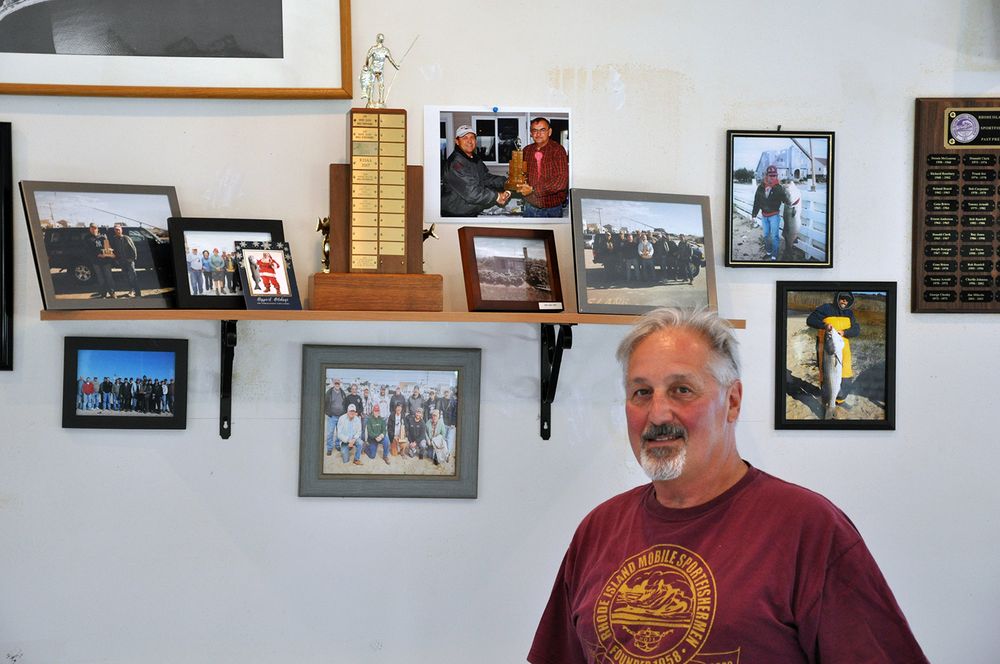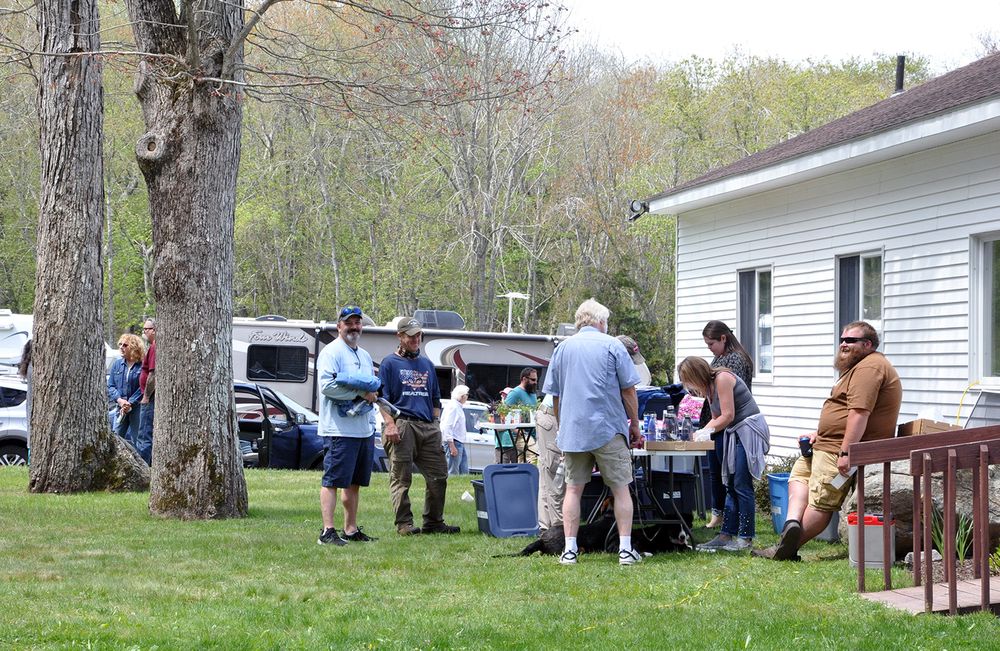 'It's hard to keep fighting'
Advocates for shoreline access say the barrier beach is a perfect example of a larger trend that's angering beachgoers.
"All up and down the coast, things have changed, things have been restricted," said John Ornberg, a Westerly resident who advocates for more shoreline access. "It's really hurt the public."
Ornberg is 76 and remembers a time when you could move freely about the Quonochontaug Barrier Beach and other coastal spots.
Today, advocates say areas they used to go to are now harder to gain access to or blocked, and private property owners are even trying to keep people off land that is public. The controversy took off last year when restrictions increased during the pandemic. Ornberg blames the erosion of public access on heavy handed property owners but also public officials who aren't willing to fight for public access.
"It's that attitude that the public just doesn't belong," he said. "And it's hard to keep fighting. I mean, I've been going to town council meetings and writing letters to the editor since 2011, and nothing happens. The public, to me, is not being served."
The state agency responsible for looking out for the public's shoreline rights is the Rhode Island Coastal Resources Management Council.
"Our role, in terms of access and the public, is constantly looking for new rights of ways that we can designate as CRMC rights of ways," said Laura Dwyer, CRMC's spokesperson.
The agency has the goal of one public access point for every one mile of Rhode Island's nearly 400 mile shoreline. But, Dwyer said, CRMC has no budget for designating new public rights of way, and in some situations, the agency can only do so much. She said the Quonochontaug Barrier Beach—which stretches for 1.7 miles—is one of them.
"There's not a lot of opportunity for additional public access or rights of way here," Dwyer said. "Being the nature of a barrier, it's not a lot of room, basically. If ownership is clear on this, then it's kind of a no-go."
A contested right of way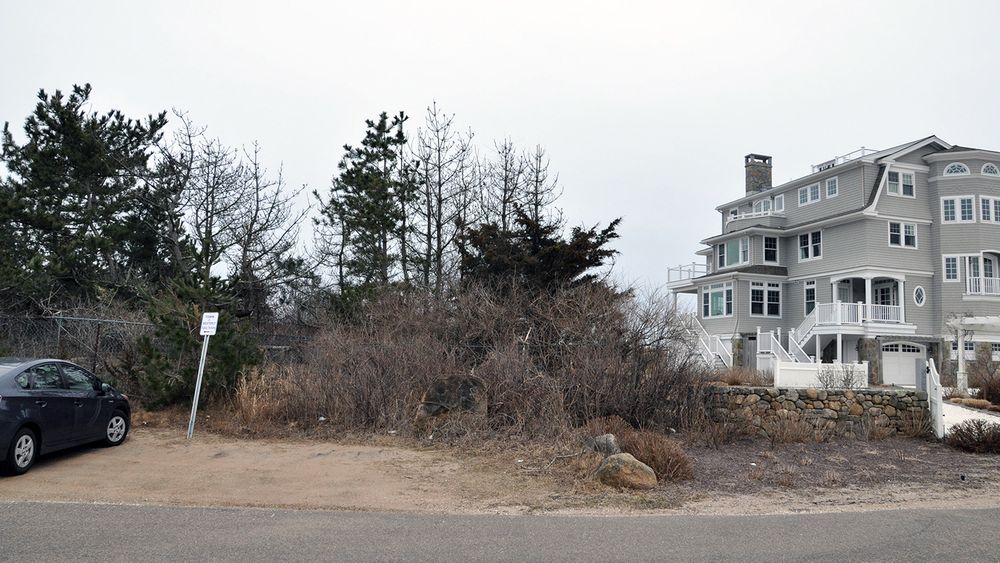 The Coastal Resources Management Council is looking into one possibility: an overgrown and fenced-off path at the beginning of the barrier beach advocates insist is public. The Weekapaug Fire District says the stretch of land is theirs. Historical maps show an opening between properties there, and current town maps don't depict it as platted land.
But the fire district says the town never formally recognized it as a public road and the district acquired it six years ago from the Weekapaug Beach Company, a more than 100-year-old real estate firm the district had become the only shareholder in. If deemed public, the right of way would be the only designated public path to the barrier beach shore.
"I think, right now, the best opportunity is the one that we're considering," Dwyer said.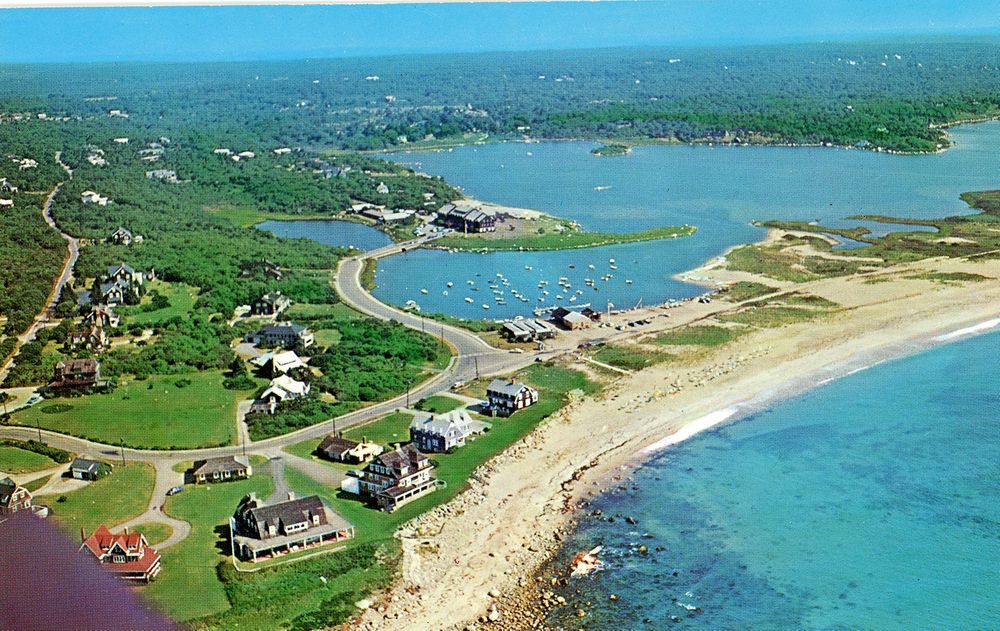 For now, state lawmakers for Westerly are shying away from this and other shoreline access debates, which public shoreline advocates say contributes to the problem. Neither state representative Brian Patrick Kennedy nor Sam Azzinaro agreed to be interviewed for this story. Westerly state Sen. Dennis Algiere has previously said taking on fire districts is not on his agenda.
Weekapaug property 'for Weekapaug taxpayers'
The Weekapaug Fire District has repeatedly turned down interview requests. But their meetings, unlike their beaches, are by law open to the public.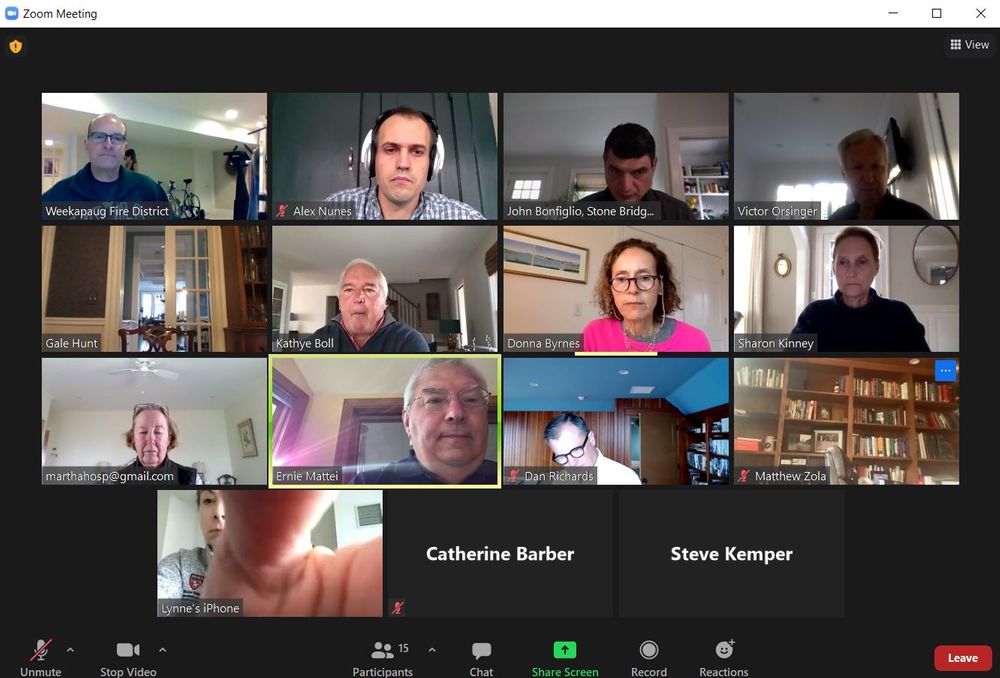 On a recent Saturday morning, over Zoom, council members went over details for the upcoming summer season: security, beach passes, and parking—also special arrangements they have allowing some select people who aren't Weekapaug Fire District residents to access the barrier beach.
They have legal agreements with neighboring fire districts, the Weekapaug Yacht Club, and the upscale Weekapaug Inn. At the meeting, they reviewed a request from someone in the nearby Haversham community who lost his access and wanted special permission to use one of the district's parking lots.
Member-at-large Dan Richards said Weekapaug property owners won't like it.
"Every time it comes up, we get just lots of incoming emails from the taxpayers saying, 'We don't want this. This needs to go away,'" Richards said. "That's feedback we've continued to get over time from our taxpayers: that they'd like to see these programs wound down and, obviously, Weekapaug properties used for Weekapaug taxpayers."
The request was denied. The guy who got turned down knew it was a possibility. He's no stranger to how things work in Weekapaug. It was Harvey Perry, whose relatives founded the Weekapaug Inn and weathered the Hurricane of 1938.
"My privilege has been revoked, which is too bad," Harvey said. "It's just indicative of decision-making and the exclusiveness. But on the other hand, there are also many other people who can't go there, or never could go there at all."
Harvey can still go to the barrier beach. He gets there by boat; it's a quick trip across Quonochontaug Pond. Most beachgoers looking for a public place to enjoy the coast don't have that option.
[EDITOR'S NOTE: The timeline and graphics accompanying this story were produced by Sofie Rudin. This story is part of an ongoing series on fire districts and shoreline access in Rhode Island.]
Alex Nunes can be reached at anunes@thepublicsradio.org