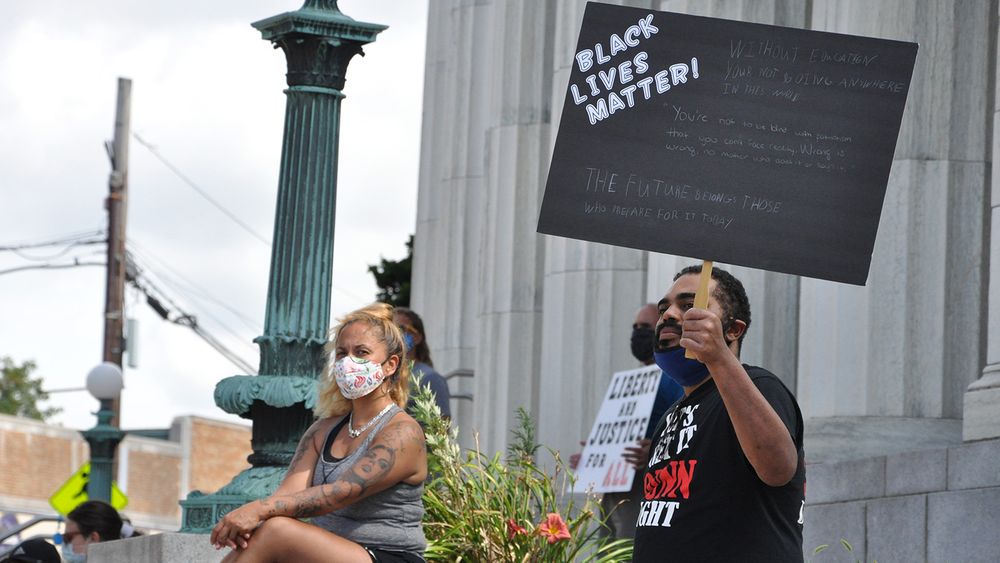 Julius Dunn spent a recent Sunday morning the way he does most weeks now. He stood outside the post office in downtown Westerly with more than a dozen other protesters, holding signs with messages like "Black Lives Matter."
"Just trying to show my support and be out here with everybody," Dunn said. "Trying to keep the protests going that we've been having going on for a while now."
Dunn wore a shirt he had custom made. On the front, it reads, "LET'S GET IT DUNN RIGHT." On the back, it advertises his first run for political office.
"I felt like someone had to do it," Dunn said of his decision to run. "No one else was doing it yet. So I chose to be the one to step up."
Dunn, who grew up in Westerly, said he decided to run after an outspoken town council member posted online that Black Lives Matter activists should get into politics if they want to make a difference.
Dunn said the comment sounded dismissive, but he also thought entering the local state Senate race was a good idea. Now he's running as an independent against Dennis Algiere, a Republican incumbent first elected in 1992.
Dunn said he's getting into politics to give voice to a perspective that's often overlooked.
"After the whole Trump thing and all that, and how everybody's saying, 'Make America Great Again,' it really bothered me, because—me personally—I've never felt that America was that great to begin with," Dunn said. "We try to be a global leader, but we have problems at home that we never like to discuss."
Dunn, who is Black, said he's concerned about racism in Westerly, a predominantly white town, the inadequate availability of affordable housing, and a lack of diversity in the local school system. If elected, he said, he'd use his position to push for racial and economic justice.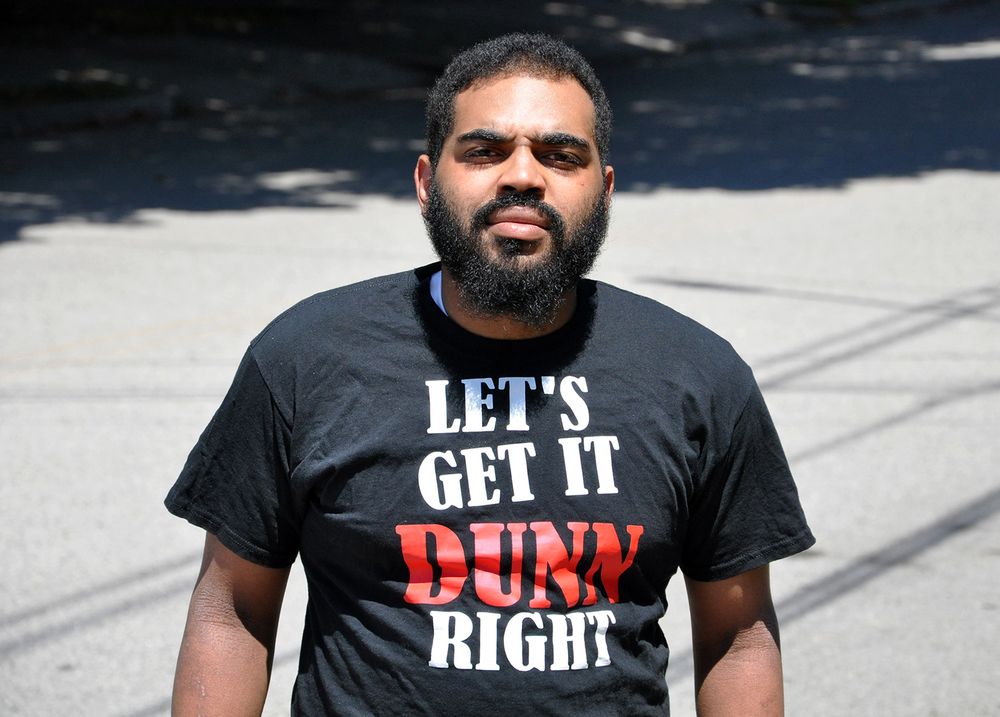 "I think that's amazing," Rana Hamelin, a Black Lives Matter activist from Westerly and a friend of Julius Dunn, said of Dunn's candidacy.
Hamelin said Westerly needs diversity in its leadership and the reason is simple.
"Representation for people of color, in the very least, in the very least," she said.
Hamelin is half-Filipino and has children who are part-Filipino and Black. She said her kids have faced racism in school, and school staff members she's spoken with have failed to take her concerns as seriously as they should.
"It's kind of like: 'Oh, you're making a big deal about it. We'll handle it,'" she said of talking with school staff. "You know, you get called the n-word or whatever it is—that's a big deal. And if I try to go to bat as a parent and tell them, there should be some sort of repercussion, no? But in turn, I just get told, 'Oh, it's being handled.' And, hell, I want to know how it's being handled."
Part of the reason Julius Dunn says he's running for the 38th Senate district seat, which covers Westerly and sections of Charlestown and South Kingstown, is that local officials, including Dennis Algiere, have overlooked protesters so far.
Algiere lives walking distance from the protests, but has yet to meet and speak with participants.
"I would like to go down there," Algiere said in a phone interview. "I just haven't had the opportunity."
Algiere said he plans to meet with Julius Dunn and other Black Lives Matter activists at the weekly protest this coming Sunday.
"These are issues that are longstanding," Algiere said. "They do need to be addressed and talked about, and I'm glad he and his protest group are bringing these forward, not only to our community but to our state. They do need to be discussed and talked about."
Dialogue is one thing Dunn is hoping for with his campaign. He doesn't expect to win.
Dunn said navigating the complex rules for running for office has been a challenge. After declaring himself a candidate, Dunn went door-to-door during the pandemic, collecting signatures to get on the ballot.
Despite facing resistance from some registered voters, he said, he got the necessary number of signatures but misunderstood the rules for submitting them properly. As a result, he won't be on the ballot this year and is instead asking people to vote for him as a write-in candidate.
Even so, Dunn said it's worth running this year and in future elections.
"Even if it's me every couple of years campaigning and not getting elected, but just going out there and having the issues that need to be brought to the table brought to the table—I'm happy with that," he said.
But Dunn said he will be running to win when the state Senate seat comes up again in 2022. He plans to meet with organizations around Westerly in the meantime, build support, and mount a serious challenge.
Alex Nunes can be reached at anunes@thepublicsradio.org.