"Assassins" - Music & Lyrics by Steven Sondheim, Book by John Weidman, Directed by Tony Estrella. The Gamm Theatre, now playing through March 29th. 1245 Jefferson Blvd, Warwick, RI.
The Gamm Theatre has posted an announcement about Coronavirus and safety at the theatre. As of Thursday morning, March 12th, performances are still scheduled to continue.
UPDATE: As of March 13th, The Gamm Theatre has suspended all performances "for at least two weeks" according to a statement on their website.
Il Cinema Ritrovato On Tour at Brown University. **THIS EVENT IS CANCELLED** March 11th - March 14th. Granoff Center for the Performing Arts, 154 Angell St., Providence, RI.
Transcript:
Chuck Hinman
This is The Public's Radio 89.3 FM. Good morning. I'm Chuck Hinman.
James Baumgartner
And I'm James Baumgartner. Chuck, you and I saw a musical on Sunday for this week's Artscape.
Chuck Hinman
That's right We did. We saw Assassins at the Gamm Theatre in Warwick. It features the stories of nine different people, historical figures who either assassinated or attempted to assassinate an American president.
James Baumgartner
What a topic for a musical!
Chuck Hinman
Unbelievable. I enjoyed it. And I think you did, too. It's possible that this is the kind of musical for people who don't like musicals.
James Baumgartner
I'm sort of off and on when it comes to musicals. I really enjoyed Trinity's production of Little Shop of Horrors last year, and I really enjoyed this one too. Maybe I just like the darker musicals.
Chuck Hinman
I think I'm with you on that. This musical is by Stephen Sondheim and john Weidman and originally premiered Off-Broadway in 1990. So it's 30 years old. It's set at a carnival shooting gallery. Nine assassination stories and they're all sort of woven together as we jump around in time, each assassin having a moment to tell their story as the other assassins encourage them. Each story illustrates the assassins' motives, dreams and failures.
James Baumgartner
For example, there's John Wilkes Booth played by Alexander Platt. He's a self-important actor who claimed he shot Abraham Lincoln in order to "bring down a tyrant." But later his own words revealed that it's his racism and desire for revenge that are sort of motivating him instead.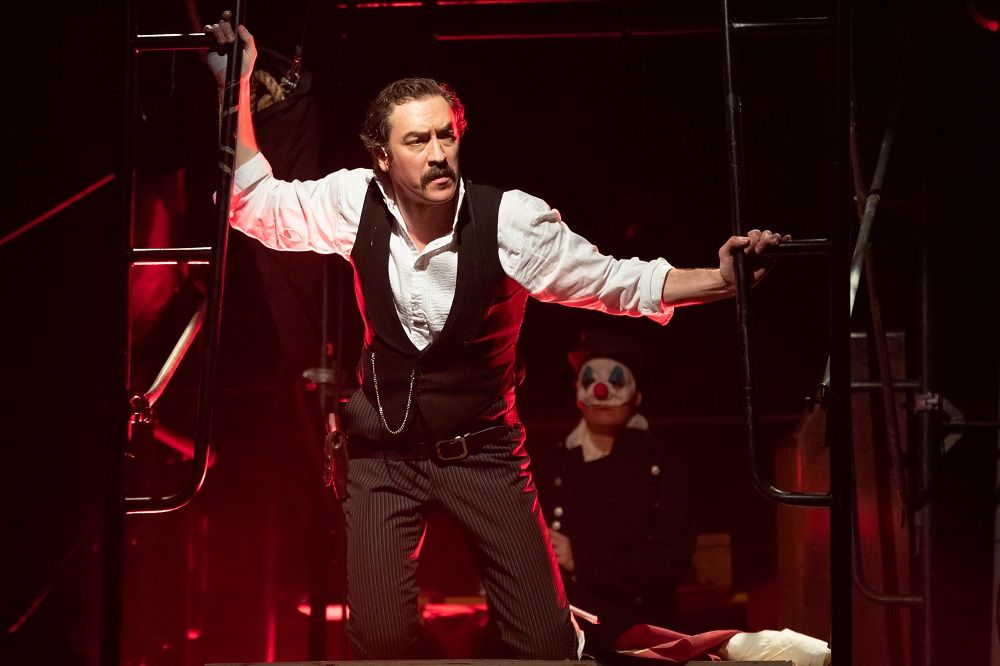 Chuck Hinman
And John Hinckley Jr. is there who tried to assassinate President Reagan. Played by Chris Stahl, he makes his appearance coming out of the audience and onto the stage. And it is such a powerful performance in that, it looks like he walked out of the back of my high school class, he looks just like me, and you really get the feeling that it's the real deal when he starts to talk.
James Baumgartner
Then there's Samuel Byck who wanted to kill Nixon. He had a plan in 1974 to hijack a plane and fly it into the White House. He failed to get the plane off the ground though. Tom Gleadow plays Byck in a way that reminded me of Howard Beale - he's the character from the 1976 film Network, known most famously for "I'm as mad as hell and I'm not going to take it anymore."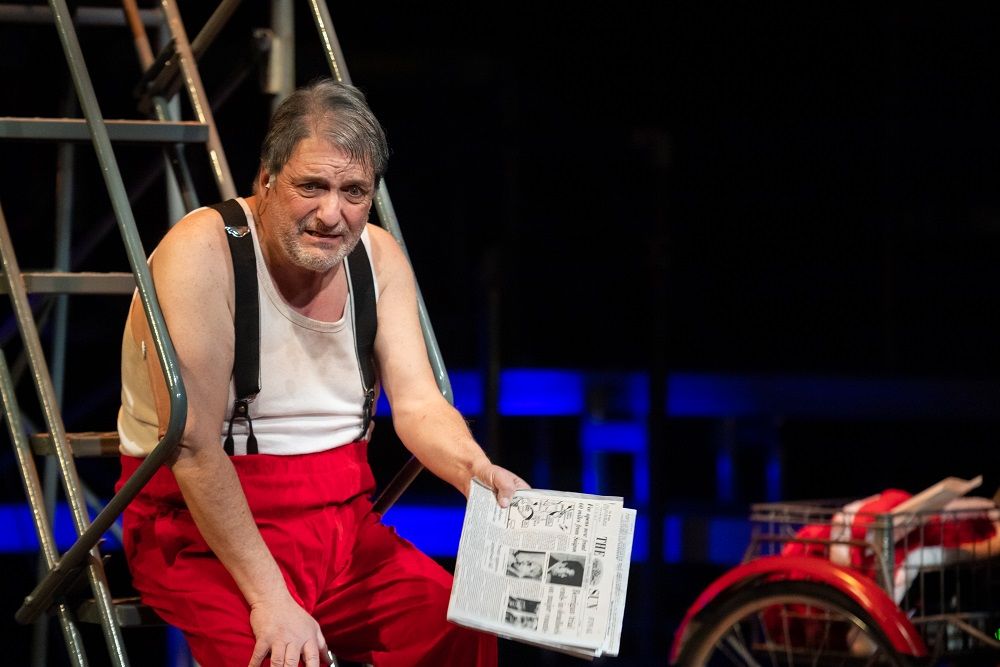 Chuck Hinman
Yeah, Sam Byck has a lot of time to explain himself and really kind of draw the audience in as he explains how bitter he is, and you really feel you get an insight into someone who might want to do something like this. Throughout the performance these assassins all play off of each other in different ways. John Hinckley Jr. and Lynette "Squeaky" Fromme sing a parallel love duet. Hinckley sings to his picture of Jodie Foster (his obsession), and Fromme sings to a newspaper clipping of Charles Manson.
James Baumgartner
I really enjoyed this part. The song is called "Unworthy of Your Love" and it takes the form of a Broadway musical love duet, with each character starting off on their own and then joining together in beautiful harmony, but you listen closely to the lyrics and something's just not quite right about it. The Gamme is a great setting for this play with its theater in the round where the audience is really never far from the action. They were right there in front of us. You feel like you're sitting inside of a circus tent, and at times, it felt like the audience was implicated in the actions of the assassins. At the beginning of the play two of the assassins enter the stage from the audience. It's a very jarring moment, showing us that the murderers are one of us that they come from us in a way.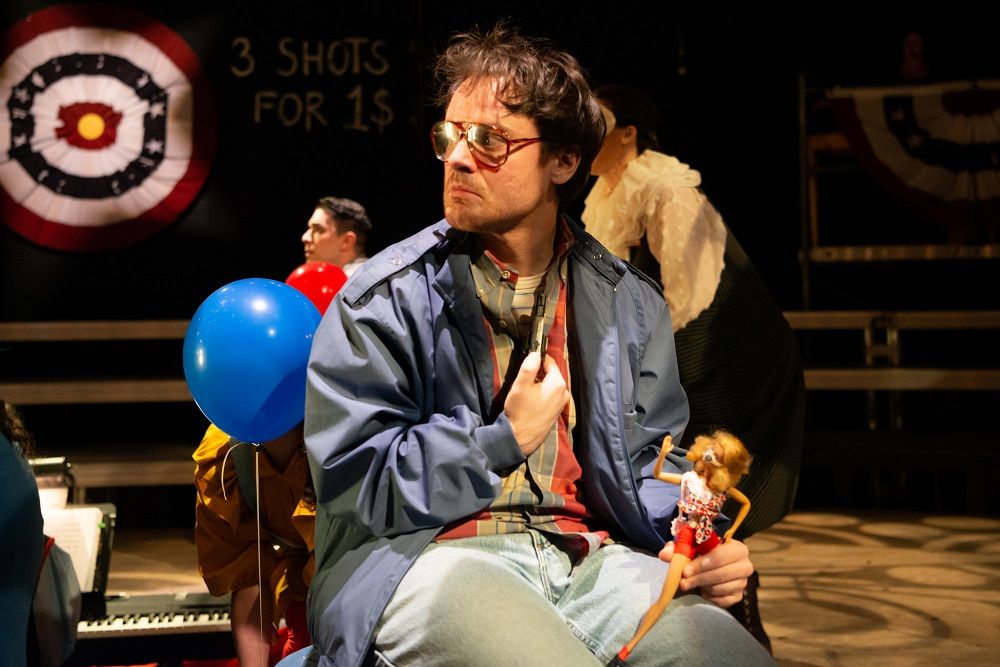 Chuck Hinman
Well pop culture has always been full of anti-heroes in the last couple of decades, especially Walter White in Breaking Bad, Tony Soprano, the Joker. In Assassins you get eight of them.
James Baumgartner
Yeah, and it's a great trick of drama to get us to not only hear the stories of these anti heroes, but empathize with them in a way just a little bit.
Chuck Hinman
Yeah, you realize that you are empathizing with them and feel certainly immediately guilty and kind of creeped out for doing it. The play culminates with Lee Harvey Oswald who's like the king of the assassins, all eight other assassins surround him. And they're urging him to shoot President Kennedy. And when this was going on, I realized that I was totally involved in the story. I was feeling myself, "I'm going to find out why this happened. I'm going to understand why Harvey Oswald shot Kennedy. And these people all had something to do with it," which is a total impossibility.
James Baumgartner
Yeah, there's four characters from the past and four characters from the future all converging to egg on Oswald to take his final action.
Chuck Hinman
But throughout the play, there's the feeling that it's saying something that will help you understand what happened and what is still happening in this country. It's a very powerful effect. I'm not exactly sure how they pull it off but, but really is.
James Baumgartner
It certainly raises a lot of questions in your mind. It's a play I'm still thinking about a few days later after seeing it. There's a lot of relevance with gun violence today: mass shootings, school shootings.
Chuck Hinman
And "The Gun Song" is one of the numbers from the first act, the assassins talk about the virtues of the gun. All it takes is one little finger.
James Baumgartner
When you have a gun, people pay attention. And again, the audience is implicated when the characters end up pointing their guns right at us.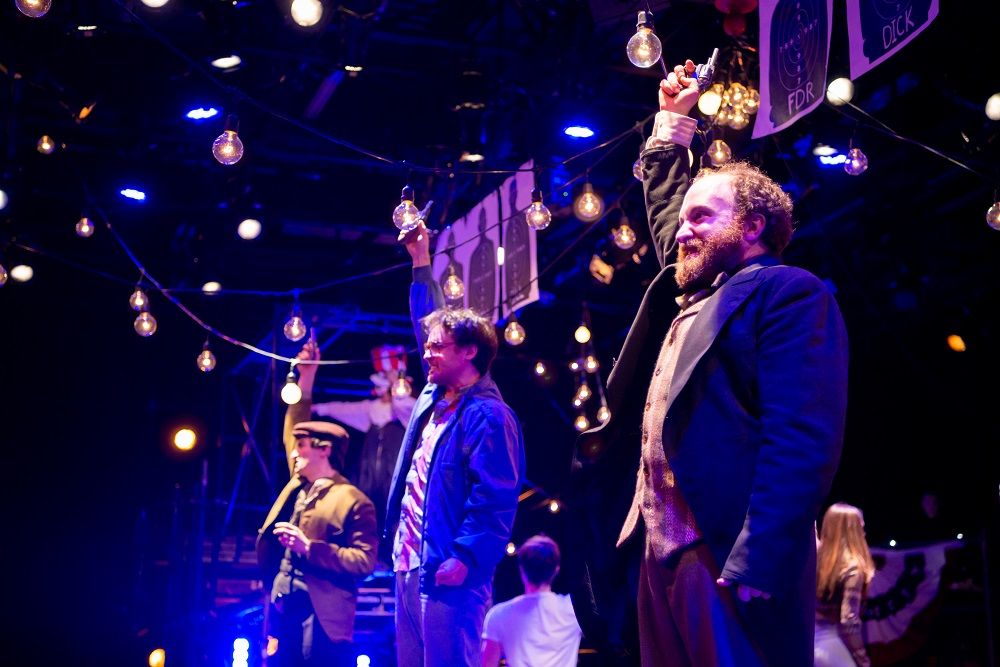 Chuck Hinman
And I was just glad they didn't shoot us. [Yes.] Assassins directed by Tony Estrella is at the Gamm Theatre now through March 29th.
James Baumgartner
So Chuck, I understand there's a film festival you're interested in that's going on right now.
Chuck Hinman
That's right. The Italian Studies Department at Brown University presents the seventh edition of "Rediscovered Cinema" on tour. It's now through Saturday at the Granoff Center for the Creative Arts at Brown. A festival of rare and restored films from the Cineteca Bologna, one of the world's most renowned film restoration centers. They're celebrating this year what would have been Federico Fellini's 100th birthday with one of his films. I talked with Massimo Riva Professor and Chair of Italian Studies at Brown about the program starting with what's on for tonight.
Massimo Riva
Tonight we have a film from the 1970s by a maverick director a rarely seen film. The director is Marco Ferreri. It is a satire of Italy in the 1960s starring Marcello Mastriani as a young industrialist who is obsessed with how much air can fit into a balloon. And I'll not tell you the rest of it because you're left to find out what happened.
James Baumgartner
Now that you say this is rarely seen - Mastroianni is a big star. Why was this not seen so so widely?
Massimo Riva
Yes, there were some problems with the distribution etc. And also Ferreri is a lesser master, but wonderful, one of my favorite directors, but not so well known as Fellini, for example.
Chuck Hinman
Friday night, what do we have now?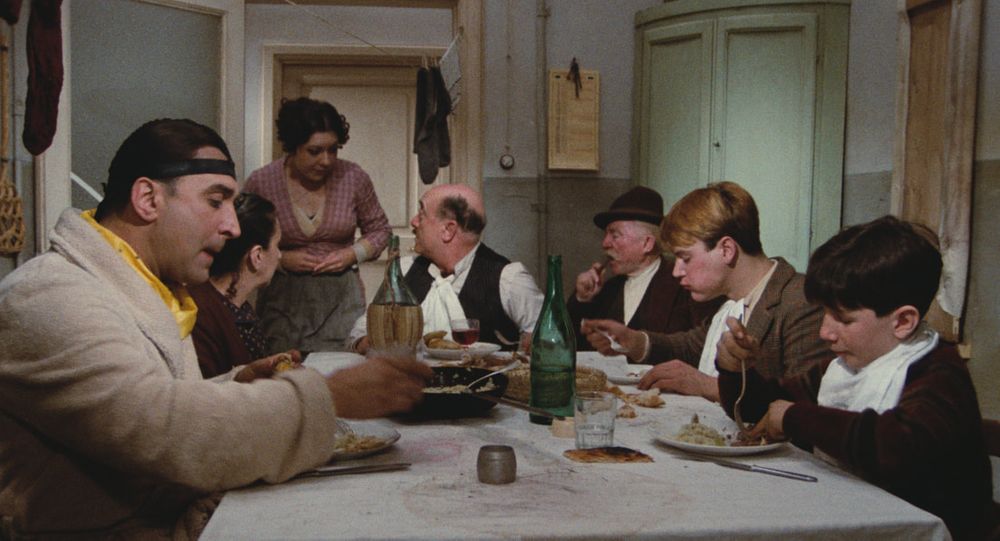 Massimo Riva
Well, Friday night we have the main event of the festival this year, which is a celebration of Federico Fellini 100th birthday, with perhaps his most beloved film, Amarcord. Amarcord - the title means "I remember" and the film is an affectionate and hilarious recreation of the town of his youth entirely recreated out of his memory and fantasy because he rebuilt the town in the studios in Cinacitta and Amarcord won the Oscar for Best Foreign Film in 1974.
Chuck Hinman
And Saturday?
Massimo Riva
Saturday, we have a double feature and the one film from Italy as well. "Pane a Cioccolata" which is "bread and chocolate" (I'm sorry.) Starring Nino Manfredi, another great star from the 1970s. The other film is not Italian is one we always screen one film non-Italian film from the Cineteca of Bologna and this is directed by Yussef Chahine, an Egyptian master. And it's sort of a great pair with Fellini's film because it's there's also a memoir from Chahine's youth in Alexandria in Egypt. And it's about his dreams as a high schooler who wants to become an artist, an actor, a director, dreaming of American musicals, and another great film not to miss. Brown is limiting this event to 99. So come early to just have a seat but it's plenty of room and there's plenty of hand sanitizers at the at the entrance if you're concerned.
James Baumgartner
You can find links to this event as well as Assassins at the Gamm at our website.