It's natural for the subjects of investigative journalism to be angry. The latest example of this in Rhode Island is the shoot-the-messenger response to my colleague Lynn Arditi's stories about what happens when lifesaving measures go wrong.
Here's what happened: A Brown University doctor did research on heart attacks in Rhode Island when he made a very troubling discovery: that hospital records showed patients transported by ambulances had misplaced breathing tubes. This meant that air was blowing into their stomachs rather than their lungs, suffocating them.
By the time the researcher, Dr. Nick Asselin, gave his findings to a state oversight board, he had identified 11 patients with botched intubations that were not recognized by EMS first responders over about two and a half years. They all died.
The firefighters pushed back against the state Health Department's plan to restrict who can perform intubations. A few days later, Arditi reported, a 12th patient with a misplaced breating tube died.
The response from the firefighters who perform these emergency procedures was swift. Fire officials and their unions angrily criticized these stories. They have been joined by some city and town officials, particularly Johnston Mayor Joe Polisena, a nurse and retired firefighter.
At a meeting last week of the Ambulance Service Coordinating Advisory, Polisena labeled the reporting "fake news." He also skewered emergency room doctors as "having an agenda" driven by how much they get paid as consultants to communities around the state for advising fire departments on emergency response issues.
Accusing the doctors of being money-grubbers on this issue was the most ludicrous of Polisena's salvos. A doctor who advises a city or town is paid around $400 a month, says Dr. Joseph Lauro, who has advised communities on emergency medical issues. If a doctor wants to make money, he or she can pick up an extra "moonlight" shift at a hospital and be paid $180 an hour or more, depending on specialty.
What the doctors are seeking is better care for patients. They aren't buying summer homes in South County by advising EMS providers.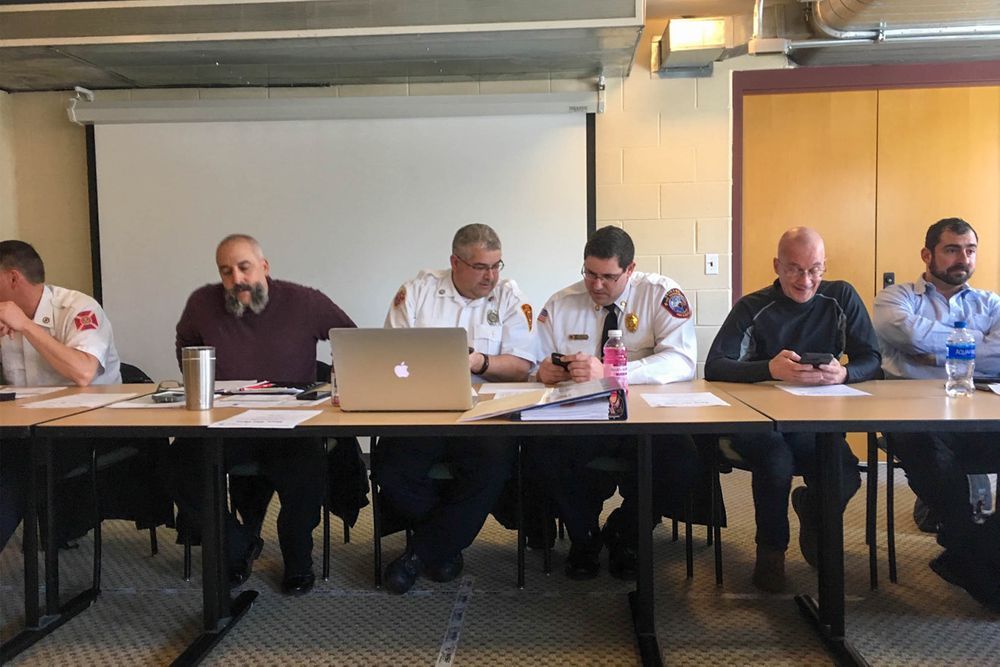 Then there are the firefighter unions. Joseph Andreoli, president of The Rhode Island Association of Firefighters, claimed the reporting painted the EMS responders in a "negative light" and was an attack on hard-working firefighters who save lives.
First responders have tough jobs. Like airline pilots and anesthesiologists, their work lives involve hours and hours of routine tasks punctuated by emergencies where lives are literally in their hands. In Rhode Island, they save thousands of lives every year. They perform their jobs under the toughest conditions – in snowstorms and amid car accidents with drivers speeding by on interstate highways.
Firefighters work in teams. They are bands of brothers and sisters and are known for having each other's backs in excruciating times. Every reporter has a story of witnessing firefighters save lives in a heroic manner. We are all lucky to be served by such well-trained and selfless folks.
There are a tight fraternity and sometimes this instinct for backing each other up leads to self-defeating behavior. Paul Valetta, a firefighter union lobbyist, said that his members, not emergency room doctors, are the experts. Doctors, Valetta said, don't know what it is like to respond to emergencies because they work in hospitals, "with bright lights and a lot of people helping them."
His comments were met with widespread applause from firefighters at last week's ambulance board meeting in Warwick.
It's sad that the firefighters are adopting this defensive crouch. The reporting on this issue has been widely circulated. One of the nation's best newspapers, The Boston Globe, picked up Arditi's story and ran it on page one last Thursday.
Nobody easily embraces change nowadays. But its past time for the firefighters to recognize the need for better trained emergency responders. Their union leaders need an attitude adjustment so that they can lobby at the Statehouse for better training.
The aim should be what all Rhode Islanders want – well-trained first responders who can become even better at saving lives.
Scott MacKay's commentary can be heard every Monday morning at 6:45 and 8:45 and at 5:44 in the afternoon.