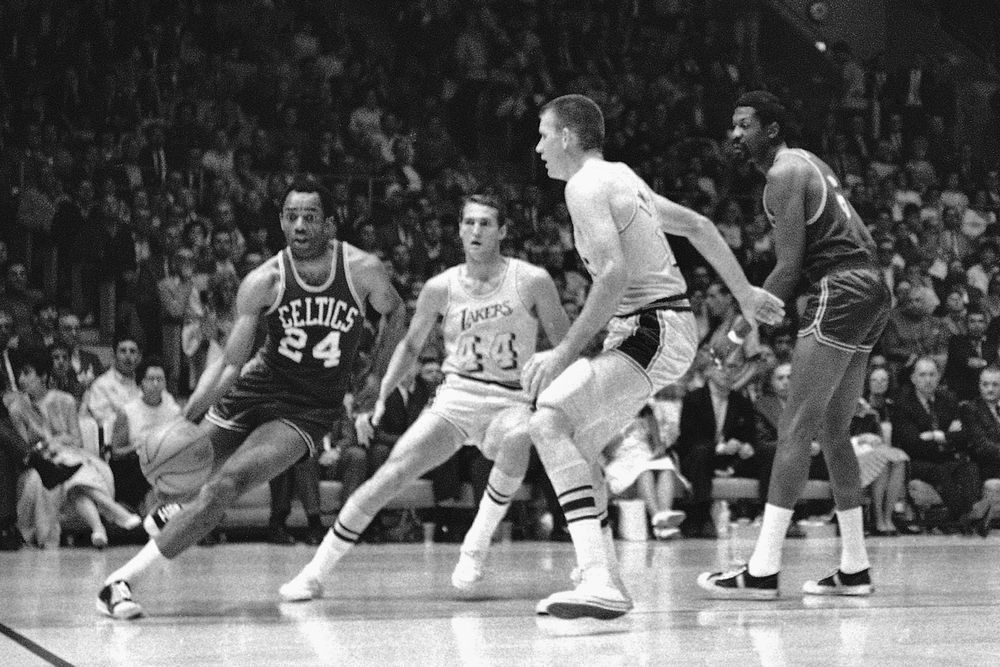 As I finished my first draft of a farewell to Boston Celtics great Sam Jones, I was not satisfied with just listing the highlights of his Hall of Fame career. The 10 NBA championships, 17.7-point career scoring average, five All-Star appearances, numerous game winning shots, his jersey number 24 retired during this final season in 1969.
For Sam Jones, who died Dec. 30 at the age of 88, was more than a stat sheet, more than points, rebounds, assists, minutes played, rings won. He was an integral part of the greatest dynasty in basketball history, a dynasty that produced 11 championships in 13 seasons, a dynasty that sent 11 players, two contributors and a coach to the Hall of Fame, a dynasty that will never be matched and should never be forgotten.
Think about it. The Celtics won the NBA championship every year from 1957 to 1969, except for 1958, when center Bill Russell missed two games in the final series against the St. Louis Hawks with a sprained ankle, and 1967, when Wilt Chamberlain and the 76ers compiled one of the best seasons in NBA history en route to the championship.
They won with stars like Bob Cousy, Bill Sharman, Frank Ramsey, Clyde Lovellette, K.C. Jones, Tom Heinsohn, John Havlicek, Sam Jones and Russell, and with role players like Jim Loscutoff , Tom "Satch" Sanders, Bailey Howell, Larry Siegfried, and Don Nelson.
They won with cigar smoking, Chinese food loving, referee baiting visionary Red Auerbach on the bench. They won with Russell as player-coach, a bold promotion Auerbach made upon his retirement after the 1966 championship season.
They won in the segregated South and in the racist North, and, led by Russell and Jones, were vocal critics of discrimination. They took their show overseas in the off season to promote the game of basketball. Celtics green, shamrock logo, and the leprechaun at mid-court of the parquet floor at Boston Garden (capacity 13,909) became known around the world.
They won a record eight consecutive championships from 1959 to 1966 and defeated the Lakers seven times, starting in 1959 when the Lakers called Minneapolis home, and ending in 1969, when the aged Celtics stunned the Lakers in Game 7 in Los Angeles. The Celtics never lost a Game 7 during that remarkable run.
Those Celtics were loyal and unselfish. Winning mattered more than individual glory, and Sam Jones fit right in to that model when he arrived from North Carolina College in Durham — now North Carolina Central — as the eighth pick in the 1957 draft. He was nervous because NBA teams drafted few Black players in those days, and the Celtics already had the best backcourt in the game in Cousy and Sharman.
Auerbach never saw Sam Jones play in college but took the word of Bones McKinney, the Wake Forest coach who had played for Auerbach in Washington.
Jones was a lean 6-foot-4 who could run the fast break and shoot from the outside. His specialty was the bank shot, a jumper angled off the backboard.
Jones was patient, coming off the bench until age caught up with Sharman in 1962 and Cousy in 1963. Then Sam took over, running beside the defensive star K. C. Jones. "The Jones Boys," broadcaster Johnny Most dubbed them, even though they were not related.
Known as The Shooter, Jones was also Mr. Clutch for his ability to make a shot when the Celtics needed it most. In Game 7 of the 1962 Eastern Division finals against Philadelphia, he scored over Wilt Chamberlain with two seconds to play for a 109-107 victory. In Game 7 of the finals against the Lakers, he scored five of Boston's 10 points in the Celtics 110-107 overtime win. And in his final NBA appearance, Game 7 against the Lakers in 1969, he scored 24 points before fouling out in Boston's 108-106 triumph. During his career he averaged 18.9 points in the playoffs.
Few Celtics remain from that dynasty. Bob Cousy is 93, Bill Russell 87, Bailey Howell 84, Satch Sanders 83, Don Nelson 81.
After he retired, Sam Jones coached for a bit and was a substitute teacher in Montgomery County, Maryland, for 30 years. He and his wife Gladys had five children. He returned to Boston occasionally for various ceremonies and functions. A beloved Celtic and fan favorite, he always received cheers.
Chuck Brain, a childhood friend, and I grew up with the Celtics of the Sixties. In the last two years we have mourned the death of icons John Havlicek, Tommy Heinsohn, and K.C. Jones. Upon learning of Sam Jones's death, Chuck wrote this:
"Somehow, Sam's passing is getting to me more than the others, even John [Havlicek], the Bouncing Buckeye from Ohio State. Maybe it's my age, or the way he played the game: so pure, under control, smart yet unassuming, and just plain dignified."