Angelique Kidjo - Remain in Light. Saturday, Feb. 22, 8:00 PM. The Vets, 1 Avenue of the Arts, Providence.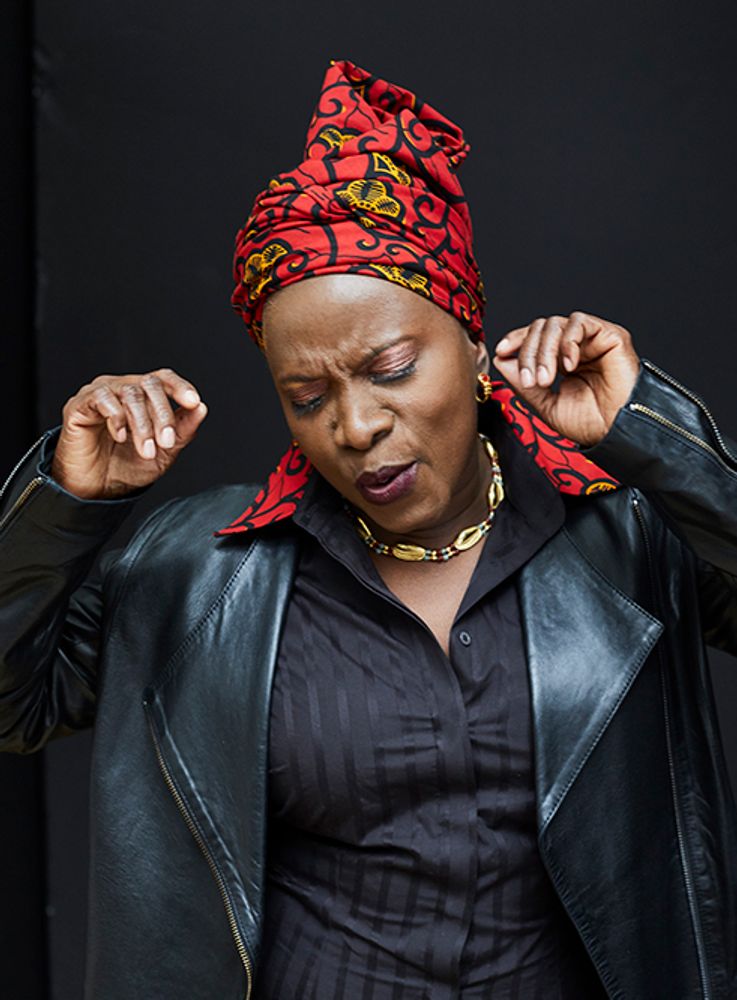 Squeeze - The Squeeze Songbook 2020. Sunday, Feb. 23, 7:30 PM. The Vets, 1 Avenue of the Arts, Providence.
Yusuf Salaam - This is us: Yusuf Speaks. Friday, Feb. 21, 6:00 PM. Roberts Hall Auditorium, 600 Mt. Pleasant Ave., Providence.
Community Music Works - Sonata Series #3. Thursday, Feb. 20, 7:00 PM. RISD Museum, 20 N. Main Street, Providence.
Goat Hikes at Simmons Farm. Feb. 20, 21, 22, 23, 1:00 - 3:00 PM. Simmons Farm Organics, 1942 West Main Road, Middletown, RI.
TRANSCRIPT:
CHUCK: This is The Public's Radio, 89.3 FM. I'm Chuck Hinman and with me in the studio this morning is James Baumgartner for this week's Artscape. [music underneath]
JAMES: Good Morning Chuck. Do you recognize this song you're hearing right now?
CHUCK: That's Talking Heads' "Once in a lifetime."
JAMES: Yeah, it's on their 1980 album "Remain in Light" Well how about this? [music plays]
CHUCK: Whoa...that's cool.
JAMES: That's Angelique Kidjo with her cover of "Once in a lifetime." Kidjo is one of the greatest singers from Africa, she was born in Benin, and studied music in Paris. She just won the grammy for "best world music album" for her 2019 record CELIA - a tribute to Celia Cruz. In 2018, she released her reinterpretation Talking Heads "Remain in Light" album and she's performing it this Saturday at The Vets in Providence.
CHUCK: "Remain in Light" was certainly a pivotal album for Talking Heads - it's heavily influenced by the Afropop sounds of artists like Fela Kuti. So now Angelique Kidjo does her take and sends it back.
JAMES: Yeah you can hear that Afropop sound in tracks like The Great Curve. Here's the original. [music]
JAMES: And here's a little of Angelique Kidjo's version.
[music]
CHUCK: It's the same song, just performed with a little more, I don't know, swing?, and of course Kidjo's great voice.
JAMES: David Byrne is great at expressing cynicism and alienation, but maybe not so great at swing or joy. Angelique Kidjo's "Remain in Light" really highlights that Afropop sensibility and it's enjoyable whether you know the original album or not.
CHUCK: Angelique Kidjo is performing Saturday night at the Vets in Providence.
JAMES: I hear there's another concert on Sunday night that you're looking forward to.
CHUCK: Also at the Vets, and also from that same era, late 70s early 80s. The British group Squeeze, best known in the States for this song. [music: Tempted]
JAMES: Oh yeah, I know that one.
CHUCK: ...but to my mind Squeeze is woefully overlooked on this side of the Atlantic for so many other great pop tunes. The songwriting team of Chris Difford and Glenn Tilbrook has been critically compared to Lennon and McCartney, which might be a stretch, but still, they craft these perfect little slice-of-English-life songs, like this one, Up the Junction…
[music: Up the Junction]
The expression "Up the Junction" is the UK version of our "Up the Creek," and the song is a 3-minute chronicle of a relationship from happy beginning through the birth of a daughter to a bleak end, with the title phrase not making its appearance until the last line….
[music: Up the Junction]
I caught up recently by Skype with Chris Difford, and we got to talk about songwriting. He says he's always been perplexed by the Lennon/McCartney comparison:
Difford: I just don't understand it, really. It's lovely to be in the same category as the greatest songwriters of all, but I think we're just the new Difford and Tilbrook really.
Hinman: Your process seems a bit more like Bernie Taupin, Elton John rather than Lennon and McCartney.
Difford: It is exactly that, apart from Bernie doesn't go on the road, he just buys horses…but yeah, we're similar in that respect, or at least that's how it's been. Historically it's been myself delivering lyrics and Glenn writing and producing.
Hinman: So how does that work typically? Do you come up with the lyrics first, and then-
Difford: Yeah, that's always the way that it seems to work. And it seems to be comfortable like that, I mean, we've never questioned it.
Hinman: It seems to me that it's kind of an organic result that you get, you can't really tell what came first in the song. When you're writing the lyrics, do you hear them as a song, or how does that work?
Difford: Yeah, quite often there's a melody or there's a rhythm going on in my head when I'm thinking of the lyric, but I never transmit that or share that with Glenn, because he comes up with his own melodies and his own rhythms. That's what makes our songs, I suppose, stand out and makes them slightly different from others, I guess.
Hinman: Are they wildly different melodies than what you'd originally imagined?
Difford: No, I've normally forgotten by that time, so...they just pass.
CHUCK: I was speaking there with Chris Difford - he and the band Squeeze are at the Vets in Providence Sunday night. So, James, what else is going on this weekend?
JAMES: On Friday night, Yusuf Salaam is speaking at Rhode Island College. He's one of the Central Park Five, a group of black and Latino teenagers who were wrongly convicted of a brutal rape in New York's Central Park in 1989. Salaam was just 15 years old when he was wrongly sent to jail for over a decade. His talk on Friday night is called "This is Us: Yusuf Speaks."
CHUCK: There's a Community Music Works concert tonight at the RISD Museum. It's part of the Sonata Series and it will feature works by Ravel and Prokofiev.
JAMES: Finally, kind of an odd event that caught my eye. Simmons Farm in Middletown Rhode Island is offering Goat Hikes this weekend. These are guided hikes around the farm where each hiker gets to have their own goat - on a leash - to accompany them during the hike.
CHUCK: You know, goat hikes is actually a trending search term. It's the new walking the dog I guess. You can see links to all of the events we talked about at our website - The Public's Radio dot org slash arts.
JAMES: And let us know about your event at that same address, and subscribe to Artscape as a podcast.