Chuck Hinman: What a night. Can you give me your brief headline rundown of what we've witnessed yesterday and last night? As far as the election, especially in Rhode Island and southeastern Massachusetts?
Scott MacKay: Well, there's a bunch of things I think we have to consider, first of all, both nationally and locally. We once again see in the presidential election that Americans are divided sharply by class, gender, faith, education and geography. We also see that Rhode Island has a new official state name. The statehouse will get a new leader in Rhode Island after House Speaker Nick Mattiello was toppled from the most powerful position in Rhode Island by a Republican, Barbara Ann Fenton-Fung, who, of course, is the wife of outgoing Cranston Mayor Allan Fung. Southeastern Massachusetts has a new U.S. House member, Jake Auchincloss. We saw both states, Massachusetts and Rhode Island, comfortably support Joe Biden. And also we're seeing new mayors in Cranston and also in Warwick. It looks like Ken Hopkins, a Republican, is the new mayor of Cranston. And Frank Piccozi, an independent, upset incumbent Joe Solomon. Now, again, these are all unofficial returns. At the statehouse, it does look like Republicans have picked up a couple of seats. The Fenton-Fung seat, of course, and then Patricia Morgan in Coventry has won back her seat.
Chuck Hinman: So addressing the Mattiello situation, that's perhaps the biggest news in Rhode Island politics. He lost his powerful speakership and his representative seat. How did that happen? And what does this portend for the statehouse leadership?
Scott MacKay: Well, it happened, I think, because as former Speaker John Harwood used to say, when you're speaker, you can only take so many hits. And over the last couple of years Mattiello seems to have frosted an awful lot of constituencies, from labor unions to Pawtucket Red Sox fans. I mean, he's a tough guy. He's wily inside the building. But I think this corruption trial, obviously, hurt him. And I think there's a lot of goodwill in Cranston for Fenton-Fung. Everybody really liked Allan Fung, her husband, the mayor. And he was breaking out every day, going out and walking door to door with her, with his mask on. And I think that really helped a lot. She ran a good campaign. The corruption trial involving his former mail ballot guru, Jeff Britt, obviously also took its toll on Mattiello. I think you're going to see Joe Shekarchi, who's the Majority Leader, out there. Already. I'll bet he's been on the phones trying to put together a coalition so that he can become the next Speaker of the House.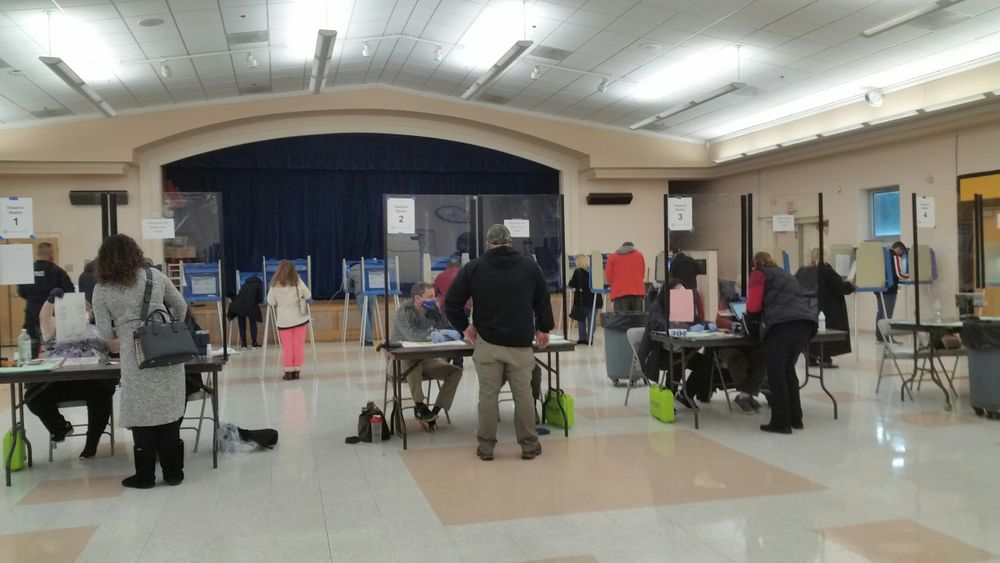 Chuck Hinman: We've already heard some stirrings from progressive members of the House who are angling for that speakership and for more power in the General Assembly. How do you see that playing out?
Scott MacKay: Well, that's going to be fascinating because Representative Cassar from Barington, who's a liberal Democrat, has already announced for Speaker. And there are a lot of progressives. And I think if Shekarchi, he can probably put it together, but I think he's going to need perhaps to make a Majority Leader and some committee chairs, you know, give them some power on the progressive side. And he probably has to bring some of those progressives out of the dog house and bring them back into the mainstream of the state House of Representatives.
Chuck Hinman: So there's a potential then for the progressives to make a little bit more wave, shall we say, in the coming session. What about Barbara Ann Fenton-Fung, now, as a Republican joining this collection. How about the Republicans? Did they make any inroads in the General Assembly otherwise?
Scott MacKay: Well, no. They just picked up those two seats in the House. That's about it. And in the Senate, things look pretty much the same, pretty stable. There's always some close races where it might come down to a recount, some straggling mail ballots. But it looks pretty much like the Democrats will be in control, but it will be a more liberal Democratic Party at the statehouse.
Chuck Hinman: Now, Joe Biden, of course, winning Rhode Island. How does his victory here compared to Hillary Clinton's showing in 2016, is it kind of a mirror image of what happened in that election?
Scott MacKay: Biden did a few points better than Clinton. Trump got about exactly the same vote as he did in 2016. If you look at the state, you can say basically that all the communities that touch the water, the more affluent communities, particularly on the east side of Narragansett Bay, all supported Biden. You look at the Trump communities, it's Scituate, Burrillville, Johnson, Coventry, Exeter, Foster, Glocester, Hopkinton, North Smithfield, narrowly, and Smithfield, West Greenwich, Richmond. So it's the more rural parts of the state. And the more affluent communities, like Barington and East Greenwich, which once were the underpinning of Republican victories in Rhode Island, both of those affluent leafy communities went strongly for Biden last night, along with the usual Democratic cities such as Newport, Providence, Pawtucket, North Providence, Warwick. Cranston again elected a Republican mayor but went for Joe Biden in the presidential contest.
Chuck Hinman: That looks a lot like 2016 did so, so things really haven't changed too much there. In Massachusetts, Senator Ed Markey was reelected. And Jake Auchincloss now winning in the 4th Congressional District. What does that say about the situation there?
Scott MacKay: Well, Auchincloss won the primary narrowly. But I think Massachusetts is very blue. It's a little bit bluer than Rhode Island. And I think what happened there was when Joe Kennedy III left the seat to run against Markey unsuccessfully in the primary, there was an opening there. And I think what Auchincloss is going to have to do, because he's from the Boston suburban area, he's going to have to work very hard in these South Coast communities--the Tauntons, the Fall Rivers--to win reelection. And he may be primaried. But, you know, when you're an incumbent, there's a lot of things you can do. Particularly, you can start raising money right away.
Chuck Hinman: You know, one thing we haven't talked about yet this morning, that is the sounds coming from President Trump at the White House about how this was a fraudulent election. Any thoughts on where we might be going from here as we still try to figure out who won the presidency?
Scott MacKay: Well, right this minute, I'd rather be Joe Biden than Donald Trump, if everything gets counted legitimately. If you look at what's out there, the path is a little bit wider for Biden. Then you have to ask yourself, how many court challenges will there be? Are we going to end up, not like Florida in 2000 with one state at stake, but will there be challenges in four or five or six states? Will we have a lawyers game? And, you know, everywhere from Michigan to Arizona to Pennsylvania, Wisconsin and Georgia, which is surprisingly competitive. So we still don't know a lot. And I hate to tell people that you still have to be patient, because we're not really used to this. But people still have to be a little patient. It was ridiculous, for Trump to come out at the White House and say what he said, declaring victory. But we're not surprised. Look, he's run a quarrelsome, chaotic type of administration. And you see why, while Biden tried to be rhetorically unifying during his campaign, Trump opted to relentlessly play to his base of hardcore supporters. And you have to say that Biden will probably win the popular vote. But guess what? Looks like Trump's going to get more popular votes than he did in 2016. And now he's crying fraud.