Chris Rooney describes his job as "making sure the trees and the power lines get along."
He's in charge of forestry for National Grid Rhode Island, the utility company that serves most of the state. And that job is getting harder.
When the electrical grid was first built, rural Rhode Island was mostly farmland. Over the last century, the region's forests grew back, up and over the power lines.
Now, trees are the leading cause of power outages in Rhode Island, and foresters say a combination of pests and climate change is weakening the region's trees, leaving the grid vulnerable to future storms.
Defoliation and drought left "tens of thousands of dead trees along roadsides"
On a recent morning, driving through the forested northwestern part of the state, Rooney stopped on Winsor Road in the town of Foster.
He hopped out of his pickup, and pointed to skeletal branches looming over the power lines running along the side of the road.
"This feeds about four customers that way," Rooney said. "And we're staring at a stone-dead white oak."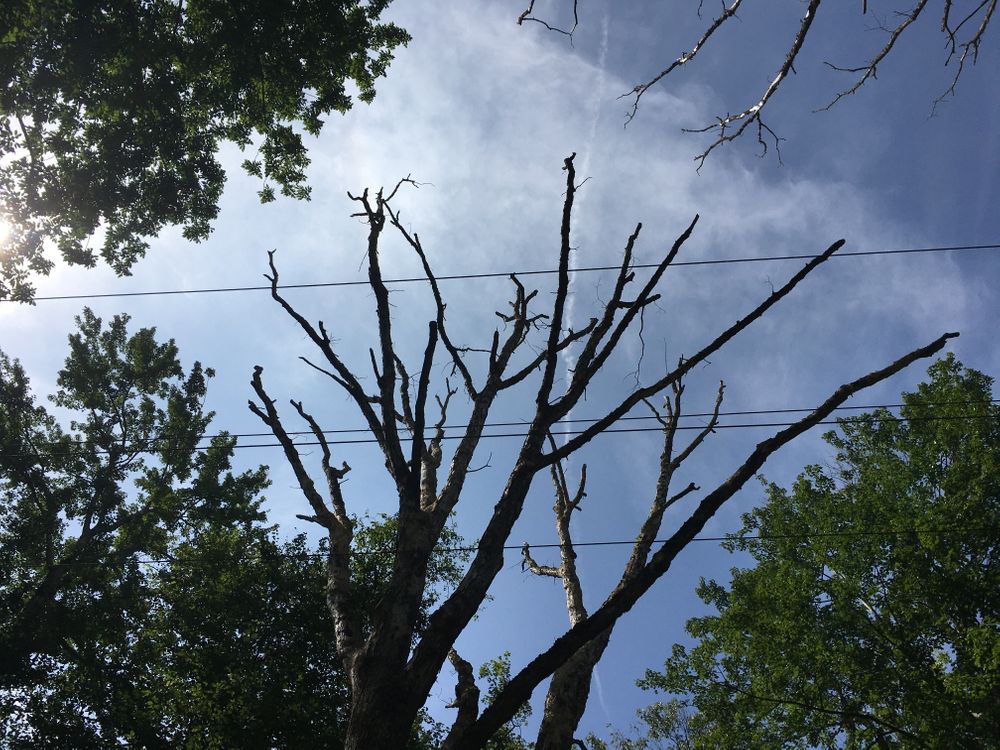 Taking down a tree like this would cost the utility company $5,000, he estimated.
"I wouldn't say it's a crane job, but it's a pretty significant removal. That would probably be about a half a day of a very experienced crew. And if you notice, we're on a road with five more of those."
These oak trees were among tens of thousands of acres of Rhode Island forest canopy killed by a combination of gypsy moth defoliation and drought.
The moths are usually kept in check by a fungus. But dry conditions suppressed the fungus, allowing the gypsy moth population to soar. In 2015 and 2016, the caterpillars devoured the young leaves of whole swaths of forest.
"And they came out again and defoliated everything again in 2017 and into the beginning of 2018, at which time the drought kind of broke, we had rain, the fungus came back, the gypsy moth population crashed, and the caterpillars kind of went away," said Tom Worthley, who works on reducing tree-related damage to power lines at the University of Connecticut.
Some trees were killed outright. And many were left vulnerable to other insects and fungi. By the fall of 2018, Rhode Island Department of Environmental Management flyovers showed that 13 percent of the state's forest canopy was dead.
"And so there were tens of thousands of dead trees along roadsides, in people's yards, and in parks and places like that, that were now classified as hazardous trees because they're standing dead," he said.
In a 2018 report, Worthley called this a "slow-moving environmental disaster," and warned that weakened trees along roads and power lines posed a threat to public safety.
National Grid's records show that outages caused by tree damage spiked after the gypsy moth infestation, from about 83,000 in the 2018 fiscal year, to about 139,000 the following year. Those numbers don't include major events like severe storms.

Each year, the company spends about $10 million on preventative tree clearing in Rhode Island. Most of that goes to routine trimming, with the goal of clearing growth around all 6,000 miles of power lines every four years. And, since 2008, a portion has gone to removing hazard trees.
After the defoliations, the company asked state regulators to approve more funding for hazard tree removal and got an extra million dollars in the 2020 fiscal year.

New threats on the horizon
The main lines are now mostly clear of standing dead oaks. But, back in the truck, Chris Rooney is focused on a new pest: the emerald ash borer.
We stopped along a main road, where a crew with a bucket truck had whittled a tree down to its trunk.
"They're taking that one down," Rooney said, pointing to the infested ash tree. "If we waited until it died and started falling apart, everybody from that way that we just drove would be out of power."
Emerald ash borer has just recently made its way into the state. But it's a pest Rooney is worried about because it's fatal in more than 99 percent of cases. And when ash trees die, they don't stay standing for years, like the oaks. Instead, they fall apart in big chunks.
That's forcing Rooney to prioritize ash removal.
"So that crew was taking down a very valuable tree on the main line," he said. "I just did the main line two years in a row because of gypsy moths. And now we were hoping to get into the very ends of the circuit, except now we're starting over with the emerald ash borer."
And foresters are worried about more pests on the horizon.
"The winter season has become much warmer, it's become shorter, it's become more variable," said Maria Janowiak, acting director of the U.S. Forest Service's Northern Institute of Applied Climate Science.
"The warmer winter conditions, because they are less severe, are not freezing insects out the same way that it used to. And so that's allowing pests, like the southern pine beetle and hemlock woolly adelgid to expand northward, because they're not being kept in control by those extremely cold temperatures."
Those two insects are on the list of threats to forest health that the state is monitoring. Paul Ricard, who leads DEM's forest health program, rattles off a few more: beech bark disease, beech leaf disease, and spotted lanternfly.
Trees are especially vulnerable to pests or disease if they're stressed for other reasons, he said. And climate change is already making both droughts and downpours more intense.
"The trees have been under stress, because they haven't had access to water. Now they get a four inch rainfall event, they can't absorb the water fast enough, and it doesn't last them long enough for the next rain event," Ricard said. "So climate change is definitely stressing our trees out."
Tree health affects grid resilience
All this means, when future storms blow through, the trees will be weaker and more likely to fall. It's a problem utility companies are facing nationwide.
In a major storm, tree blowdowns can block roads, including evacuation routes, and cause widespread power outages that take days to fix. Extended power outages can be deadly, especially for people who can't afford to evacuate or who have medical equipment that needs to be plugged in. And for the state's rural communities that rely on wells, when the power goes out, so does the water.

And it's not just the infested trees forester Chris Rooney has to worry about. When Tropical Storm Henri hit last month -- knocking out power for more than 100,000 customers -- healthy trees with full canopies of leaves came down, too.
"We had 60 and 70 mile-an-hour winds in South County, and there's no tree program in the world that could prevent outages on that," Rooney said.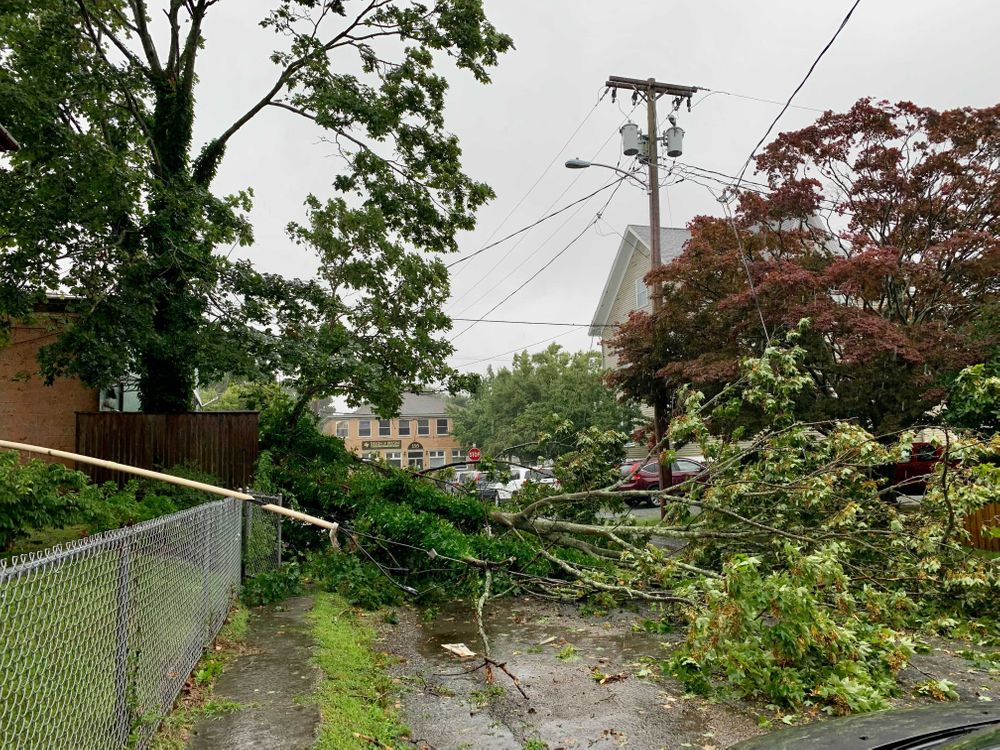 Burying power lines, in many cases, would be prohibitively expensive. Rooney estimated it would cost "millions for half a mile."
But taking out dead and diseased trees, he said, helps minimize the damage and makes it easier to get power turned back on.
"It's a critical resilience issue," said Shaun O'Rourke, a managing director at the Rhode Island Infrastructure Bank who works with towns and businesses on preparing infrastructure for climate change. In his view, tree trimming is an investment that helps prepare the grid for future storms.
"In Rhode Island, we have historically thought about climate change as a coastal problem. But we're now starting to see resilience issues manifest themselves not just in the coastal cities and towns but also in the inland areas as well," O'Rourke said. "And that's happening with flooding. Another example is the issue with aging and standing and dead trees."
And the push to electrify cars, heating systems, and more -- as a way of reducing greenhouse gas emissions -- means that keeping electricity flowing is only becoming more important.
--
Reporter Sofie Rudin can be reached at srudin@thepublicsradio.org.