When Ruth Bader Ginsburg was appointed to the Supreme Court in 1993, it had been 24 years since another Jewish justice sat on the nation's highest court. But in her remarks at Touro Synagogue — the oldest synagogue in the United States — Ginsburg spoke in detail about the five Jewish justices who came before her.
"Law as protector of the oppressed, the poor, the minority, the loner, is evident in the life body of work of Justices Brandeis, Cardozo, Frankfurter, Goldberg, and Fortas," she said.
Ginsburg was the keynote speaker at Touro Synagogue's George Washington Letter Reading, an annual commemoration of a letter the president penned in 1790 to the synagogue's congregants, disavowing religious bigotry and persecution. In her speech, Ginsburg called U.S. law "a bulwark against the kind of oppression Jews have encountered and survived throughout history," and she quoted Justice Arthur Goldberg's explanation of how this history informed his judicial perspective.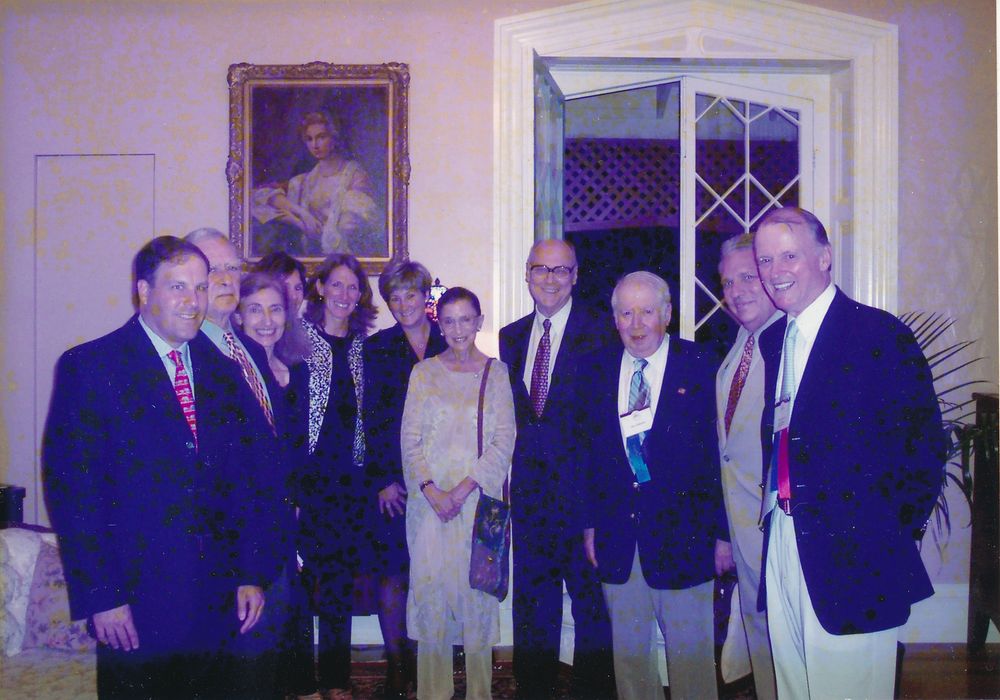 "'My concern for justice, for peace, for enlightenment,' Goldberg said, 'stems from my heritage.' The other Jewish justices could have reached the same judgment," Ginsburg said.
Laura Freedman Pedrick is the chair of the Touro Synagogue Foundation. More than 15 years after hearing the speech, she said she is still moved thinking of Ginsburg's delivery.
"She speaks very calmly, but very deliberately. And I think as myself, being someone who is Jewish, I took pride — or I take pride — in thinking that she is part of our heritage," Freedman Pedrick said.
Revisiting the late Justice's nearly 30-minute speech, Freedman Pedrick said Ginsburg's comments about antisemitism remain particularly salient. In 2004, Ginsburg said Jewish Americans did not have to fear "letting the world know who we are," and she prayed it would stay that way.
Freedman Pedrick said Ginsburg's words feel especially relevant as antisemitic incidents have surged in recent years.
"The five Jewish justices that came before her and some of the antisemitism that they faced in their Senate hearings, [she] didn't feel she was subject to. And [she] was hoping in 2004 that we had really — not gotten beyond that, because we haven't and we hadn't — but she was hopeful that we would keep going in that direction of it not being prominent," Freedman Pedrick said. "When I think about what's happening in the world today, that message is, in fact, as important as ever."
As much of the country mourns, Freedman Pedrick said the timing of Ginsburg's death last Friday — on Rosh Hashanah, the beginning of the Jewish New Year — feels particularly profound. Some consider it a time when people of great righteousness pass away, and she said Touro Synagogue hopes to honor Ginsburg's words and legacy moving forward.
"Part of what we are doing right now, is trying to — and kind of, let's say inspired by her — is to really make sure that we strive for justice the way she did every day of her working life. And if we can keep that going, then I think that we will be doing the right thing," Freedman Pedrick said.
Ginsburg will be buried next week in Arlington National Cemetery, following the completion of the Jewish High Holy Days on Yom Kippur.
Antonia Ayres-Brown is the Newport Bureau Reporter for The Public's Radio. She can be reached at antonia@thepublicsradio.org