Rhode Island officials are anticipating the possible landfall of a hurricane this weekend, three decades after Newport and other coastal communities were last pummeled by Hurricane Bob.
On Friday afternoon Gov. Dan McKee announced he had signed an emergency declaration, in part to make it easier to request federal aid, should it be necessary. The state is also preparing an emergency operations center, which is set to open Saturday.
By Friday evening, no evacuation orders had been issued in the state. McKee urged residents to be ready to stay put this weekend, avoiding unnecessary travel during potentially dangerous weather.
"Take the time to ensure you and your family are prepared," McKee said during a press conference at the state's Emergency Management Agency.
Thirty years ago on August 19, Hurricane Bob made landfall in Newport, leaving a trail of destruction in its wake. It was the last hurricane to hit Rhode Island, and Newport Mayor Jeanne-Marie Napolitano said Friday that it has been on her mind as the city prepares for another impending storm, Henri.
"I think we're so much more prepared now than we were back then, because we've experienced so much over the years, and we have experienced people leading the charge," she said.
According to the National Weather Service, Henri, rated Friday as a tropical storm, is expected to strengthen into a hurricane and make landfall Sunday night near Newport. Forecasters expect the storm will slow down significantly as it hits land. A hurricane watch has been issued for most of Rhode Island and Southeastern Massachusetts.
The National Weather Service's Boston office said residents across southern New England should be prepared for life-threatening storm surge and wind, dangerous rainfall, considerable property damage, impassable roads, and power and communications outages across large areas.
Utility company National Grid has about 1,000 street and line crews ready to be deployed to restore power. The Rhode Island National Guard is preparing some 100 troops to assist with emergency operations, according to McKee.
State beaches and parks will be open on Saturday, but closed Sunday. The closures could be extended, pending the weather and damage. Riptides and current will be monitored by state staff, who may limit swimming should ocean conditions become dangerous.
"I urge the public to use caution along shoreline areas from now until the storm passes due to anticipated rip currents and high surf," McKee said.
Officials also urged residents not to explore the shoreline as the storm moves in.
"One of the biggest challenges is dealing with sight-seers who go to coastal areas in a storm like this," said State Police Superintendent Col. James Manni. "It's extremely dangerous, not only to them, but to the fire service that are trying to save them when they get swept out, which usually happens, just about every storm."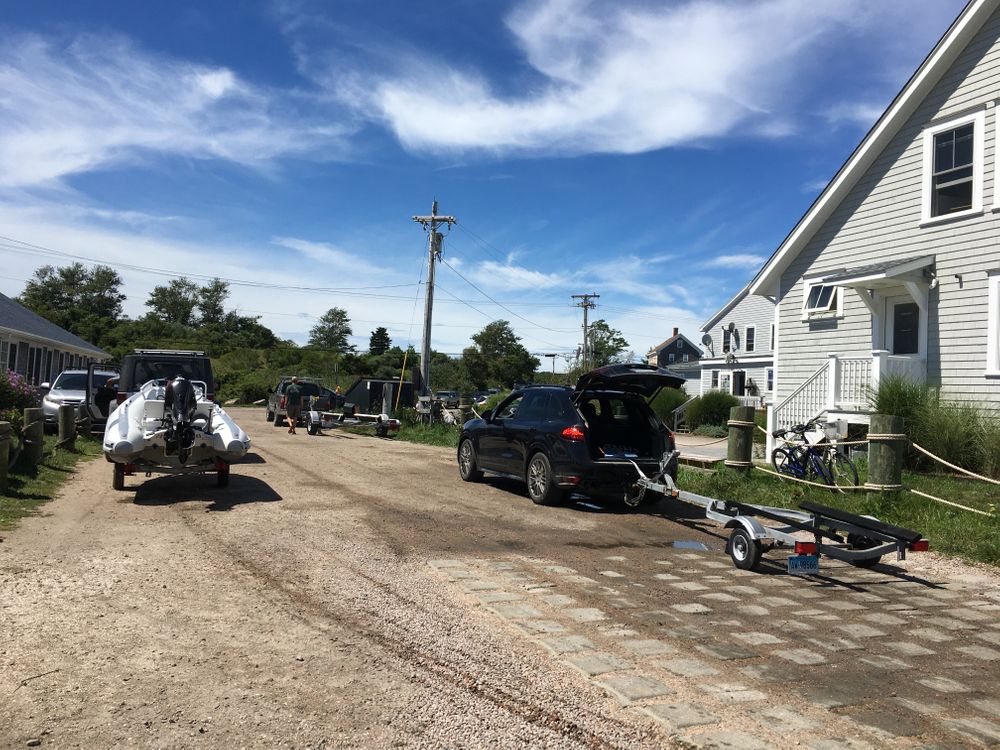 Newport officials said Friday that they're particularly worried Henri could cause additional damage if it arrives during high tide, which is at 8:46 p.m. Sunday.
"If something like that happens, the damage could be astronomical," said Napolitano.
Teresa Crean, with the University of Rhode Island's Coastal Resources Center, said storm surges have the potential to be more severe because Sunday's full moon will cause an unusually high tide, called a "moontide."
"Part of the concern is that when these — the Hurricane of 1938, for example, hit in the middle of the night and at a moontide, at an extreme high tide. And it caught people off-guard," Crean said.
As a precaution, Newport and Middletown are closing their beaches beginning Saturday, and the waters off the beaches will be off-limits to swimmers.
The storm's predicted track has changed in the last twelve hours, according to the National Weather Service, with predicted landfall moving west from southeastern Massachusetts to around the Rhode Island-Connecticut border.
"Not just coastal communities are at risk here," said Marc Pappas, the head of the Rhode Island Emergency Management Agency. "The impact on storms like this can extend far from the coast to several hundred miles inland, especially with rain."
A United Nations report released earlier this month found that climate change is causing more intense Atlantic hurricanes, with heavier rainfall, and that sea level rise will worsen inundation. The report warned that these changes are driven by human behavior and will likely worsen unless significant actions are taken to reduce carbon emissions.
On Friday, Newport officials were taking steps to secure the city's harbor in advance of the storm.
"From a public-facing standpoint, you know, we're worried about the harbor," said Newport City Manager Joe Nicholson. "There are some boats that need to vacate moorings, and the harbormaster is out there now at anchorage areas and advising people they need to move so the harbor can be safe."
Officials on Aquidneck Island were also preparing Gaudet Middle school as an emergency evacuation shelter; one of five across the state that will be ready to accept residents should evacuation orders be necessary.
The other shelters are located at South Kingstown High School, Chariho Middle School, Cumberland High School, Providence Career and Technical High School. An additional five shelters are on standby.
"We will wait till there's a 75% capacity and then we'll go start to open up those additional five shelters," said Susan Roberts, the Executive Director of the Rhode Island Red Cross. "But we are prepared. We've got cots, blankets, a semi truck of water coming, food, supplies."
Block Island officials are warning the ferries may stop running at some point Saturday, so the vessels have time to get to safety. Local law enforcement is recommending visitors leave the island before then.
"We strongly encourage anyone without a safe residence on New Shoreham to make plans to depart by Saturday afternoon," the New Shoreham Police Department wrote in a statement Friday. "We do not have an emergency shelter or public safety resources to accommodate visitors during the storm."
The storm has the potential to be dangerous.
"If you live in a mandatory evacuation zone and local officials tell you to evacuate, evacuate, do so immediately," said Pappas. "Let's not try to ride this out and be a hero."
John Bender and Sofie Rudin contributed reporting to this story, which has been updated.
Antonia Ayres-Brown is the Newport Bureau Reporter for The Public's Radio and a Report for America corps member. She can be reached at antonia@thepublicsradio.org.
Correction: a previous version of this article misspelled Marc Pappas' first name.