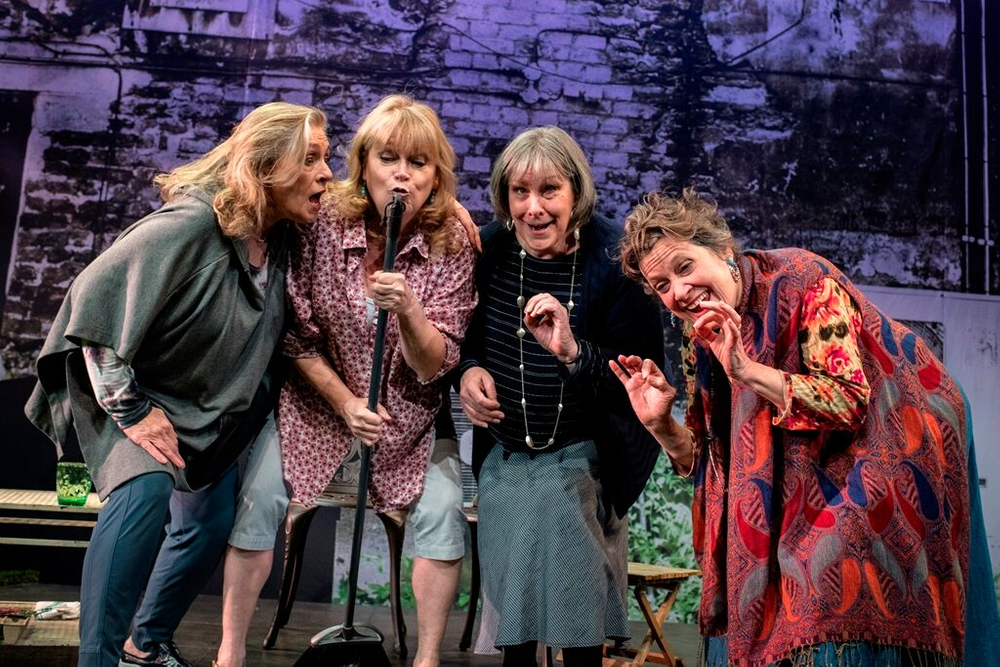 At the Gamm these days director Tony Estrella has leaped into two plays that run only for about 80 minutes. But in that time he and his all-woman cast never stop. They laugh and weep, they show you some of the most mundane times. Four women, all in their 70s, sitting in their back yard in England chatting away, enjoying their tea and making nice, for a while.
Then, suddenly, they leap in horrors. They talk, and scream, about murders, about wartime bombing and killing. One minute they are giggling, the next weeping. It is sometimes very hard to take. Except when you are chucking away at some of the action.
You find yourself laughing one minute and holding your breath for another. It's theater rising to powerful moments and then just chucking that for a few witty moments.
So who's written all this on again, off again parade? Well, just a couple of the finest writers of our time.
The major showing is by Caryl Churchill who wrote "Escaped Alone" a few years ago. The play goes just 70 minutes but it races through all kinds of problems. One moment the women will be funny and sweet, laughing and joking. In the next they are blown apart, seeing their life falling away, their hopes shattering.
The other author is no less than Samuel Beckett, the Irish born, France living writer/philosopher. His work lasts just 5 minutes or so. It shows us three women in long coats and hats that almost cover their faces. They sit on a bench and come and go at will. And, they speak of goodness. But there's always terror, too.
In his playbill column director Estrella sums up the two plays he's turned into one. He says: "The absurd is actual." That, clearly, sums up these two works by great writers.
So, it's a good thing that the Gamm has sent forth a first rate cast. The four women who make these difficult pieces work are simply fine.
Karen MacDonald, Marya Lowry, Carol Drewes and Debra Wise bring power and humor to these works. Their ability to change on a dime, going from giggly fun to weeping force, moves these plays to their highest level.
So, let it be known that if you go to see "Escaped Alone" and "Come and Go" know that the work by these brilliant writers is not for all. Be prepared for humor amid misery. Know that it is perhaps too much for some. But if you want powerful theater done with grace, then head to the Gamm. It's tough, but fine.
"Escaped Alone" and "Come and Go" continue at the Gamm Theatre through March 17. Bill Gale covers the performing arts for the Public's Radio.