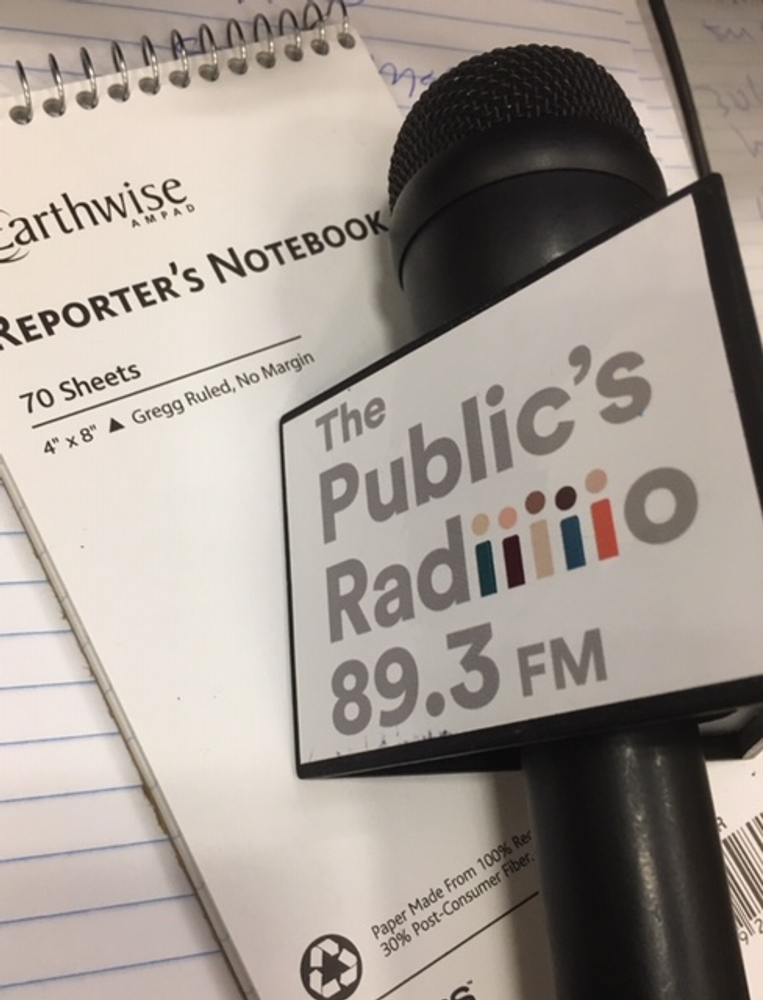 Thanks for stopping by for my weekly column. As usual, your tips and comments are welcome, and you can follow me through the week on the twitters. Here we go.
RI House Democrats took notice when their GOP colleagues opposed legislation in early May allowing Providence to borrow millions of dollars to improve school buildings. Republican lawmakers such as Rep. David Place of Burrillville said letting the capital city (which has about 25 percent of the money needed to pay its long-term pension obligations) accrue more debt was the equivalent of digging a deeper hole. "The essence of the bill was to authorize the City of Providence to go further into debt," Place recounted on Political Roundtable on The Public's Radio this week. "And while it's normally a mundane thing, I think Rep. [Brian] Newberry got up on the floor and said, 'At some point in time either we got to take this seriously or we got to stop doing it, because we pass every single one, so why are we doing it?' And that kind of made me think. I ran on a platform that said that I would not allow the people of Burrillville and Glocester to endorse bailing out the City of Providence because they have been so irresponsible with their finances." By contrast, Place said, "[I]f you look at a community like Burrillville, we're one of the top three financially stable towns in this state, because we've taken the hard choices, we're negotiated fair contracts with our unions, and we haven't overextended our finances." (Providence Mayor Jorge Elorza has touted short-term improvements in the city's budget situation, although he concedes wrestling with the pension bear will be passed on to his successors) The bills to let Providence borrow the money passed easily, 61-7 and 60-8, thanks to support from majority Democrats. But Place said the GOP lawmakers (who hold 9 of 75 seats in the House) sent a message: "The statement was made and the conversation's being had because no one's been talking about this."
2) For a different perspective on pension-related debt, read "The Case For New Pension Accounting Standards," a new 48-page report by Tom Sgouros, a first-class wonk, critic of conventional wisdom, and former staffer for General Treasurer Seth Magaziner. In short, writes Sgouros, the widely accepted practices of the Governmental Accounting Standards Board (GASB), "provide a sometimes misleading picture of the health of a pension system and a poor guide to decisions by policy makers. They also create a degree of moral hazard for stakeholders, whereby the consequences of important decisions are not felt for years, possibly decades, after the decisions are made. It is possible to develop different rules that will address some of these shortcomings."
3) RI Attorney General Peter Neronha is honoring his pledge to favor greater disclosure and transparency in public records cases. Via the RI ACLU: "In a letter sent yesterday to ACLU cooperating attorney Lynette Labinger, the Attorney General's office indicated they had reviewed all of the redacted documents initially provided Morgan and that were the subject of the court appeal, and were now making public many of those documents in unredacted form. The new AG, Peter Neronha, also agreed to refund $3,750 in copying and retrieval costs that Morgan had been required to pay for some of the documents last year. Former Attorney General Kilmartin had used this case, which Morgan filed pro se, to argue that any government document constituting a "memorandum" was exempt from disclosure under APRA. That included the complete black-out of a memo dealing with the purchase – using Google settlement funds – of "lapel pins and challenge coins" for the AG's staff. In a reversal of that position, Assistant AG Kathryn Sabatini said in the letter to Labinger that all memoranda were being released." (Via Twitter, Patricia Morgan said, "I want to thank the @RIACLU and Lynette Labinger for helping me secure the Google documents from the Attorney General. I would not have gotten them without their professional help. Now I have the job of going through the documents again. I will report to the public what I find."
4) A House Finance budget is steadily approaching, with an outside shot at an unveil as soon as late next week.
5) With The Boston Globe poised to step up its Rhode Island initiative, now there's news that GateHouse Media, the owner of the Providence Journal, has been in merger talks with Gannett. Bloomberg notes that Gannett rejected a hostile offer from MNG Enterprises, mostly owned by Alden Global, a hedge fund panned for its running down of the Denver Post.
6) While the presence of socially conservative RI Democrats continues to serve as catnip for some out of town reporters, Hillary Clinton this week tweeted in support of efforts to pass the abortion bill. Meanwhile, some economists see a link between legalized abortion and less crime.
7) Across the partisan aisle, here are some observations from Rep. David Place (R-Burrillville) on why he thinks the RI GOP struggles to get more people elected. "A lot of people still view the Republican Party as the party of Barrington, the party of East Greenwich, which is not what it is today. It's the party of Burrillville, the party of Glocester …. It's the perception that somehow the Republicans are still the party of the rich in the state, which they haven't been able to overcome." Place said the GOP is also handicapped by how some of the party's best potential candidates are business people. "And the problem you run into is they're so busy running their business that they literally can't afford to run for office. I mean, you look at George Nardone – a freshman as well – he runs an upholstery business. He's got to worry about his business. He had to hire a new guy just to cover the additional work that he's lost," from time spent representing Coventry at the Statehouse.
8) Tune to The Public's Radio Monday morning (or look online) for my conversation with Brian Daniels, executive director of the RI League of Cities and Towns, about the fiscal condition of the state's municipalities.
9) The Valley Breeze, based in Lincoln, is passing into out-of-state ownership, Whip It Media of Virginia. The move is unsurprising since Breeze co-founder Tom Ward is headed toward retirement. We wish him well.
10) Now that the Industrial Trust Building, aka the Superman Building, has won recognition as one of the most endangered properties in the U.S., will that help to stimulate demand for a brighter future? The challenge stems from how the structure was built for one main tenant, and public investment is more attracted to other opportunities. Justin Katz suggests it's time to face the music: "On the state level, do we want to be the kind of place that preserves its landmarks? My answer on this one is 'no.' Our state isn't so thoroughly thriving that we can afford nostalgia. Just like protectionism with dying industries, if we manipulate the market value of a building like this, we don't allow the best use of that property. Let the skyline change. Let the city's character change. That's the sign of human adjustment, and we should embrace it." Yet the Providence Preservation Society says the most-endangered status has been effective in helping to preserve other buildings.
11) Is racism a public health crisis? In Milwaukee County, some people say, "yes." Closer to home, outgoing Providence Schools Superintendent Chris Maher – echoing longstanding complaints from the RI ACLU – has said that racism is driving disparities in student suspensions.
12) The downtown Providence location of Nick's on Broadway is aiming to open in mid to late June. Via the man himself, Derek Wagner: "The space is fast approaching completion and all major construction should be done approximately within a week or so. Then we will begin putting the finishing touches, bringing on staff, training and getting all of our programs in place. We are excited about how quickly this has come together."
13) How's that I-195 development thing working out? Via WPRI.
14) Rest in Peace, Tony Horwitz, a great writer ("Confederates in the Attic") and Brown alum, who died this week at age 60. You can read some of the Wall Street Journal reports about low-wage work that enabled him to win a Pulitzer Prize in 1994.
15) The Globe's Dan Shaughnessy remembers Bill Buckner, who died this week at age 69: "Buckner's error did not lose the World Series. Not even close. It was merely the final play in a game that was already tied. And it was only Game 6. The Sox did not lose the Series until two nights later. The Sox had a million other chances to win that World Series. But Buckner's error became the worldwide metaphor for cataclysmic failure. It was cinematic sports shorthand for hideous defeat."
16) Celebrate the 200th birthday of the great proto-beatnik Walt Whitman with this read from the peripatetic Phil Eil: "On Walt Whitman, Unsung Newspaperman." Excerpt: "Journalism played a role in nearly every phase of Whitman's life. By age 12, he was assisting printing operations at a newspaper called the Long Island Patriot. By the year he turned 16, 'he was already publishing short pieces in various papers, not only routine features and news but also reviews, essays, and poems,' according to an entry about his journalism in Walt Whitman: An Encyclopedia. In his 1980 biography, Walt Whitman: A Life, the Pulitzer Prize-winning biographer Justin Kaplan describes how, when Whitman's gig as a school teacher ended in the Long Island village of Smithtown, he 'bought a used press and a case of types, rented space above a stable, and in June 1838 went into business as a founder, publisher, and editor of a Huntington weekly, the Long Islander.' The first edition was published a few days after his 19th birthday."