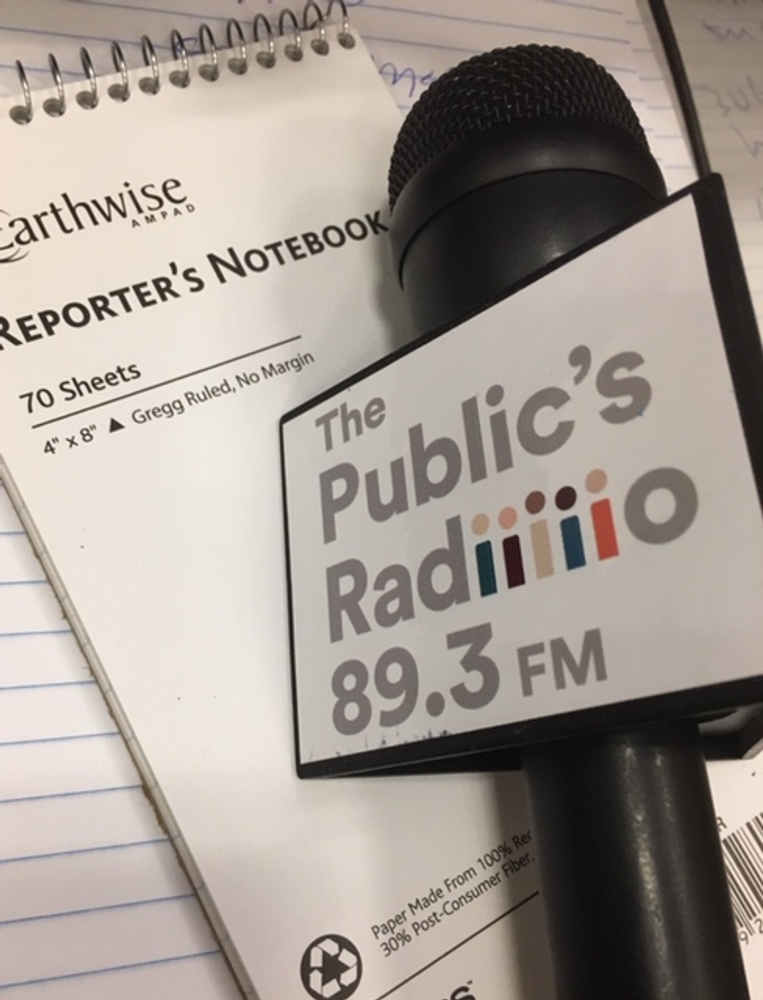 April showers bring …. May revenue estimates? Thanks for stopping by for my weekly column. As usual, your tips and comments are welcome, and you can follow me through the week on the twitters. Here we go.
1) Providence Mayor Jorge Elorza has a little less than four years left in his second term at City Hall. But now that he's pulled the plug on his proposal to shore up Providence's pension system by monetizing the city's water supply, Elorza basically concedes he's given up hope of resolving the pension issue during his time as mayor. He still believes that monetizing the city's water supply is the key to chipping away at the pension crisis, but Elorza said it's virtually impossible to build political support while a looming crisis remains off in the future. "It's hard to make the case that 10 years from now there's going to be a problem, so we have to do something now," Elorza said during Political Roundtable on The Public's Radio this week. "And I think that as time goes by, the problem is going to be more acute and it's going to seem more and more like an urgent crisis, and that urgent crisis, I think, is going to spur people to action." Providence has less than 30 percent of the money needed to meet its long-term obligations, so the city has to pour an escalating amount of cash into the pension plan. Elorza said he's fulfilled his responsibility by drawing attention to the issue; he said some small steps will help solidify the pension in the short term. But as Ken Block notes, Providence's expected rate of return on the pension is questionable, so the pension plan could be in even worse shape than believed. And like many Rhode Island municipalities, the city also faces massive unfunded obligations for retiree healthcare. The fuse on these time bombs continues to burn.
2) Along with an increasingly grim budget outlook, the fate of the high-profile abortion bill passed by the House in March remains one of the big issues hanging over the rest of the General Assembly session. There's at least some support in the Senate Judiciary Committee for a more narrow codification of Roe vs. Wade. The big question is whether the House would take up an amended bill. Recent years have revealed intense rivalry at times between the House and Senate, so things could run off the skids -- and energize a heightened wave of progressive activism. But House Speaker Nicholas Mattiello went all-in on the House version of the abortion bill, so he would seemingly still want to get an amended bill passed into law. The potential sticking point is whether a bill can get out of Senate Judiciary. And then there's the view of Planned Parenthood and other groups supporting reproductive rights. In a statement this week, the Rhode Island Coalition For Reproductive Freedom said it was firmly opposed to any amendments in Senate Judiciary. "Any potential amendments are not only likely to chip away at reproductive rights," the coalition said, "but we also strongly believe that the House will not consider legislation that is changed from H 5125A. Therefore, the only outcome of amending S 152A is that the bill will die and we will all be back at the State House, and in communities across Rhode Island, in January 2020 to start this process once again."
3) U.S. Rep. David Cicilline has emerged as part of the Democratic leadership in the U.S. House, with a focus on messaging, so his commentary on the Mueller report is worth noting. Here's an excerpt from Cicilline's statement: "This is a damning report on the misconduct of the sitting President of the United States and in the Special Counsel's own words, 'does not exonerate the President.' It details unacceptable, unpatriotic, and unethical conduct and a sustained effort by the President to obstruct the Special Counsel's investigation. The Mueller Report established without doubt that the Russians, in a sophisticated and effective intelligence campaign, attacked our democracy in the 2016 Presidential campaign. What is even more disturbing in some ways, is that these efforts were embraced and encouraged by candidate, Donald J. Trump. The report concludes that the Trump team was aware and openly supportive of Russian attempts to interfere in the election because 'the campaign expected it would benefit electorally from information stolen and released through Russian efforts.' The Trump campaign benefited from this attack on our democracy and the President has, according to the evidence collected, attempted to impede or interfere with the investigation of these matters. The report lays out multiple instances where the President tried to obstruct the investigation and states 'our investigation found multiple acts by the President that were capable of exerting undue influence over law enforcement investigations, including the Russian-interference and obstruction investigations.' " (For a different perspective, check National Review's Jonah Goldberg.) You can read the redacted report here.
4) Coming up on May 20 in Newport: Alex Blumberg – CEO of Gimlet Media and the guy responsible for Crimetown, Planet Money, Reply All and other groundbreaking podcasts – will be the headliner for the annual gala of The Public's Radio. Details here.
5) The Boston Globe appears to have rounded out its RI contingent, with former ProJo political columnist Ed Fitzpatrick signing on to join reporters Dan McGowan (ex of WPRI) and Amanda Milkovits (formerly of the ProJo). This trio is familiar to Rhode Island news consumers and is certainly capable of delivering a mix of scoops, in-depth stories and thoughtful commentary. The Globe's intent is to ramp up its digital subscriptions, so it won't be surprising if the paper offers an introductory rate to entice Rhode Island readers. With local ownership and a stronger advertising base centered in Boston, the Globe has weathered the downsizing of newspapers considerably better than the ProJo. "I think there's room for super-regional newspapers to replace the dying metro daily (and supplement the national dailies). Globe in New England, LAT in the West, etc," tweeted Chris Suellentrop, a senior editor for Politico Magazine who lives in Rhode Island. Yet will it be worth the Globe's growing investment to harvest more clicks from Rhode Island? And what number of digital subscriptions justifies that investment? The good news for RI news consumers is that the Globe's push appears to be causing the ProJo to reassess its strategy. (GateHouse Media, which bought the ProJo in 2014, is known for steadily cutting newsroom costs.) Providence Journal editor Alan Rosenberg tells me the paper has "got new initiatives in the works, but we're not going to show our hand just now." Meanwhile, as Mike Raia, the former comms director for Gov. Gina Raimondo writes in a column for PBN, "We need a strong Providence Journal – one robust enough to connect personally with the people it serves and nimble enough to adapt as media continues to change. Perhaps a strong focus on Rhode Island from the Globe will spark a competitive fire on Fountain Street to make that happen."
6) The not-so-hidden subtext of the Stop & Shop strike is the kind of economic anxiety that became more evident after the Great Recession. "Billions of dollars for Stop & Shop shareholders … Pennies for their workers," reads a full page ad placed by the United Food and Commercial Workers in Friday's ProJo. That's a critique right out of the bygone Occupy Wall Street movement. What's noteworthy is how this hasn't figured prominently in a large-scale labor skirmish in southern New England until now. (Scott MacKay also has some thoughts on the strike.)
7) The Boston Globe's Jon Chesto (who's been keeping an eye on Rhode Island for some time now) reports on a move by Massachusetts officials to attract Hasbro. As Chesto notes, "One big factor could be Brian Goldner, Hasbro's chief executive and a prominent civic leader in Rhode Island. Goldner and Raimondo are close, and it's hard to imagine him breaking the news to the governor that Hasbro is leaving."
8) Gov. Raimondo and Mayor Elorza were among the speakers offering glowing testimonials to David Cicilline when his Providence mayoral portrait was unveiled last weekend. They credited Cicilline, now a five-term congressman, with leading Providence past the corruption associated with Buddy Cianci's second tenure (aka, Buddy II). Cicilline was the first Democrat to announce a challenge to Cianci, back in February 2002, when the charismatic showman remained a very popular figure in Providence. Yet Cianci wound up in prison, and Cicilline went on to win two terms as mayor before landing the CD1 seat vacated by Patrick J. Kennedy. Although Cicilline's time at City Hall included blemishes – leading him to later apologize for a lack of clarity on Providence finances – not a discouraging word was heard during the portrait-unveiling event.
9) Rhode Island Attorney General Peter Neronha uncovered almost 1,700 additional cases that had gone unprosecuted. The backlog is being reduced with additional staff in the AG's intake office.
10) Nate Silver of FiveThirtyEight.com put out this question: "What is the most American state? Defined as: If a foreign visitor was only allowed to visit one state, from which state would they learn the most about what America is really like?" That attracted this response from Matthew Yglesias: "Rhode Island is physically small and densely populated but lacks any truly big cities, contains a large Portuguese-speaking minority and virtually no ideological polarization between its political parties ... America in a nutshell." (Yet of course there is political polarization here within RI's political parties.)
11) "How Notre Dame, 'Vast Symphony In Stone,' Weaves Its Way Through Parisian History"
12) What can Brown do for you? Brown alum Te-Ping Chen ('07), who did some freelance work for me during Providence Phoenix days, and is now a Philadelphia-based reporter for The Wall Street Journal, is set to publish a novel and short-story collection …. Meanwhile, the Brown Daily Herald reports on how four people with Brown connections won Pulitzers this week, including Rebecca Ballhaus ('13) of the WSJ and Peter Kovacs ('78) of The [Baton Rouge] Advocate, for their contributions to journalism.
13) How a lobbyist for an Illinois teachers union exploited a loophole to get a pension through one day of substitute teaching.
14) During our Bonus Q&A interview with Providence Mayor Jorge Elorza, we discussed immigration, education, Elorza's political future, the search for a new school superintendent in Providence, and more. On immigration, with President Trump threatening to send undocumented immigrants, Elorza said the focus should be instead on such needs as improving the country's infrastructure: "Those are the top priorities where our limited resources should be going to – not stopping someone who is otherwise a law-abiding person, looking out for their family, just trying to live the American dream and isn't a threat to themselves or society in any single way."
15) Phil Eil asks whether, after the American Dream, there's any place to go but down. Excerpt: "I take solace in the fact that when my great-grandparents thought of the future, they couldn't necessarily see me, digging through online archives, squinting, trying to understand them better, and wondering what they would think of me and my choices. Their inability to see the future, and whatever joys and pain it holds, was exactly equal to mine."
16) Payday lending remains a force in Rhode Island, despite efforts by advocates to curb the rate at which money can be borrowed. Considering that, Nicholas Confessore's deep-dive on the undoing of the Consumer Financial Protection Bureau (CBPB) is a must-read. Excerpt: "Some of the largest payday lenders built national franchises and took their companies public during the frothy 2000s, fueling further expansion. Silicon Valley venture capitalists stepped in, building lead-generation databases and online platforms to compete against traditional storefront lenders. So did Wall Street. In recent years, leading private-equity firms, including Golden Gate Capital and the Fortress Investment Group, have acquired or bought stakes in almost two dozen short-term lenders. Payday lenders, which once operated on the fringes of the financial world, are now in unlikely alignment with the titans of high finance: Each has benefited enormously from Trump's deregulatory policies, which Trump has cast as populist and his likely 2020 opponents have assailed as plutocratic."
17) How does a top U.S. Supreme Court correspondent cover a case involving liberal use of swear words without mentioning them on the air? Take it away, Nina Totenberg: "Suffice to say that while 'FUCT' did not win trademark approval, 'FCUK' did, and so did the well-known brand 'FUBAR.' The word 'crap' was registered in a trademarked name 70 times, but the S-word was consistently denied. That prompted Justice Ruth Bader Ginsburg to ask how the trademark office defines what is scandalous, shocking or offensive. And, Ginsburg inquired, do 20-year-olds generally find 'FUCT' to be shocking or scandalous? Probably not, conceded the government's Stewart. But he said the term would still be shocking or offensive to a substantial segment of the population. Thus, it can be denied trademark registration, he argued."