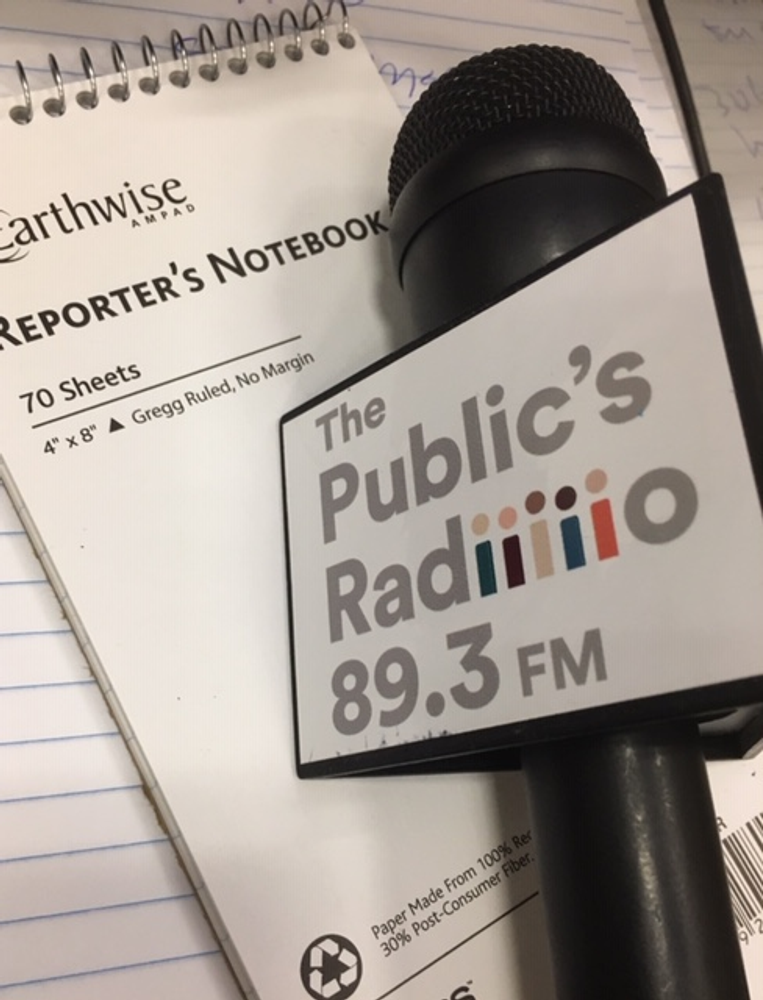 The RI House vote on abortion marks a big change. That's part of what we're looking at this week, so thanks for stopping by for my weekly column. As usual, your tips and comments are welcome, and you can follow me through the week on the twitters. Here we go.
1) During a May 2018 interview at The Public's Radio, House Speaker Nicholas Mattiello explained his reluctance to bring an abortion-rights bill to the House floor. He dismissed the possibility of the U.S. Supreme Court overturning Roe vs. Wade and pointed to the polarizing nature of abortion. "This is a very divisive issue on both sides," he said. "It's an issue that would utilize all of the oxygen in the room." So what changed? By last November, Mattiello was putting stock in a poll, conducted by The Public's Radio, The Providence Journal and ABC6, showing that more than 70 percent of Rhode Islanders support abortion rights. ("The Roe v. Wade issue is something that I believe has a lot of public support," the speaker told us.) Opponents of abortion-rights later unveiled their own poll -- with different findings -- and RI GOP Chairman Brandon Bell, the Gaspee Project, RI Right to Life, and Roman Catholic Bishop Thomas Tobin argued loudly against the abortion bill. But Mattiello can count votes, and he recognized that a majority of the 75 members in the House (and by extension, a majority of Rhode Islanders) backed the bill introduced by Rep. Anastasia Williams (D-Providence). Mattiello voted against the measure Thursday night, when it passed by a 44-to-30 vote, but that did nothing to dim the furor of RIRTL and other opponents. For his part, Mattiello said, "Every issue has its time and its day, and for the House, this session, this was its time and its day based on the overwhelming majority of opinion in the room. As you can see, it passed pretty readily and we try to respect the will of the majority."
2) All eyes now turn to the Rhode Island Senate, where the last significant abortion bill to clear the House died in 1993. No vote is scheduled yet in the Senate Judiciary Committee, raising the question of whether there are enough votes to move the bill sponsored by Sen. Gayle Goldin (D-Providence) to the Senate floor. Goldin said she remains optimistic the bill will get approved by the full Senate. The timing of the committee vote, she said, is "a process about scheduling the hearings and being able to get them with all of the other bills that we have to have heard. And the decision on the timing will be up to Senate leadership, so I wouldn't read anything into it not being posted for a vote yet." Erich Haslehurst, campaign manager for the RI Campaign for Reproductive Freedom, said he's "cautiously optimistic" about the outlook in Senate Judiciary, adding. "I feel we have momentum on our side." Member organizations in the coalition, including Planned Parenthood of Southern NE and The Woman Project, are getting their supporters to contact Judiciary Committee members, Haslehurst said, to encourage them to vote for the Goldin bill. Like Speaker Mattiello, Senate President Dominick Ruggerio is personally opposed to abortion. And like Mattiello, Ruggerio appears open to bringing the issue to a floor vote. But first things first, and first the bill has to get out of committee.
3) The view among some progressives that Speaker Mattiello bottles up bills without letting them come to a floor vote helped give rise to the 'Reform Caucus' earlier this year. Now, Mattiello has played a decisive role in moving forward an issue that has stalled in the House since 1993. Will that cause the 19 Democrats who didn't vote for Mattiello in January to reassess his leadership? For now, one caucus member, Rep. Jason Knight (D-Barrington), offered these kind words for the speaker, via a statement: "In particular, I am thankful to Speaker Mattiello and his leadership team for bringing the issue to the floor and supporting the effort to keep abortion safe and legal in Rhode Island. This is especially notable given that the speaker is personally opposed to abortion. He has been true to his word that he is willing to collaborate and move forward together. I look forward to working with the speaker on other issues vital to Rhode Island and building on this success." Rep. Deborah Ruggiero (D-Jamestown) also credited Mattiello for bringing the bill to the floor. "Democracy is about debating issues and voting," she told me. "This bill has been introduced for 26 years and Thursday night was first time since 1993 that it was debated on the House floor. This is deeply personal on both sides of the issue and I will never forget the nearly 4 hour debate -- civil and respectful -- and the 44 to 30 vote to codify Roe v. Wade. It's a seminal moment in RI history for me; right up there with the 2013 Marriage Equality vote." As to whether this will cause her to assess Mattiello's leadership, Ruggiero said, "I'm grateful that he's now at least listening. Sometimes you have to take a stand and suggest how things can be done differently in hopes of making the process better for others."
4) Some interested parties remain unimpressed by Speaker Mattiello's role in letting the abortion-rights bill come to a floor vote. "When will the gun bills get a vote?" tweeted the Rhode Island Coalition Against Gun Violence, referring to proposals to ban large-capacity magazines, semi-automatic rifles and the ability for people other than law enforcement to bring concealed guns into schools. The Statehouse prospects for that legislation appears dim, although the General Assembly has approved other gun measures, including a ban on bump stocks and the creation of a 'red flag' law meant to identify dangerous individuals. Yet a string of progressive priorities have moved forward after emerging in the House during Mattiello's time as majority leader and speaker. Those include the legalization of same-sex marriage in 2013, the banning in 2017 of conversion therapy, a measure last year to let Dreamers to get Rhode Island driver's licenses, and now, a guarantee of abortion rights.
5) Deputy House Majority Whip Christopher Blazejewski (D-Providence) was one of the ostensible winners of the House vote on abortion. A few months ago, Blazewjewski faced criticism from some progressives for being part of Speaker Mattiello's leadership. Now, the Providence lawmaker is being credited with playing a significant behind-the-scenes role in helping to craft the bill. He also played a prominent role in responding to opponents of the Williams bill during Thursday's floor debate.
6). State reps were unusually somber for the almost five-hour discussion of abortion. Rep. Stephen Ucci (D-Johnston), an opponent of the bill, captured it when he said: "If you look at what we've done today, we have taken on probably the hardest issue that's ever been before us, that faces America. And the way we've done it, and how civil we've been to each other and how we've listened to each other, it is truly remarkable." And while opponents of abortion rights are still angry about the outcome, some lawmakers found undeniable merit in debating this kind of thorny issue in March, rather than the waning weeks of the session in June.
7) With opponents of abortion-rights still fuming after the House vote, they will likely try to target at least some of the lawmakers who voted in favor during legislative elections next year. For now, RI Right to Life tweeted that it has pulled back previous endorsements for Speaker Mattiello, House Majority Leader Joseph Shekarchi, and Reps. John Edwards of Tiverton, and John Lombardi, Scott Slater and Daniel McKiernan, all of Providence.
8) While there's no secret about plans by Brett Smiley, now Gov. Gina Raimondo's chief of staff, to make another run for mayor of Providence, in 2022, Ward 3 City Councilor Nirva LaFortune is publicly undecided. "Right now, I'm focusing on some initiatives that I'm working on," she said during Bonus Q&A on The Public's Radio this week, "and I want to be sure I can execute a couple of things before I can make any type of decision." LaFortune, who won a 2017 special election after the recall of Kevin Jackson, said her decision process will include speaking with her family "and also speak with my community to understand what they need from a leader, to understand the priorities and not just the Ward 3 community, but I would have to expand my outreach to people throughout the city."
9) Worlds collided in the House chamber Thursday when Rep. Ken Marshall (D-Bristol) made his legislative swan song, voting against the abortion bill, even as his successor, RWU professor June Speakman, sat on the sidelines. Speakman is due to be sworn in Wednesday by Attorney General Peter Neronha (since Secretary of State Nellie Gorbea will be out of town.) Unofficial totals showed Speakman winning a special election in House District 68 this week with 789 votes, followed by Libertarian William Hunt with 573, Marshall (running as an independent) with 468 and independent James McCanna with 167. The addition of Speakman adds another woman progressive to the 75-member House.
10) Buddy Cianci had a pretty good week. Speaking during a panel discussion on NBC's Meet the Press, Matt Bai drew a comparison between Buddy and President Trump. (Fired up the mention of Cianci, New York Times reporter Helene Cooper piped up to describe how she had reported on Buddy back in the day at the ProJo.) Then came the news that Trinity Rep plans to stage a production this fall based on Mike Stanton's excellent Cianci biography The Prince of Providence. Stanton said Buddy has not yet been cast, although he'd like to see Bradley Cooper play his own role. Suffice it to say, Cianci – who died in 2016 – would love how he's still getting this kind of attention.
11. Providence Ward 3 City Councilor Nirva LaFortune is non-committal on Mayor Jorge Elorza's proposal to shore up the city's underfunded pension system by monetizing the water supply. "Right now, I don't think that there's one approach that's going to solve the pension issue," she said on Bonus Q&A. "It's complicated. And that's why it's important for us to have all the stakeholders at the table before we propose any type of legislation or any type of solution. We haven't had any community conversations, we haven't talked to any environmental specialists, we haven't had conversations with other municipalities or any type of forums with state legislators. We need these things to happen before we can make a decision."
12. Speaking of Providence's crushing pension obligations, Rep. Marcia Ranglin-Vassell acknowledges the city faces sharp fiscal challenges. But she defends her bill that would create a $15 minimum wage for City of Providence employees by pointing to the struggles of working people. "My focus is, how can we really support the middle class and a group of people that people don't talk about too much, at least not in the Statehouse," she said, "and that's the working poor and poor people and people that are living in our state in extreme poverty."
13. HR 1, the first big proposal from U.S. House Democrats, "includes proposals such as public financing of campaigns, ending Citizens United, requiring presidential candidates to disclose tax returns, automatic voter registration, making Election Day a federal holiday and ending partisan gerrymandering." U.S. Rep. David Cicilline is an enthusiastic supporter of the measure, calling it the "biggest ethics reforms since Watergate."
14) Paul Manafort, a high-flyer back in the days when he served as a campaign adviser to Gov. Ed DiPrete, has been sentenced to just under four years in prison.
15) "If Facebook goes private, where will the misinformation go?"
16) It's the 50th anniversary of the book that inspired The Godfather movies.
17) True story: "That once-sweet melody has been the hold music at CVS pharmacies for nearly two decades. But it is about to change — and no one could be happier about that news than a certain Harvard psychiatrist. Dr. Steven Schlozman is a child and adolescent psychiatrist at Massachusetts General Hospital, and that means he often has to spend time on hold dealing with prescriptions for his patients. A lot of time on hold. He calculates that over the course of his career, he's called CVS for his patients an average of three times a day, and listened to that piano music for about a minute and a half each time."