Hilary Levey Friedman, president of the RI chapter of the National Organization for Women, pointed to a poll last year showing strong support for abortion rights, and to how voters around the state elected more pro-choice lawmakers last year.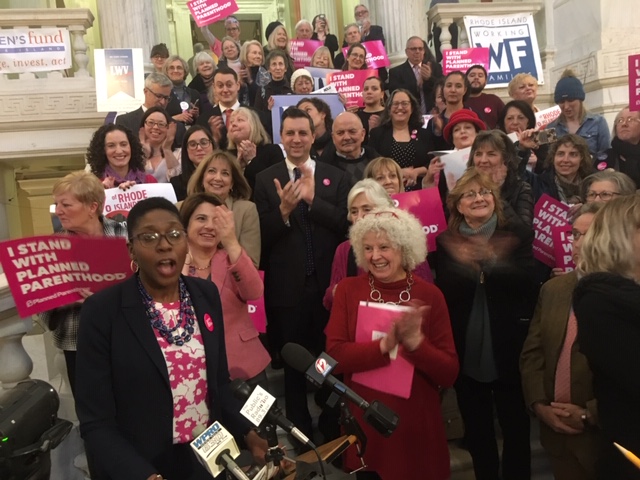 "Almost three-quarters of the residents of this state believe in protecting a women's right to choose – 71 percent," she said, referring to a poll conducted for The Public's Radio, The Providence Journal and ABC6, "and almost a majority of our General Assembly has signed on to these bills already. So I think we're here harnessing our power, don't you?"
Fifty-six of 113 Rhode Island legislators have signed on as cosponsors of the bill introduced by Rep. Edith Ajello and Sen. Gayle Goldin, both Providence Democrats, known as the Reproductive Health Care Act.
But although House Speaker Nicholas Mattiello acknowledged, in an interview at The Public's Radio last year, that a majority of Rhode Islanders support abortion rights. But in a statement Wednesday, Mattiello remained opaque on the outlook for bringing the Ajello-Goldin bill to the House floor.
"The House Judiciary Committee, under the new leadership of Chairman Bob Craven, will be holding a public hearing on this issue in the coming weeks," Mattiello said in a statement. "I will await the recommendation of the committee."
Similarly, Greg Pare, spokesman for Senate President Dominick Ruggerio, said Ruggerio will await a recommendation of the Senate Judiciary Committee.
Rep. Anastasia Williams (D-Providence) has introduced a competing bill to codify Roe v. Wade. Supporters of the Ajello-Goldin bill say the Williams bill is too narrow, while opponents of abortion rights say the Ajello-Goldin bill would broaden the definition of abortion in Rhode Island.
The abortion rights supporters filled the Statehouse rotunda during an afternoon rally, one day after opponents of abortion rights expressed their view in the same location.
A group of religious officials joined the supporters of abortion rights in describing abortion as something that should be decided by individual women. Separately, Roman Catholic Bishop Thomas Tobin tweeted this week: "On the anniversary of Roe v. Wade, a reminder: it is a sin to have, provide, fund, promote, or support abortion. An 'unspeakable crime,' Vatican II taught us. 'Like hiring a hit man,' Pope Francis said."
Sen. Goldin told the supporters of abortion rights that their activism can yield progress on the issue.
"Change is happening, because you are making it happen, all of you are making it happen," she said. "So keep your voices loud and your spirits up. We are going to make history together. I'll see you at the hearings, every single one of you."