Providence mayoral candidate Brett Smiley has agreed to pay a $4,500 fine to the state Ethics Commission for accepting campaign contributions from six donors over whom he had supervisory responsibility in his former role as state Administration director.
Smiley began fundraising last October for his latest campaign for mayor of Providence. That was a few months before leaving his job as head of the state Department of Administration.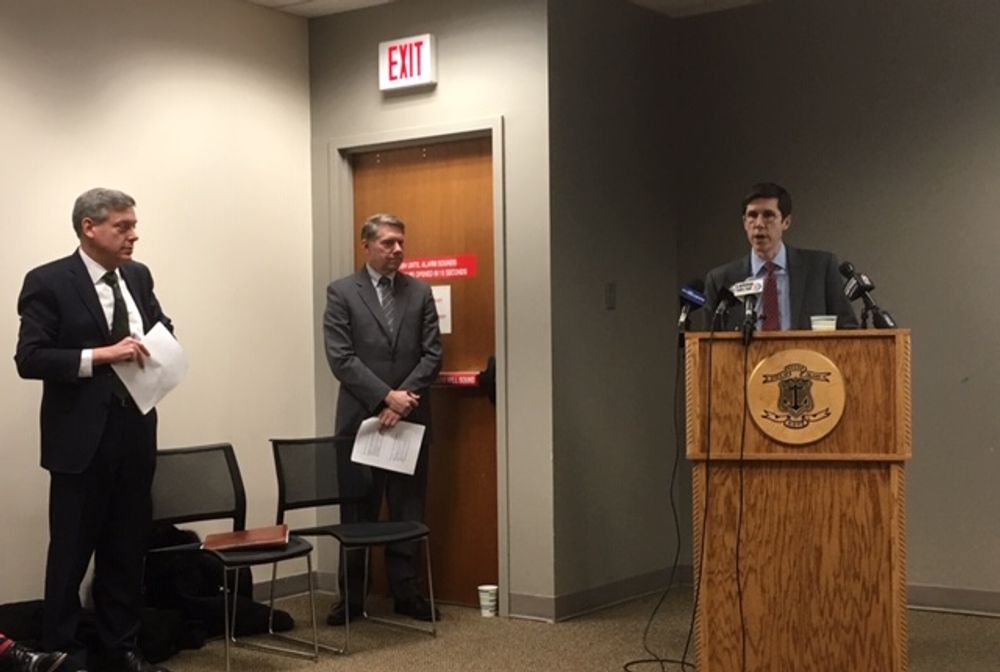 Following reports by WPRI-TV, Smiley wound up returning six contributions from people with state contracts. The Ethics Commission found that Smiley in his previous role as state Administration head had supervisory responsibility over those contributors.
Smiley, who ran for mayor in 2014 before throwing his support to Jorge Elorza, defended his handling of his campaign.
"It is important that candidates for office, and all elected officials, hold themselves to the highest possible standards," he said in a statement. "This is exactly why I sought an advisory opinion from the Ethics Commission before raising one dime for my campaign, and why I immediately returned the six contributions I received from people with state contracts as soon as I was made aware that the donors had business before the state," Smiley said in a statement.
Smiley added: "I never knowingly solicited contributions from vendors, and as the Ethics Commission makes clear, I never discussed state contracts with any donor. I appreciate the thorough process conducted by the Ethics Commission and their help in putting this matter to rest so I can focus on our campaign to improve the quality-of-life for residents across our city."
A rival Democratic candidate for mayor, Gonzalo Cuervo, offered this comment in a statement: [T]the RI State Ethics Commission made it clear - in a 28-page settlement attached to a $4,500 civil penalty - that Mr. Smiley, a lifelong fundraising expert, knowingly received campaign contributions from state vendors and their associates while in a position to exert influence over the very contracts that these vendors were receiving from the State of Rhode Island."
Cuervo added: "I applaud the RI State Ethics Commission for following through on this matter and call upon Mr. Smiley to return all campaign contributions that he received from all vendors and their associates doing business with the State of Rhode Island, and lobbyists who lobbied the Department of Administration, while he served as the state's Director of Administration - beyond those listed in the complaint."
The other Democrats expected to run for mayor in 2022 include City Councilor Nirva LaFortune and Michael Solomon, a staffer for Mayor Jorge Elorza. Term limits prevent Elorza from seeking re-election and he announced last week he will not run for governor.
The Ethics Commission also voted Tuesday to approve an investigation of Tony Silva, the former chief of staff for Governor Dan McKee. Silva has denied doing any wrongdoing in connection with a land-use controversy in Cumberland.
State GOP Chairwoman Sue Cienki praised the two developments involving the Ethics Commission.
"We are pleased that the Ethics Commission decided today to fine Brett Smiley for his pay to play fundraising tactics and to investigate Tony Silva for hiding his financial interest in wetlands property. Slimy Smiley used his power over state vendors to fund his political ambitions. Sneaky Silva hid his financial interest in wetlands from the public while behind the scenes he pushed government officials to support his money-making scheme."
Cienki added: "Both of these former chiefs of staff to a governor exemplify Rhode Island's unethical insider political culture. While we are happy that the Ethics Commission is holding these men accountable for their unethical conduct, it is sad that former Governor Raimondo and current Governor McKee were so willing to entrust these men with power in the first place."
Ian Donnis can be reached at idonnis@ripr.org. Follow him on Twitter @IanDon. Sign up here for his weekly RI politics and media newsletter.