Joye Briggs has always loved horses. She began riding at age five, and has taught lessons on a part-time basis since she was a teenager. For the past eight years, she's owned Yellow Horse, an equine therapeutic program in Ashaway that provides riding lessons to people with a medical diagnosis. Her inspiration for starting the program came over two decades ago when she was teaching a young girl with emotional challenges. Joye didn't feel like the youngster was making much progress, so she told the girl's mother that maybe her daughter wasn't cut out for horseback riding.
"Her mom looked at me and she started crying," said Joye. "She said, 'You know what? This is the first time in years she's looked forward to stuff.' So I cried. And I was like, wow, me and my horses made such a huge impact on this little girl. And I said, 'I want to do this.'"
Today, Joye and her staff at Yellow Horse provide therapeutic riding lessons to about 50 clients a week, ranging from children to seniors. But the rising cost of doing business is starting to take its toll. As a nonprofit, Yellow Horse is reliant on donations and sponsorships, both of which have taken a major hit in the past year. On top of that, operational costs have skyrocketed. Joye says she spends about $1,500 a month on hay alone. The price of horse feed is also way up, and a wood shortage is impacting the availability of shavings used for horse bedding.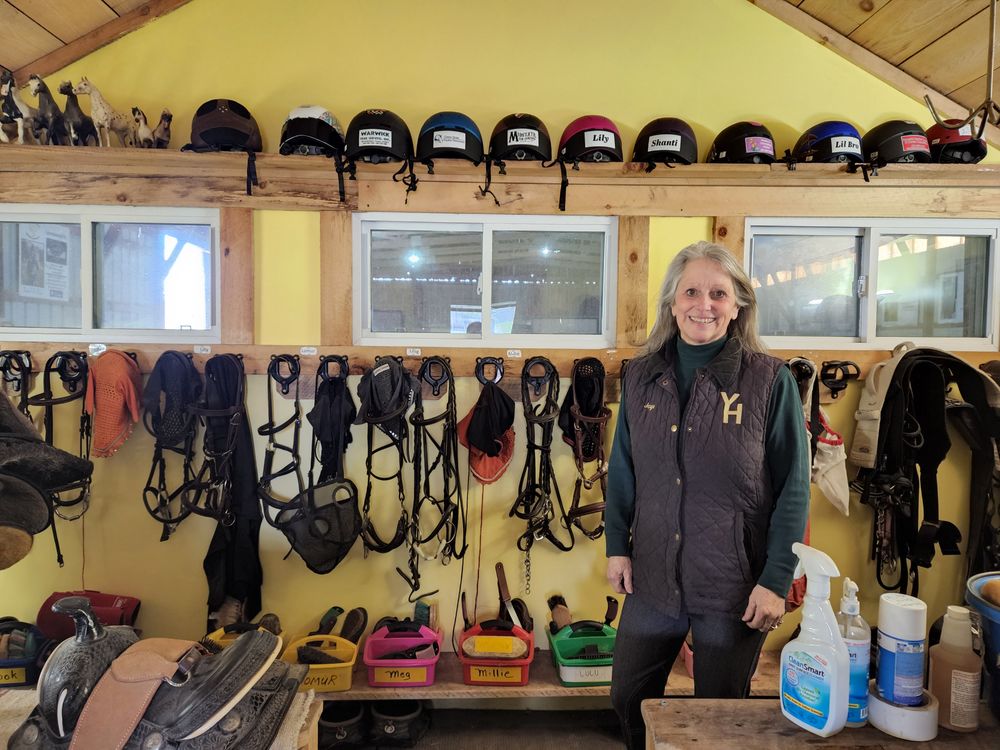 The combination of higher costs and lower revenue has made it difficult for Joye to maintain her five-person staff. She says, at times, she's refused to take a paycheck for herself to make sure her employees get paid. But making payroll isn't the only challenge. Joye relies heavily on experienced volunteers to give riding lessons; she's got about 45 of them. But as gas prices approach $5 a gallon, Joye says her volunteers are not as willing to drive down to Ashaway to teach.
"I have some volunteers that come from as far as Barrington," said Joye. "I have a couple from Johnston, a lot from Warwick. And they're volunteering their time, so they're not getting paid to come here. That's a huge commitment with those expenses that come along with it."
When she factors in the cost of her lease, utilities, and insurance, Joye says her business expenses have jumped by at least 25% in the past year. She's tried to compensate by implementing a ten dollar increase in the price for individual lessons, but Joye says that's not nearly enough to make up for the significant rise in operational costs. She knows she can't jack prices up too much because not all insurance companies cover equine-assisted therapy, and many of her clients simply can't afford to pay for lessons that cost a hundred dollars or more.
Joye says reducing the number of therapy horses as a cost-cutting measure is an option, but not a very realistic one. In addition to the 50 clients she has at Yellow Horse, Joye has about 30 people on a waiting list. That kind of demand prevents her from trimming her nine-horse roster. And while she's been able to avoid any staff cutbacks to this point, Joye knows that keeping her loyal team together is only going to get tougher if prices continue to go up. As challenging as things are right now, Joye is feeling hopeful.
"I put things out there in the universe and I pray on it," said Joye. "I've always said this and I believe this: what you give, you receive. So am I optimistic about the future and what's going to happen? Will we be able to continue our program? Absolutely. (It's) a little scary, but we're going to do it."
Joye says her supportive family plays a key role. Her daughter Emily helps run the business. Her son volunteers, and her brother helps out, too. Joye's husband runs the hay and grain department at her local feed dealer and provides her with much-needed moral support, if not price discounts. Despite the recent challenges, she says she and her family are determined to make things work.
Joe Tasca can be reached at jtasca@ripr.org