After a relatively short debate, the Rhode Island House of Representatives on Thursday night passed a $13.1 billion budget for the fiscal year that begins July 1.
The spending plan includes no broad-based tax increases. It steers more money to create affordable housing and leaves the issue of legalizing recreational marijuana for a special session later this year.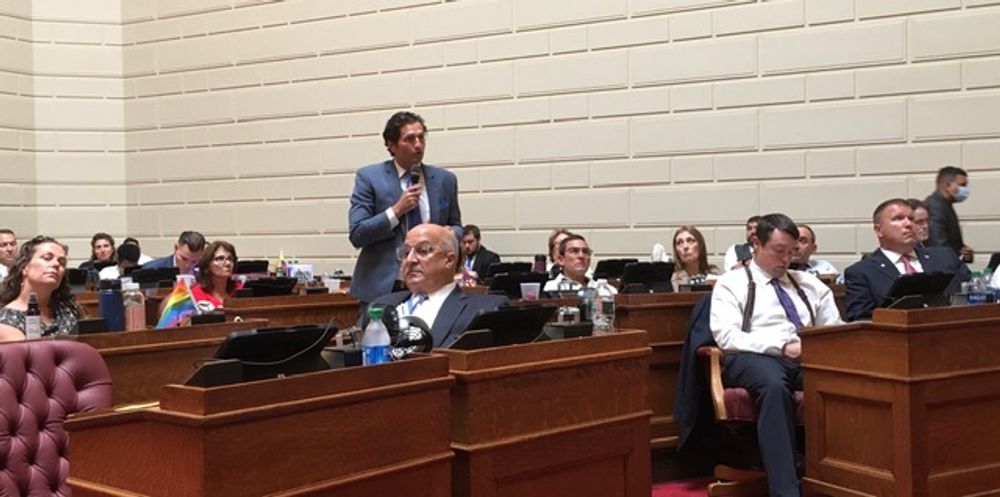 The budget was approved before sunset on a party-line vote, 64-to-10, after less than six hours of debate.
That rapid clip reflects the popularity of House Speaker Joe Shekarchi, the Warwick Democrat who won election to that role in January. But Democrats and Republicans still found plenty of room to disagree on issues ranging from taxes and dry conditions in western Rhode Island to government transparency.
A more immediate concern for House Minority Leader Blake Filippi of New Shoreham is how the House budget uses past rounds of federal stimulus to increase spending by about $2 billion from what Gov. Dan McKee proposed in March,
"I'm worried about being able to shrink it once the federal money runs out," Filippi said. "And if we're not able to shrink it, the tax burden's gonna fall on everyday Rhode Islanders."
Shekarchi said he's sensitive to that concern, but he also downplayed it. He said federal money will go to other states if Rhode Island doesn't use it, and he said these funds prepaid some programs for two or three years.
Shekarchi sums up the budget this way: "It's fair, it's balanced. There are no broad-based tax increases and we take care of the needs of the most needy in Rhode Island."
A change in the state real estate conveyance tax, for homes sold at more than $800,000, is expected to generate about $4.3 million a year to build affordable housing. The budget also funds a housing "czar" position in Commerce RI, the state's economic development agency.
In the face of criticism from business groups, Shekarchi and Senate President Dominick Ruggerio backed an amendment allowing firms that owe state taxes on PPP loans, over a threshold of $250,000, to delay paying that money until 2022.
One issue of dispute was the level of transparency in the budget.
While Democrats argued that there's enough clarity, or that zero-based budgeting would bring additional problems, Republicans pointed to $1 million earmarked for a Cranston chiropractor with a questionable alternative medical practice a few years ago, until it became a controversy. They also cited former House Finance Chairman Ray Gallison, who was convicted of stealing from a taxpayer-funded nonprofit where he worked.
"If this hadn't happened with the way we do budgeting, I'd be more sympathetic to the argument," Filippi said, "but the way we do budgeting has enabled skullduggery in the past. We're trying to clean it up. We're trying to be more detailed. I want to know what we're voting on."
In the end, Democrats voted down the GOP call for zero-based budgeting. But they praised the inclusion of $500,000 in the budget to promote the use of doulas for pregnant women.
Some GOP lawmakers questioned the value of a one-time $10 million boost to the state film/TV tax credit, to $30 million, noting that a state Revenue Department report found the tax credit didn't pay for itself.
But Democrats, some who fondly recalled getting cameos in the bygone Showtime political drama "Brotherhood," said the tax credit has a positive spinoff effect on the economy, and they said it keeps Rhode Island in the game with other states vying for similar productions.
Rep. David Place (R-Burrillville) said fire chiefs in western Rhode Island are concerned about dry conditions and a lack of maintenance of fire roads due to cuts at the state Department of Environmental Management. He said $1 million should be earmarked in the DEM budget to address the issue.
Democrats said Place's concern merits consideration, but not in the budget. Shekarchi, whose Warwick law office was hit by a fire of undetermined origin earlier this year, said he takes fires seriously.
The state Senate is expected to vote on the budget next week. The House will now turn its attention to passing a large volume of bills with a targeted date for closing the session Thursday, July 1.
Ian Donnis can be reached at idonnis@ripr.org. Follow him on Twitter @IanDon. Sign up here for his weekly RI politics and media newsletter.