Rhode Island's Department of Children, Youth, and Families (DCYF) is requesting that its budget increase from $229.8 million in the current fiscal year to $266.9 million in fiscal year 2021, in what leaders say is an effort to create stability at the department.
DCYF is also requesting an additional $22.4 million dollars in general revenue to close out the current fiscal year. This is the third year in a row that DCYF has significantly overspent its initial budget. And former DCYF director Trista Piccola faced criticism for failing to request an increase in funding until after lawmakers had passed a budget for the current fiscal year.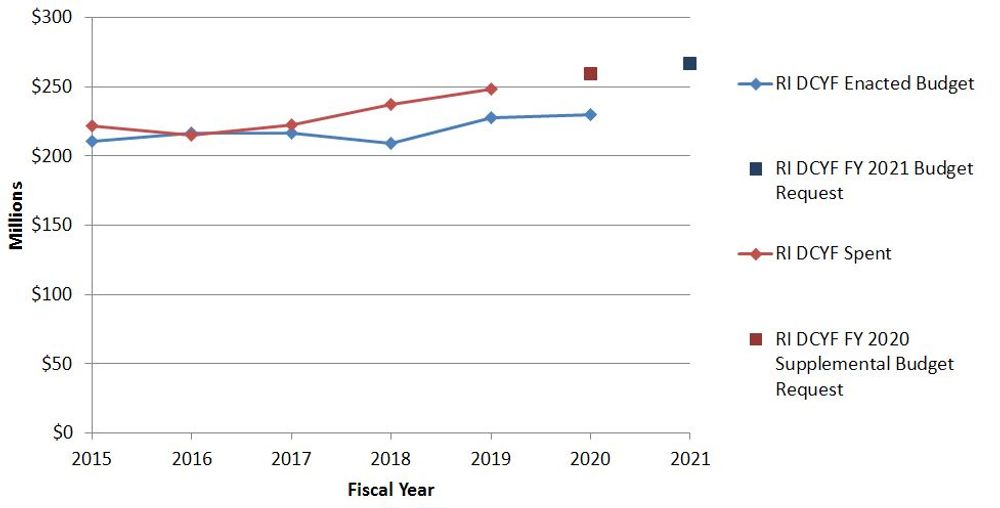 In the department's budget request last year, DCYF officials asked for a $236.5 million budget for fiscal year 2020. That amount was reduced in Gov. Gina Raimondo's budget recommendation to the General Assembly.
Tanja Kubas-Meyer, who leads the Rhode Island Coalition for Children and Families, said the members of her organization support DCYF's request for more funding next year, but they're waiting to see how the details play out.
"There is a reliance, especially as you get to fiscal year 2021, on additional Medicaid claiming, which is sometimes easier said than done," Kubas-Meyer noted. "But I certainly think we definitely support a pretty dramatic increase in the funding because this history under-budgeting and then over-spending obviously is not ideal for anyone."
Acting DCYF Director Kevin Aucoin said the increased funding would allow the department to hire 14 new employees in DCYF's licensing unit, with a specific focus on boosting recruitment of foster families.
DCYF has struggled to recruit and retain enough foster families, especially families who are willing to foster LGBTQ youth, teens, and sibling groups of 4 or more. In the 2019 fiscal year, the department's goal was to recruit 350 new foster families, but DCYF licensed just 176. The shortage of foster homes means kids in DCYF's care get stuck in group homes.
"If we just look at our current level of need, about 23% of the children in congregate care homes are there because we didn't have the foster care capacity, the foster home capacity," Aucoin said.
Womazetta Jones, Secretary of the Executive Office of Health and Human Services, says she'll push the agency to get more creative in recruiting foster parents of color.
"We need to be intentional with reaching out to specific communities as well as at large," Jones commented. "But we also need to make sure that we remind our current kinship foster parents that, once your loved one returns home, you're licensed. Would you like to be that loving person for another child. So we need to be creative and innovative."
The department also hopes to hire more Child Protective Services investigators, and upgrade the department's 20-year-old database system.