"There truly is light at the end of the tunnel," Rhode Island Governor Gina Raimondo said during a press conference on Thursday, where she announced further restrictions on businesses, recreational activities, and social gatherings.
"I am hopeful that there will be some amount of vaccine available in Rhode Island by the end of the year," Raimondo said. "And I'm hopeful that there will be even more in January, February, March, and by spring it'll be quite available."
Behind the scenes, questions abound about exactly when a vaccine will arrive, how much will be available and how it will be distributed.
"Everything is, unfortunately, like a whirlwind of different planning scenarios," said Alysia Mihalakos, who co-chairs the state Health Department's Mass Vaccination Workgroup and leads the department's Center for Emergency Preparedness and Response.
"Every day we get new information and that causes us to go back and change things," she said. "It's very difficult. We don't know how much vaccine we're getting, we don't know when, we don't know over what time frame."
State health officials began thinking about how to distribute a vaccine in April, and the plan is rapidly evolving as two vaccines race towards approval.
As of Thursday afternoon, Mihalakos said she expects the state in December will begin receiving two separate vaccines in quick succession, one developed by Pfizer and BioNTech and the other by Moderna, pending approval by the Food and Drug Administration. She said the first doses will go to hospitals, and will be used to vaccinate medical workers.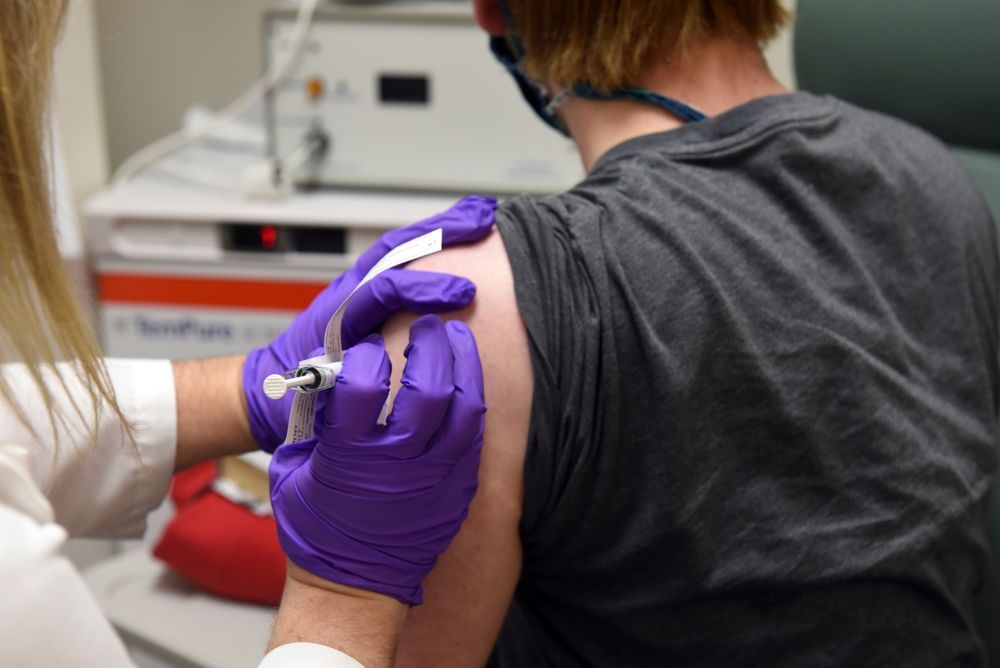 Each vaccine has different requirements for storage and delivery. Pfizer's in particular must be kept extremely cold, and Mihalakos said vaccine distributors in the state are still working to acquire the freezers they'll need. Health workers will also need to be trained on how to thaw and administer each vaccine.
And just within the last week, an unexpected challenge cropped up. The plan had been to vaccinate hospital and EMS departments in groups. But while the vaccine has been shown to be safe, it can cause an immune response that includes fever, aches, and headaches, especially after the second dose. Mihalakos said this indicates the immune system is responding to the vaccine, and, according to trials in tens of thousands of people, the side effects last only 48 hours.
"The problem is that we now can't just say, 'Okay, everybody who works for Municipality A's EMS, you're getting vaccinated today,' which was our original plan." Mihalakos said, "Now we have to go back and rethink because we can't vaccinate everybody at the same time because we can't take down a workforce. We can't say all the EMTs are out of commission -- potentially -- for the next 48 hours."
An added concern: some of those side effects overlap with symptoms of COVID-19. Mihalakos said state health officials earlier this week asked the federal Centers for Disease Control and Prevention whether people who have side effects from the vaccine may need to get tested before returning to work. They don't yet have an answer.
"It's just going to create some additional planning challenges," she said, "because now you could be talking about someone being out [of work] for four or five days, and that will force this process to take a whole lot longer."
That's just one of many unknowns that is factoring into the evolving vaccination plan. More vaccines are under development and could become available in the coming months. And some of these may work better on certain groups, like older adults.
The state is also planning to launch a new online platform to schedule vaccinations, and for the first time it will track adult vaccination in the state's immunization registry. Not to mention, all this is happening in collaboration with a federal government that will soon be going through a change in administration.
"It is mind-bogglingly complicated," Mihalakos said. And unlike in other crises she's dealt with, there's little slack in the state's health care system to accommodate new challenges.
"We also have problems with testing and hospital surge and nursing home outbreaks… All of that other stuff where people are stretched really thin and exhausted. We're trying to do this on top of ten months worth of other response."