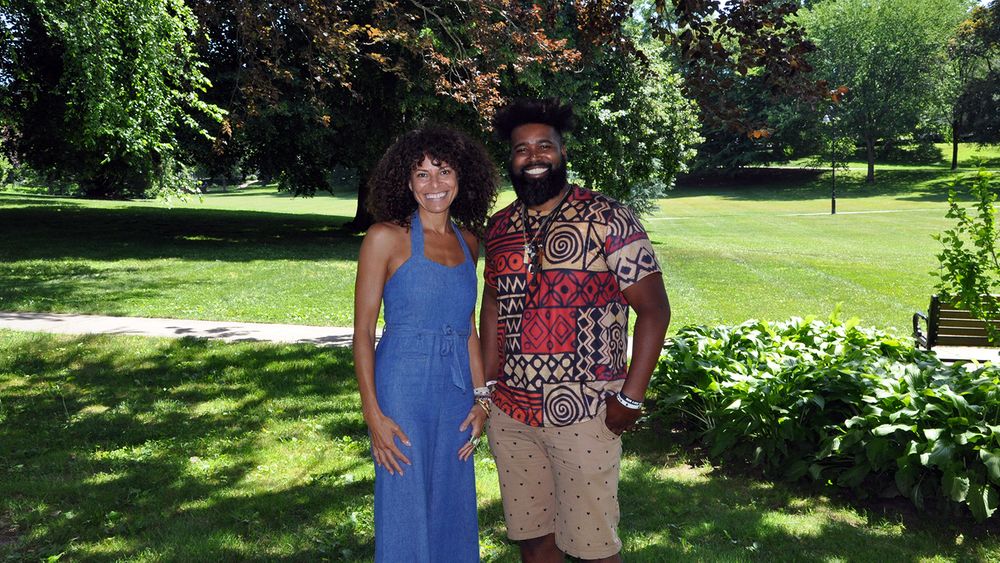 April Dinwoodie and Kevin Lowther are Black Lives Matter activists and members of Westerly ARC, the town's Anti-Racism Committee. On Saturday, they'll both be participating in events celebrating what's also known as "Freedom Day." Lowther, a hip-hop violinist who goes by the name "Big Lux," will be performing in Woonsocket. Dinwoodie is a diversity, equity and inclusion consultant and will help lead a book discussion planned in Westerly's Wilcox Park. They both spoke with our reporter Alex Nunes. Dinwoodie began by describing her event.
DINWOODIE: There'll be a story walk with the book The Undefeated, which is a great book that was written by Kwame Alexander and illustrated by Kadir Nelson all about amazing individuals in Black history, African American history, that have really been resilient and done amazing things in their lives. So members of Westerly ARC will be in the park to have conversations and talk about Juneteenth and also the amazing individuals in this book, The Undefeated.
NUNES: Kevin, you've got a separate event going on in Woonsocket. Can you tell me about that?
LOWTHER: Yeah, that's right. I'm really looking forward to it. The Boys & Girls Club of Northern Rhode Island reached out to me to be a performer at their Juneteenth celebration, and it's going to be an amazing event. The Black Rhode Island Storytellers are going to be performing. I'll be performing. There'll be other local artists. There's going to be food. There's going to be crafts. The organization, the Boys & Girls Club, does a lot of great work, and especially in northern Rhode Island. Most of the children that are part of that program are people of color. And so they get to see some performers who have had some experiences outside of the state, and they kind of bring that experience to them. And you know, they get to celebrate, and we basically get to all get together and celebrate our selves, our history. And I am, again, really happy to be asked to be a part of it.
NUNES: What do both of you want people to come away with or feel after they participate?
LOWTHER: I think there's really two different things. One is for Black people just to be able to celebrate their heritage and have a place where they feel safe and appreciated, and loved for who they are and things that we have brought to the table, you know, culturally throughout time and the struggle that it takes. I guess that's a good transition to the second part of it, which is the struggle that it takes. What Juneteenth represents is the fact that rights were granted by the Emancipation Proclamation Abraham Lincoln made that freed the slaves, but the enslaved people in Texas did not receive their rights and their freedoms until 1865. So it just highlights that there's always this gap between when Black people are granted rights and when they get to exercise them. And that gap means that there's work to be done, there's education to be done. And we, as a society, can't rest on the fact that we might say something, when what we say is not necessarily true for the people on the ground. They need to experience that freedom.
DINWOODIE: You know, for me, Juneteenth was a history that I had to go and find for myself. This wasn't something that I had internalized, or known, growing up in Rhode Island, adopted into a white family. We didn't talk about the history of Juneteenth. So, for me, it's really about bringing awareness. And that education isn't necessarily academic. It's about storytelling. It's about being in relationship to a person that's different than you, that has a different history and life and identity, and a different culture. So I love the idea of being able to bring that to life for individuals who may be thinking about, "Well, what does this mean for me? And why should I care?" Why you should care—because there are laws that need to be passed to protect persons of color in this country. And without that pressure from us as citizens, it won't really happen. So I think it's both and, for me, it's just getting that heart activated so that then people can can vote and be really invested in the emotional, psychological and physical protection of Black persons and to celebrate African American history.
NUNES: I get the impression that in the last year there's been more attention or awareness of Juneteenth after the murder of George Floyd. Is that the impression you get?
DINWOODIE: I do. I think the several years long, obvious murder and brutality on Black bodies in this country, marked by George Floyd—I think there was a moment of real clarity for some folks and that things like Juneteenth started to bubble up in places you wouldn't expect them to. Brands started to get more interested. And we'll see what happens with that. I hope that there can be celebration and honoring and marking, but I hope that doesn't just become performative and doesn't become the thing that we get that's going to, you know, have us just stop protesting or stop pushing for more.
NUNES: Are you saying that you have some concern that, as more people come to recognize and celebrate it, that there might be a risk of the original message being overlooked or diluted?
DINWOODIE: I think we have evidence of that with Martin Luther King, Jr. Day and how we mark it but the fire of it doesn't always stick. I think it's different now. I think we're a different society than we were. I think you'll see some of that, like watering down of some of this, but I have a feeling that African American people, Black people in this country are going to hang onto their history, and they're going to celebrate it even more. And I think white people and others that don't maybe understand will be more interested, and I think there'll be a little bit of a different path forward for this one, at least that's my hope.
NUNES: Do you want to add something, Kevin?
LOWTHER: Yeah. It's been amazing, for me personally, to watch the national consciousness evolve. But not just that. It's also the local consciousness and to see it, you know, in our towns and in Rhode Island—to have been a part of so many big protests in Providence and such a continuing presence that we have right here in downtown Westerly. And then see the people that have been moved by that. We are, I think, in a completely different place than we were. And making Juneteenth the federal holiday is, I think, the biggest national marker of the progress that we've made.
NUNES: April Dinwoodie and Kevin Lowther, thanks so much for speaking with me.
LOWTHER: Thank you. It's been a pleasure.
DINWOODIE: Alex, it's always great to speak with you.
[Juneteenth celebrations are also planned in Providence, Newport and Bristol. ]
Alex Nunes can be reached at anunes@thepublicsradio.org