Rhode Island Gov. Gina Raimondo appears to be on a fast track for confirmation as Commerce secretary in the Biden administration after receiving a mostly friendly reception during a hearing Tuesday of the U.S. Senate's Commerce Committee.
Committee Chairman Roger Wicker, a Mississippi Republican, praised Raimondo at the end of the hearing before flatly stating, "I do not believe you will be serving as governor of Rhode Island for very much longer."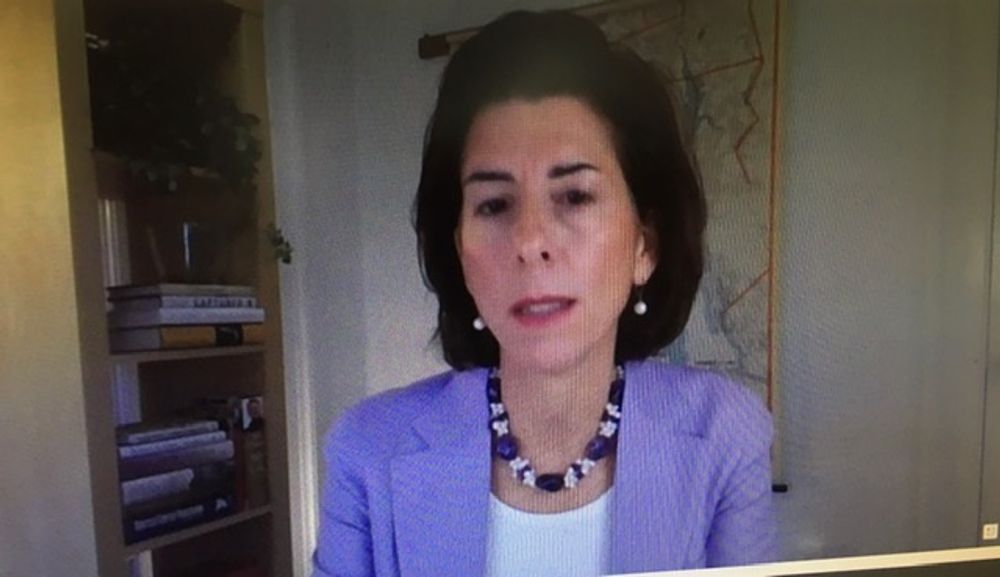 That followed more than two and a half hours of questioning on a range of subjects, from the Census, foreign trade, and 5G technology, to the cost of Moroccan phosphate for U.S. farmers and ranchers.
The questioning was generally diplomatic and collegial.
Sen. Ted Cruz pursued a more confrontational line, asking Raimondo about her nomination as Commerce secretary in a view of CNBC's 2019 finding that Rhode Island had the worst business climate in the nation.
She responded by saying the state had among the highest unemployment rates when she first ran for governor in 2014.
"And just prior to COVID, we had the lowest unemployment rate in our state's history and the most jobs in our state's history," Raimondo continued. "When I ran, we were 50 out of 50 on Business Insider's ranking and a couple of years into my term we were 26th. So my record is clear that we have created thousands of jobs for the people of Rhode Island."
On the Census, Raimondo said the process should be determined by experts, not politics, and that more time should be used if needed to be complete the pending Census. (The Census is no small matter for Rhode Island, since the state is expected to lose one of its two congressional districts.)
Asked by Cruz how she would use tariffs and other forms of economic leverage against China, Raimondo said, "I intend to use all of those tools to the fullest extent possible to level the playing field for the American worker. I believe in free trade, but fair trade. Americans can compete if the rules are fair and the playing field is level. I believe my job, should I be confirmed, is to increase the competitiveness for the American worker and companies, especially small businesses."
The Commerce Department is a sprawling agency with more than 46,000 employees. The department includes the Census and the National Weather Service.
Raimondo testified via video connection from Providence, after receiving glowing introductions from Sens. Jack Reed and Sheldon Whitehouse.
Reed recalled how he met Raimondo in Narragansett in 1971, when she was a baby and he was a new second lieutenant recently graduated from West Point. He said his family had a modest summer home close by a set of Raimondo's grandparents.
"As governor, she has led with extraordinary distinction," Reed said. "In the wake of the pandemic, she rallied the people of Rhode Island with straight talk and quickly established an outstanding team of physicians and medical experts to guide the state's efforts."
Reed said Raimondo has made bold changes to Rhode Island's economy, through a free tuition program and by supporting improved infrastructure and renewable energy.
In her own statement, the governor repeated the story familiar to Rhode Islanders of how her father was laid off from the Bulova watch factory in Providence.
"I know the pain that losing a job causes a family, and I've seen that pain in communities that have lost jobs to outsourcing and to the pandemic," she said. "At its heart, the Commerce Department is about opportunity. The opportunity to start or grow a business. The opportunity to get a good, stable job. The opportunity to pursue the American Dream, regardless of where you live."
Raimondo is slated to give her final State of the State address on February 3.
While the impeachment proceeding against former President Trump adds a level of uncertainty, Raimondo is expected to be confirmed shortly after her State of the State address.
Lt. Gov. Dan McKee is poised to become governor when that happens. A source close to McKee's transition said Raimondo's Cabinet will remain in place when she leaves office.