Most renters facing eviction never benefit from representation in court. But low-income renters facing eviction in Providence will now be able to access free legal services, thanks to a program the city launched Wednesday.
The city is working with local community organizations Rhode Island Legal Services and the Rhode Island Center for Justice to provide tenants on the brink with legal advice and representation in hopes of helping them stay housed, or negotiate a better deal.
"Every day attorneys at legal services are the difference between families staying in their apartment, or being able to comfortably transition to a new apartment," Mayor Jorge Elorza said at a press conference announcing the new initiative.
The program will match renters to attorneys and law students to negotiate out-of-court settlements, advocate for more time to find a new apartment, and represent tenants in cases that go to trial.
"Sometimes just that two minute conversation is enough to ease the concerns and resolve a problem that would lead to potentially an eviction," said Jordan Mickman, supervising attorney at the Center for Justice.
The new eviction defense program draws on $600,000 in American Rescue Plan funding. The city and its partners expect to be able to provide assistance to as many as 1,500 tenants over the next year. Renters earning less than 65% of the area median income, or those residing in zip codes with high densities of low-income people are eligible to apply for help.
"These are your neighbors," said Steven Flores, managing attorney at Rhode Island Legal Services. "These are hardworking Providence residents, who otherwise would have faced eviction, without any legal help at all."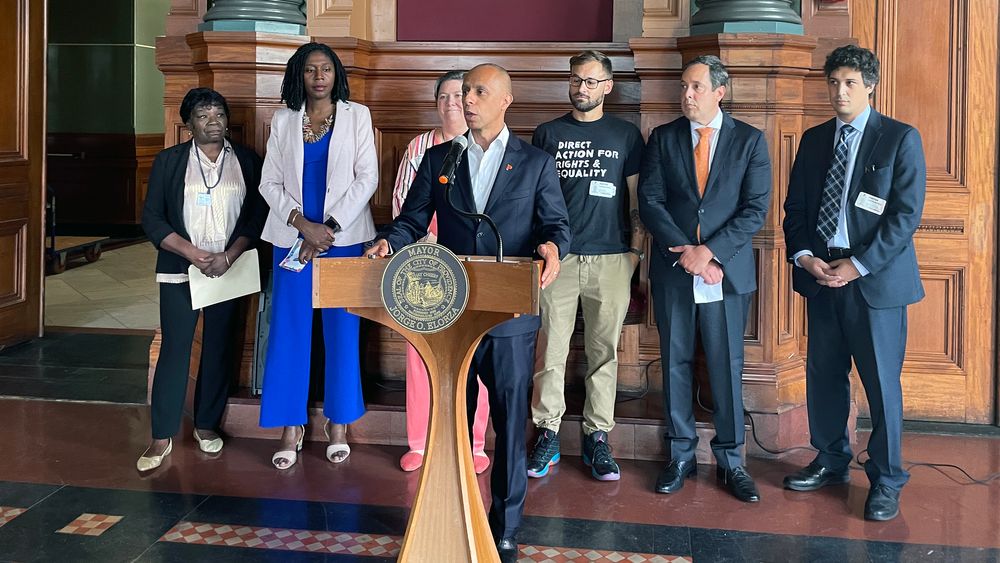 The Tenant and Homeowner Association at Direct Action for Rights and Equality, a local nonprofit, will connect with community members so tenants know about the services available, and HousingWorksRI will collect data to evaluate the program.
Renters can access help directly at the Tenant Help Desk in the 6th District Court. They can also apply for help by calling Rhode Island Legal Services or visiting the program website. The new effort echoes the 2020 Collaborative Housing Investment, a $1 million investment in eviction defense services and rent relief that helped 775 families facing eviction during the COVID-19 pandemic.
"The eviction defense program that we are announcing today will provide more breathing room for the tenants," said Councilwoman Mary Kay Harris, who advocated for the program.
When tenants have access to legal counsel, the chance a case leads to eviction decreases significantly, according to a 2020 study. That means they don't carry an eviction on their record — something that can make it much more difficult to access housing in the future — and, most importantly, they remain housed.
The consequences of eviction extend far beyond losing housing in the short term. Studies have shown eviction can lead to consequences for mental and physical health, have a negative impact on credit scores, and make it much more difficult to access housing going forward. And those consequences are not borne equally. According to a 2020 analysis of national eviction data, Black renters face the highest eviction rates. The same study found that Black and Latinx women were more likely than men to be evicted.
Other cities, like New York and San Francisco, have recently adopted right-to-counsel policies that establish the right to free legal counsel for renters facing eviction. That's a step beyond what this eviction defense program provides. Still, Mayor Elorza said he hopes the program can serve as a model for other communities in Rhode Island — and state legislators.
"When they do face eviction, we need to provide the support for these families so that they don't hit that kind of rock bottom that makes it almost impossible for them to dig themselves out of," Elorza said.