PERA director Jose Batista, who was recently elected to the Rhode Island House of Representatives, is releasing video footage of an alleged assault by Providence police Sergeant Joseph Hanley -- footage that the city council subpoenaed on PERA's behalf, and that the police department and PERA board have so far refused to release.
Speaking in Providence Tuesday afternoon, Batista said city officials, police department leadership, and the oversight board itself must do more to allow civilian oversight of the Providence police.
A video recorded by a bystander and by one officer's body camera shows officers dragging Gore from the passenger side of a parked car. While Gore is face down and handcuffed, Hanley can be seen repeatedly kicking Gore, punching him, and kneeling on his neck.
Gore, who is Black, repeatedly asked officers, "What did I do?" and, "What crime did I commit?" He was told to shut up, threatened with having his fingers broken, told, "You act like an animal, I'm gonna handle it," and told, "You were acting like an a**hole from a block away."
The following videos contain graphic violence and explicit language.


"I've released these videos not as a way to end the conversation, but as a way to begin it," Batista commented. "Because only when we engage in the difficult conversations will we be able to actually solve these problems -- problems that have been brought to light across the country and in our own backyard."
Batista's move to release the footage directly defies a previous vote by PERA's board, which hired him. The police department, city law department, and Rhode Island Attorney General's office have repeatedly said that the footage should not be published in order to protect the integrity of the criminal case, and the Attorney General has asked the Ethics Advisory Panel of the Supreme Court for guidance on releasing similar footage before trial.
But Batista said he believes, seven months after the incident and on the heels of national calls to rethink the role of police, that the public has a right to see what happened.
He cited the recent moped crash of Jhamal Gonsalves while he was being tailed by police as another example of a case where civilian oversight is needed.
"The police department deserves to do an investigation into the facts so we can know what happened. But PERA must be at that table," Batista said. "Look at what happened in the Hanley case. The reason why I'm releasing these videos to the public is to show the discrepancy between the perspective of a law enforcement department and a civilian agency."
Batista took aim at what he describes as a pattern of obstruction by the police department and inaction by PERA's board. And he called on the city council to grant PERA greater authority.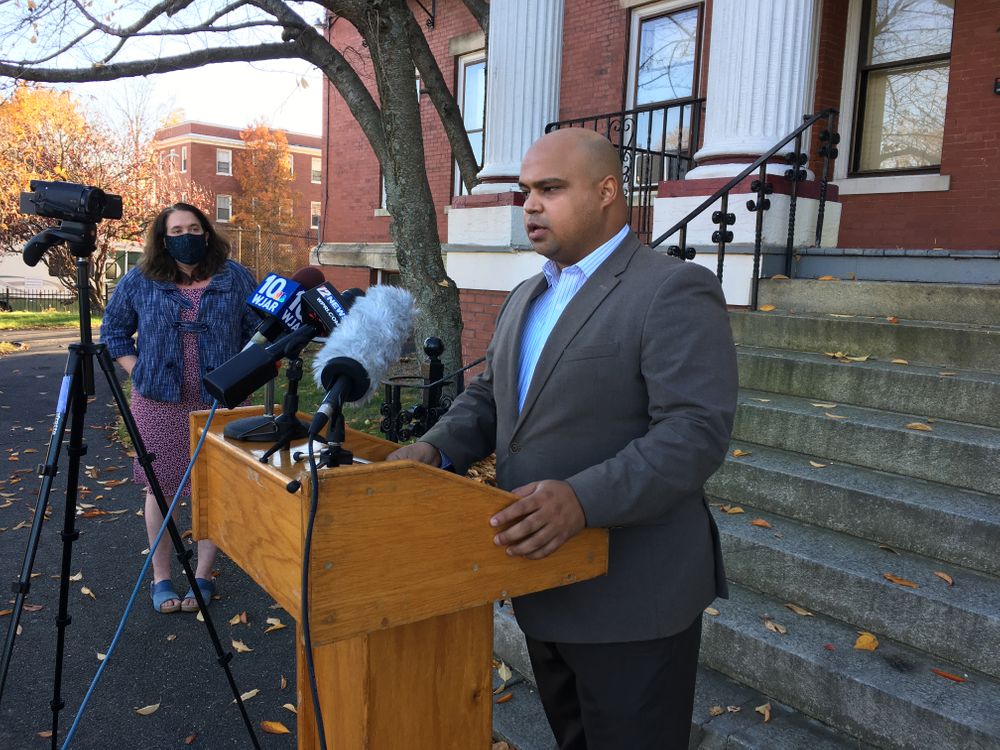 The case Batista is making goes back to the April incident in which Sgt. Hanley is charged with simple assault.
In May, a press release from the police department stated that "Hanley allegedly struck [Rishod] Gore several times, after he was handcuffed," and announced that Hanley would be charged with assault. Soon after, PERA announced that it would exercise its authority to monitor the department's investigation of the Hanley case. PERA spent much of the summer fighting for full oversight access, eventually prompting the city council to subpoena footage of the incident on PERA's behalf.
When PERA eventually published the findings of its investigation this fall, it's report raised numerous new concerns, including failure by other officers on scene to intervene, lack of accountability for officers who did not activate their body cameras, absence of probable cause in Gore's arrest, and more extensive assault by Hanley.
The PERA board, which is appointed by the city council and mayor, voted not to release the videos of the Hanley incident to the public, despite multiple public records requests. In PERA's October meeting, the board re-iterated that it would refer all requests to the city's law department, which maintained that it could not release the video footage due to the ongoing criminal case.
Now, Batista, who answers to the board, has released the videos in defiance of that decision. Batista said he's acting in line with what he sees as PERA's mission of providing oversight and accountability on behalf of the public.
"From the first moment I saw this video I was immediately troubled and I thought it should go to the public," Batista said.'
But Batista said he realized that the decision to go rogue could result in his own firing.
The move is further evidence of a rift between Batista and members of the Providence External Review Authority's board that has been deepening for months. The board spent much of its September meeting berating Batista for failures of communication, and he has openly clashed with board members over funding for investigations.
"Not only did the board vote no, but my advocacy for the release of video set a chain reaction of events to take place. Rather than looking into this case, the board decided to investigate me. Rather than review the police, the board tried to defund our investigator," Batista said.
In the past two PERA meetings, Batista asked the PERA board to authorize him to ask the city's Board of Contract and Supply to release additional funds to pay the PERA's investigator. The PERA board has not voted to do this, which has put a pause on the work that investigator Eugene Monteiro was doing on civilian complaints.
"What the board is doing is undermining their own purpose," Batista said. "Whether that's on purpose or not is a separate question that I can't answer. But the result, I would argue, very much so is that. How can we do the work, and ask about the status of investigations, when we're not willing to fund the investigator?"
Board chair Nicholas Figueroa said members of the board have requested a meeting early next week to discuss Batista's release of the video, along with "next steps for PERA and its operational leadership." He also acknowledged some recent votes by the board have "restricted or slowed down some of the work of the executive director."