One Square Mile Burrillville: Zambarano's Roots Run Deep
As part of our series One Square Mile: Burrillville, we're taking you on an insider's tour of a venerable Burrillville institution, Zambarano Hospital....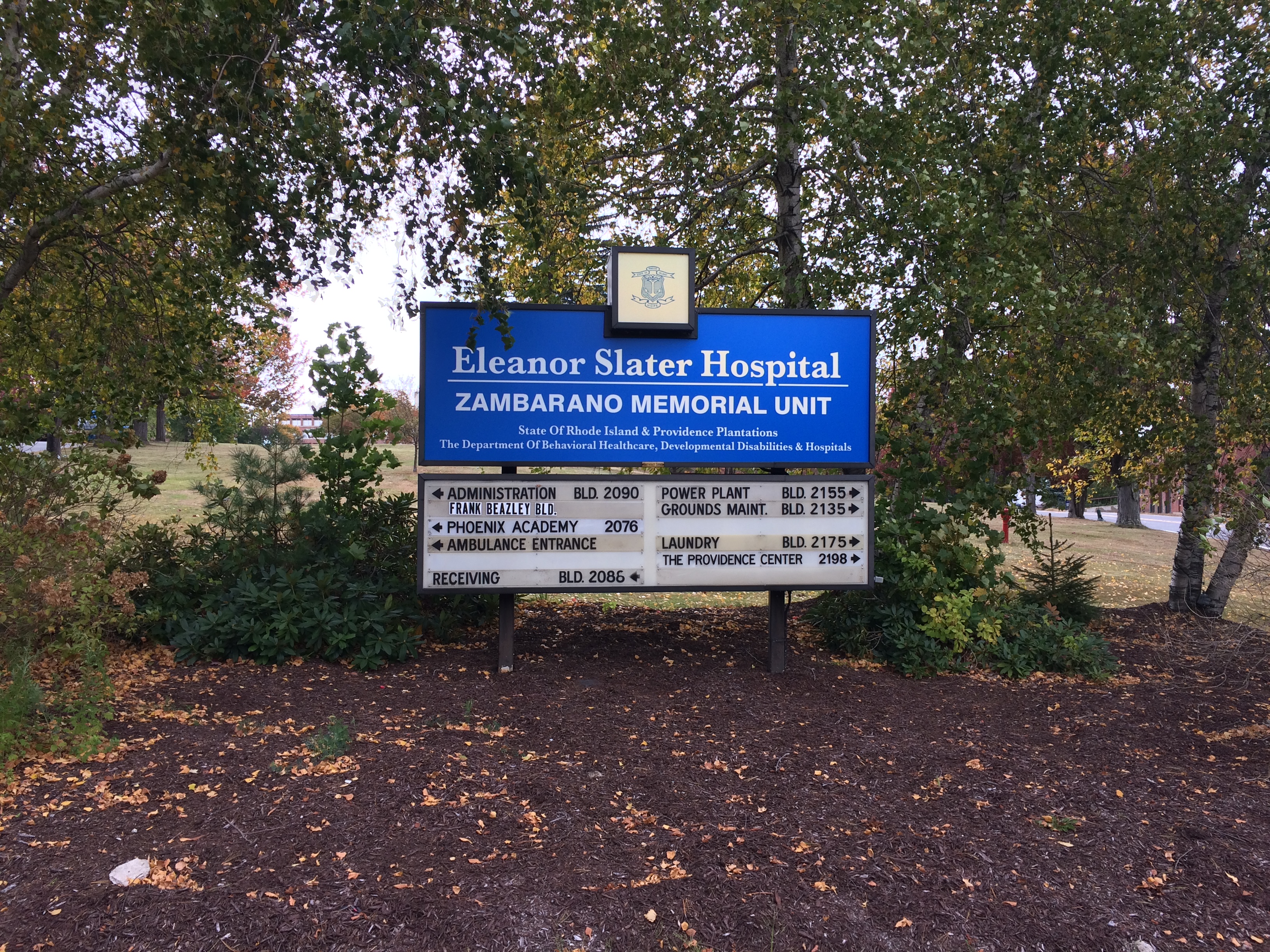 As part of our series One Square Mile: Burrillville, we're taking you on an insider's tour of a venerable Burrillville institution, Zambarano Hospital. In 1906, the Wallum Lake campus opened as a tuberculosis sanatorium. Today, the patients, and the times, have changed, but a sense of community remains.
Inside Zambarano Hospital in Burrillville, Rhode Island
Zambarano Hospital cares for some of the state's most complicated patients. People with head and spinal cord injuries. Cerebral palsy. Debilitating stroke. Patients who need special equipment and intensive rehabilitation. Some stay for months, some for years. And so do staff.
"So the patients, the staff, the families that do come, everybody bonds together," says Jennifer McCarthy, associate administrator of rehab services. She's worked here nearly two decades. "I'm not saying it's easy. But there's a culture here that doesn't really exist anywhere else."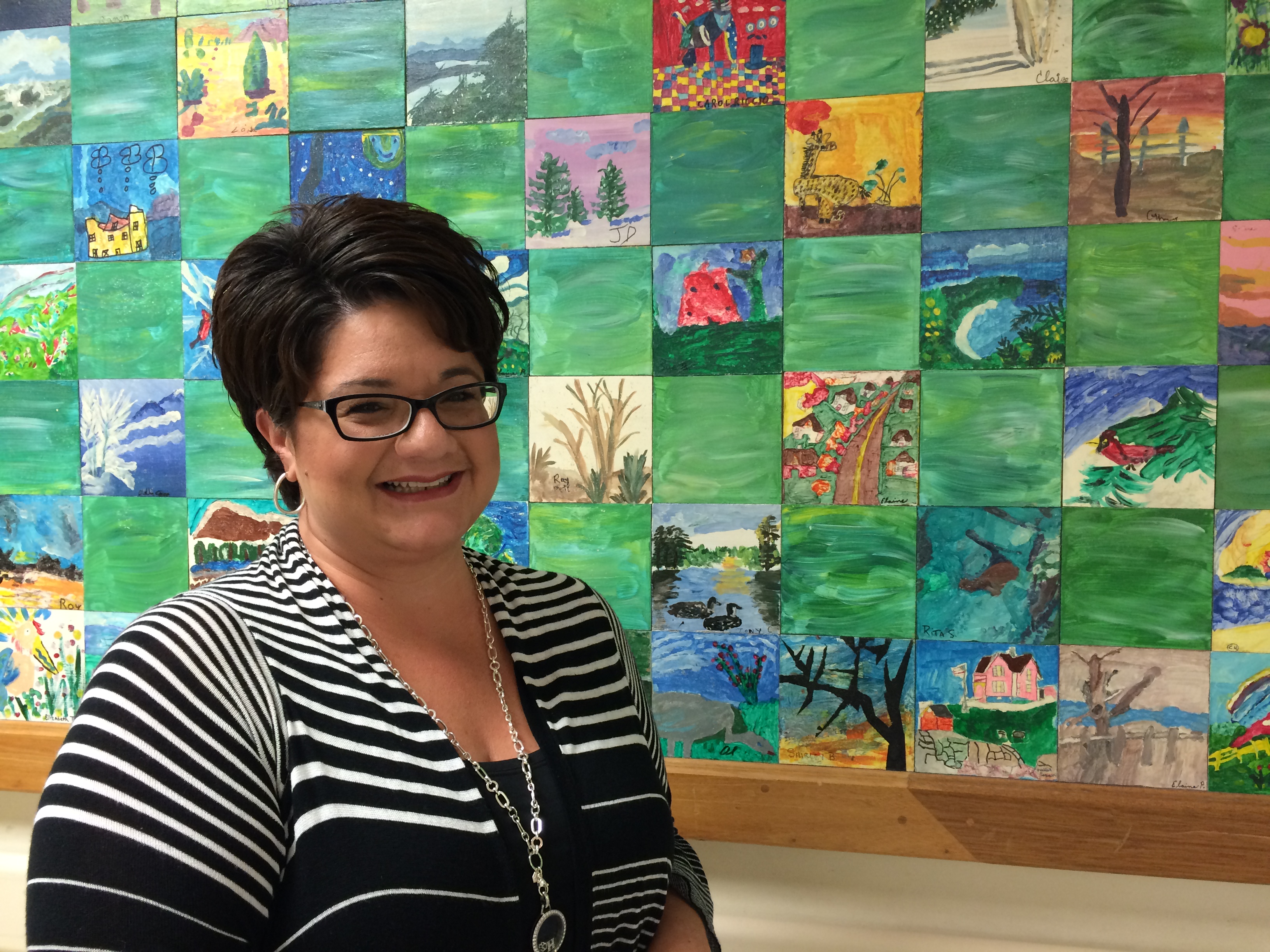 Community roots run deep. Generations of Burrillville residents have worked at Zambarano, the region's biggest employer. Today's employees bring their kids to hospital events, like the annual two-day Wallum Lake music festival or the community picnic. McCarthy hopes her children will continue the tradition. "If you talk to people from town, a lot of the older generation of people will say, 'oh I worked in the post office there,' or 'I worked at the gift shop."
During the first half of the 20th century, Zambarano was the Rhode Island State Sanatorium for tuberculosis patients, a woodsy sanctuary with its own power plant and water system. Staff apartments, swimming pools.
"The campus was its own little self-functioning town, really. It had its own zip code at one time, right?" McCarthy asks.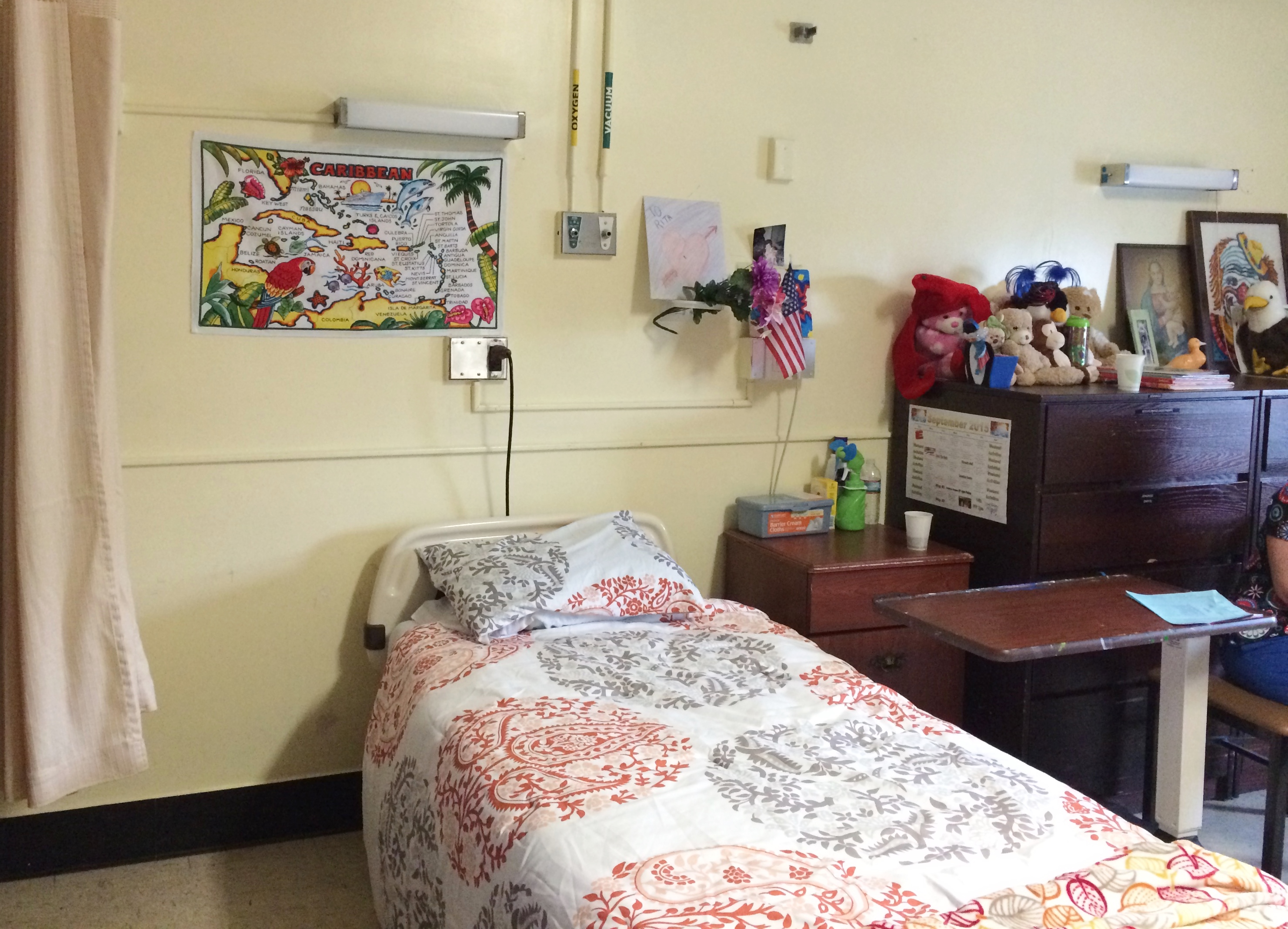 "It had a farm and it had a movie theater," says 30-year veteran, therapeutic recreation director Steve Westerman, who remembers some of those times. "It had a bowling alley. All these empty buildings were used and occupied then."
Patients ran their own radio station, put on shows, typed up a newsletter. Today, most of the 30 vintage brick buildings on hundreds of acres sit empty and decrepit. But one is home to about 114 patients. Administrator Jennifer McCarthy leads a tour, with help from senior nurse Gail Servoss. First up, a patient unit.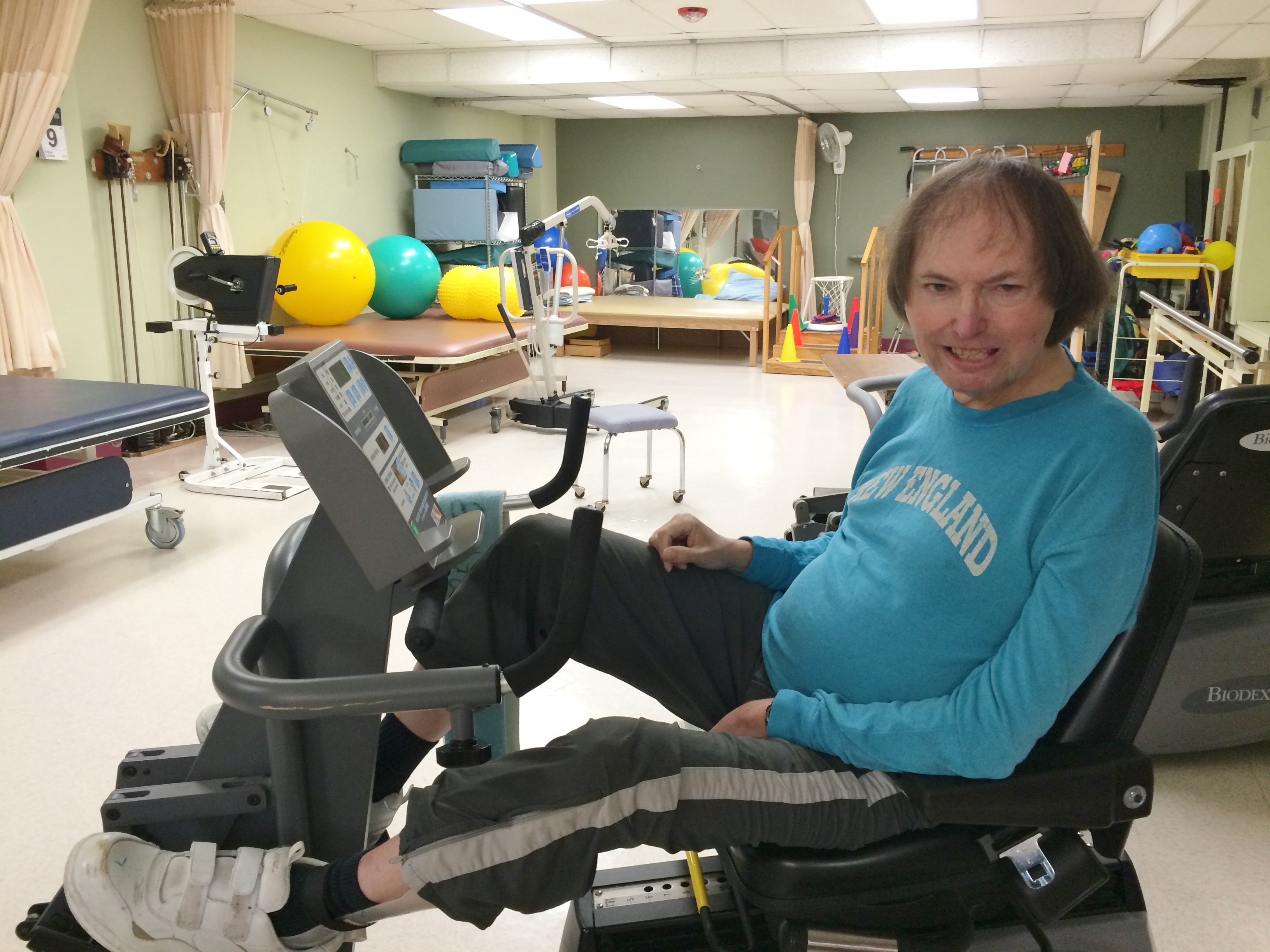 "Patients are all out of their beds, most of the morning care has been done," Servoss says, as we walk the unit hall.
In one room, a nurse brushes a patient's hair. The TV chatters in another. Servoss loves her job, though nursing here can be tough. Patients need help with nearly every activity. Some are confused, even combative.
"We get the patients, I don't know how to put it, that nobody else wants," Servoss says. Or rather, the patients most other hospitals and nursing homes aren't set up to care for.
Zambarano is one campus in the state hospital system called Eleanor Slater. Servoss worries that recent allegations of patient maltreatment, under-staffing, and financial mismanagement on other campuses have tarnished the hospital's reputation. But Servoss says she's proud of the patient care her nurses and CNAs deliver. As a nurse here, she says, "You're always in the background thinking, that could be my mother, my brother, my sister. Definitely a different group of people."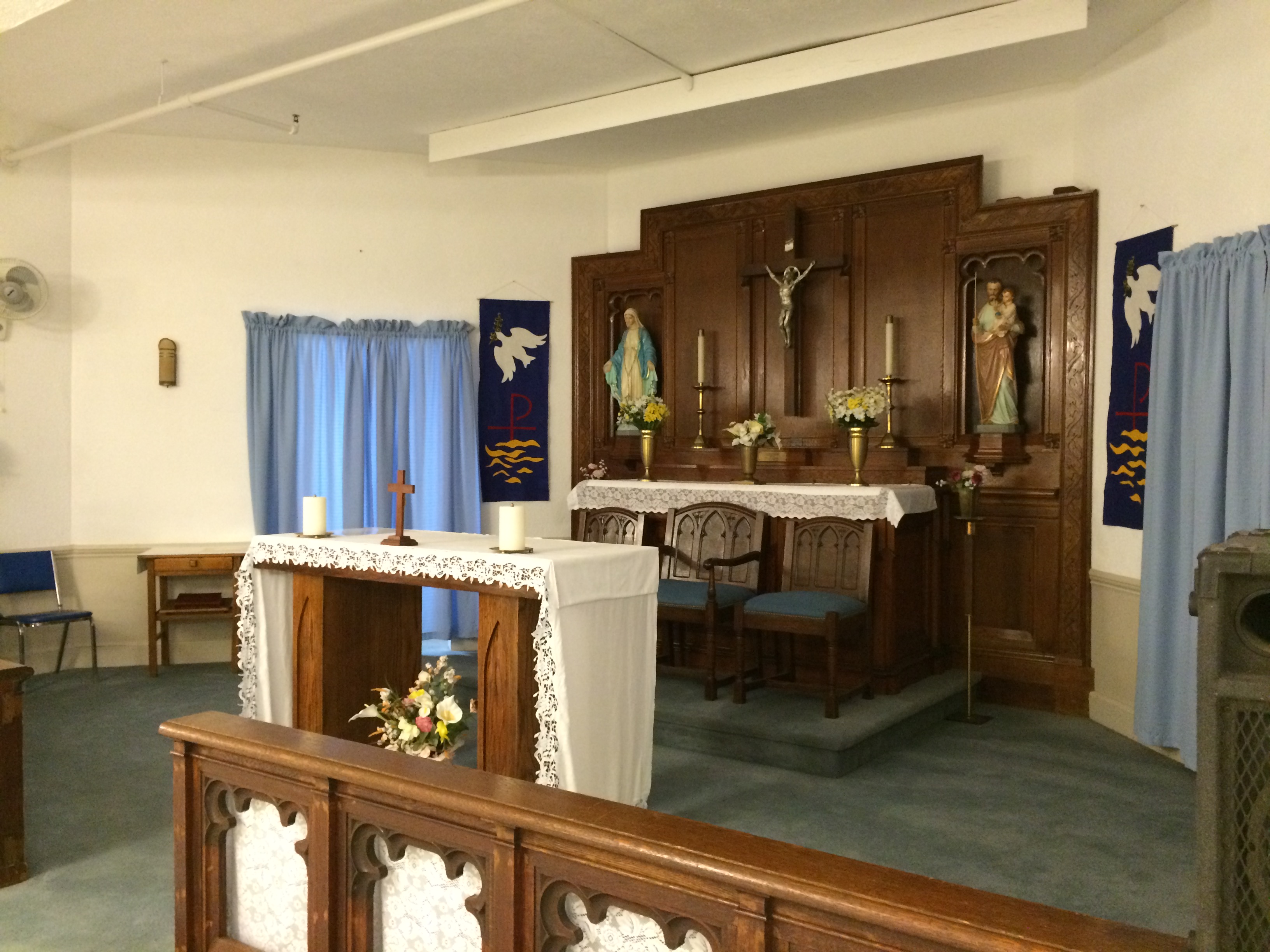 Heading to the rehab and recreation rooms in the basement, the long, wide corridors feel more like a high school than a hospital. There's a giant auditorium up on the left, where a card tournament is underway. Eight players at two tables play a card game called pitch. Aides hold cards for players who can't. They help tally scores, call hands.
Down the hall, there's pet therapy. A few patients have been wheeled up to a table to meet a curious cocker spaniel. Most of the patients can't speak, or raise their arms without help. A therapist slips one patient's hand into a brushing mitt, and the spaniel warms up to a little grooming.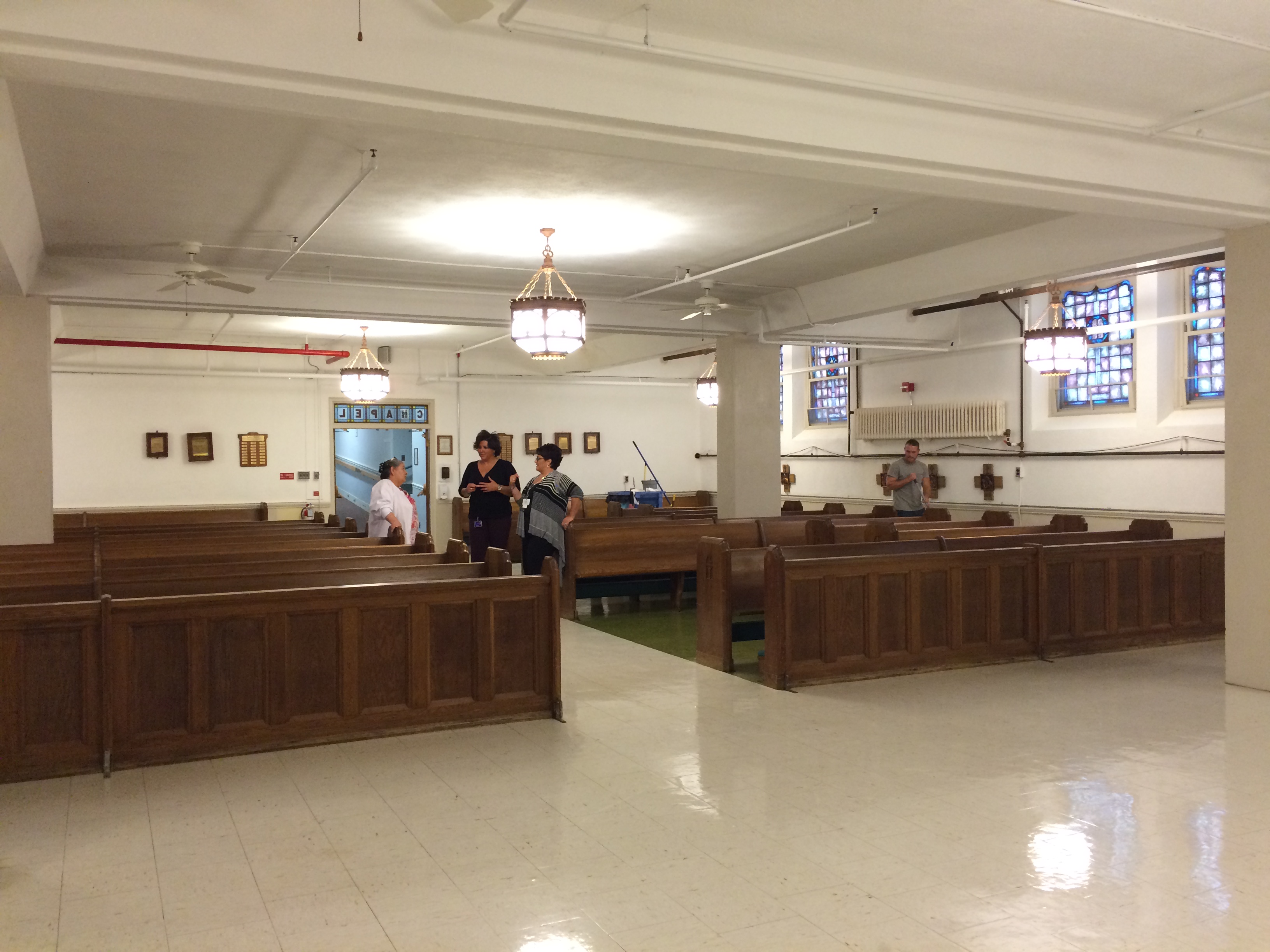 Next door, patient Chris Burr pedals a stationary bicycle in the rehab gym. A thick strap holds his legs in place.
"You're getting some exercise?" I ask him. " Yeah," says Burr, "I had a stroke and I can't walk. I only have my right side working. Left side is gone to hell."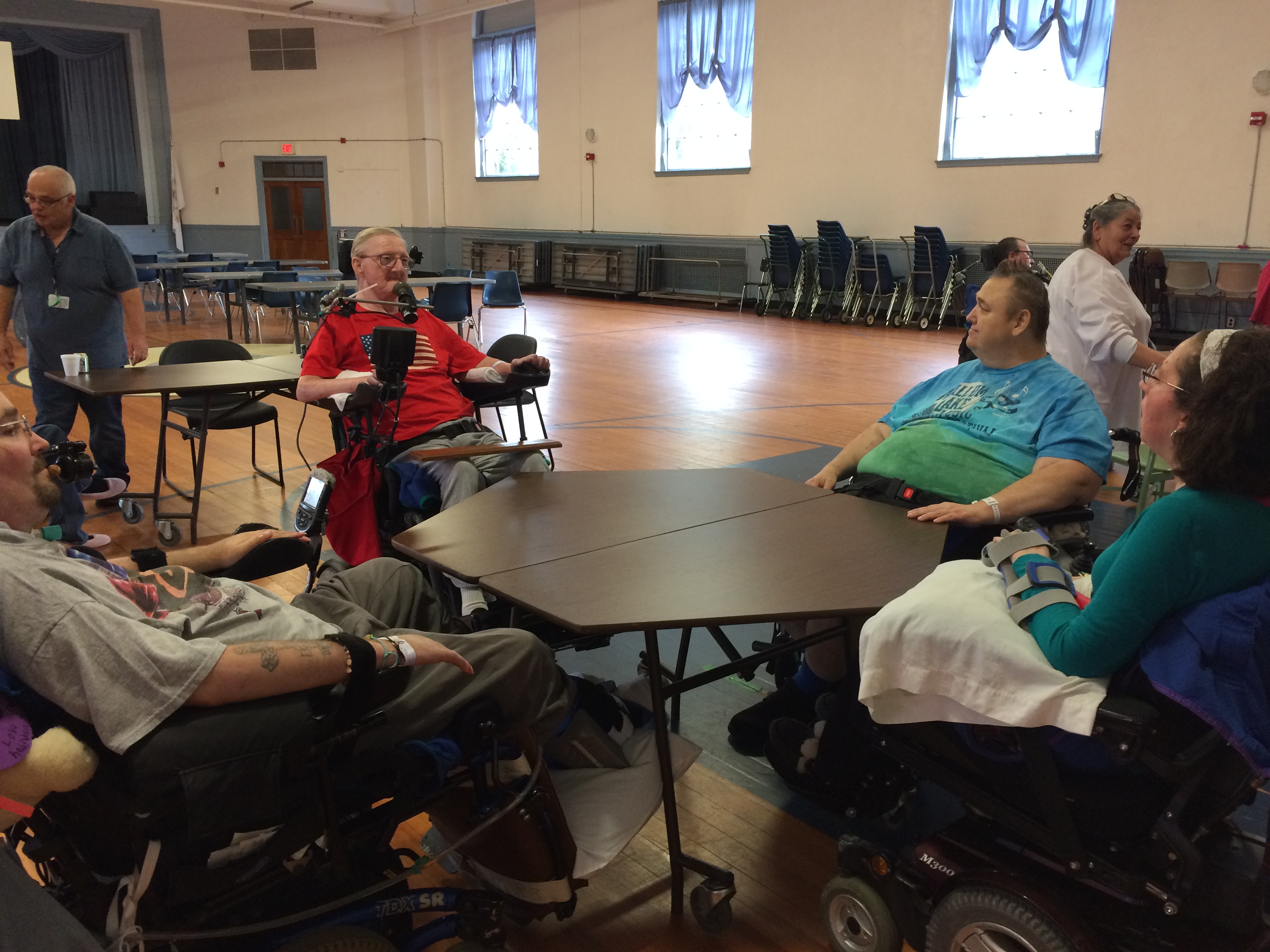 As a nurse helps him off the bike, Burr says he hates being in a wheelchair. But he's still not strong enough to walk on his own.
Zambarano has many other facilities, including a full-size chapel. Rows and rows of wooden pews, organ pipes, flickering candles. Employees have their children baptized here. Families hold funerals. Patients get married.
"It's pretty awesome, they meet here," says McCarthy, recalling a few recent ceremonies: "Joanne, Bill, no, Bob, he passed away, and Marie, and Albert and Katrinka."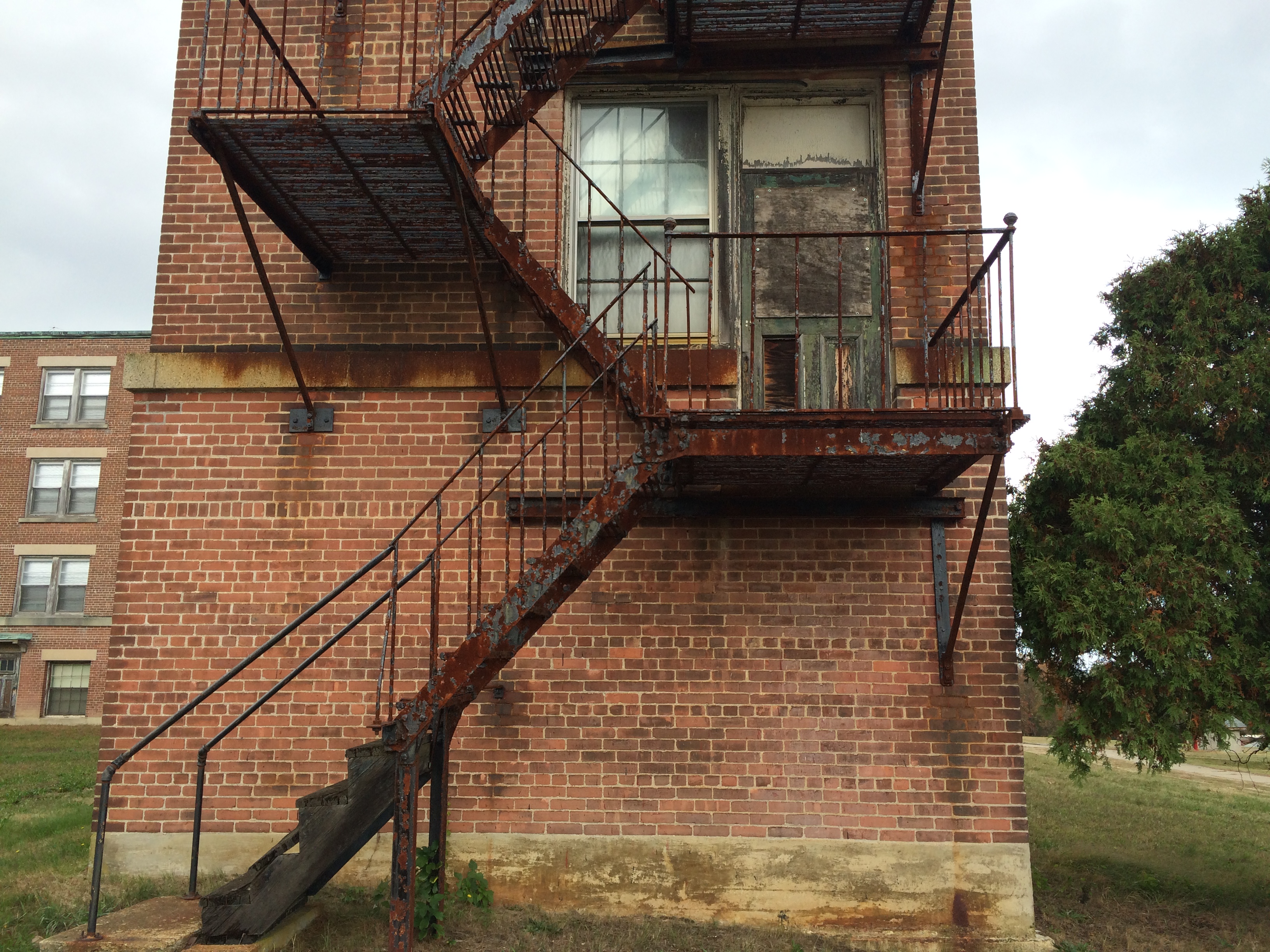 McCarthy helps plan the weddings, with a reception in the auditorium. She's had to orchestrate one divorce, too. But from her perspective, that's par for the course. Zambarano is just like any other community with ups and downs, except here, a nurse is standing by.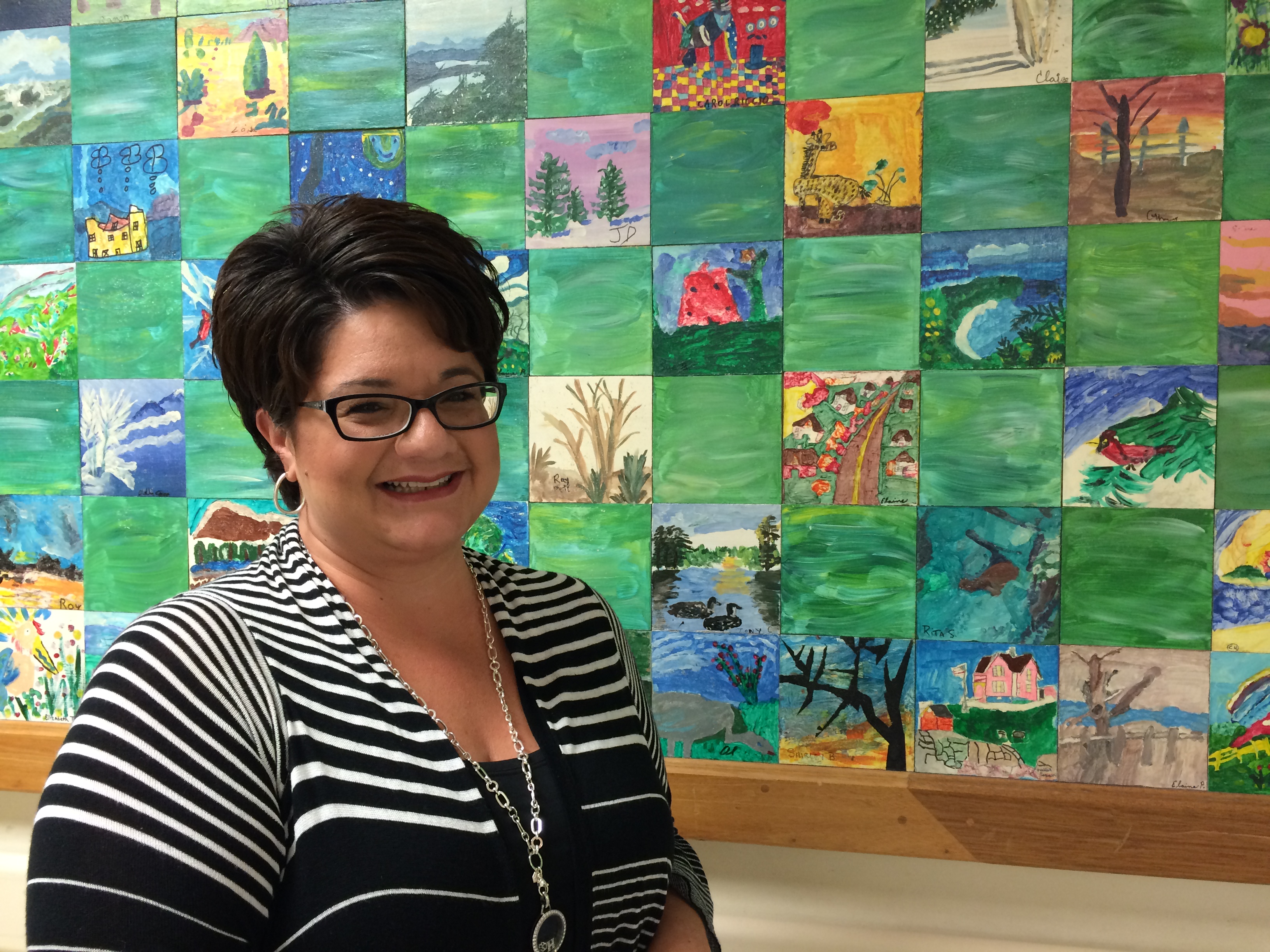 ,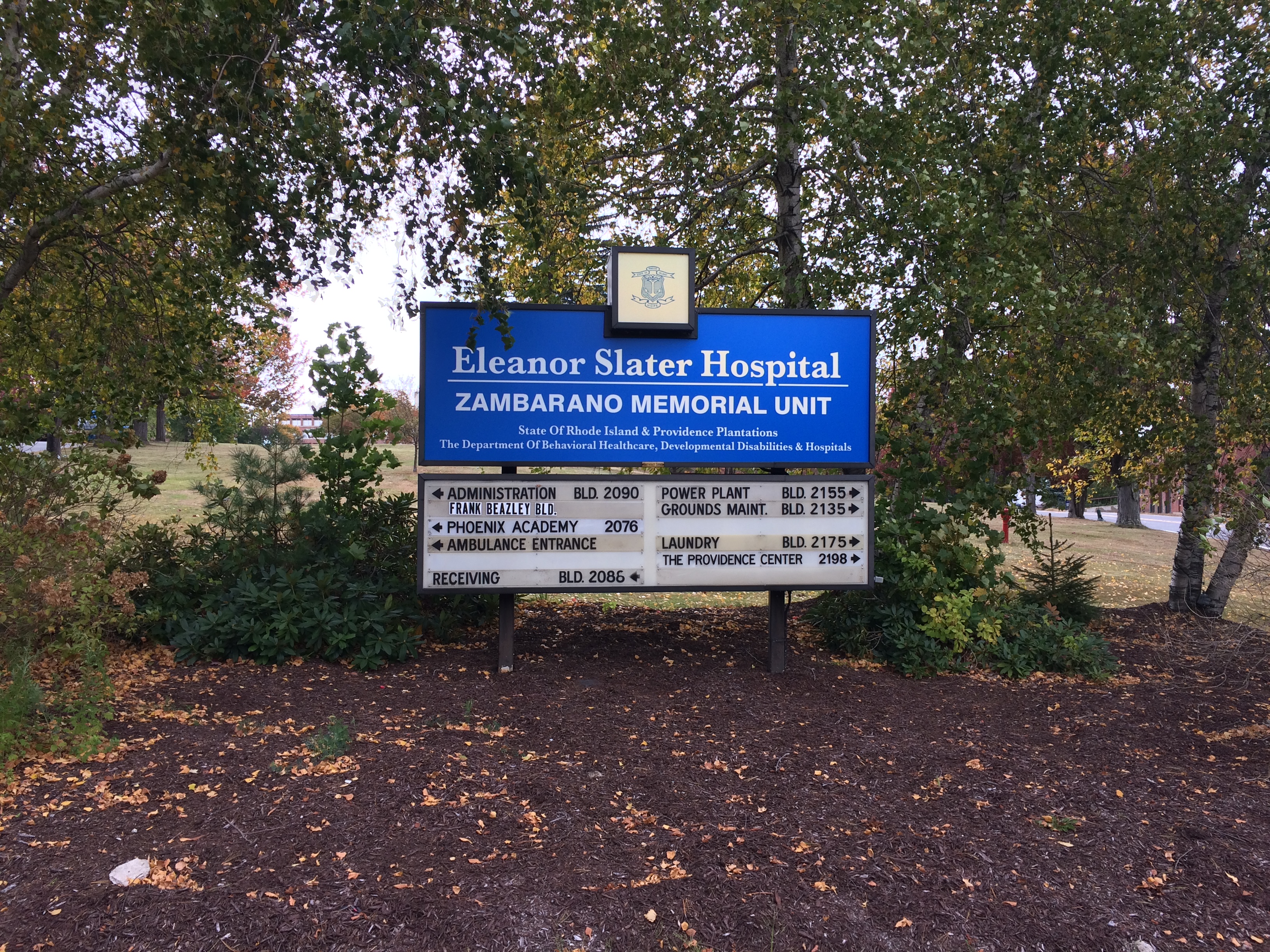 ,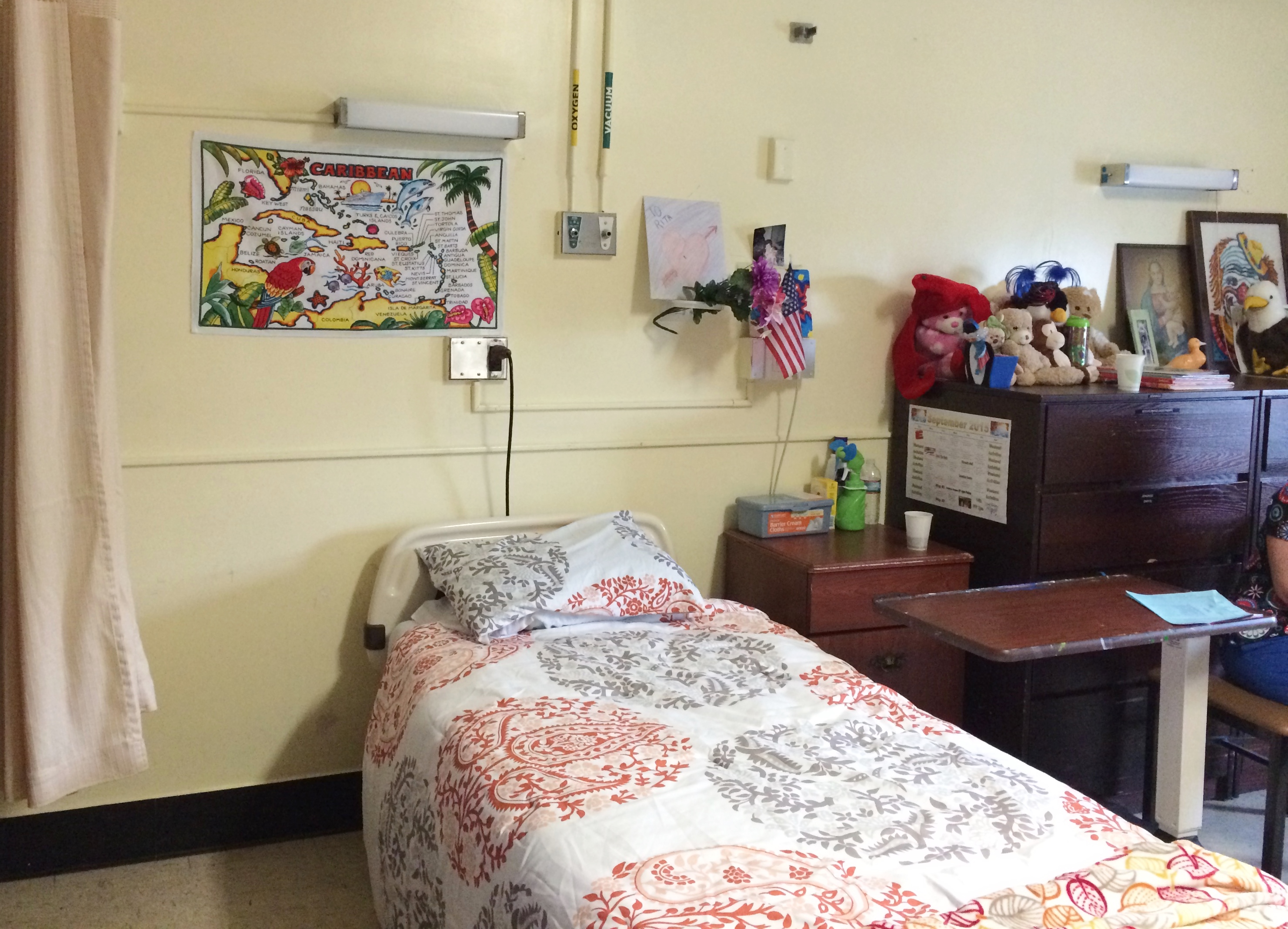 ,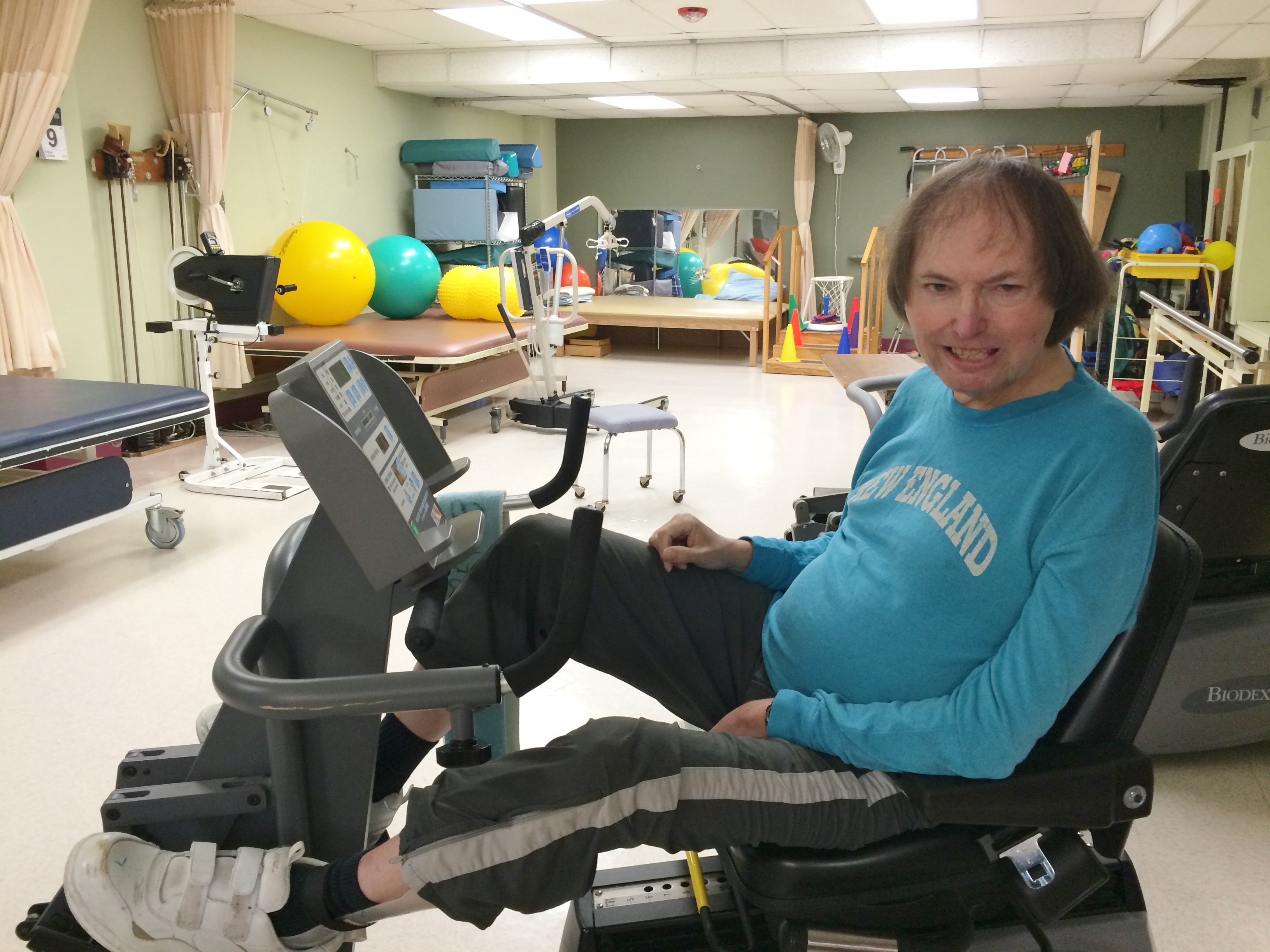 ,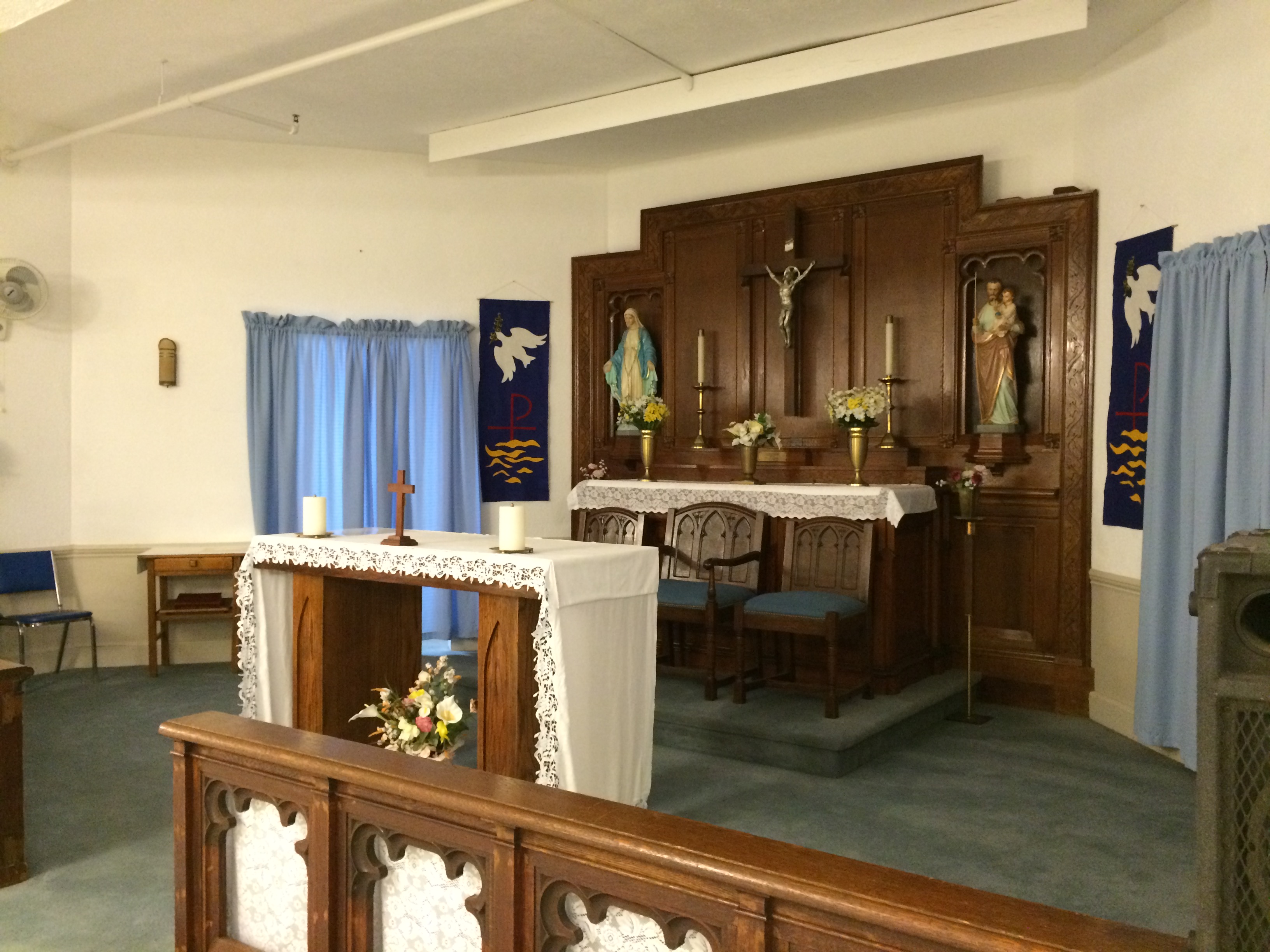 ,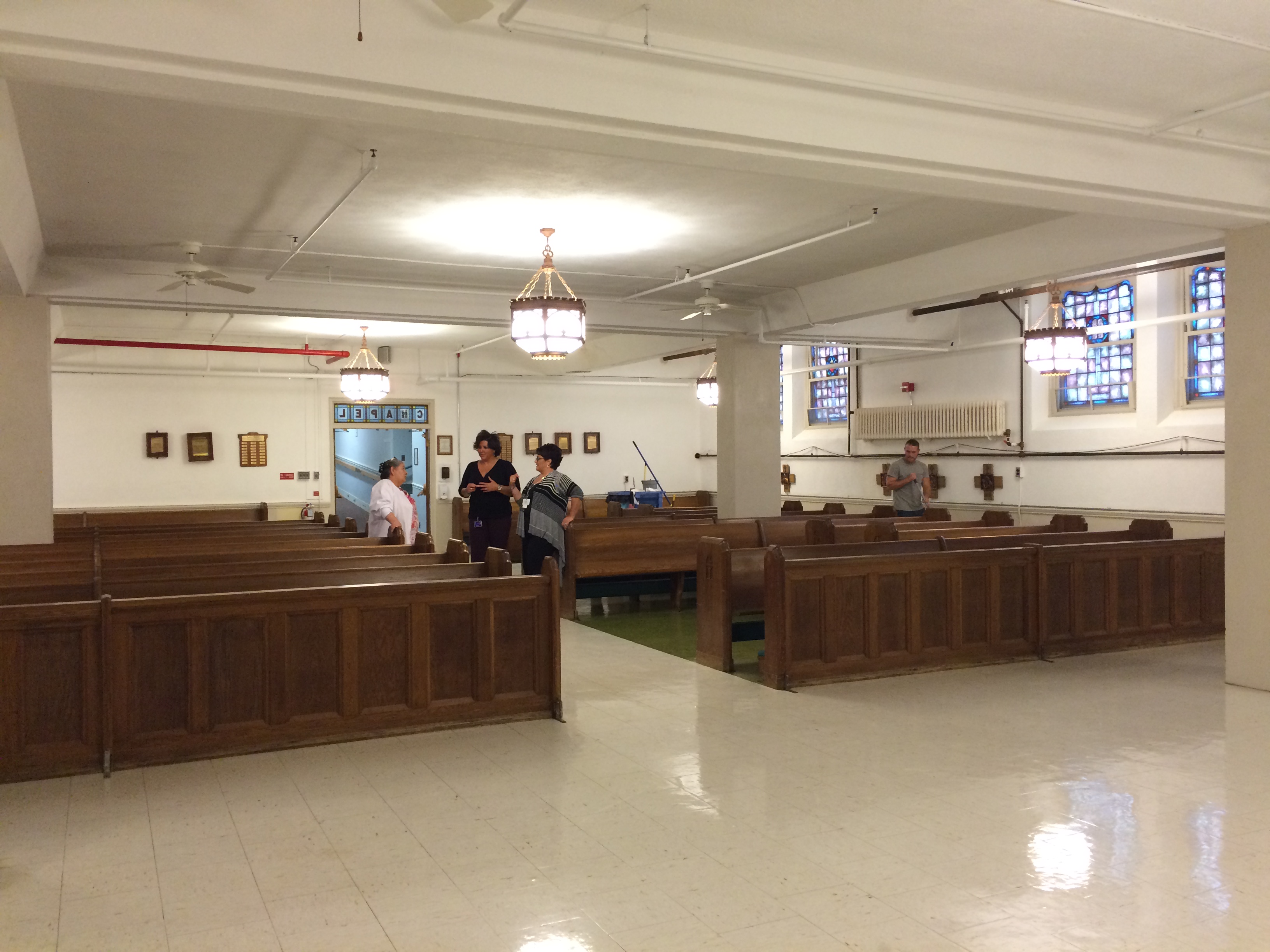 ,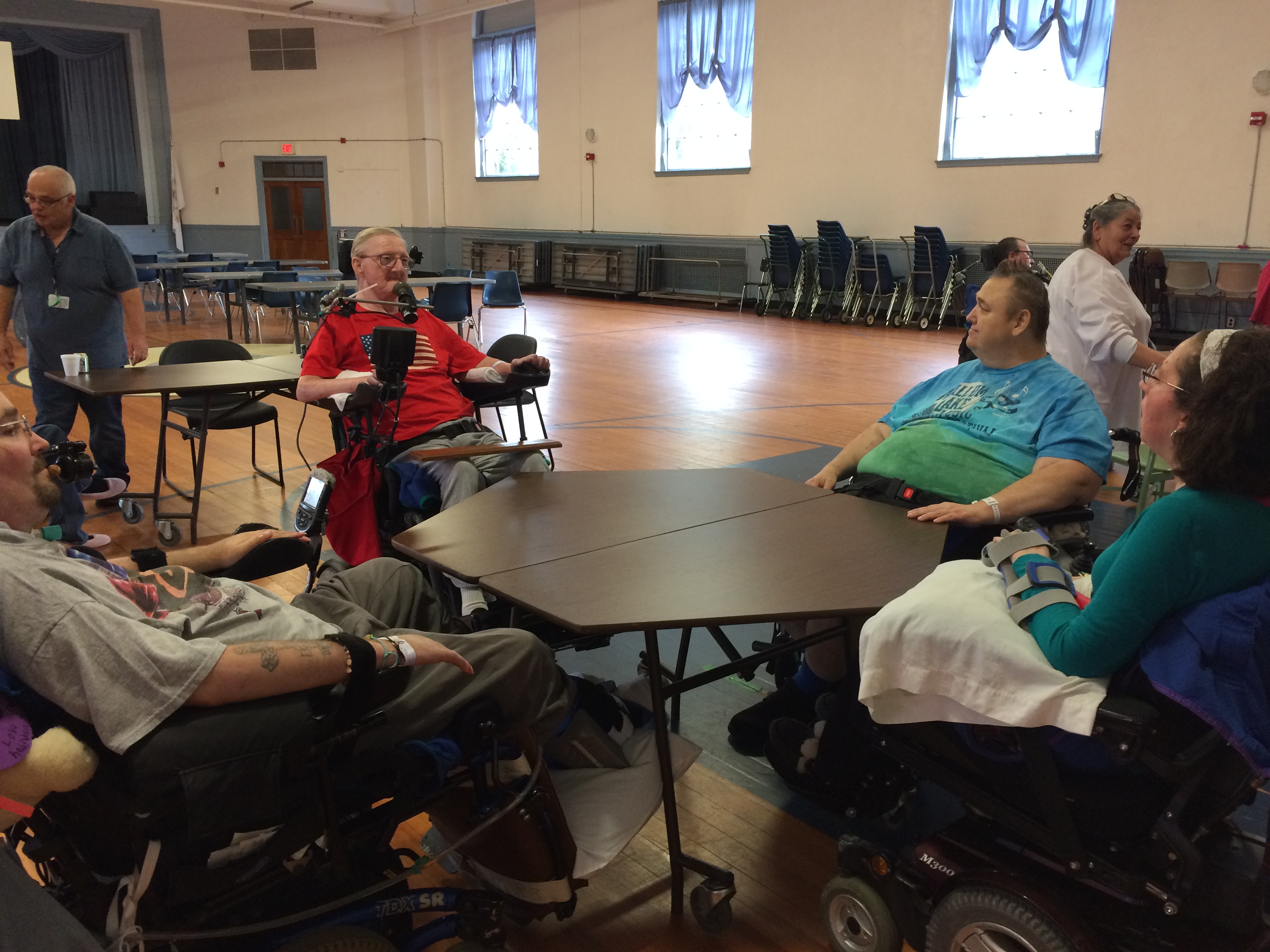 ,