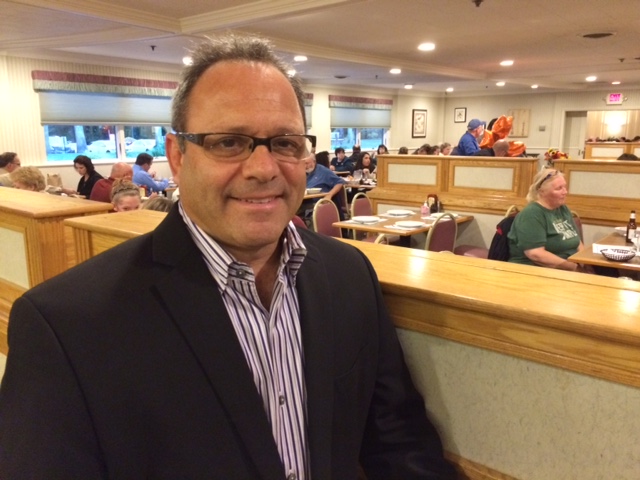 If there's an epicenter of eating chicken in Rhode Island, it's got to be Wright's Farm in Burrillville. Frank Galleshaw the 3rd oversees this sprawling enterprise that began humbly more than 60 years ago.
"A gentleman named Gene Wright, back in the '50s, decided to build a restaurant," Galleshaw said. "He built a small restaurant. In fact, it was basically just picnic tables, outside. And he used to raise chickens, so he used to take the chickens and cook them on a barbecue, and that's literally how the restaurant started."
Galleshaw's father bought Wright's Farm in 1972, and he expanded it into one of the largest restaurants in the state, now with about 1,200 seats. The signature dish remains the same: an all-you-can eat meal of tender baked chicken, crispy French fries, pasta shells in red sauce, and a simple green salad with Italian dressing. As Galleshaw notes, this particular combination is kind of a thing in the Blackstone Valley.
"This is very exclusive to this area," he said. "It's a strange selection of food, there's no doubt about that. But they seem to really work out really well."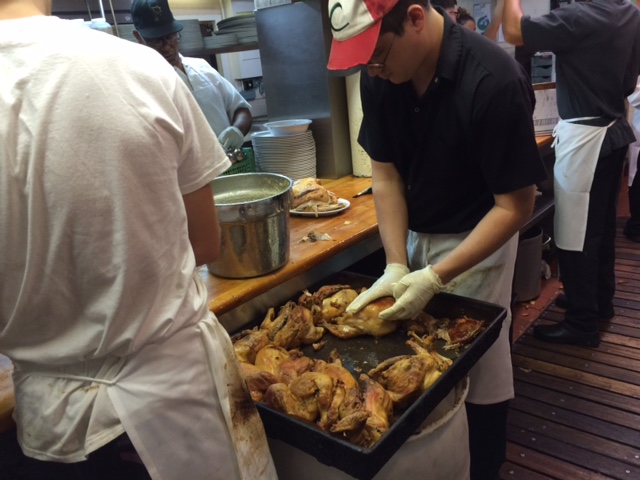 They work out well, in part because of inexpensive prices. Family-style chicken dinners are $12.75 for adults, $7.25 for kids. This kind of meal helped launch a number of different restaurants in the area, yet Wright's Farm is the only one where chicken dinners remain the main attraction.
On a recent Friday evening, hundreds of cars pack the front and back parking lots at Wright's Farm.
Inside, throngs of people wait to be seated in one of five dining rooms. Sandy LaFrance of Burrillville sips a glass of white wine at one of four separate bars.
"People come from all over just to have this kind of atmosphere," LaFrance said. "You never leave hungry. And you always see someone that you know here, when you come." 
As if to prove the point, LaFrance runs into a longtime acquaintance, waiter Peter D'Angelo, when she gets seated with a friend about a half-hour later. D'Angelo is one of 175 employees at Wright's Farm, most of them from Burrillville. Although you can order steak, D'Angelo says almost all his customers pick the chicken dinner.
"Oh, the chicken's fantastic," he said. "It's baked, it falls right off the bone. And it's family-style, so we'll just keep bringing it 'til you say you're full. You know, when you get done you just want to get home and hit the couch."
Diners can relax while eating their fill. Yet behind the scenes, it takes a coordinated kitchen operation to turn out all those chicken dinners.
Frank Galleshaw stands near kitchen workers huddled over pans of piping hot whole chickens. They pull the birds apart and put the pieces in pans before the food is brought out to hungry diners. Wright's Farm used to raise its own chickens, but it now gets them from a supplier in Georgia.
"I go through about 18,000 pounds of chicken a week," Galleshaw said.
You heard right, he said 18,000 pounds of chicken a week. And after running the family business for so long with a bunch of relatives, Galleshaw has become an expert at predicting chicken sales: "We can tell usually by the amount of people that walk in, we'll know by the end of the day how much chicken we went through. If you told me, I did a thousand people, I'd tell you within 50 chickens how many we sold."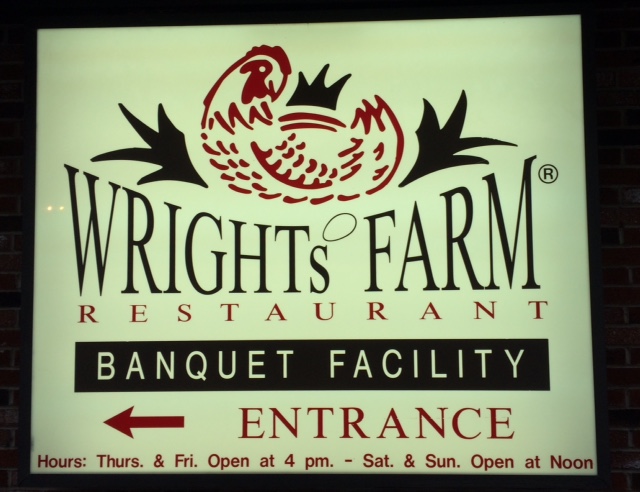 Back in 1991, the Providence Journal reported that Wright's Farm recorded more than $3.5 million in annual business. That's a lot of chicken. Yet there's more to Wright's Farm than poultry, including a gift shop that makes up about a fifth of sales for the restaurant with clothing, jewelry and the top sellers, candy and fudge.
Because of its large size, Wright's Farm is also a venue for proms, weddings and youth sports banquets. In a throwback to its early days as a smaller eatery, the restaurant is open just four days a week, from Thursday through Sunday.
"That's the way it originally was," Galleshaw said. "It's kind of the theory, don't fix it if it's not broken."
Judging from the crowds that come for dinner, that philosophy serves Wright's Farm well, and there's plenty of chicken to go around.