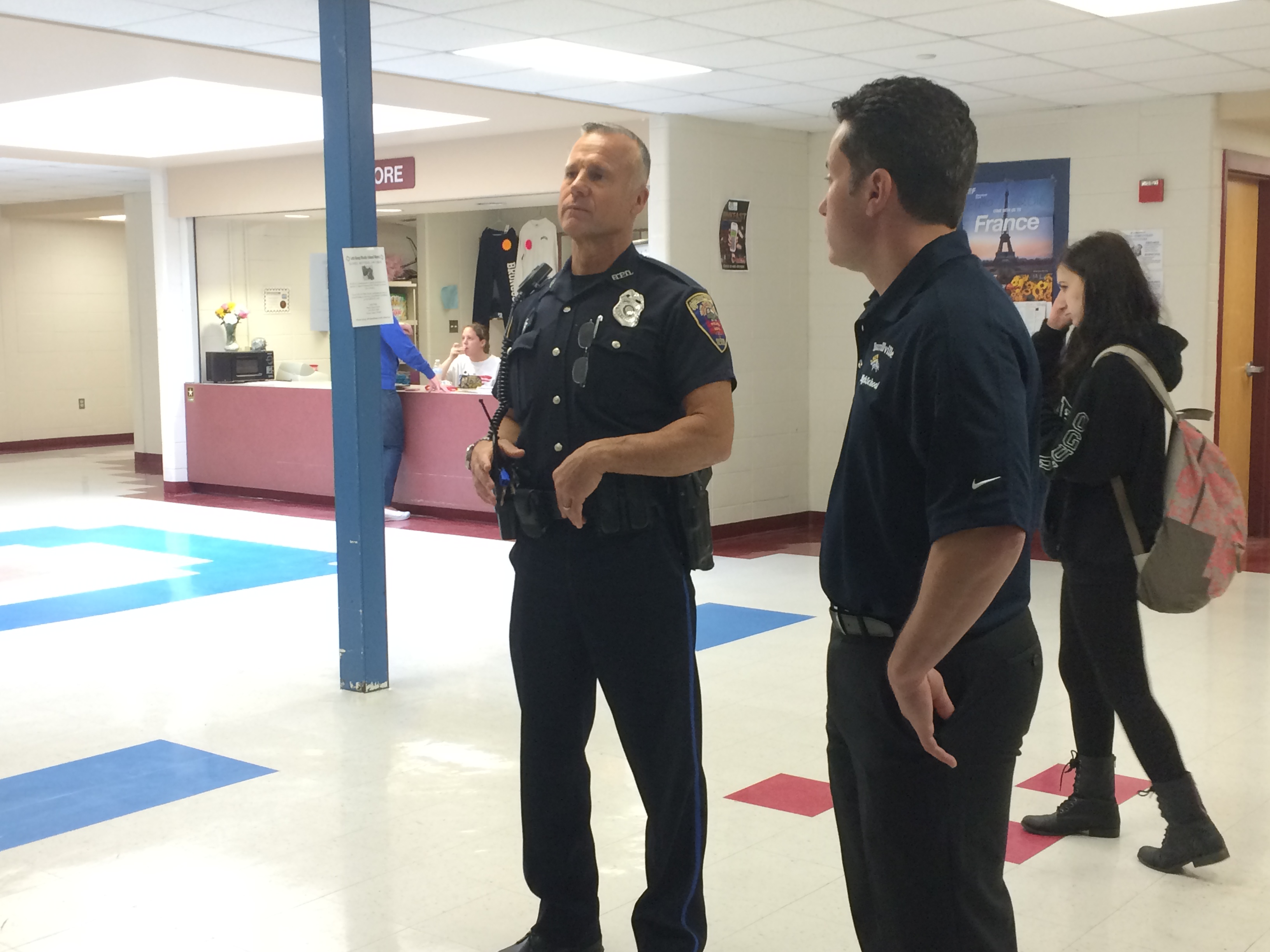 There's an epidemic of opioid addiction and overdose unfolding across Rhode Island right now, and Burrillville, a small town in the northwestern corner of the state has been particularly hard hit.
As we continue our series One Square Mile focusing on Burrillville, Rhode Island Public Radio's Elisabeth Harrison stops by the town's only high school where efforts are underway to stem drug use and addiction.
Burrillville High School sits at the top of a hill in Harrisville, one of the town's former mill villages.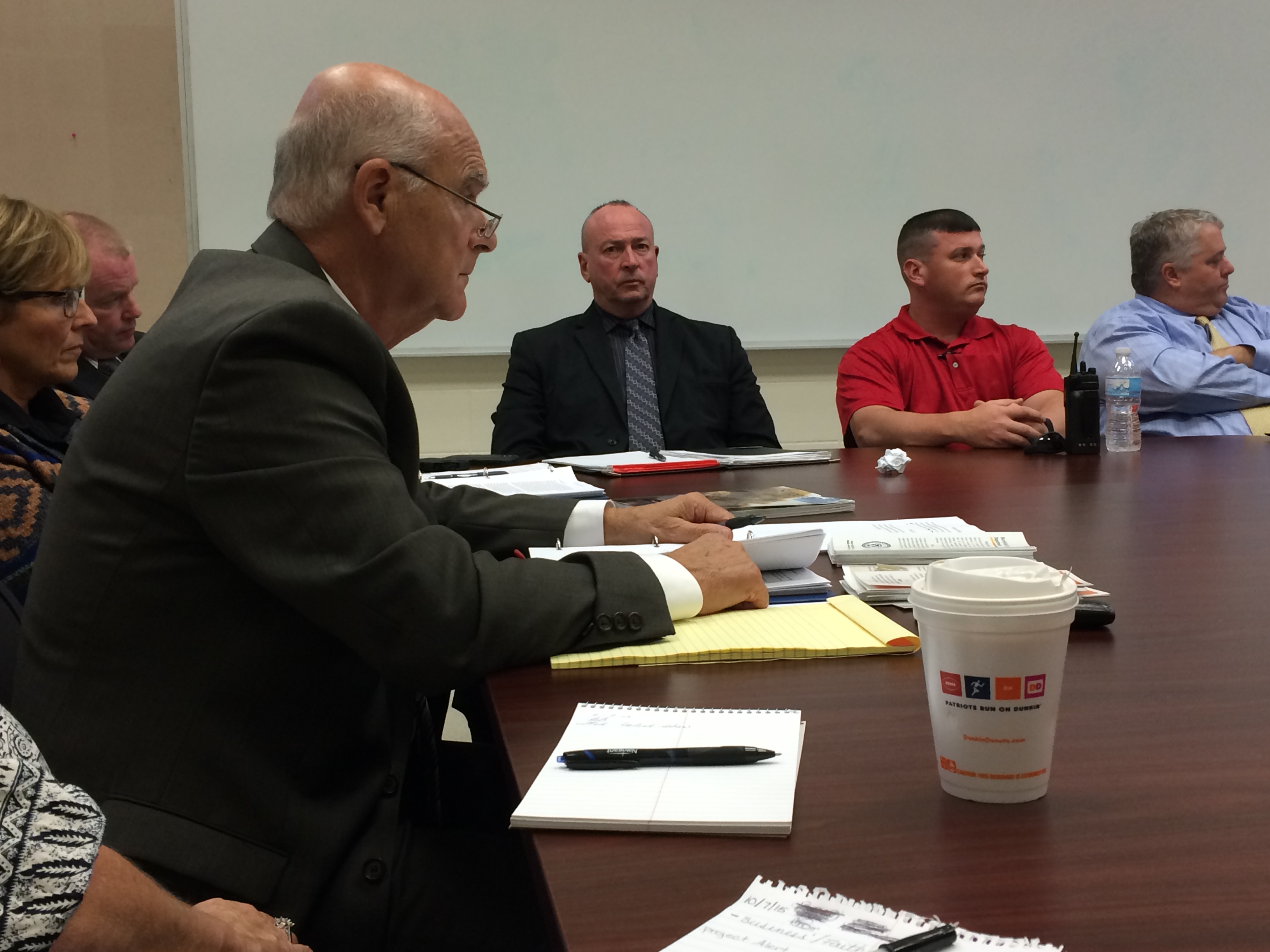 In between classes, the school's long white hallways fill with students, who chat about schoolwork, their friends, their plans for the weekend. One student stops to say hello to Police Officer David Beauchemin.
"Hey, Beauchemin!" 
Beauchemin has worked in the Burrillville schools on and off for about a decade. He patrols the hallways, helps out with afterschool programs and talks to kids of all ages about drugs in classrooms and assemblies.
"I actually like the job in the school because this type of job, it makes a difference with the kids," said Beachemin. "I feel like as police officers, we're always responding to negative situations, but this way here when I'm in this school they get to know you as a person rather than just a cop."
If Beauchemin hears from another police officer or a student that a kid is involved in drugs, he'll speak with them.
"I might pull them aside and say I'm hearing stuff about you, don't even think about bringing it to the school," said Beachemin.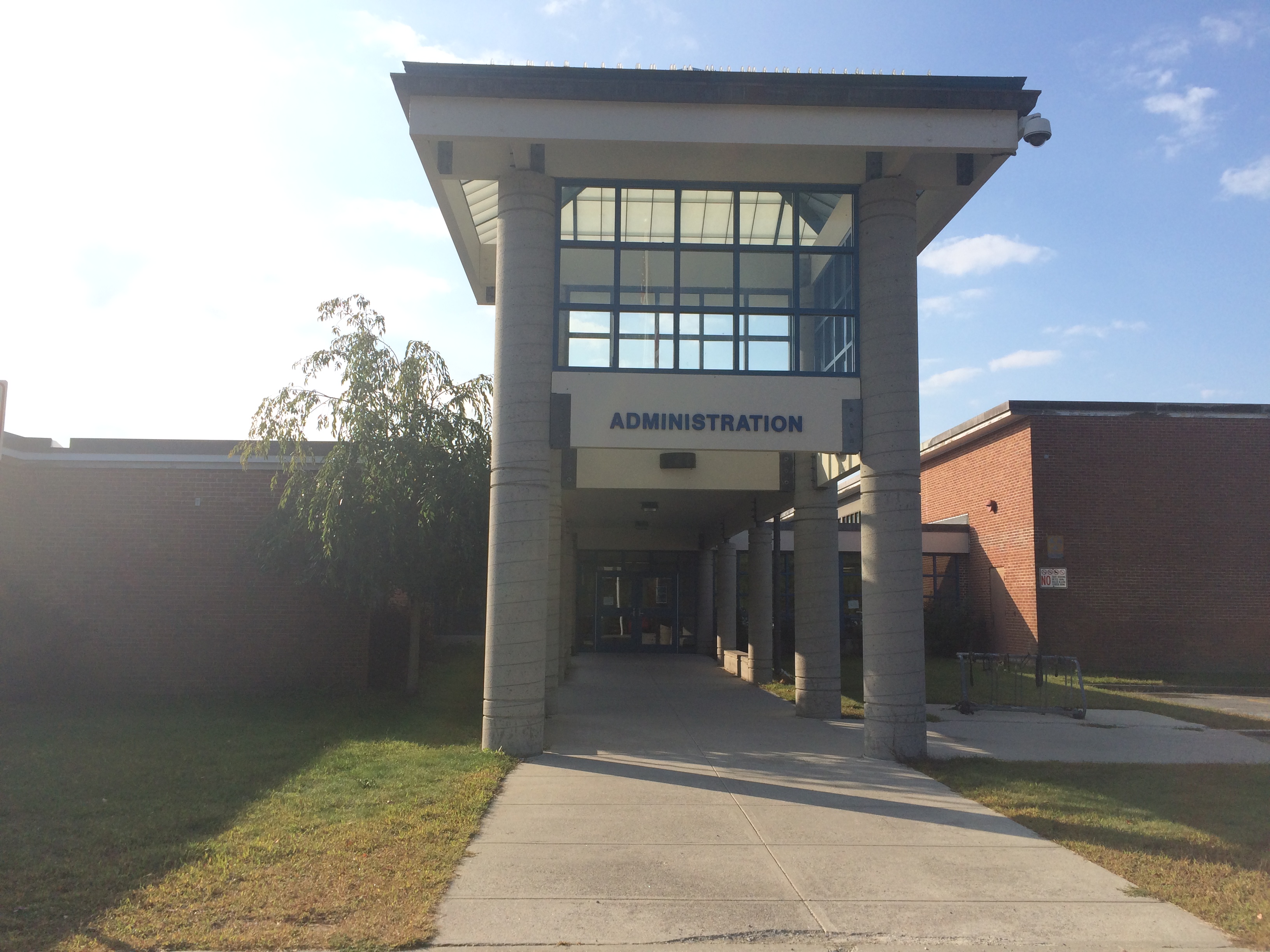 Bringing drugs to school would mean immediate arrest, if you're caught. Beauchemin says there's pretty much zero tolerance for that, and it doesn't happen often. But across the state, heroin is on the rise. During lunch in the cafeteria, Beauchemin says he noticed the increase in Burrillville over the last three or four years.
"We saw it was becoming cheaper," said Beachemin. "So it was becoming more mainstream, and I'd say last year, that's when it really came to a head. We were seeing kids here and there being caught with heroin and heroin overdose."
Most high school students probably aren't doing heroin, but a growing number have access to painkillers and other prescription pills, and those are often the gateway to heroin. When six Burrillville adults died from drug overdoses at the start of the year, the problem became much harder to ignore. 
"I remember the first phone call my husband received – he's the athletic director at this school," said Gabrielle Abbate, chair of the Burrillville Prevention Action Coalition, a task force working to reduce drug and alcohol abuse. "A teacher, a credible teacher, who said she had heard that there was heroin on some of the teams the kids were using."
People who study addiction say with heroin, it can start innocently enough with a prescription for a pain killer after a surgery, or an injury, which may explain why athletes are among those at risk. And many teens can find opioids easily enough just by looking in the family medicine cabinet. Abbate started learning more about it.
"I was very surprised when I talked to law enforcement and they were describing some of the homes they were going into and finding the types of drug paraphernalia that I had only known law enforcement from the inner cities finding," said Abbate. "They were finding them in my town."
Abbate describes Burrillville as a great place to raise a family. She says it's generally safe, there are plenty of lakes and wooded areas.
Her only complaints are that it's not too diverse – roughly 97 percent white, according to the census. And there's little for teenagers to do outside of school and school activities. Burrillville has no movie theaters, no shopping malls. So some kids turn to drugs and alcohol.
"I see it as a big problem," said Burrillville High School Senior Hannah Brouillard. "A lot of kids are smoking marijuana and going out and drinking."
Brouillard is a member of an active chapter of Students Against Drunk Driving at Burrillville High School.
"I think it needs to be, not prevented, because nobody's going to 100 percent prevent it, but we could at least try to lower the numbers of people who smoke marijuana and do drugs and even just drinking in general because they're underage," said Brouillard.
And the numbers are striking. In 2013, Burrillville High School ranked near the top when it comes to students reporting marijuana and alcohol use. The school ranked third for students who said they had tried a drug that was not prescribed to them. The town itself has one of the highest death rates from opioid overdose in the state, according to the most recent data from the health department.
At a monthly meeting for the Burrillvillle Prevention Action Coalition, members flip through a magazine filled with glossy pictures of all kinds of drugs.
"There are just things in there I've never heard of," commented David Brissette, an elementary school principal who's also a parent.
The members of the coalition discuss whether to to purchase and distribute the publication or simply post more information on a website.
"The visuals definintely help," said Brisette.
Led by the school superintendent and the police chief, this group has been ramping up training for parents and teachers to recognize the drugs that are out there and the signs that children may be using them.  
A federal grant is helping them bring new curriculum into the schools about drugs and alcohol and making healthy choices. Assistant High School Principal Katie Johnston says regular assemblies are part of the effort too.
"We've really worked to bring in dynamic speakers that can talk to students about being past addicts themselves and how they do that," said Johnston. "We think if there's a constant message there, and we're constantly bringing in, students will be aware this is a priority for us, this is important. And we need to keep talking about it."
Walking the hallways at Burrillville High School, it isn't too hard to find students who have addiction in their families or personal experience with drugs or alcohol. One student, we won't use her name to protect her privacy, says she started going down that road, but then…
"I got caught with my mom, and I woke up, and I was like, I don't want to do this anymore," she said. "Cause, it's not good, like, I wasn't doing good in school."
Now she says now she's trying to turn things around.
"I'm trying to do better. Like I want a career, and I want to stay clean and stuff like that."
Staff at Burrillville High School say they're doing everything they can to counsel students who need help, and keep reminding students about the risk of opioids and other drugs. They hope they can reach students early, so that youthful experimentation with marijuana, drugs or alcohol doesn't turn into the disease of addiction.