All this week, Rhode Island Public Radio is focusing on Burrillville, a small community in the northwest corner of the state. Burrillville's most influential media source is a weekly, printed publication that most people have never heard of. It began publishing in 1970 and is called the Bargain Buyer.
At Monty's Victory Diner in Burrillville, it's easy to find local residents like Robert Wolstenholme who swear by the Bargain Buyer.
"Why do I read the Bargain Buyer?" asked Wolstenholme. "Because it has a lot of useful information. If you're looking for a second-hand car, or you're looking for a service, like Mike's Towing."
Wolstenholme calls the Bargain Buyer a one-stop destination for everything a town resident could need, from firewood and power-washing to advertisements on hot topics in local government.
"It lists a lot of the services that people have within the scope of the town. And if you need somebody from the town, the Bargain Buyer is the place to go," he said.
The Bargain Buyer covers the towns in Rhode Island's northwest corner with two separate editions. That adds up to 34,000 copies mailed each week to every home in Burrillville and nearby communities. But unlike most small weeklies, the Bargain Buyer contains only advertising, with no news stories. That has not stopped it from becoming a major force in local politics.
"When I talk to candidates that are running statewide, and they ask me how to best communicate with Burrillville voters, I tell them, frankly, put an ad in the Bargain Buyer," said state Rep. Cale Keable (D-Burrillville).
Keable takes his own advice when it comes to advertising. He said his campaign budgets about $5,000 for the Bargain Buyer when he faces re-election every two years. When it comes to the publication's influence, Keable points in part to how the Providence Journal and Woonsocket Call don't have the same circulation that they used to.
"People turn to the Bargain Buyer," he said. "It comes every week. It's free, shows up in your mailbox, and there's a lot of important information in there. You can get someone to mow your lawn, someone to pick up your scrap metal, and your politics – all in one place.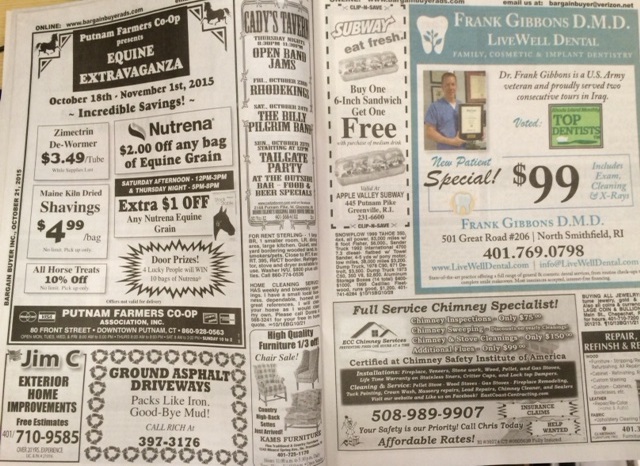 The Bargain Buyer has been around for almost a half-century. It's printed on newsprint, in the format of a magazine, and a recent issue ran 44 pages.
Efforts to get in touch with the publication's owner proved elusive, since he did not return our telephone messages. What is clear is that the influence of the Bargain Buyer extends well beyond the publication's modest office in a two-story building in Burrillville's Pascoag section. Local elections are often fought through competing ads in the Bargain Buyer.
"It's during those political times that people look to it for ads from the local candidates," said Republican businessman Donald Fox, who unsuccessfully challenged Keable during a hard-fought 2012 campaign.
Fox, now a member of the Burrillville Town Council, said it was natural to put his advertising in the Bargain Buyer. But the absence of news and editorials means the people buying the advertising are the ones who get to determine the Bargain Buyers's content, without the editorial control typical of newspapers.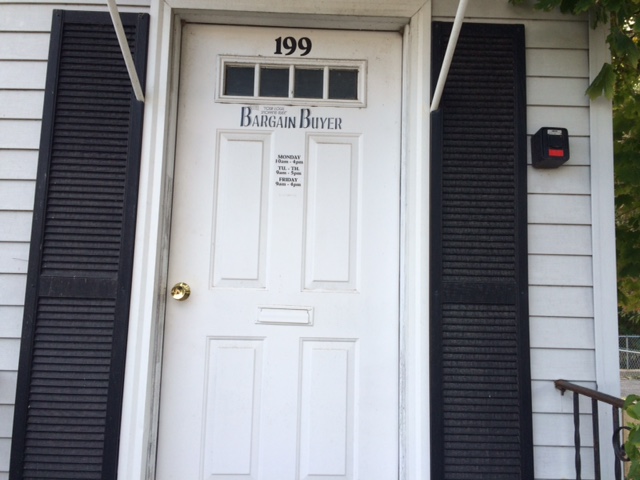 "You can pretty much write whatever you want," Fox said. "For me, it was important to stick to facts and figures, stick to the issues that were important to the local residents, and stay away from some of the negative stuff that is so easy to put into a periodical like the Bargain Buyer where you can pretty much write whatever you want."
In a concession to changing times, Bargain Buyer has an Internet edition, a simple online reproduction of the printed product.
Yet despite this low-tech approach, the Bargain Buyer could also point to the future – a time, some media observers believe – when the most successful news sources will either be extremely large and far-reaching, or small and very local.