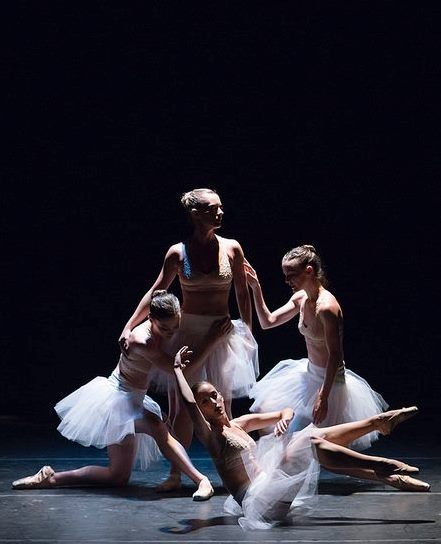 Have you ever been to Bari, Italy? No? How about Puerto Rico? Maybe not. But this weekend you can catch new dance works by leading choreographers from both places.
They have contributed their choreography at the request of Island Moving Company's Founder, Miki Ohlsen.
The result, seen at a rehearsal, is some fine movement at IMC. Named "Far to Near: Choreography," this show features work by choreographers from far away, along with numbers by Island Moving Company's dancers. There is also a vibrant piece by Ohlsen herself, and all of this in the newly refurbished Casino Theatre in Newport.
The Italian dancing comes from Simona De Tullio, the director of Bari, Italy's the Breathing Art Company. One of her works is "Alice 2.0" It's quickly paced and sends pure movement to music.
Her other piece is called "Now," and it sends dancers together close and caring. Then, some way, they separate. There's a distinct "Alice in Wonderland" effect. You don't quite understand what's going on. Perhaps it's a life without a clear theme, a way always changing. But surely, it's beautifully danced by the IMC movers to music by Puccini.
The Puerto Rican entry is by Rodney Rivera. Named "Here's to Life," it's a work set as a tribute to the people of Puerto Rico who fought through Hurricane Maria in 2017 and continue to fight through the storm's lasting impact.
It's a sharply set, quickly moving work that that has four dancers giving athletic drive to carefully shown needs. In the end, "Here's to Life" brings about a feeling of fitful hope.
Other works continue a fully hard-moving production, with some aid by company dancers. The final work is "Continua Metamorfosi" by Ohlsen. It uses eight dancers (six women, two men) who never stop presenting a rousing force that seems to say that without doubt they all love the art of dancing.
It's a fine end for this strong production that presents clearly the idea that a small company in a small city can definitely come out with good work, can definitely meet with others around the world with the love of their art, whether it's being done in Italy Puerto Rico… or Newport.
"Far to Near: Choreography" runs October 26 & 27 at the Casino Theatre in Newport. Bill Gale reviews the performing arts for The Public's Radio.