Last month, the Newport City Council approved an ordinance requiring all short-term rental owners to register their properties with the city before advertising them on web platforms like Airbnb and VRBO. Under the new rules, if caught with an unregistered rental, property owners can be fined.
Since then, the widespread non-compliance across the city has become even more apparent.
At a special workshop about short-term rentals on Wednesday, Newport Zoning Officer Guy Weston reported that the city has identified 307 suspected short-term rentals. Nearly 60% of those properties, about 180 rentals, were "certified as operating a guest house use without registering" with the city.
"As a result of that list, and as a result of the ordinance that [the City Council] adopted, our staff has issued 129 citations for improperly advertising and other guest house-related violations," said Weston.
He specified that a rental can be deemed non-compliant if it is not registered, or alternatively, if there's a discrepancy between the number of beds registered and the number of beds advertised.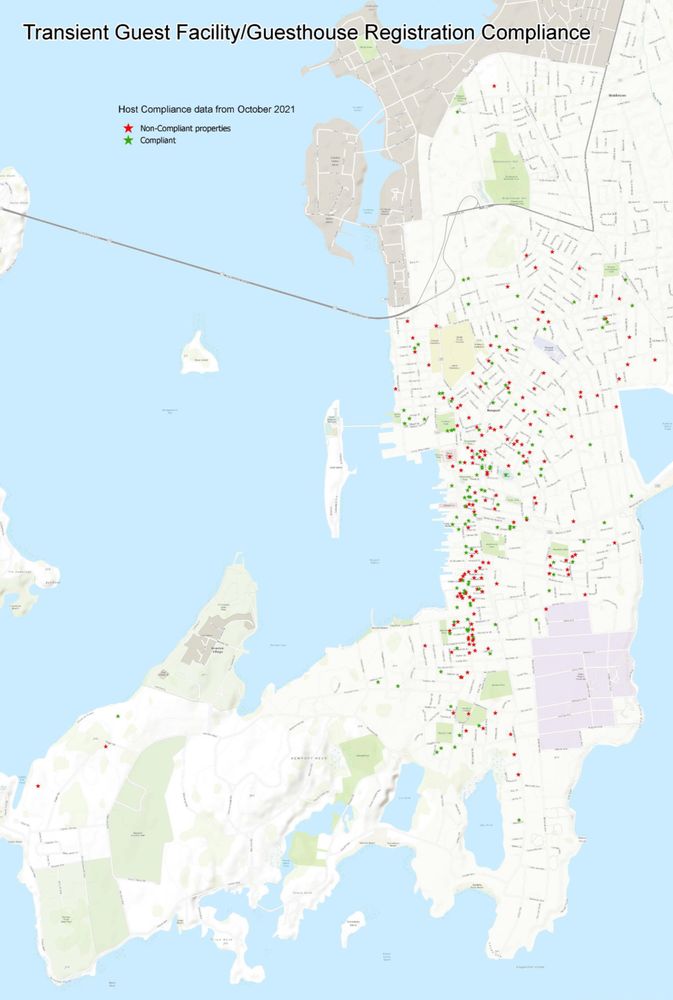 A number of Newport residents spoke at the workshop, some in defense of Airbnb owners and others in support of tighter restrictions on short-term rentals.
"I've been a bit dismayed to discover the trend of fewer and fewer year-round residents staying in Newport — in particular middle class, and particularly families," said resident Penelope Hunt, who grew up in Newport and recently returned to raise her children. "So I'm concerned about the removal of housing units from the supply available for year-round occupancy, whether that's for purchase or rental."
Hunt said she also suspects the total number of short-term rentals offered in Newport could be much higher than 307. According to AirDNA, a company that tracks short-term rental data, there are currently 857 active rentals in Newport posted to Airbnb and VRBO. City staff noted, however, that rentals in nearby towns like Middletown and Portsmouth are sometimes mislabeled as Newport rentals.
Newport relies on neighbors to help police short-term rentals
Newport currently employs a part-time rental compliance officer, but moving forward, Weston recommended the city consider making that a full-time position. The City Council could also implement tax changes to encourage long-term rentals, he said.
Beyond that, city staff suggested Newport might encourage the creation of neighborhood watches to look out for unauthorized rentals. According to Weston's report, the city already relies on the help of "hundreds of compliance volunteers," local residents who report suspected violations.
Several Newport officials also expressed support Wednesday night for proposed legislation at the state level that would require short-term rental owners to register their properties with the state Department of Business Regulation before posting them online. The Rhode Island House and Senate passed that bill earlier this year, but it was vetoed by Governor Dan McKee.
"It's somewhat similar to what you passed as a council a few weeks ago, which has prompted all these citations that we've issued," said Newport City Manager Joe Nicholson. "But this would put the power of the state behind controlling this industry, we believe significantly."
The multitude of illicitly-operated properties in Newport stands in sharp contrast to the small number of new short-term rentals that have been approved in Newport's restricted residential areas. In the past five years, the Zoning Board of Review has granted only ten special use permits for short-term rentals, which are required outside the city's main business and commercial districts.
"I think that puts it in a very different perspective for me, because I'm always very concerned, and I know a lot of people are concerned, about the impact that these short-term rentals are having in our neighborhoods," said Newport City Councilor Jamie Bova. "And it means that where we have to crack down the most is on the unregistered and on the violators."
Antonia Ayres-Brown is the Newport Bureau Reporter for The Public's Radio and Report for America corps member. She can be reached at antonia@thepublicsradio.org.