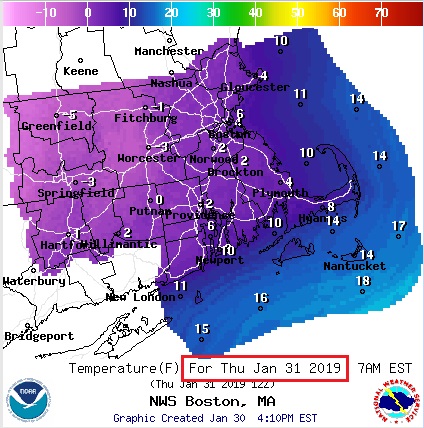 The cold front storming through the Midwest is projected to hit New England in time for Wednesday's evening commute. After a stretch of moderately cold weather, temperatures are set to plummet into the single digits for the next two days, with wind chills sinking below zero.
The National Weather Service has issued a wind chill advisory lasting through Thursday morning, and could hit -11 degrees.
"Wind chills tomorrow morning are going to be a pretty good wake-up call, not nearly as cold as the upper Mid-West, but still a pretty good shock if you're not prepared," said National Weather Service meteorologist Bill Simpson. "Meaning if you have to be outside for any extended time, cover the face."
Along with the cold temperatures, a brief, but intense snow squalls could snarl traffic Wednesday.
"It won't snow for very long, but it could snow pretty hard, with significant winds," Simpson said. "So if you're driving, visibility could drop to near-zero. It's not how much snow, it's the impact. If you only get a half-inch, and you can't see, it can potentially be a big problem."
Winds could hover between 30 and 40 miles per hour, with the possibility of gusts reaching upwards of 50 miles per hour. Simpson said the cold snap is the result of arctic air moving south, what's been referred to as a polar vortex.
"Basically the cold air that's up in Siberia, way up by the poles usually stays up there, but sometimes it breaks off, and sort of meanders to the south," Simpson said. "We're just kind of getting the southern glance of the polar outbreak. It's not quite as cold and won't last quite as long."
Temperatures will likely remain well below freezing, before warming back up into the 30s and 40s this weekend.