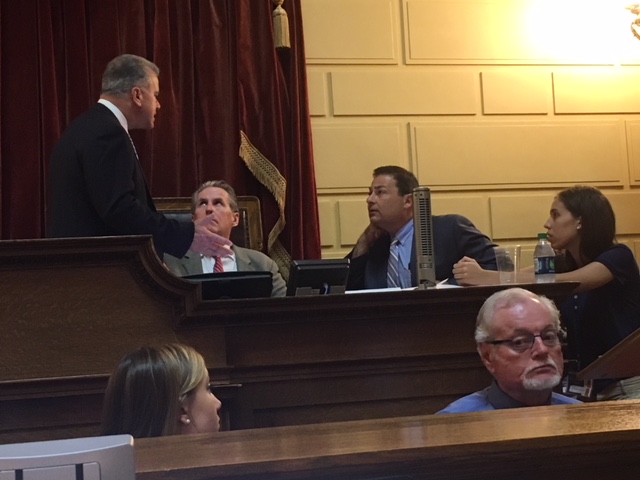 State Rep. John Lombardi may pull the plug on his long-planned challenge to House Speaker Nicholas Mattiello during the opening of the Rhode Island General Assembly's 2019 session on Tuesday.
"I don't want to march people off the cliff," Lombardi said, referring how a small group of representatives who oppose Mattiello during the formal vote for speaker could face retribution, including bleak prospects for their legislative priorities.
Lombardi (D-Providence), who has worked for months to build support for a challenge to Mattiello's speakership, tells The Public's Radio he will decide Tuesday whether to actually pursue his challenge.
But one critic, Rep. Teresa Tanzi (D-South Kingstown), said a double-digit group of Democrats will still not back Mattiello for speaker during the formal vote at the opening of the 2019 House session.
Tanzi said the opponents will press the case to change the rules governing the House and push for a broader distribution of legislative power. "I think our state suffers," she said, when legislative leaders make "inside determinations of what is important or not."
Twenty-one Democrats – nearly a third of the membership of the 75-member House – voted against Mattiello during a closed leadership caucus in November. At the same time, support from 44 representatives assured the Cranston Democrat of another two-year term as speaker.
The number of Democratic opponents slipped when Rep-elect Laufton Ascencao of Bristol decided not to take his seat due to fallout from a story he fabricated, and Rep. Marcia Ranglin-Vassell (D-Providence) took herself out of the opposition group.
It remains unclear if many other Democrats have peeled off from the opposition group, in an effort to regain Mattiello's favor.
Rep. Deborah Ruggiero (D-Jamestown), an outspoken member of the opposition to Mattiello, was asked whether she will vote for or against the speaker during the opening House session. "We'll have to wait and see," she said.
Ruggiero said she continues to believe strongly in the need for changes to make the legislative process more open and transparent. She said she is unsure if other Democrats who previously opposed Mattiello have changed their minds.
"We'll see what happens, but we will find the right course of action," Ruggiero said, to build support for policy priorities, she said, adding that she intends to work collaboratively with Speaker Mattiello.
Lombardi was in some ways an unlikely leader for an opposition group composed mostly of women, and many progressives, but also some moderate and conservative-leaning Democrats. The Providence Democrat has been seated at the very front of the House chamber in recent years – a spot traditionally reserved for reps viewed by leadership as potential troublemakers.
But Lombardi also took the lead as the only Democrat publicly identified as a rival to Mattiello for the speakership. In a letter to fellow reps dated December 18, he proposed a series of reforms, including having House committees elect their own chairs, adopting six-year term limits for leadership and committee chairs; allowing languishing bills to go to the floor if 38 reps sign a petition; and permitting the committee chair and GOP leader to allow votes on a limited number of bills.
Lombardi said his support for a run for speaker has wavered in size, and that it doesn't make sense to take on the speaker unless he has a somewhat robust level of backing. "You can't beat somebody with nobody," Lombardi said. Speaking of Mattiello's Democratic opponents, he said, "I just question whether they're really serious about it."
In November, Mattiello responded to the level of opposition against him by saying he remained open to discussion, but he also declined to offer support for any of the key issues cited by his opponents. The speaker has described himself as a firewall against a growing progressive presence in the House, while also saying that some progressive proposals have considerable merit.
House Republican Minority Leader Blake Filippi (R-New Shoreham) said it's "most likely" his name will be placed in nomination as speaker, but that he doesn't expect to attract any support from Democrats. (Republicans will have a nine-member caucus in the 2019 House.)
Filippi said offering a GOP alternative, even with relatively little support, is a matter of principle. He said Republicans have been in the vanguard of offering good government proposals for the legislature, and that the caucus will focus growing attention on House rules and the decennial redistricting process.
While legislative leaders dominate the top-down legislative process on Smith Hill, Filippi points to the strengthening of the state Ethics Commission in 2016 as an example how even concepts thought dead can gain unexpected momentum.
This post has been updated.