Click here to listen to "Chasing the Fix."
TRANSCRIPT:
Luis Hernandez: What launched your investigation into addiction among some of the folks experiencing homelessness in Woonsocket?
Lynn Arditi: The drug overdose data in Woonsocket is what first caught my attention. Woonsocket is Rhode Island's sixth largest city, but state health data shows that in 2021, Woonsocket had the highest rate of drug overdose deaths, and last fall Woonsocket had the second highest number of people who were homeless.
Hernandez: When you started investigating this series, how open were people to sharing their story? I mean, especially their struggles.
Arditi: Overall, I'd say they were very open to talking and sharing their stories. I think it's safe to say that most of them had never spoken to a reporter. And honestly, they seem to appreciate just having someone listen.
Hernandez: In the first story, we meet Cory, and we learn about his struggles. And something he said that really hit me is we didn't choose this life. What else did he tell you about what happened to him and how he ended up homeless?
Arditi: So Cory's homelessness is bound up with his addiction. He's a former roofer and construction worker, and he struggled with addiction since he was a young teen. He said he was 16 when he got hooked on heroin. And by the time he was in his 30s, he was addicted to prescription opioids. He also has chronic back pain, and his addiction and physical pain is so severe that he's been unable to work, so he can't pay rent. And for a while he and his wife lived in their car. But then their car broke down and they didn't have money to fix it. And so they were on the street.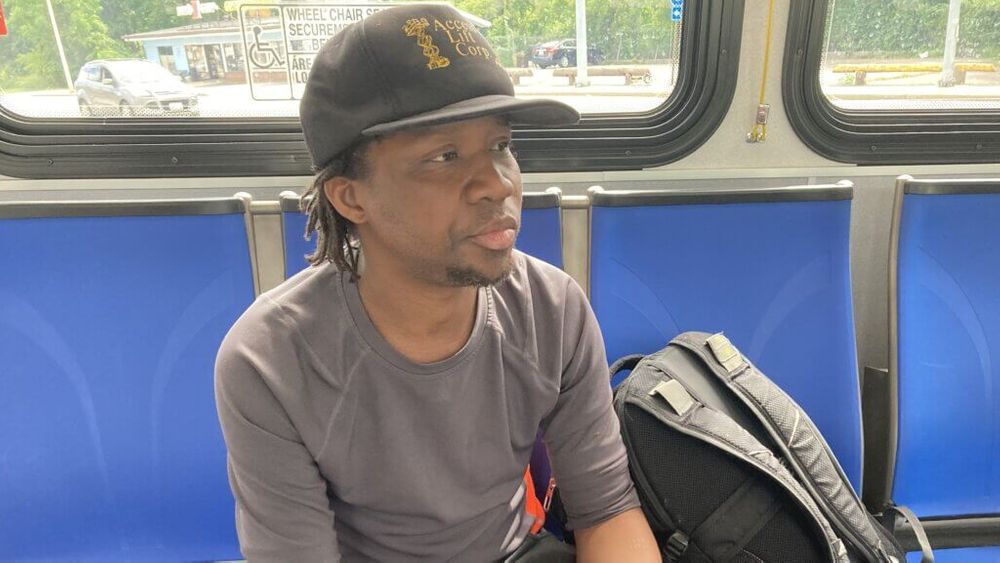 Hernandez: Mack Blackie's story got me thinking about this: sometimes he slept at the shelter but there are rules, and one of them is you can't be drinking if you're at the shelter. And this was a struggle for him. What sort of help do shelters offer for people like him?
Arditi: Well, shelters basically offer a temporary bed for people to get out from the cold in the winter months, and that's about it – not a whole lot more. Woonsocket has one men's shelter with 20-something beds, and it's not enough. And as you said, there are rules. And one of them is, you can't drink and use drugs. And there are good reasons for those rules. That people who run the shelters can't have their clients coming in and out being loud and disruptive. And for people who are at the shelter who are trying to maintain their sobriety, other people drinking or using [drugs] could be a trigger.
Hernandez: In the third story, you introduce us to this amazing woman named Tammy Zerrenner. She seems like a tenacious person, because she goes out to find people who are struggling to get them the help they need. Did you find that people experiencing homelessness tended to not seek help?
Arditi: Generally, no, actually, most of them have sought help. And there are extremely long wait times to get the main thing that most of them want immediately, which is housing, some place to stay, and a place to get out from the cold. And those extremely long wait times can be very discouraging. And if they don't have the support they need to stay on the waiting list for housing, and to keep in touch with the people they need to, they kind of can fall off those waiting lists. And they may give up trying. Single men in particular may wait years for housing. And some people like Cory are very aware of the odds. And so Cory told me he'd actually given up trying to get on any subsidized housing list because he just thought it would never happen.
Hernandez: What can the situation in Woonsocket tell us about the opioid crisis in Rhode Island and around the country?
Arditi: So the Woonsocket situation tells me that many of the homeless people I met, like Mack, have strong ties to the community and they want to stay there, they don't want to move to Providence. So while homelessness is a statewide and national problem, the solutions also need to be local. And to just try to shuffle people from one city shelter to the next isn't going to work. Woonsocket's experience also tells me that if we want people to stop using alcohol and drugs, we need to help get them housing. And often that means supportive housing. And supportive housing means safe, affordable, community-based housing, with services that are designed to help the people stay housed and live a more productive life in the community.
Hernandez: What sort of response have you gotten about this series? And I wonder if you've heard from local leaders?
Arditi: I haven't heard much response from local leaders, and I have recently reached out to try to speak with them and hear what they thought. I did talk to one city councilor this morning, Valerie Gonzalez, and she told me she has a proposal to create a community partners subcommittee in Woonsocket. So basically, to partner with major nonprofits around the city, and members of the police department and other officials to try to get some consensus about the problem and what needs to be done to address it. One of the problems she's identified is that often, these different groups are working in silos and don't really talk with each other. And she's trying to get some kind of a consensus so that they can actually set some goals and make some progress.
Hernandez: Last week, we saw the bulldozing of a homeless encampment in Woonsocket. What did you think of that, considering the work you've done on this series?
Arditi: Well, I wasn't surprised. I mean, clearing encampments happens routinely. So unfortunately, I wasn't surprised. The timing was curious, though. It happened just two weeks after Governor McKee's removal of the encampment in front of the State House. And I know some local leaders had sort of, you know, questioned whether there was some way in which the court ruling in favor of allowing the state to do that emboldened the city to clear the encampments, since it also happened in Warwick as well. But it wasn't something that they hadn't done before. What they see [is] debris and safety hazards and potentially a public health problem – which is, in fact, an issue. That is a potential public health problem, though the biggest risk to public health is, in fact, the risk to the people who are living there.
Hernandez: You've done a lot of reporting on homelessness and addiction. And I'm wondering about solutions. Now, what's being done to address these two huge, interconnected issues in Woonsocket and around Rhode Island? What needs to be done?
Arditi: There's a lot of work that's been done studying what models work best in addressing homelessness and addiction. There's the Housing First model, where the focus is on getting people into permanent housing and offering them support services, rather than requiring them to address mental health conditions and substance abuse or job training first. And that has been very successful. There is some of that going on in Rhode Island. There's also been the model of permanent supportive housing which, as I mentioned before, provides people with housing, in addition to substance abuse counseling and other support services to help them stay in their community. I think what's lacking, it seems to me, is often the political will and the investment to create and sustain those efforts over the long run.
Hernandez: Lynn, thank you so much for sharing with The Public's Radio. I appreciate it.
Arditi: Thanks for having me.